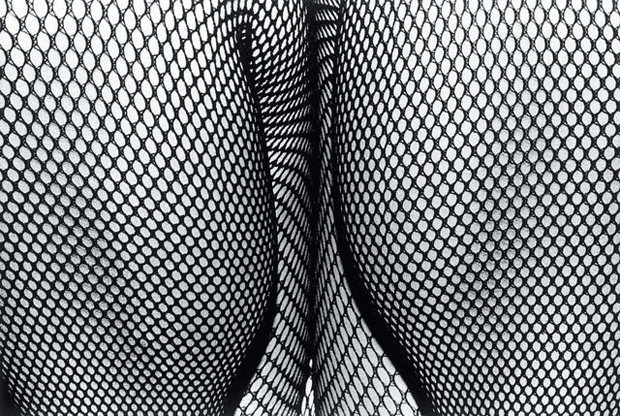 Daido Moriyama's best shot
The great Japanese photographer's close-up of his girlfriend's fishnets is one of his greatest images
"One day I was drinking coffee with my girlfriend when I caught a glimpse of her legs, which happened to be in stockings with fishnet tights over the top. I immediately started taking photographs." For most, this would be the beginning of a slightly embarrassing confession. For the great Japanese post-war photographer, Daido Moriyama, it is how he took his greatest shot. Moriyama, whose exhibition at The Tate Modern opens next week, is the subject of The Guardian newspaper's regular column, My Best Shot.
The image he's chosen, which also adorns the cover of his Phaidon monograph, was taken indoors in 1986, in contrast to much of Moriyama's work, which is mainly street photography. In the interview he explains how, after noticing the pattern the tights made against his girlfriend's legs, he photographed her in a fairly naturalistic way, only requesting occasional poses. The shoot consumed three rolls of film, which Moriyama printed during a three-hour session in the dark room.
He says the images were initially published as an eight-page pictorial feature in a photography magazine, and he compares this image to a shot of some hexagonal bathroom tiles, which he took during the same year. The interview rounds off with a brief insight into mind of an artist like Moriyama. "Being a photographer is a constant battle with countless fragments," he tells The Guardian's Sarah Philips, "the camera allows me to get closer to a subject and capture its detail. The world appears very erotic in my eyes. Tights are only one example." Read the whole piece here, and take a look at our Moriyama book here.