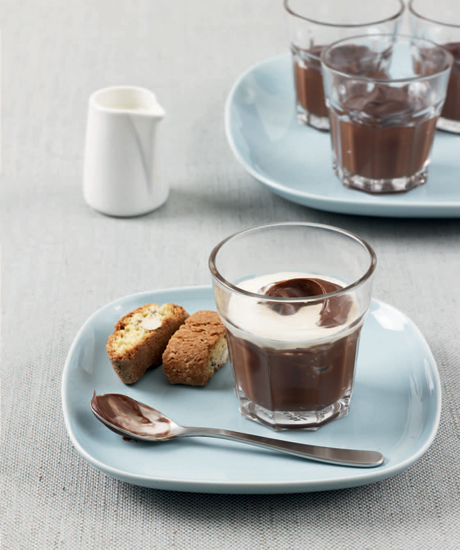 Chocolate Pots
A recipe from What to Cook and How to Cook it
Preparation: 10 minutes plus 10 minutes for standing and 3 hours for chilling
Cooking: 5 minutes
Serves: 6
Ingredients:
200g (7oz) dark chocolate, preferably 70% cocoa
25g (1oz) (2tbsp) unsalted butter
3tbsp freshly made very strong coffee (or 1 heaped tsp coffee granules mixed with 3 tbsp boiling water)
400ml (14fl oz) (1¼ cups) double or heavy cream, plus extra to serve (optional)
2 eggs
biscotti, to serve (optional)
Method:
Break the chocolate into pieces, then put it into a large heatproof bowl. Dot the butter over the chocolate and add the coffee.
Pour the cream into a small pan, then put it over medium heat until small bubbles appear around the edge of the pan and it is starting to steam. Watch the pan carefully, as cream can quickly boil over. Pour the hot cream over the chocolate, then let stand for 10 minutes.
Meanwhile, separate the eggs and beat the yolks together with a fork.
SEPARATING EGGS Gently crack the shell of one egg against the side of a small bowl, then slowly pull the shell apart as cleanly as you can along the crack, pouring the yolk into one side. Gently transfer the yolk from one half of the shell to the other until all of the white has drained away into the bowl. Place the yolk into a separate bowl.
Stir the cream and chocolate together until smooth and even. Beat the yolks into the chocolate mixture.
Use a large spoon to spoon the mixture into 6 small cups or glasses. Chill in the refrigerator for at least 3 hours, or until chilled and just set.
The pots can be made 1 day ahead and kept in the refrigerator. Remove 1 hour before serving to let them soften a little.
Pour a little cream over the chocolate pots, if desired, then serve, accompanied by biscotti, if desired.