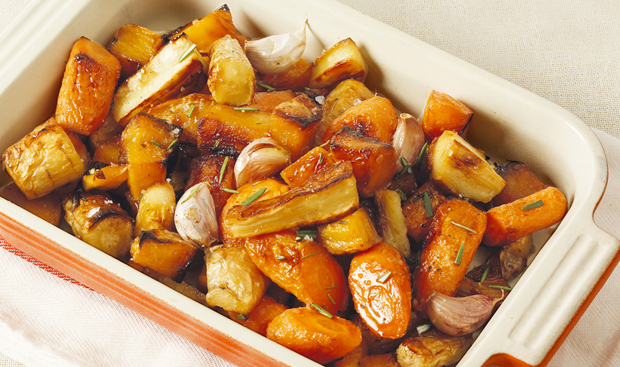 Maple Roast Vegetables
A recipe from What to Cook and How to Cook It
Preparation: 15 minutes
Cooking: 50 minutes
Serves: 4-6 people
Ingredients:
1 medium swede, about 600g (1lb 5oz) in total
4 medium parsnips, about 600g (1lb 5oz) in total
5 medium carrots, about 600g (1lb 5oz) in total
4 tbsp mild olive oil
6 cloves garlic
2 sprigs fresh rosemary
1 tbsp maple syrup or runny honey or more if you like
salt and pepper
Method:
Preheat the oven to 220°C/425°F/ Gas Mark 7.
Peel the swede, but simply scrub the parsnips and carrots, leaving the skins on. Cut all of the root vegetables into large pieces, all about 3 cm (1¼ inches) across.
Put into a large (ideally non-stick) roasting tin. It looks like a lot of vegetables, but they will shrink considerably in the oven as they roast.
Spoon over the olive oil, then rub it all over the vegetables with your hands. Season with plenty of salt and pepper. Roast the vegetables for 30 minutes, until starting to soften.
Meanwhile, pick the needles from the rosemary sprigs, then chop them finely. Stir the garlic cloves (still in their skins) and rosemary into the vegetables.
Return the tin to the oven, then roast again for 20 more minutes, or until the vegetables are tender and golden around the edges. The garlic cloves will be tender within their papery skins.
While the vegetables are still sizzling hot, drizzle over the maple syrup or honey. Serve the vegetables straight away, making sure everyone gets a garlic clove on their plate, ready to squeeze.