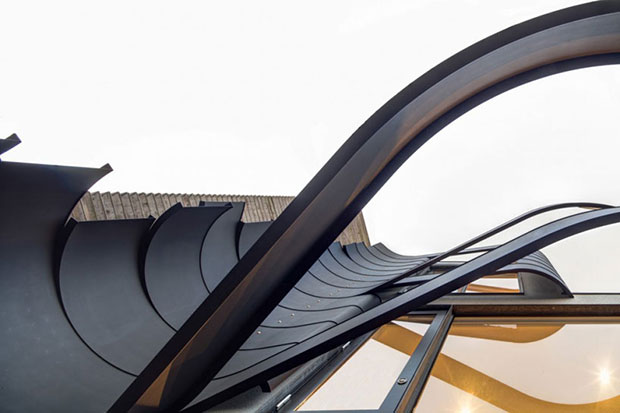 Ron Arad blacks out in Tokyo
Façade of his new D House comprises black patinated steel ribbons seemingly stacked on top of each other
Experimental architect and industrial designer Ron Arad – never knowingly without a hat – has completed a bijou new house in central Tokyo. D House follows his trademark rounded forms, so prevalent in all his creations from Moroso sofas to buildings. So as if to make up for the tight spot the house finds itself in, the front façade bulges over the pavement.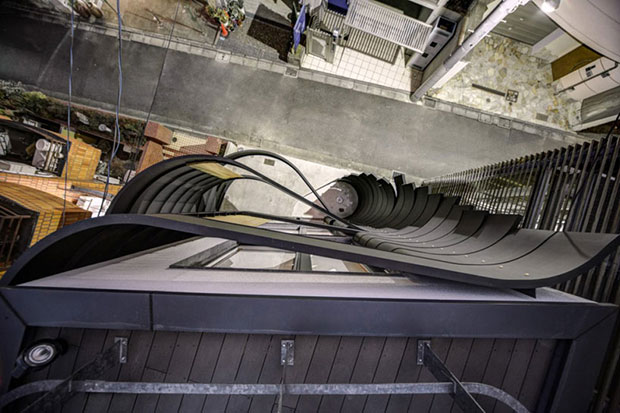 The effect is all the more arresting because the façade comprises black patinated steel ribbons seemingly stacked on top of each other. Two of these ribbons bend out and away from the main structure, in homage, perhaps to Arad's Design Museum Holon in Israel. Likewise Mediacite, his mixed-use complex in the Belgian city of Liege, boasts hoops of steel ribs along its entrance side
The concrete-framed D House is dominated by two large floor-to-ceiling windows on the first and second floors and a pillar-box red front door at street level. All in all, it makes a striking impression on the trendy neighbourhood of Shibuya-ku, and in a city where local architects have a habit of squeezing innovative properties onto narrow sites.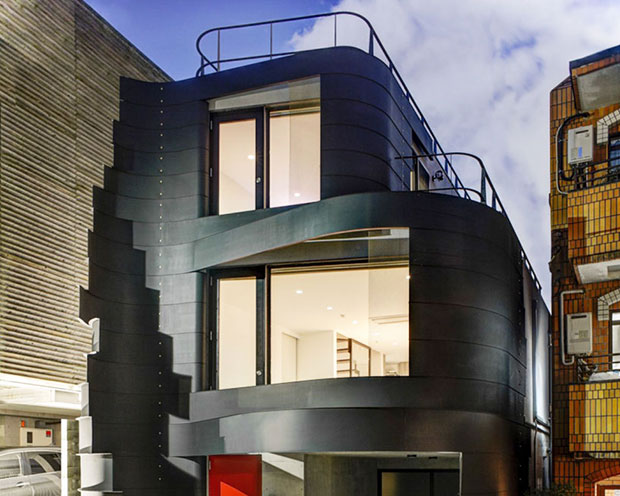 On the ground floor Israeli-born and London-based Arad has located the garage and utility room, while the living space on the first floor benefits from high ceilings. Upstairs there are two bedrooms and a bathroom. Despite D House's limited size, Arad has run a separate staircase up to the roof terrace.
Since completing D House, Arad has revealed plans for a cancer treatment centre in his motherland, which will take patients from Jewish, Christian, Muslim and Druze communities in both Israel and Palestine. You can learn more about this innovative and genre pushing designer in the pages of our Ron Arad book. And if you're a fan of small Japanese houses, and let's face it who isn't? You owe yourself a copy of Jutaku.