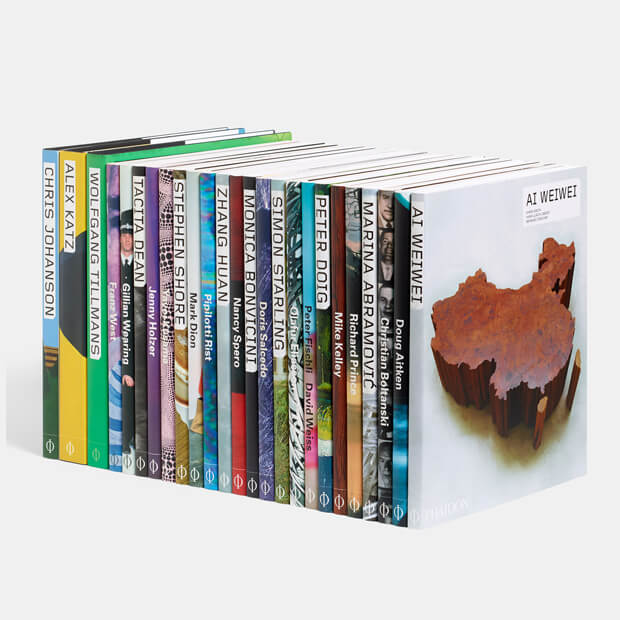 25 key events from 25 years of our Contemporary Artist Series
Love, death, political dissent and new masterpieces are all chronicled in our landmark series of monographs
If you want to understand the past quarter century of contemporary art, then you really need to take a good look at our Contemporary Artist Series. These engrossing monographs began back in 1995, and have since served to profile and contextualise the brightest and the best painters, sculptors, performance, video and installation artists, from Gillian Wearing to Paul McCarthy, Ai Weiwei to Alex Katz.
In this 25X25 story, we're marking this milestone by singling out key events from those years, as detailed in our books. Read on to discover how Jimmie Durham created a sculpture with a rock and a fridge, and why Frank Stella isn't the most digitally dedicated of artists.
1995. Antony Gormley's seminal Field for the British Isles tours the UK. The exhibition of 40,000 clay figurines were made by community groups in Merseyside. "For me the extraordinary thing about the genesis of form of the individual figures in Field is that it isn't about visual appearances at all. What I've encouraged people to do is to treat the clay almost as an extension of their own bodies. And this takes some time. This repeated act of taking a ball of clay, and using the space between the hands as a kind of matrix, as a kind of mould out of which the form arises."
1996. Jimmie Durham creates his seminal work, St Frigo, by throwing rocks at a fridge. "I don't really destroy things, I just change them, I change their shape, just like any sculptor does. I chose the refrigerator. I stoned it for a week, every day, until I got the shape really changed. I chose it because I wanted to throw stones at something as a sculptural work, but I wanted an object that no one would care about. I thought that if I stoned a TV or an automobile, everyone would be glad and care in some way or another, and I thought that a refrigerator was completely neutral. It was, until I started stoning it and then it wasn't neutral anymore. Then it started being brave, so that in the end I called it Saint Frigo, because it was a martyr. I saved its life by making it a martyr. It was going into the trash, now it's eternal, now it's art."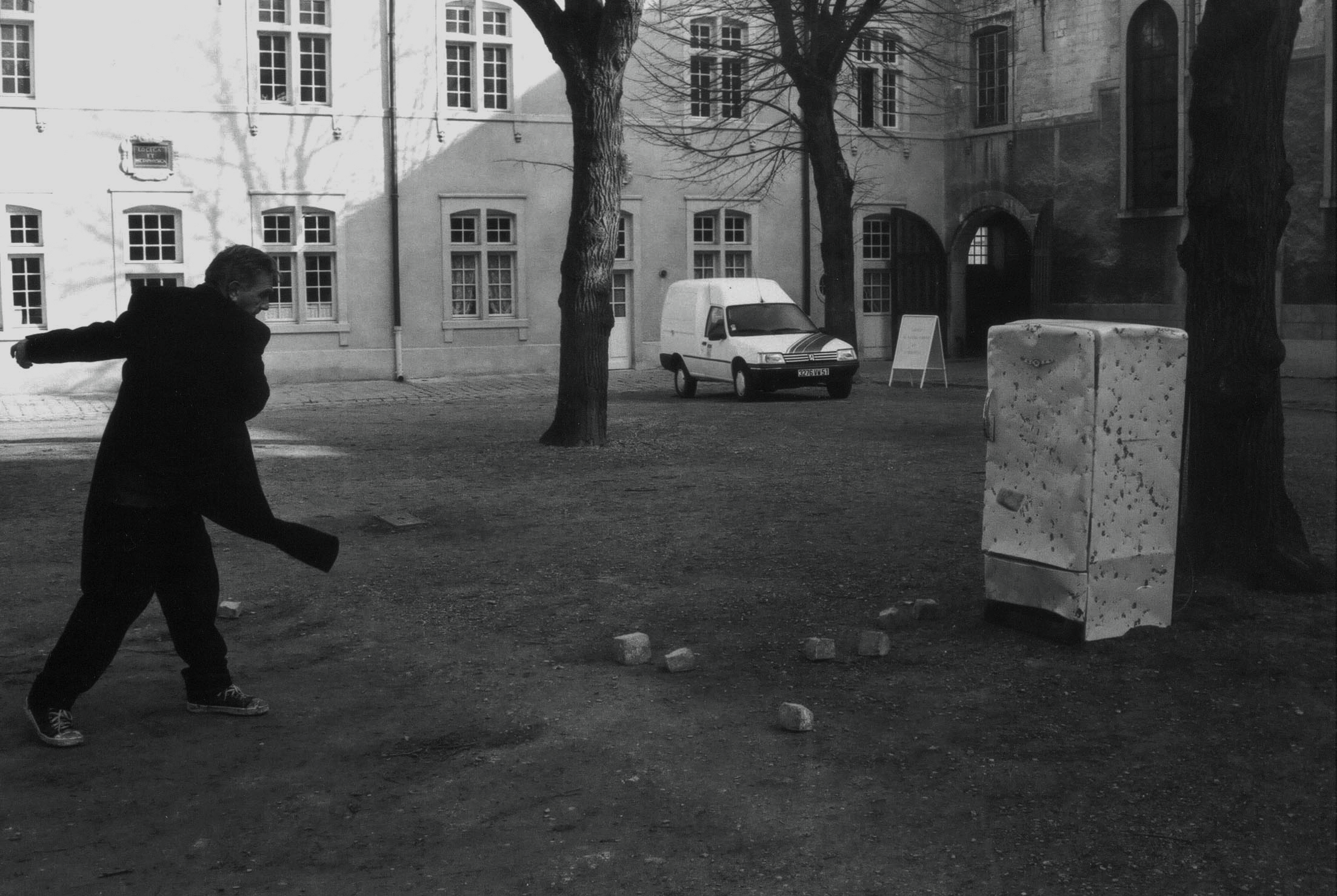 1997. Wolfgang Tillmans' lover Jochen Klein dies. "That's the darkest period in my life, when Jochen died in the summer of 1997, practically out of the blue with one month's warning. The pictures from that time, I never explicitly said what they were about."
1998. Sarah Sze installs her work at the Berlin Biennale inside the studio of an infamous German architect. "It was in Albert Speer's studio at the Akademie der Künste. I think it doesn't exist anymore. The whole building was very beautiful. It was at the Brandenburg Gate on the east side of the wall. A derelict, tall space."
1999. Yayoi Kusama's 1966 Narcissus Garden work is recreated as part of a major touring retrospective , enabling the artist to restage a work first funded by another famous artist. "I borrowed $600 from Lucio Fontana to have the mirror balls (Narcissus Garden) fabricated for the Venice Biennale in 1966. He died before I could pay him back. He spoke highly of my work; he was very kind to me. He was like that, encouraging the development of younger artists. His work is also wonderful, both his painting and sculpture."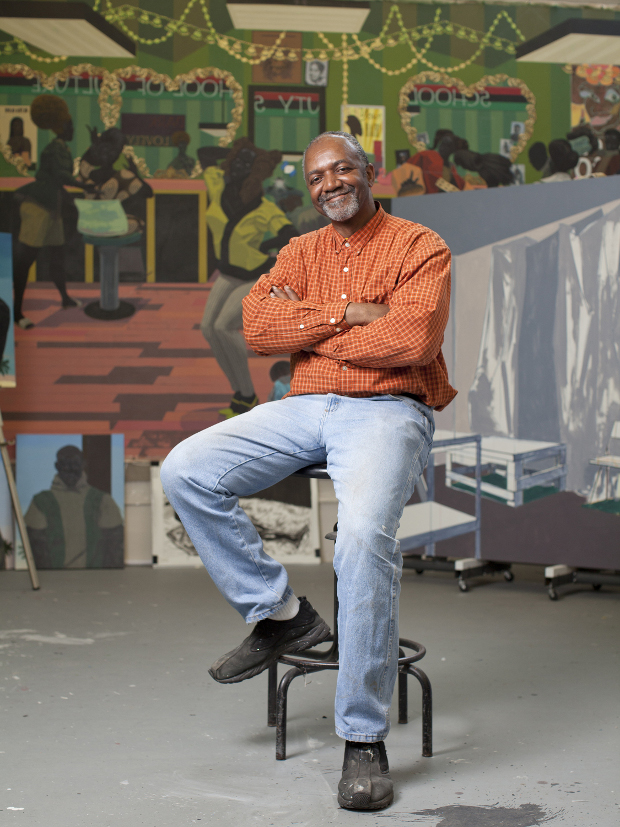 2000. Kerry James Marshall's travelling retrospective, Kerry James Marshall: Mementos, closes in the US . The show, a kind of requiem for the 1960s civil rights movement, establishes Marshall as a history painter, something he's always prized. "My whole concept of what it meant to be an artist was formed around the idea that you picked subjects that were historical and meaningful so that people could derive meaning in their lives from the things they saw in paintings. That's really how I began to understand what it meant to be an artist."
2001. Lili Reynaud-Dewar stars at Glasgow School of Art, but finds great inspiration in the city's clubs. "started going out a lot more and being friends with people in the late-night scene. In Glasgow, it was easy. I found [performance partner] Mary Knox really fascinating. We were work colleagues. We worked as barmaids at the same place. On her platforms, she had this totally burlesque look. She was two metres tall. She was wasted. Then she started to invite me to late-night parties at her place (which I took as a great compliment), and we became friends. When I returned to Nantes, I missed her. I thought I'd put her in a performance as a way of seeing her again."
2002. With works such as Silva Morosa Nigel Cooke establishes himself as a slightly unnatural heir to the British landscape tradition. "The earliest things I was interested in were landscape paintings and paintings of nature. I've always tried to sense or intuit a painting's relationship to the natural world, but I also try to build into it a non-picturesque approach, which is to do with things you bring to bear as a thinking subject in front of nature. So it's about the things we see in nature that are thought as well as seen. It's that collaboration between those things – what we see, and what we think whilst we see."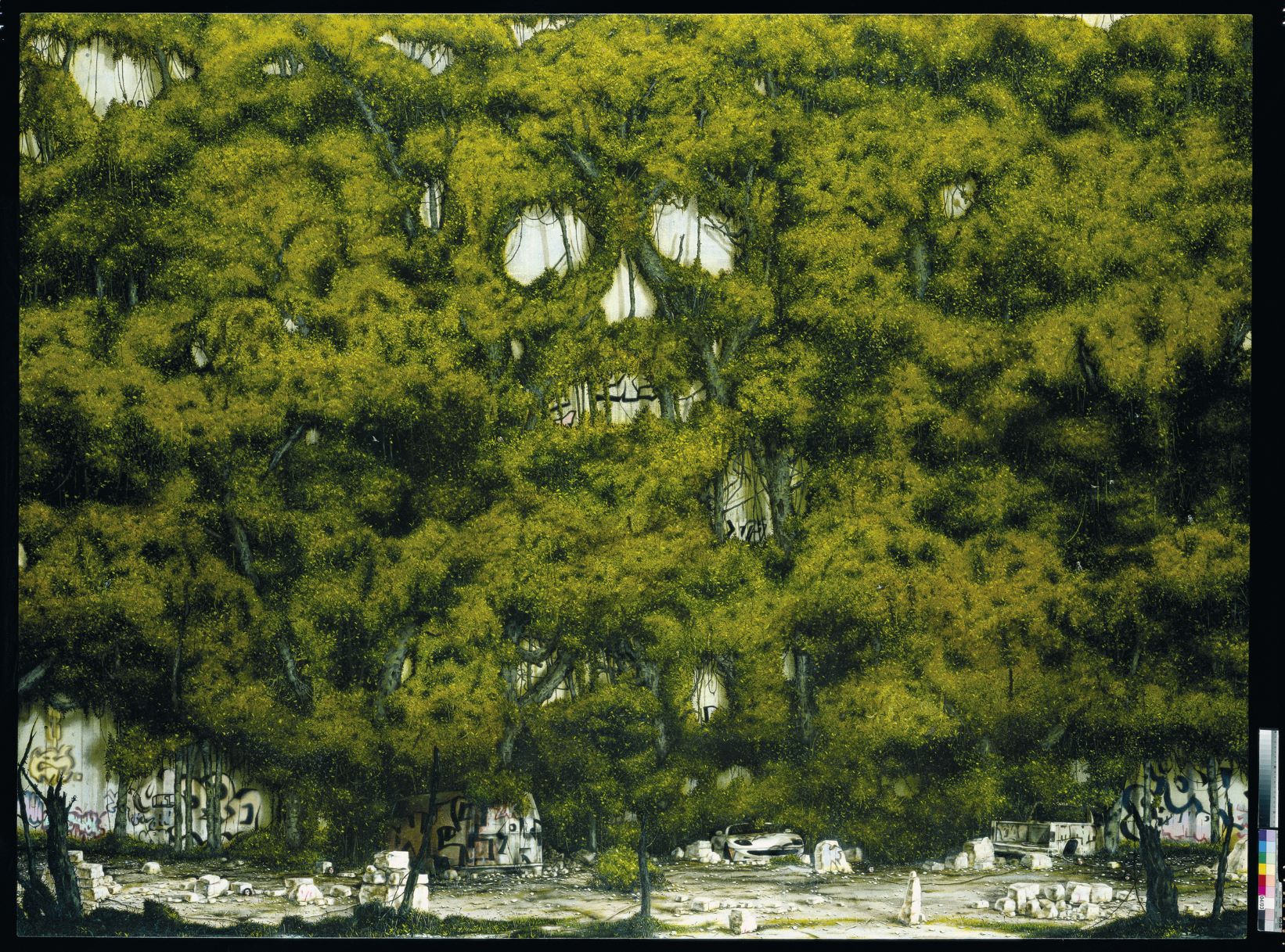 2003. Paul McCarthy films his Piccadilly Circus work in London. Staged inside a disused bank in the British capital, McCarthy and his collaborators donning masks to satirize prominent public figures such as President George W. Bush, Osama Bin Laden, and the Queen Mother. "The mask in the sense of it being an environment, almost an architectural environment. When my head is inside the mask, I'm peering out of these holes which are an inch or so away from my face. My voice changes inside the mask; it's hard to breathe. I also make this connection of the mask to a camera. The eye hole of the mask is similar to the lens hole of the camera or the frame of the picture. You can't see beyond the frame of the hole. I've made this hole metaphor as a metaphor of cultural control, what you can see and what you can't see. That wasn't something that I recognized at the beginning but which grew out of performing.
2004. Monica Bonvicini creates her scandalous public work, Don't Miss a Sec. "I put a functioning toilet inside the glass box, which is not a one-way-mirror cube but a combination of different kinds of glass that I tested and put together in order to get a similar effect but with more light transmission. The piece emphasizes in turn the many aspects of the glass architecture that followed on from Mies van der Rohe's Barcelona Pavilion (1929), and Philip Johnson's Glass House (1949), and continues today in the ubiquitous Apple store with the glass facade."__
__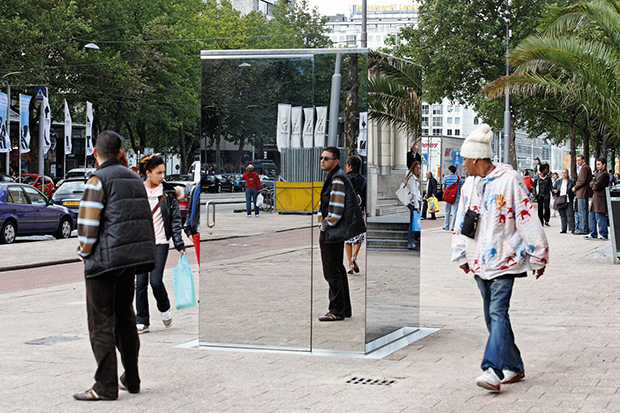 2005. Ai Weiwei begins blogging, establishing himself as both a fine artist and a political critic . "You have to write it down; it's black and white, it's in words, and they can see it, so you really have no place to escape. I really love it, and I think it's important for you, as a person, to exercise, to clear out what you really want to say. Maybe you're just empty, but maybe you really have to define this emptiness and to be clear."
2006. Jonas Wood quits his day job to become a full-time artist. "In retrospect, the fact that I was able to quit my job in 2006 seems crazy. I wouldn't advise that for other people. But the instant the opportunity came, that's when my studio started to feel more sophisticated. Before, I was in less than 600 square feet, and then I went to 4,000 square feet. I had to figure out ways to have people help me that didn't jeopardize the integrity of my work."
2007. Francis Alÿs's plans to create a floating bridge across the Strait of Gibraltar with fishing vessels proves impossible , so the artist switches tactics, reworking this floating bridge into a children's game. He began work on organising a group of children from Spain and from Morocco to walk out into the sea in a line, stretching out into the ocean, each carrying a toy boat fashioned from a flip flop. "Turn the whole operation into a celebration of free flow, a ritual of passage," Alÿs reasoned in his journal, reproduced in our book. "Return to guerilla tactics: minimum of permits/maximum of flexibility; do and run tactic."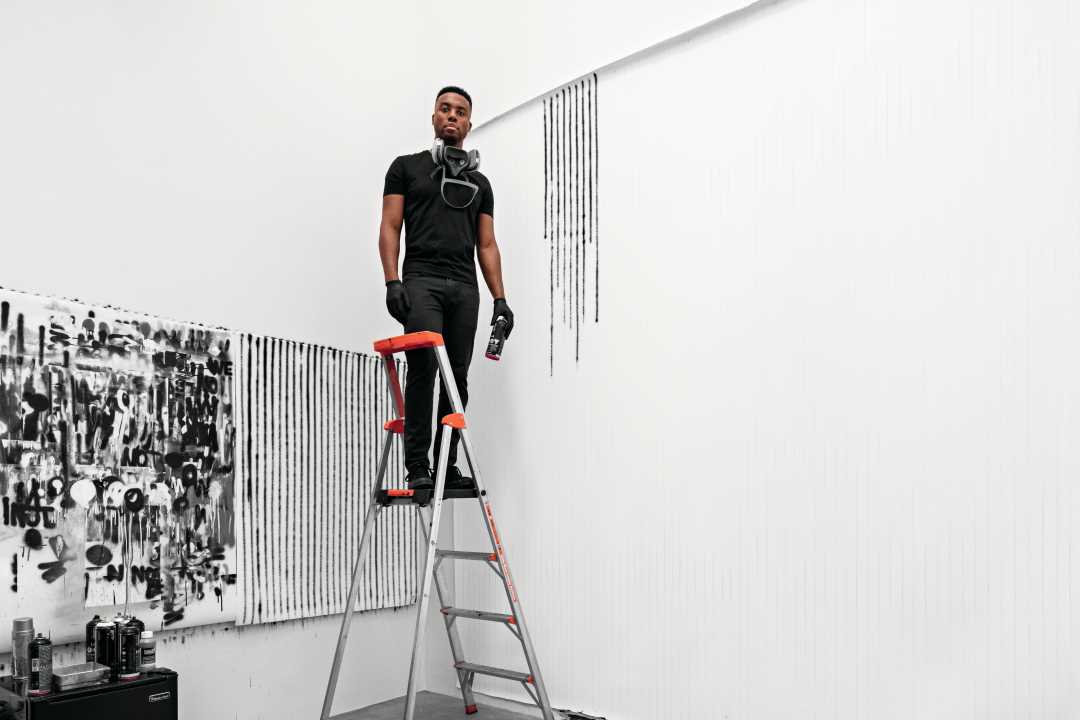 2008. Adam Pendleton writes his Black Dada text. "It is, yes, a kind of declaration of how I want to be and function as an artist. But in order for it to work for me in an effective way, it has to remain open and in flux. I always refer to it as the 'Black Dada' text. Other people began to refer to it as a manifesto. But at the same time, if you open the Black Dada Reader, you see that the title of the section that contains the 'Black Dada' text is 'MANIFESTO'. So I create these problems for myself. Maybe it's a way to create conversation, something to talk about, something I have to explain myself out of, or something I'm explaining myself into and out of at the same time."
2009. Mark Bradford wins a McArthur Foundation fellowship , and promptly spends the $500,000 grant. "Oh girl, I've spent that money. It had to have been more than five years ago. Six maybe seven years ago?"
2010. Jean-Michel Othoniel creates The Precious Stonewall , a large wall of golden glass bricks hung with bead necklaces, in India in 2010, as a poetic reference to the Stonewall riots. "There are all these piles of bricks on the side of the roads in India, which people collect in order to build their own houses one day. I saw them as piles of hopes and dreams."
2011. Mona Hatoum's chilling work, Current Disturbance, takes on new resonances, when shown in London. "Current Disturbance that was created for a space in San Francisco in 1996. At the time, this structure – made of 240 wood and wire mesh cages with a fluctuating, crackling light bulb in each cage – brought out associations with a prison block where the inmates are rioting. This was probably because of the proximity of the location to the famous Alcatraz prison. When I showed the same work at the Whitechapel Art Gallery in London a few years ago, it was associated more with Council Flats (or government housing projects) that predominate in that area."
2012. Cecily Brown paints and draws a pivotal series of works based on a nude, group image from the 1968 Jimi Hendrix album, Electric Ladyland , a picture that featured in her work 2011-2013, which she remembers from her youth. "I don't ever go looking for source material. Without knowing it, I was waiting to use the Ladyland image for many years – I was so drawn to that image as a teenager. I always found it very compelling."
2013. Chris Johanson's exhibition, Within the River of Time is My Mind, opens at MOCA Pacific Design Center in Los Angeles. The mindful, contemplative show marks a change in direction for this once hubristic artist. "My early work was a lot more negative, and by the time I got into making installations I started to have a more conscious relationship with what I was doing, and over the years I became aware that I was throwing some pretty heavy energy out there in these shows. There was my brain, and my brain was heavy. I started to feel like I had to have a conscious relationship with what I was putting out into the world. So I started to have to make sure that the shows were not negative. Even though I had all this negative energy in me that I had to exorcise, I had to make the shows more positive."
2014. Jim Hodges' touring exhibition, Give More Than You Take, introduces much of America to an artist who addresses issues such as memory, love, and existential struggles through a multifaceted practice that includes photography, screen printing, and sculpture. "His use of found materials like rocks and denim, coupled with the adoption of transitory shapes like spiderwebs, speaks of a personal experience that resonates on a collective level filtered through elements available in nature," explains our book. "Mysterious, beautiful, poetic, and conceptually deep, Hodges's work has the rare quality of being simultaneously thought-provoking and visually beautiful."
2015. Theaster Gates opens the Stony Island Bank in Chicago , repurposing a once-derelict financial institution as a cultural hub, and establishing his reputation as a 'real estate artist'. "I started to think, how does my love of cities and my care for the built environment live alongside a rigorous life practice? What are the different stations of the practice? Those stations might include learning a lot about art and a little bit about real-estate law, governance of a city, developers and where money comes from, which means knowing a little bit about federal policy."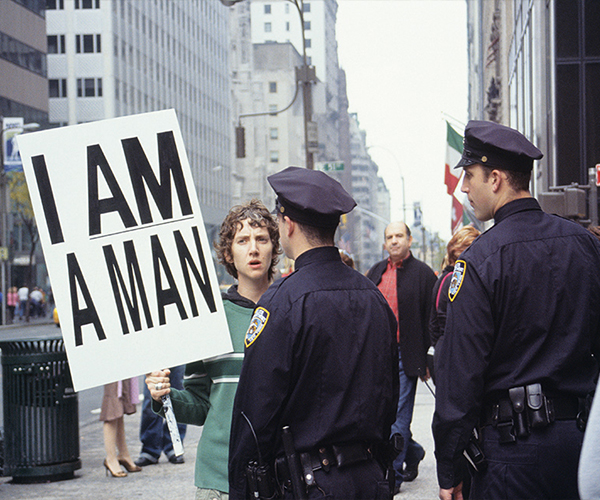 2016. Sharon Hayes' exhibition In My Little Corner of The World, Anyone Would Love You opens in London . The main component is a five-channel piece where a multiracial cast of queer folks, transfolks and lesbians from Philadelphia are reading excerpts from historical feminist/lesbian newsletters and small-run print publications, all drawn from the London School of Economics' library. "In my encounter with those archives, I was constantly drawn to the contemporary moment. Every conflict that evidenced itself in the magazines – for instance, about what it meant for a lesbian to show up to a Ladder social wearing men's clothes – reminded me of debates right now about what gender can mean and what gender expressions people have access to, and also the continuing violent regulation of those expressions and the continuing debates inside of queer, trans, lesbian communities around gender."
2017. Jannis Kounellis, the arte povera pioneer, dies. "When I think of Jannis Kounellis, now that he is no longer here, I realize that he has always been by my side, despite the fact that we haven't spoken in over thirty years. An invisible thread united us. It is alongside him, like mountaineers roped together, that we climbed to what felt like the top of the world."- Fabio Sargentini.
2018. Trevor Paglen launches his fine-art satellite, Orbital Reflector. "When I look up at the night sky and try to track all the secret satellites and pieces of space debris, I'm engaging in an activity and seeing a landscape that's very specific to the late twentieth and early twenty-first centuries."
2019. Bernar Venet completes Arc Majeur, Europe's largest sculpture , in Belgium, using a particularly pliant style of weather-proof steel. "The Cor-ten steel I use has the particularity of being "softer" than others, that is to say you can bend it to a certain point without the risk of breaking it … Making these sculptures calls for a lot of discipline – nine or ten hours' exhausting work in a non-stop, dynamic day."
2020. Adrian Villar Rojas is shortlisted for the Hugo Boss prize , honouring artists who are "among the most innovative and influential of our time." Indeed, innovation is certainly something close to this artist's heart. "We can neither go on looking at artistic practice as a commodity equally valid in any place and time, nor as a universal subjectivity that can be applied to specially customized platforms installed all over the world, such as galleries, institutions or foundations for our comfort and self-assertion. My response to this deadlock has been a full commitment to social, political, geographical, idiosyncratic, even geological systems, assuming as much risk as I can to produce, not a commodity, but a process that remains topographically and chronologically specific as an irreproducible experience."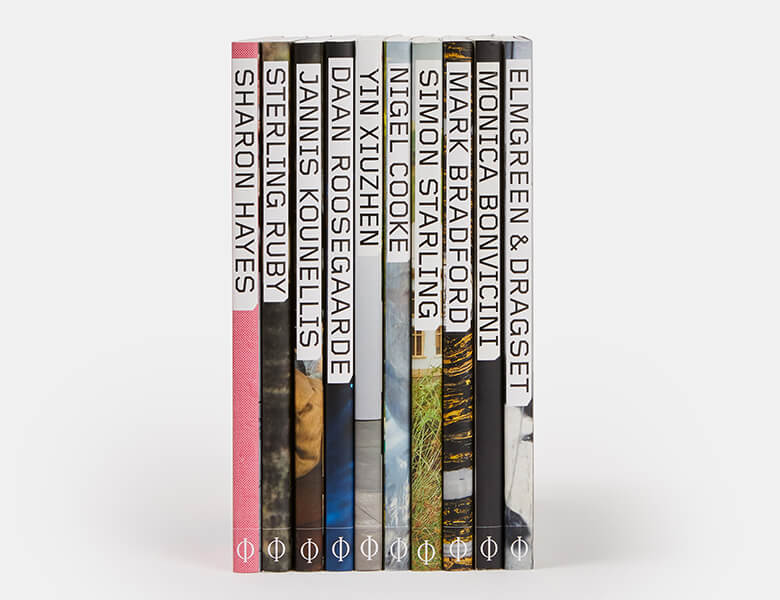 For more on these artists and many others in the series, take a look at our Contemporary Artist Series page in the store.