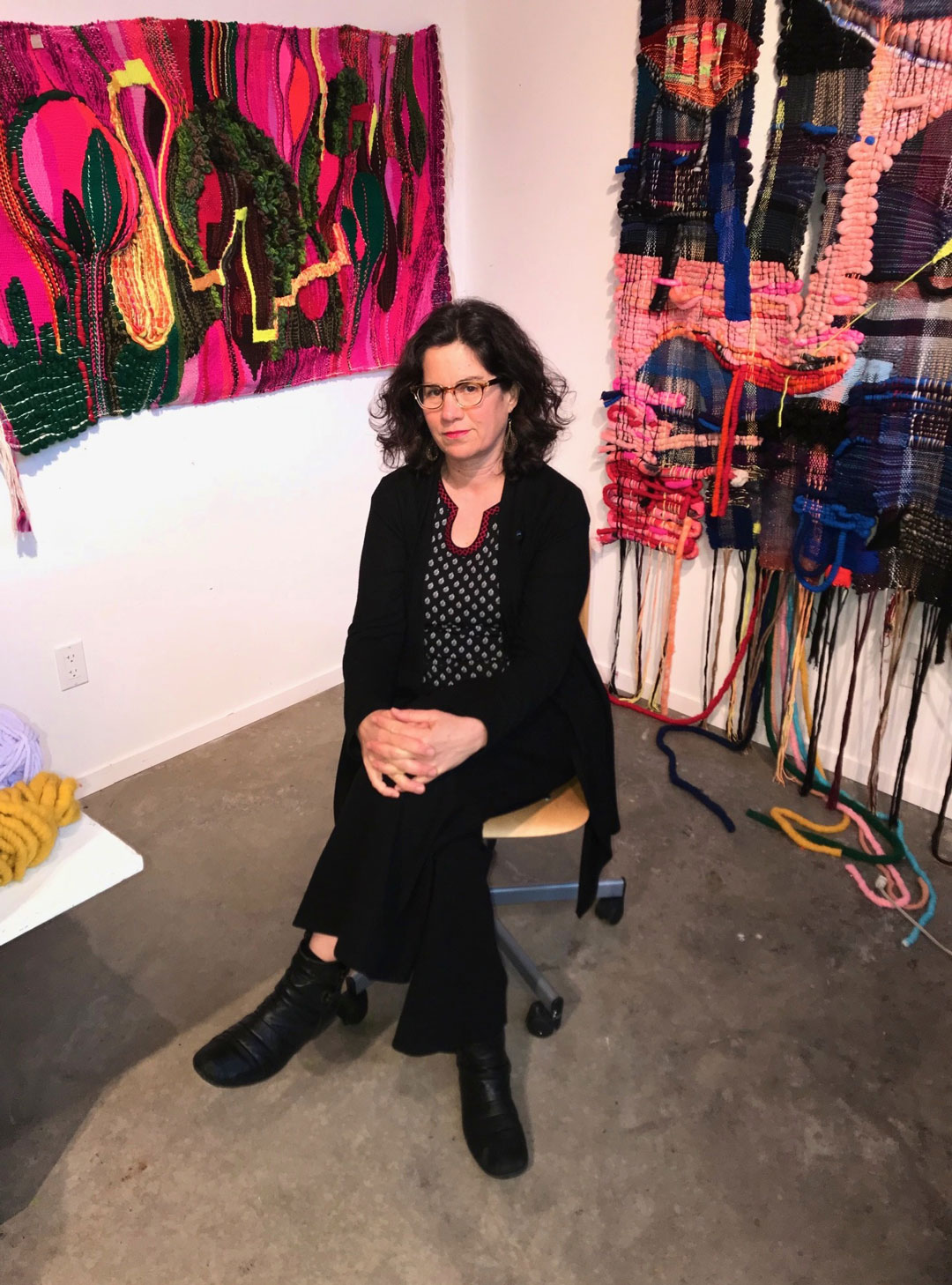 Talking Textiles with Terri Friedman
The artist on the influences of Miro, mom and moths and the mathematics of weaving her voluptuous works
Terri Friedman's weaving vibrates off the wall, a confrontation of colour, texture and size that shares a language with contemporary abstract painting. In fact, the artist often calls her work 'yarn painting', a description that, for her, connects paint and canvas to the material and process of traditional loom weaving. Friedman lives and works in San Francisco's Bay Area, a part of California that, since the mid-twentieth century, has been a locus for cultural and political revolutions and that influence has been, profound.
Friedman, herself an art professor at California College of the Arts, took weaving instruction from her colleagues. Her beginner's mind and hand is evident, for example, in the use of basic joining techniques, the retention of the mistakes others might repair, even the obvious delight in the wildly diverse assortment of available fibre materials wool, cotton and acrylic yarns, in manufactured neon colours or hand-dyed hues, and in gauges from fine to amusingly oversized.
Here, the Vitamin T: Threads and Textiles in Contemporary Art featured artist muses on the hazards presented by moths, why textile art is big right now and the artists and family members who inspired her to weave.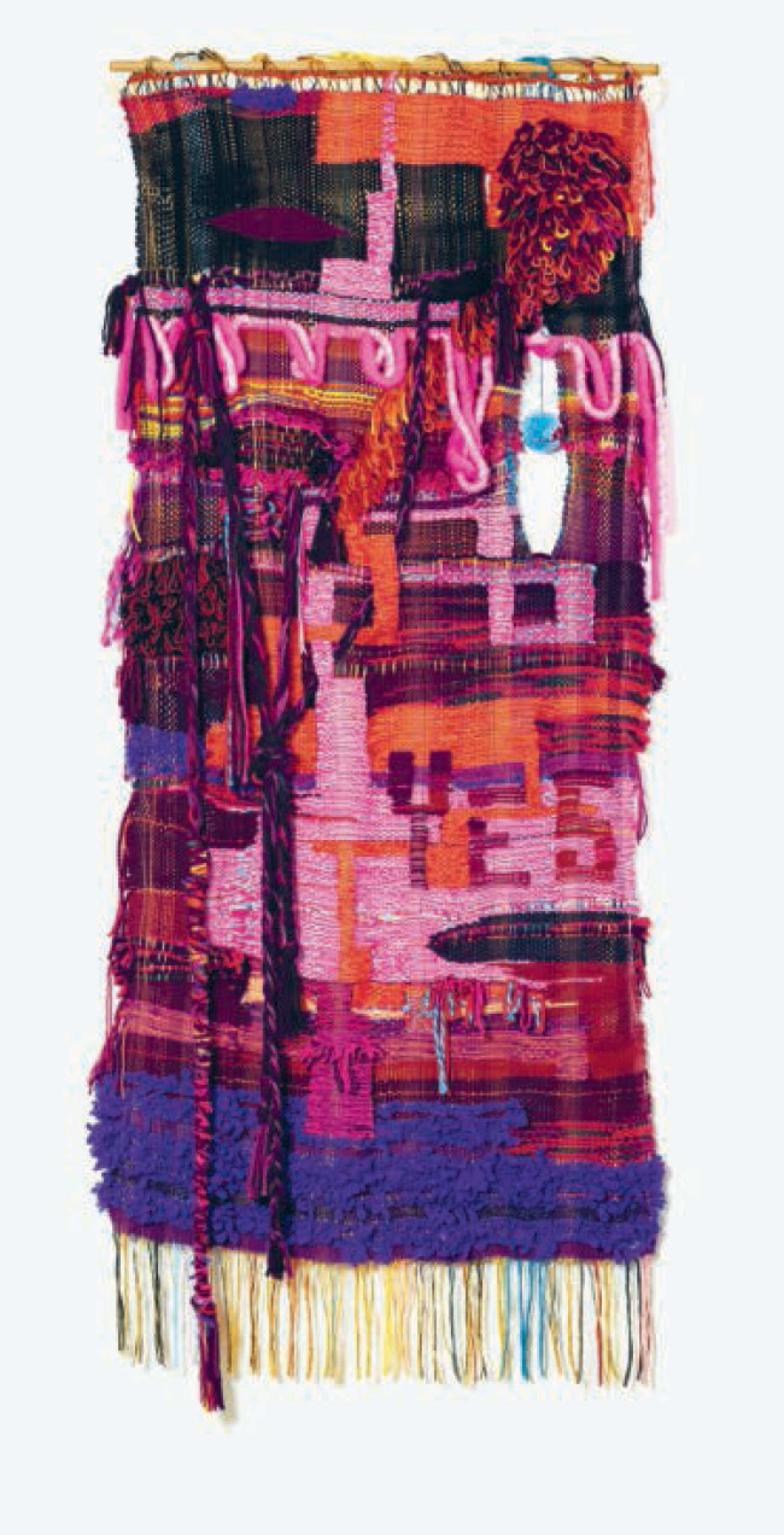 Who are you and what's your relationship with threads and textile art? My grandmother was a yarn hoarder and had a room filled with yarn. Beautiful wools and a lot of discounted cheap neon coloured yarns that she bought on sale in bulk. It was the 1970's. She was always knitting. My mom was an interior decorator and textiles and fabric swatches were all over my childhood home. I spent several summers on the Navajo and Hopi Reservations as a teenager where I was introduced to Navajo weaving. Later in my twenties, I traveled throughout India, Nepal, Indonesia and fell in love with textiles. It's in my blood. But, it took me a long time to return to it after making kinetic water sculptures and paintings for 20 years. In 2014 I was so moved by Miro's enormous tapestry in Barcelona at the Fundacio Miro, I learned to weave and made a mid career transition to fibre. There is something about weaving and activating both sides of the brain that feeds me on many levels. Oh, and I am also the mom of two teenagers.
What part does the tactility of the material play in your desire to work with it? I come from a painting background. So I love paint. Honestly, I just wanted to make hairy voluptuous paintings and fibre was the obvious direction. I love the sensuality and tactility of fibre. And, the loom is an amazing net to catch and hold my paintings.
Why do you think there's an increased interest in textile art right now? I try not to think about trends in the Art World or generalized interest because those grand questions are beyond the scope of my life, studio practice, and my power. I really stay focused on my next steps in my studio and my own relationship to fibre. Clearly there is an increased interest in Craft in general, which is very exciting.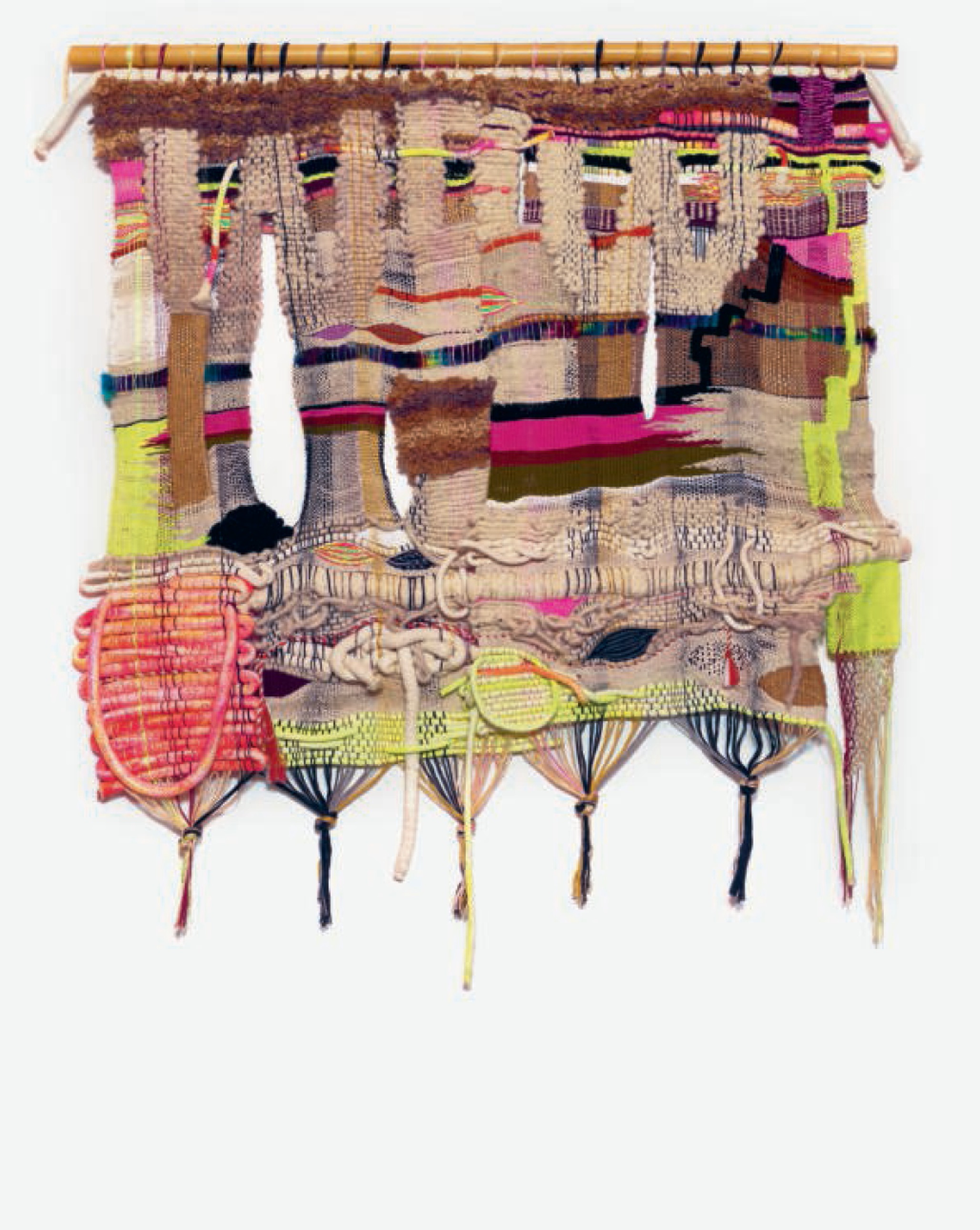 Everyone uses textiles in their daily life, does that help or hinder their standing as a fine art material? Everyday materials and objects have been utilized as art materials since Duchamp and before. So, I don't think it hinders or helps. The edges between fine art, craft, and even functional objects or design are so blurred right now and actually for decades.
Whose textile art do you admire? Women like Magdalena Abakanowicz, Lenore Tawney, Anni Albers, Sheila Hicks. I particularly love Hannah Ryggen's work. She was a Swedish-born Norwegian textile artist who died in 1970. One of my favorite works of hers is 'Blood in the Grass' (1966). I love the title which is about media coverage of the Vietnam war. The piece has this crazy hairy green and red geometric section with white and black diamonds juxtaposed with a more traditional tapestry section that is deep purple and pink in a narrative style. I actually look at women artists like Natalie Djurberg, Rachel Harrison, Sister Corita Kent and women painters more than textile artists: like JoAnne Greenbaum, Keltie Ferris, Nicole Eisenman, Shara Hughes, Sarah Cain. Colour often drives my work.
What are the particular challenges and rewards of working in this medium? My greatest challenges are physical: size limitations of my loom and my body limitations. I have to stretch and move my body all day long. Bending over a loom for hours is pretty gruelling. On the other hand, I really like the mathematics of weaving. It's not like painting. Weaving is very slow, unforgiving, and I can't paint over. I actually like the challenge of that. Kind of like a digital printer, it goes from bottom to top or side-to-side and I don't know what it looks like until it's off the loom. It's uncertain and exciting.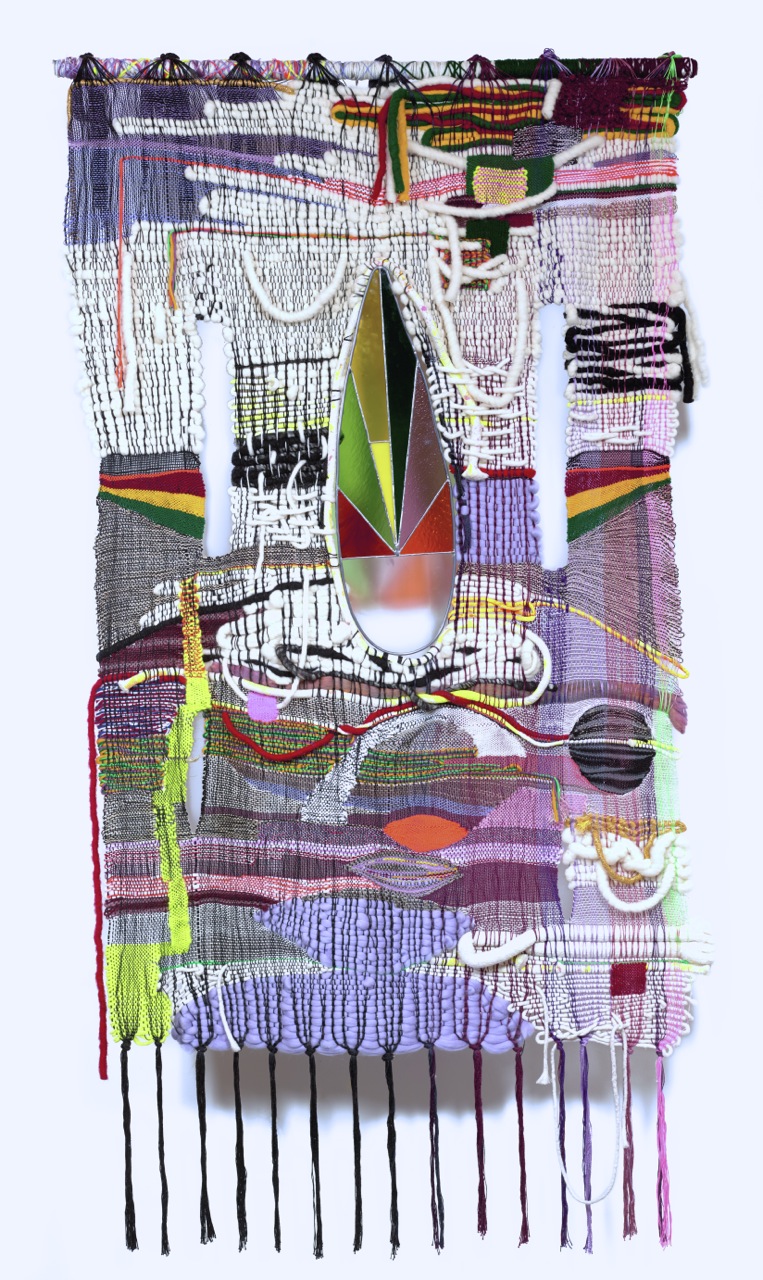 If I buy textile art how should I care for it? Beware of Moths.
What's next for you, and what's next for threads and textile art? In May I'm in a group show at MOAH (Lancaster Museum of Art and History, California). And, the artist Kathy Butterly is curating a show of my work at the CUE ARTS Foundation in Chelsea in 2020. I am looking to acquire a very wide 100" tapestry wall loom so I can work wide. And, I'm working with Glass artists to incorporate more stained glass, glass, and Plexiglas into my work. I am really loving the relationship between the dense sensual fibres and the transparency and buoyancy of the glass and coloured shadows. As Leonard Cohen wrote "There is a crack in everything, that's how the light gets in". I have no idea what's next for threads and textile art. Wouldn't it be great if it could save the planet from Climate Change or eradicate world hunger? But, that might be asking too much of fibre.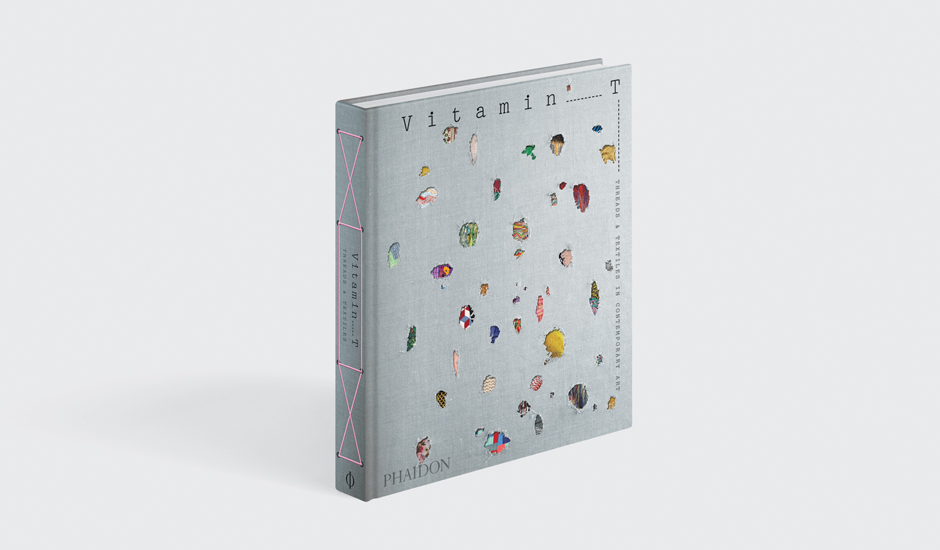 Vitamin T is a global survey of more than 100 artists, chosen by art-world professionals for their work with threads, stitching, and textiles
Celebrating tapestry, embroidery, stitching and textiles as used by visual artists worldwide, Vitamin T is the latest in the celebrated series in which leading curators, critics, and art professionals nominate living artists for inclusion. Vitamin T is a vibrant and incredibly timely survey – the first of its kind.