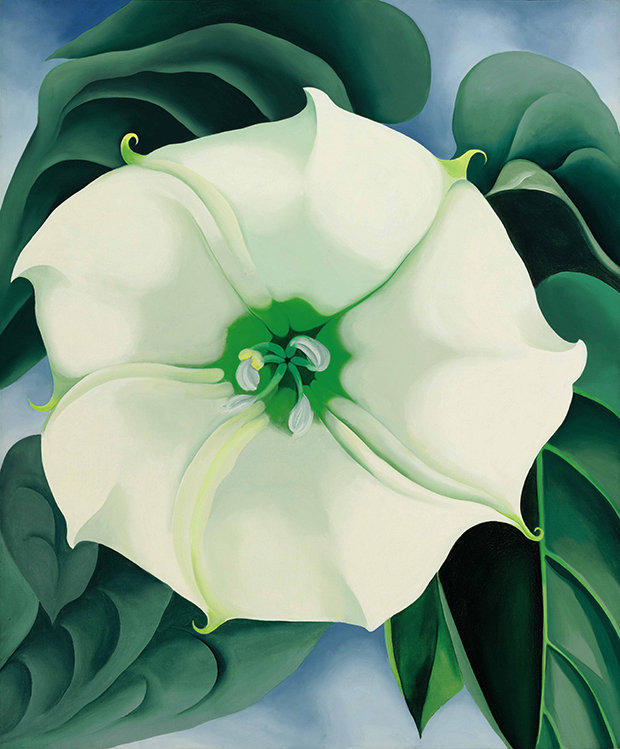 Sex, Stieglitz and Georgia O'Keeffe
The photographer helped launch her career, yet he also pushed one very specific interpretation of her paintings
The new Georgia O'Keeffe exhibition, opening tomorrow at Tate Modern is not only the first major UK retrospective in 20 years, it is also an attempt to redress O'Keeffe's place in art history.
The Tate has said that its show aims to dispel the common beliefs that persist about the artist and her painting, not least when it comes to a sexual interpretation of her work.
"She's a very passionate woman, but she's also a highly intelligent woman," the Tate curator Tanya Barsons says. "She was interested in form, design and beauty."
Where does this sexual viewpoint come from. A clue might lie in the works of her husband, the prominent US photographer Alfred Stieglitz, which hang beside many of O'Keeffe's paintings in the new show.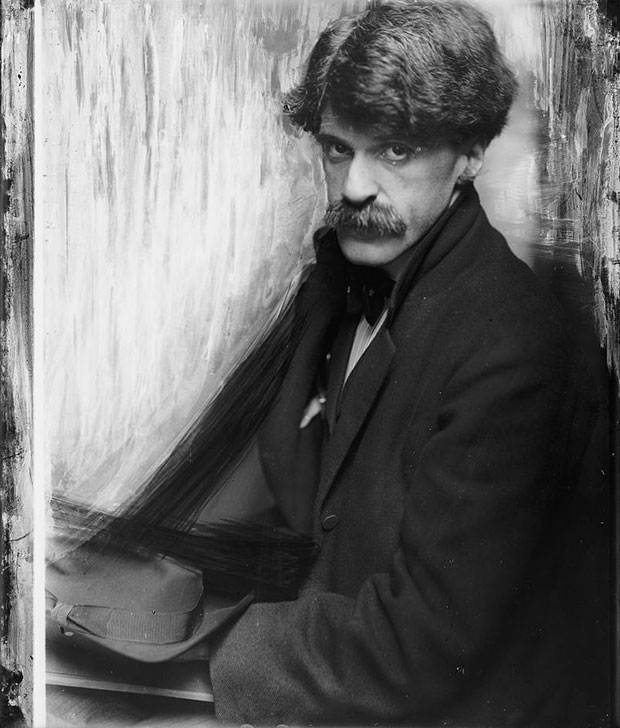 Here's how the O'Keeffe scholar and author Randall Griffin describes their relationship in our Phaidon Focus book dedicated to the artist. "In autumn 1915, O'Keeffe sent a group of her charcoals to a friend in New York, Anita Pollitzer, who showed them to Alfred Stieglitz," writes Griffin.
Stieglitz was then a prominent figure in New York society, responsible for shaping both the look of American photography and the North American take on European modern art, and he played a huge part in O'Keeffe's early success.
"Stieglitz was quite impressed with the charcoals that Politzer showed him," writes Griffin. "This elated O'Keeffe and led to the start of a prolific correspondence between them. Stieglitz later included her work in several exhibitions at his 291 gallery and, eventually, the two would marry."
Although Stieglitz was a married man in his early fifties when he met the young Wisconsin artist, 24 years his junior, he was instantly infatuated with her and her art. He took many nude photographs of her, and exerted a clear influence over her work. O'Keeffe may have abandoned watercolours after Stieglitz highlighted the medium's "unappealing association with amateur painting by genteel 'ladies'" writes Griffin. During the 1920s Stieglitz and O'Keeffe were drawn to similar subjects, whether on the streets of Manhattan or in the rural stretches of land beside their retreat in Lake George, northeastern New York State.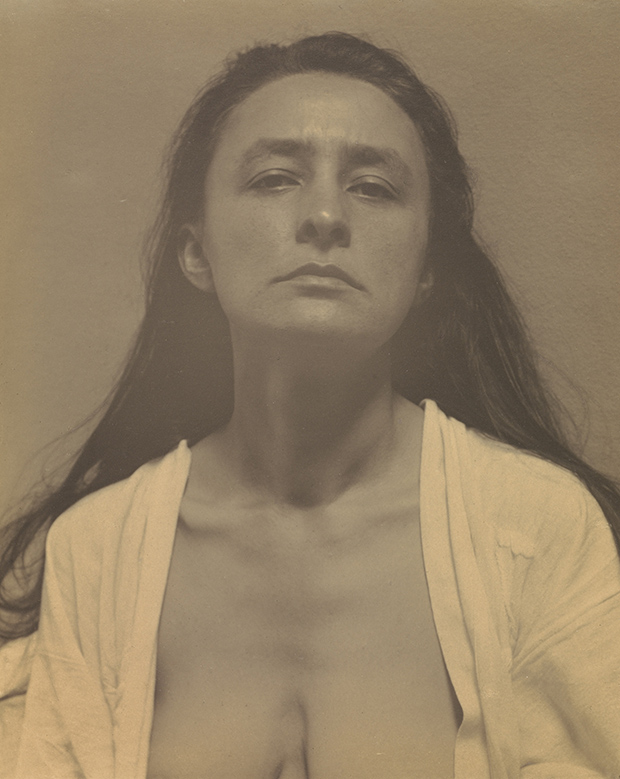 Yet, perhaps the most prominent mark Stieglitz left on O'Keeffe was the way in which he interpreted her work. "Stieglitz and his circle belonged to a tradition that used themes of sexuality in their art as a declaration of being avant-garde," Griffin explains. "Stieglitz read virtually all of Freud's books, as well as Havelock Ellis's six-volume Studies in the Psychology of Sex, which argues that art is driven by sexual energy. Thus, for Stieglitz, sex was a liberating source of creativity. O'Keeffe may or may not have thought of Freud when she painted her flowers, but the psychologist's writings were a cultural touchstone at the time, with his ideas widely known in a simplified fashion."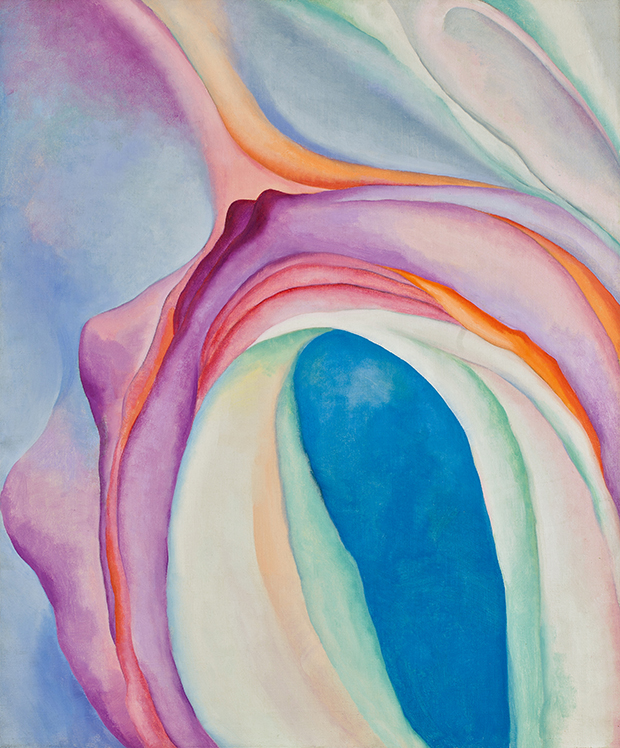 Stieglitz subscribed to that simplified version, declaring at one point that "Woman feels the world differently than Man feels it … The Woman receives the World through her Womb … Mind comes second."
O'Keeffe herself did not condone this interpretation, stating quite clearly "When people read erotic symbols into my paintings, they're really talking about their own affairs." Despite these protestations, Griffin concedes that ""It now seems abundantly clear that, in spite of her vehement denials, O'Keeffe meant some of her paintings (not just the flowers) to look vaginal."
Nevertheless, these sexual readings tend to overshadow her mastery of form and colour, just as Stieglitz's wayward libido overshadowed her marriage. In 1929, shortly after her husband began an affair with his much younger gallery assistant, O'Keeffe took her first trip to New Mexico.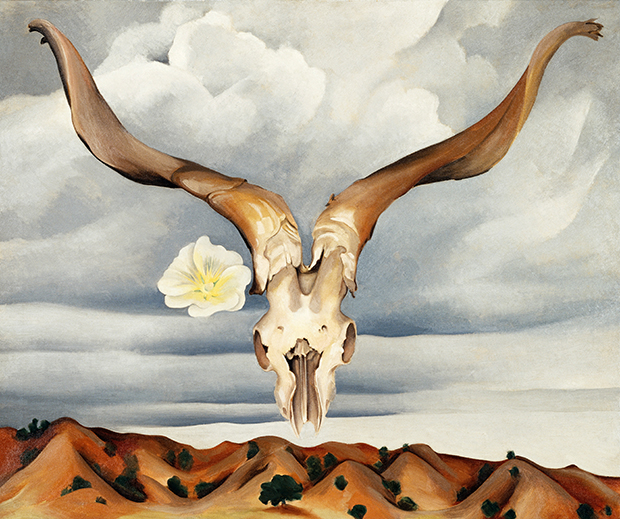 This change of scene provided both a marital break, and also a new array of artistic opportunities. "New Mexico presented a wide array of fresh subjects to paint that were congenial to her temperament," writes Griffin. "She chose to portray the desert as a timeless, exotic world filled with colonial churches and menacing crosses, a site of enigmatic symbols and visual poetry. The sweeping landscape, with its brightly coloured sandstone formations, also offered entirely new possibilities."
Such possibilities occupied her for most of the rest of her life, enabling her to create such beautiful, striking paintings. She spent more and more time in the desert state, developing her late style, quite distinct from Stieglitz's influence, and died in New Mexico in 1986 at the age of 98.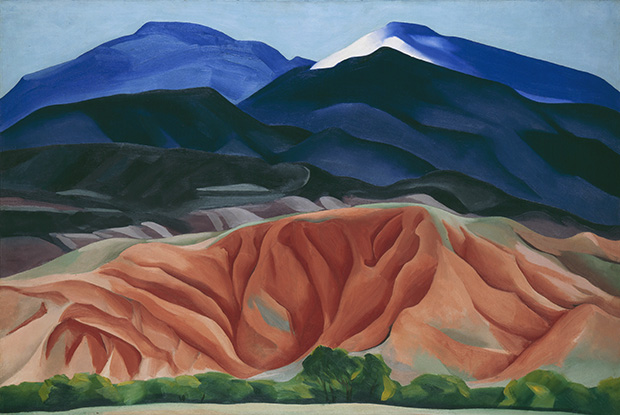 Today, when viewing her work in the new Tate show, perhaps we should wonder less about the sexual interpretation of her flower paintings, and think more about how, in her final setting, O'Keeffe managed to find an isolated place, free from any unwelcome interpretation of her art.
For greater insight into this artist's life and work order a copy of our Phaidon Focus book dedicated to this artist here.