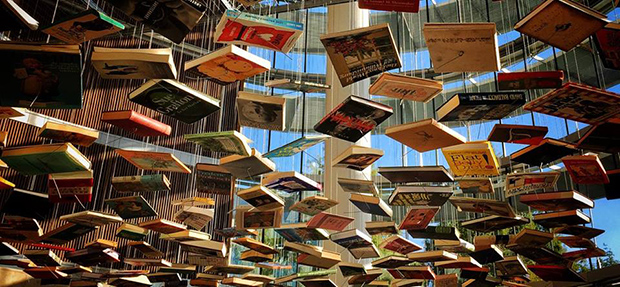 Watch a Richard Wentworth artwork take shape
False Ceiling – Indianapolis opened at the weekend, and the museum sent us this video capturing its installation
How many artworks look as good when they're being put together as they do once they're finished? Certainly the installation of this new Richard Wentworth installation makes for a great time-lapsed video.
Richard Wentworth is no architect, but he does mess around with buildings and everyday objects in a way that makes us rethink our relationship with both.
"If we generally take architecture and the built form generally as the most striking example of visual permanence that surrounds us, " writes the British artist in his Akadamie X tutorial, "it might be useful to think about how they come to be."
"My own interest revolves around a kind of architectonics," Wentworth goes on, "about how spaces are made and adjusted."
False Ceiling – Indianapolis is one of the largest, and certainly the most impressive spaces Wentworth has ever 'adjusted'. After months of preparation, this suspended book installation opened at the Indianapolis Museum of Art at the weekend. Local residents donated the books to the museum, which were then strung up in the central space of the Museum's Efroymson Family Entrance Pavilion.
Wentworth created a similar, permanent installation at the Istanbul Modern in Turkey 10 years ago. However, unlike this earlier iteration, False Ceiling – Indianapolis can be viewed both from below and above, on the first and second floors of the pavilion.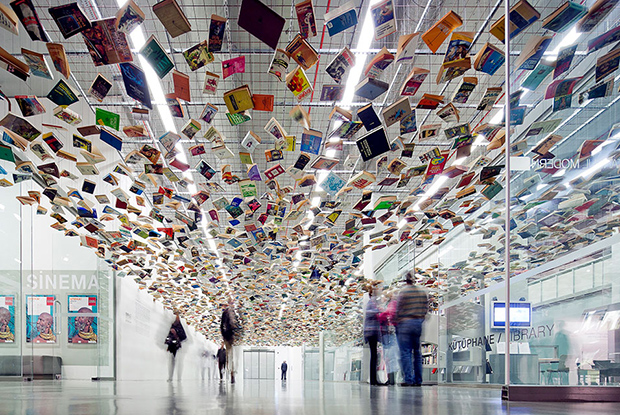 "When I had the chance to see Richard's installation in Istanbul a few years ago, I was impressed by its engaging visual presence and its successful marriage with the surrounding architecture," said Tricia Y. Paik, the IMA's curator of contemporary art and the author of our new Ellsworth Kelly book. "Richard has been able to achieve a similar result here, instead deploying the distinct spatial dynamics of our oval-shaped pavilion on two levels."
Printed matter is an important part of Wenworth's life and work; he lists some of the titles that have influenced him in his Akadamie X assigned reading list. However, he is also interested in "images that contain underlying complexities and rival narratives."
Reading is often presented as an unqualified good. Yet admirers of this new suspended ceiling might look up at these discarded diet guides and crime novels, and reflect on how books sometimes limit and box-in our ideas, as often as they propel them forward.
You can watch the entire installation take shape in this brilliant video. For more on Wentworth, order Akademie X here; for more on from Tricia Y Paik, order a copy of her Ellsworth Kelly book here.