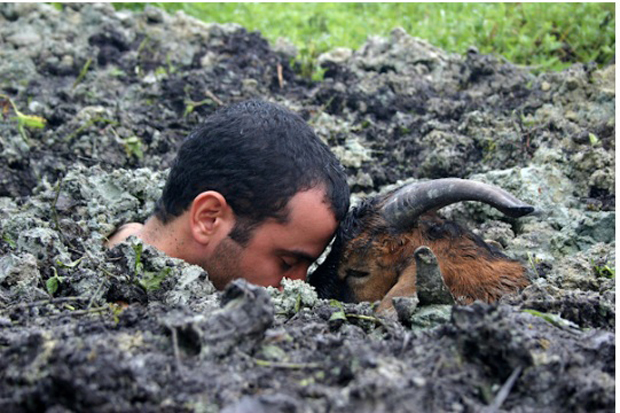 Brazilian artist Rodrigo Braga at São Paulo Bienal
Nature, blood, pain, death and struggle feature heavily in the work of this hotly tipped young Brazilian artist
Our Britain and France-based Phaidon.com readers may have already come across the work of Brazilian artist Rodrigo Braga. In 2011 he was in the Mythologies- Cité Internationale des Arts in Paris and this year, exhibited at Somerset House in London for the From The Margin To The Edge exhibition of Brazilian art and design held alongside the Olympics. Born in the jungle-locked city of Manaus in Brazil's Amazon in 1976, Braga has, naturally, exhibited all over Brazil.
The series of videos the artist is showing in his sala at São Paulo's Bienal is customarily striking. In one he writhes in the mud, caught in a rope hunter's trap in a forest clearing. The contrast – to be trapped, hunted, in a place as wild and empty as this jungle – is as vivid as the greens and the browns and the fear and desperation on the artist's face. In another video he is tethered to a goat, but the image is cut with a fish gasping for air on a slab. In another his hand, buried in mud, clenches around a live crab.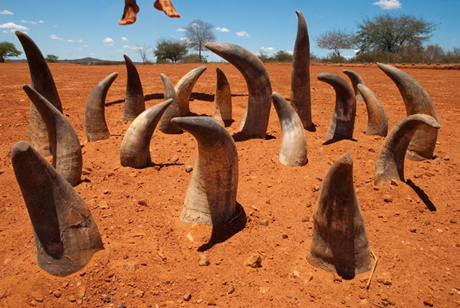 In both Braga's video and photographic work, nature, blood, pain, death and struggle feature heavily. His images make the skin crawl. In his photograph 'Mais do que o necessário I', for instance, his bload-soaked head leans against a tree. In Fantasia de Compensação (Compensation Fantasy) a severed dog's head lies on a table, cutlery just out of sight beside it.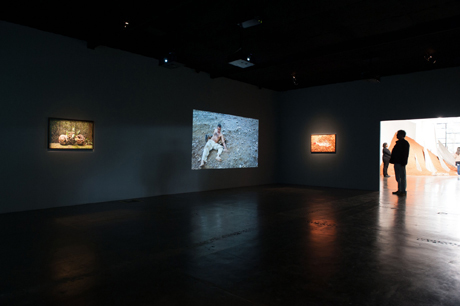 Signs of how this challenging young artist is being increasingly highlighted as an example of Brazil's bold contemporary art production, not just in his home country, but abroad. Represented by Galeria Vermelho, one of São Paulo's leading contemporary art galleries, he is also one of four finalists for Brazil's 2012 professional art investor prize, the Pipa (Prêmio Investidor Profissional de Arte).
His rural settings are in part inspired by the period in his childhood that his parents lived in a countryside encampment, where he listened to rural tales, he says, in a rare video interview recorded for the Pipa site. "It is these contexts that live in my work," he says. But there are also "personal stories, even for example, psychological."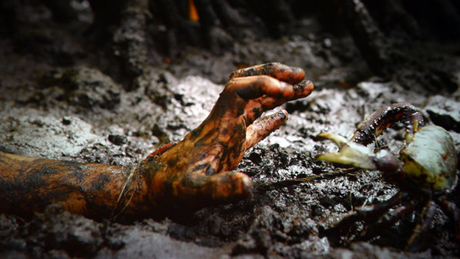 70% of Braga's work today is in photography. In a notebook he has had since 1990, when he began producing and exhibiting, there is a sketch of him with an ox's tongue in his mouth, an image later produced for a photograph in which he wears a biblical crown of leaves that covers his eyes. What enchants me about photography is the chance to disrupt time and space," he says. "I end up doing very speculative images." See his work and read more about him here.