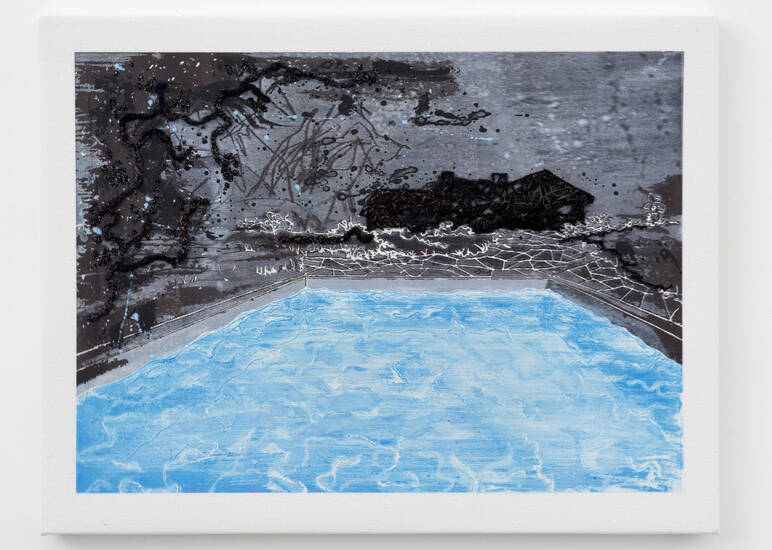 Michael Raedecker releases very limited embroidered edition
The 10 unique prints feature glitter, thread, and acrylic on canvas
Since the beginning of his career as a painter, Michael Raedecker has used embroidery in his works to challenge the conventional hierarchy of fine art technique.
The Amsterdam-born, London-based artist received his BA in Fashion Design from the Gerrit Rietveld Academie in Amsterdam, and continued his studies at Goldsmiths College in London.
Raedecker apprenticed with Martin Margiela in Paris, a formative experience evidenced in his canvases today, which feature intricately woven thread which give them depth, intrigue, and tactility. Raedecker's practice is engaged with re-contextualizing familiar ideas and spaces, asking the viewer to question held assumptions. 
Swimming pools are a recurring subject for Raedecker, who is fascinated by the ways in which paintings of pools can be containers of fantasy, reality, and peculiarity. Now Phaidon is pleased to present day at night, 2023, a new series of ten unique embroidered prints on canvas. Released on the occasion of Raedecker's new comprehensive Phaidon survey, each limited edition includes a signed copy of the book as well as a signed Certificate of Authenticity.
The new day at night, 2023 editions include thread, paint, and glitter, hand-applied throughout, making each piece a singular work of art. Each measures 13 x 17 in | 33 x 43.2 cm, is signed and numbered on verso, and is accompanied by a signed certificate of authenticity.
Raedecker's work can be found in public collections internationally, including: Tate, London, Guggenheim Museum, New York, NY, Art Institute of Chicago, Chicago, IL, Kunstmuseum, The Hague (NL); and MAXXI National Museum of XXI Century Arts, Rome.
 
On the eve of the release of this hotly anticipated new edition, we sat Raedecker down in his London studio and asked him about it and his wider practice.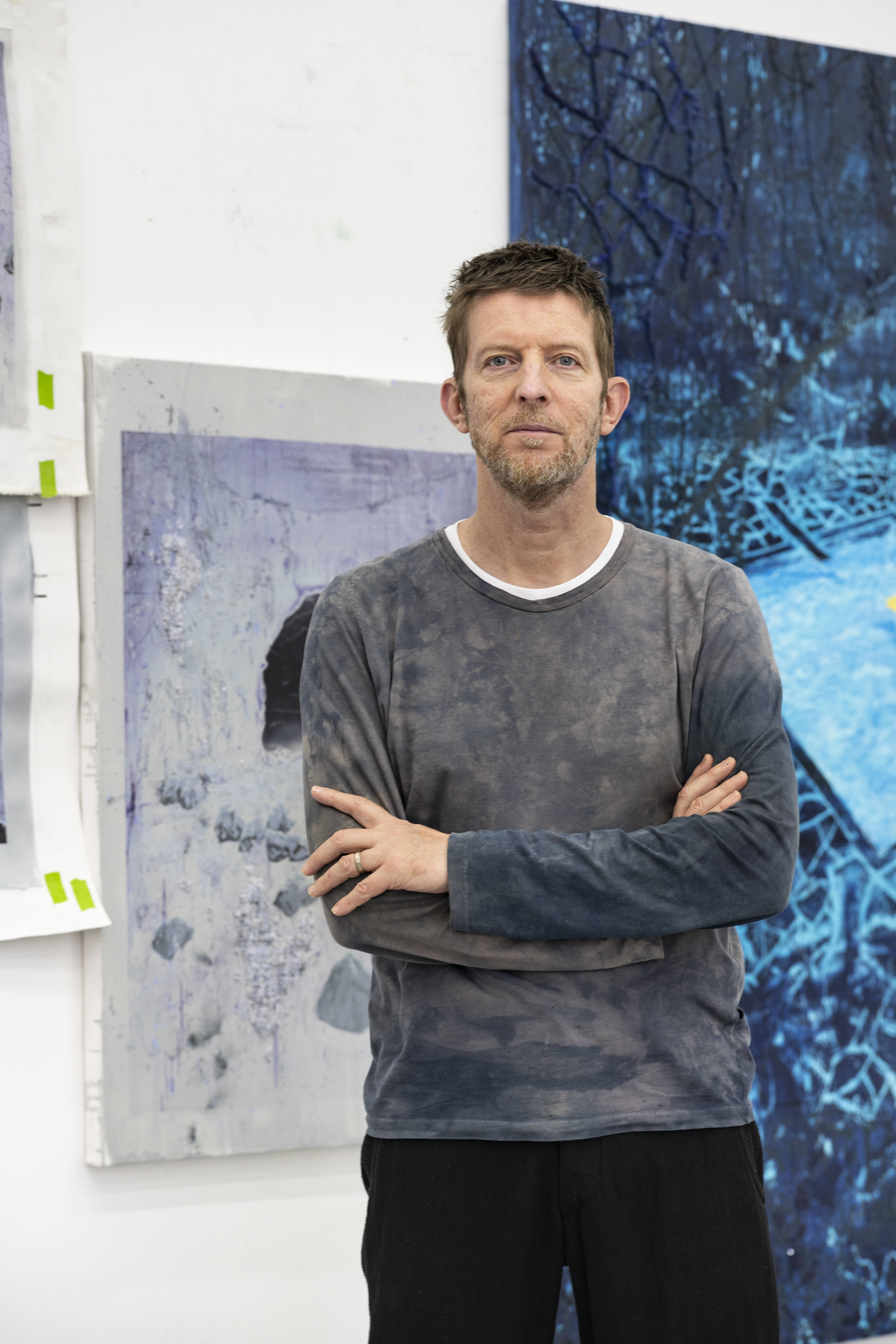 Michael Raedecker photographed by Damian Griffiths
Can you tell us a little about the original image that became the edition 'day at night' 2023 and what you were trying to evoke with it? A couple of years ago I reintroduced a transfer technique which I had used when I began making paintings 30 years ago. This process entails test prints before it is manually transferred onto the final work. These tests sometimes become works in their own right, a small try-out version of the larger painting, I call these works demos. A contrary statement to a painting being a unique object. When I was asked to make this edition I realised that it would be a great experience to go further and make ten versions of the same image.
Can you tell us about the process you've used on each of the ten editions?  My process starts with a sketch on paper that I then work out on canvas using thread and paint. I photograph the result, after which the source painting will be discarded. The image is then reworked on the computer and gets transferred onto a new test canvas and this follows many stages of finessing and more test prints, until the image is ready to be transferred as the 'real' painting.
For the day at night edition I made a point of developing - and enjoyed the opportunity to develop - all these slightly different versions. The image comes to the final stages of its process with paint and embroidery. Lately I have been exploring more of the classic craft techniques with thread such as crocheting, knitting and macramé, and I have been using fabric cutouts, beads and sequins as well.
Unlike most editions, this series is made on canvas, and is done with exactly the same techniques I normally work with in my paintings. 
Swimming pools figure in your work. What do they convey for you? Was there a formative experience you associate with them that has fired your work? When I made my first swimming pool painting it reminded me of the film 'The Swimmer' (1968), where the protagonist Burt Lancaster decides to swim back home from pool to pool, meeting along the way their owners, his old friends. The pools in the film seem to be the idyllic settings, but everybody appears to be out of touch with reality and there lingers a strange atmosphere of foreboding and signs of decay. Reading between the lines, like in a good painting, it gives you just enough information to figure out the missing parts.
Swimming pools for me mean leisure, summertime, and being outside of your usual surroundings. And I am in particular talking about the suburban, outdoor pool here. This is one of the ultimate places that embellishes the pleasure principle. A place created where one can forget the outside world. A carefully created paradisiacal zone where one also simultaneously realises that this is not really real; it is perhaps all too good to be true. But an ideal and powerful prop and construct for a painting. MICHAEL RAEDECKER - day at night, 2023 - Photography Damian Griffiths   
How do you view the role of thread in your work, does it take on some of the properties of nature and environment? When in 1990 I finished my BA in fashion design after doing some apprenticeships in Paris, I decided to change direction completely and focus on panting. There wasn't anything obvious about this decision since I had not painted before, and for whatever mysterious reason I trusted that this was the absolute right choice. I then needed to figure out what painting is and what my approach to painting was going to be. One of the first things I realised was that I didn't want to just paint a picture with paint, this had been done for hundreds of years. 
I was drawn to an aesthetic whereby I was investigating painting as a historical medium in relation to a Sunday painter's approach where  there is no agenda. Just because, one loves to paint. My aim was to escape the 'tradition of painting', and I introduced for myself a 'wrong' element into the mix. I introduced a non-art technique, the thread, in combination with paint. Embroidery is a craft, it is a hobby, and like Sunday painting; embroidery does not have an ideology. I chose to combine 'high', painting, with 'low', craft, to create new paintings. So the seemingly small act of embroidery on canvas has subverted the surface and meaning of these paintings.
The presence of absence seems a powerful element in your work, can you remember how this began for you, or what provoked or inspired it? When an artist is working on ideas and sketches it leads automatically to the practical question of how you will translate this into a visual work. Working with figurative imagery, sometimes using photographs as source material, you have to choose what you leave in and what needs to go, since a photograph always has too much information.
I like that when you are looking at an artwork it can trigger other images and thoughts that aren't actually visually present in the work; the presence of absence. That is what can make a painting so powerful and simultaneously unintelligible. You cannot fit the whole world in one image, but in the end a painting is this one thing, and the best paintings somehow may trigger the whole world, (even if it may appear empty).
The works have been described as dreamscapes and seem beamed in from the edge of consciousness. When does inspiration tend to hit for you? Do dreams play a part in the creation and, if not dreams, what states of mind lead you to the images you depict? Unfortunately I hardly ever remember my dreams, so this is not helpful. Inspiration however can come at the most unusual moments; riding on a bus or reading a book. But most of the time you just have to work for it. Sitting down, making sketches, browsing in catalogues, looking at images, and letting the intelligence of the work guide the selection. It's a clinical process whereby I use elements and topics as props that could make an intriguing composition and a visually enticing image. It's like how a writer wants to develop an exciting story, and a movie director translates a script into a fascinating film. MICHAEL RAEDECKER - day at night, 2023 - Photography Damian Griffiths
Take a closer look at the various examples of the editions here.