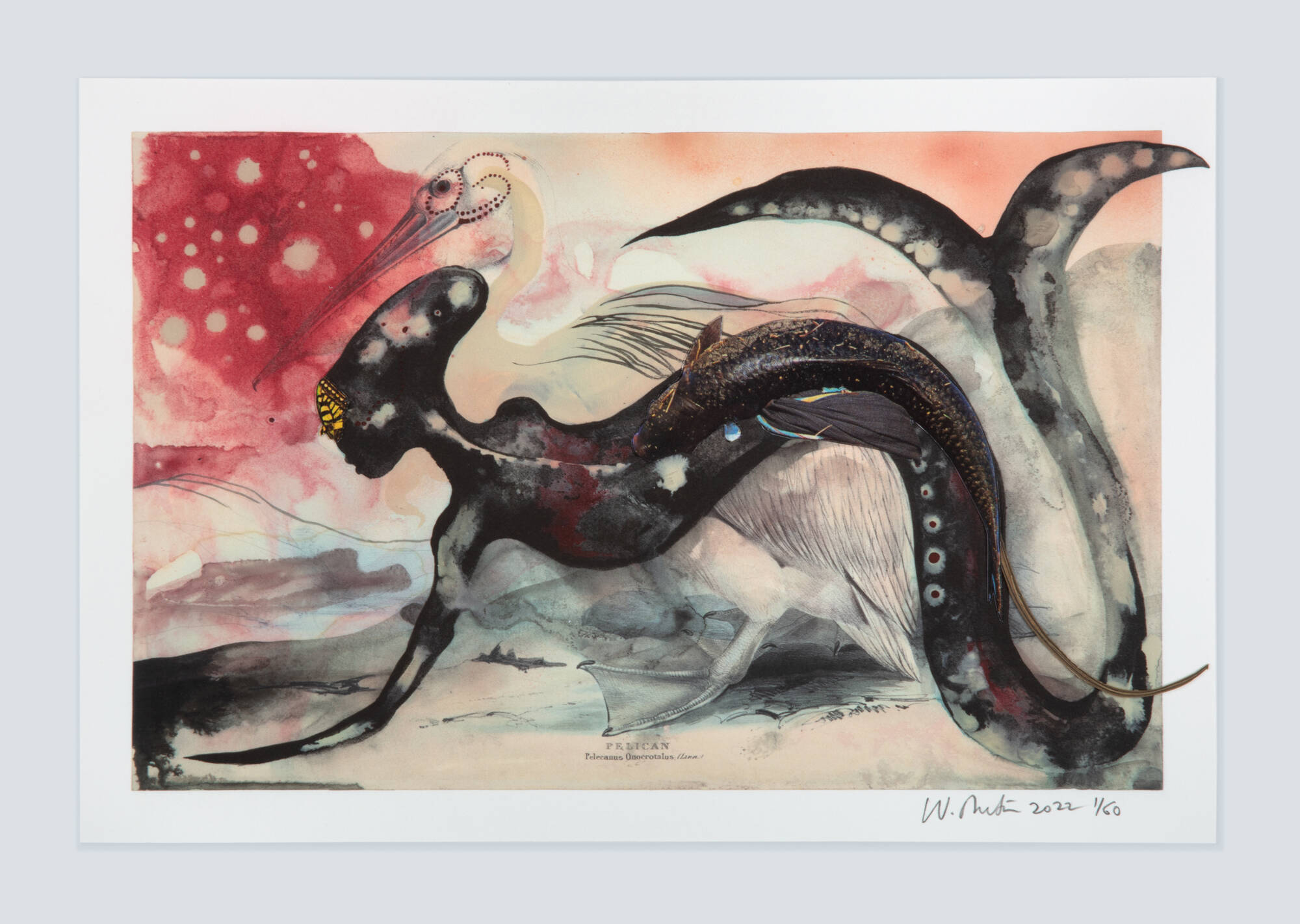 Wangechi Mutu launches Phaidon & Artspace limited edition WaterSpirit washed Pelican, 2022
'Working with prints is a kind of archaeography. It's my way to conjure something from the past that can tell me something', she says of the new edition
How should we frame art? In her new Phaidon Contemporary Artists Series monograph, Kenyan-born Wangechi Mutu pushes back against the notions that art is just painting, or that art is simply the stuff that belongs in a museum.
Instead, she argues that these ideas "have a lot to do with colonization and the attempt to own things that are sacred and un-ownable. This false narrative about the art histories that are out there has driven my art-making," she elaborates.
"The most dominant idea of acceptable art is the art of the European canon. Everything else is Voodoo, is lesser than, is craft, is folklore, is anthropology. Who knows who made these terms up?"
That final question remains open, but throughout her career, this phenomenally creative individual has worked to ensure that none of these criteria hold her back. Wangechi's body of work includes video, performance, sculpture, installations, paintings, collage, and editions. Issues such as race, sex, motherhood, the environment and geopolitics, as well as the rhythms and chaos that govern the world, all flow through her work, while such diverse materials as bronze, tea, magazine pages, synthetic hair, Kenyan soil, feathers, and sand, all find their place within her creations.
Mutu wowed Manhattanites with her regal sculptures, The Seated I (MMA 2020.119) and III, two of four works which occupied the niches in the facade of the Met Museum during the early months of the pandemic, and impressed art lovers further upstate, with her 2022 sculptural retrospective at the Storm King Center in Windsor, NY.
Mutu's works are currently featured in the group show A Gateway to Possible Worlds: Art & Science-fiction at Centre Pompidou-Metz, Paris, France until April 2023. In 2019, the artist was featured in the Whitney Biennial, and TIME magazine recently named the artist one of its '28 Outstanding Women'.
She is now preparing for a major solo exhibition, Intertwined, at the New Museum, in the spring of 2023, as well as the release of her debut Phaidon & Artspace edition, *WaterSpirit washed Pelican*, 2022, a lithograph, collage, and mica on archival pigment print, measuring 7 1/2 x 11 in (19.1 x 27.9 cm) in an edition of 60 + 10 APs, each signed and numbered by the artist and available for $2,000.
To mark the Phaidon and Artspace edition debut, Mutu told us about her earliest influences, how her studios in Brooklyn and Nairobi bring out different qualities in her practice, the rich stories behind the original image, and why art is not a place or a play, but what is in the mind.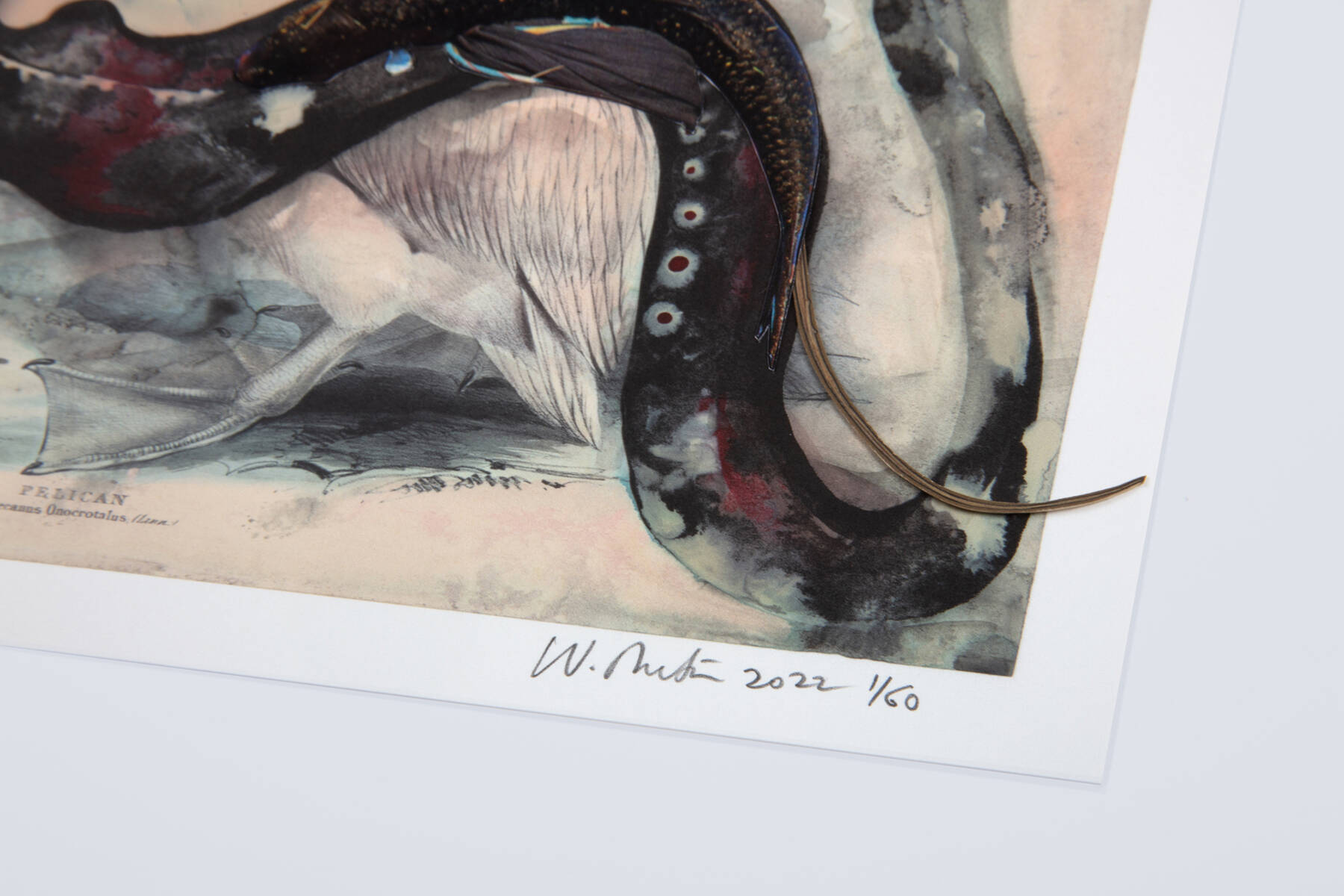 WaterSpirit washed Pelican, 2022 - detail
Can you tell us about the original image from which the edition is taken. What were the things inspiring you, and the things you were getting to grips with?
Working with older prints and found materials is a kind of archaeography, a re-discovery and re-naming of an image. It's my way to conjure up something from the past that can return to tell me something or remind me what I've forgotten.
It's an incredibly powerful image, can you tell us about the references to the Dugong and east African folkloric legends?
All river and coastal inhabitants have stories about haunting creatures that invade the imagination. Some of these languages have created images and sculptures that describe what these beings might be like. Dugongs are sea cows that are endangered and very rare to sight. I've never actually seen the animal, so I created one the way I think it might appear.
What made you interested in these legends, were you told them as a child, and they somehow later came out in your work visually?
I'm strongly impacted by visual images and often remember places, objects, pictures more than the words that were used to describe them. These stories I read, or had been told, sit more prominently in my memory now that I've conceived them in the form of paintings and objects.
Can you highlight something one should look for in the image to understand it better? In particular, what does the pelican signify?
I painted on an old print, which was an illustration of a Pelican. But...Ceci n'est pas une pelican.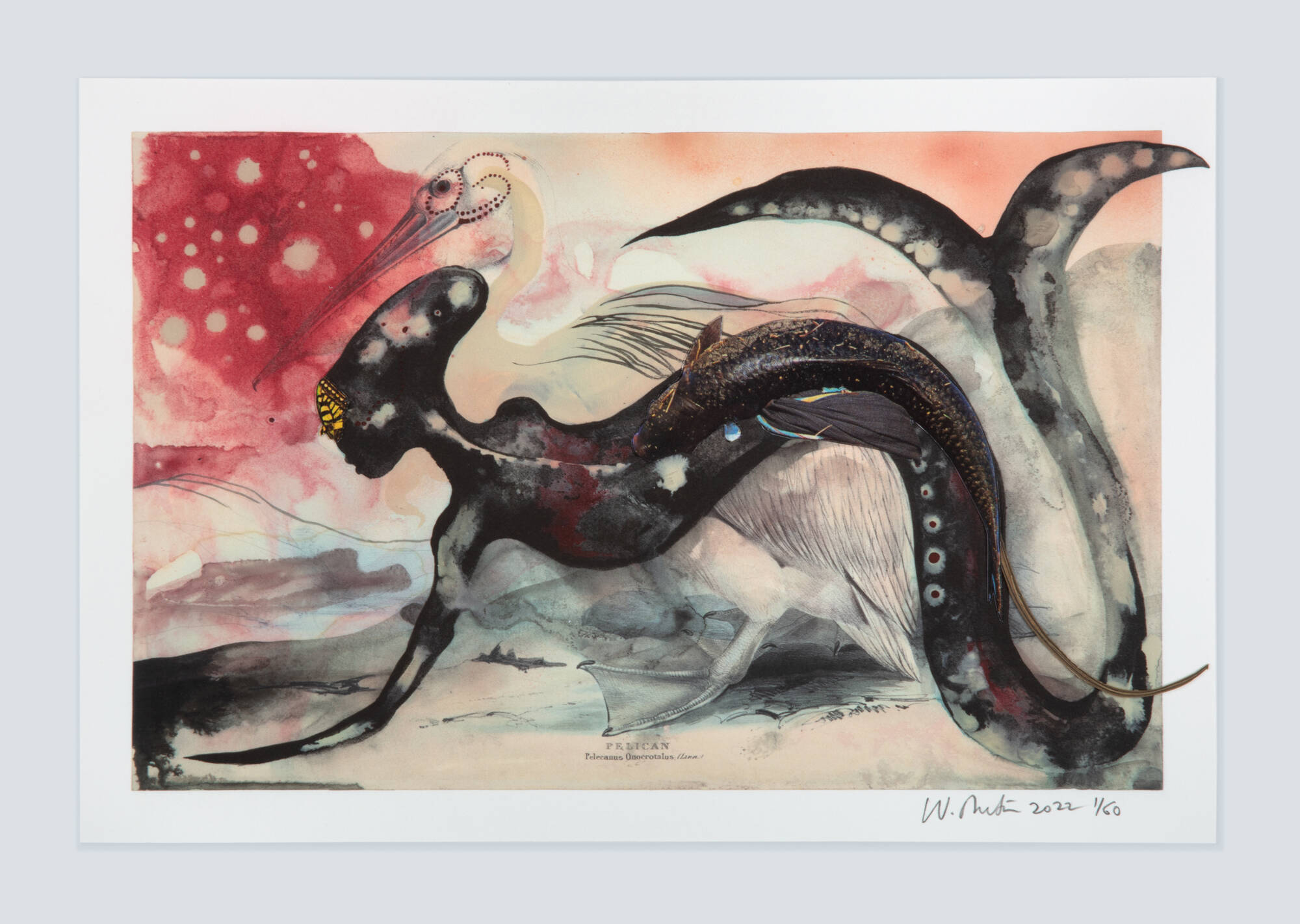 Wangechi Mutu - WaterSpirit washed Pelican 2022
The images you create are often extremely textural, visceral while also beautiful and fascinating – where do you think this textural element springs from?
The textures come from observing the world, plants, skin, dust, machines, food, rain, scrutinizing how the phenomena of the world and all its bits and pieces fit together.
Do you ever think of your work having its own 'cast of characters' that you have a relationship with?
Art is not a place or a play, it's what's in the mind that has endless possibilities.
What are the main things you believe your Nairobi and New York geographies bring to your practice?
The more places you visit, the less sure you are of the singularity and superiority of anything. I have more fun when my ideas are challenged by various geographies and realities and value systems.
Wangechi Mutu, 2021 - photographed by Cynthia Edorh
What does working with powerful-in-their-own-right creators such as David Adjaye or Santi Gold teach you about your own art?
We all have such specific and important roles to play and working together can sometimes be very powerful.
Marilyn Minter recently told us about the creation of Big Red and her Wangechi Gold paintings. The photo shoot as she described it sounded like a fabulous collaboration (feathers, blue paint, vodka and cake mixture all played a part) – what do you remember of the encounter?
I was very pregnant when I called Marilyn and I wanted an unconventional picture of me at that moment. I wanted her to photograph me and depict me the way I felt and perceived myself; voluptuous, fertile, strong, courageous, feminine and joyful. Marilyn was excited and available to take these pictures of me at that very moment. I wasn't quite able to work with my photographs, but she has with hers. She made several very beautiful paintings.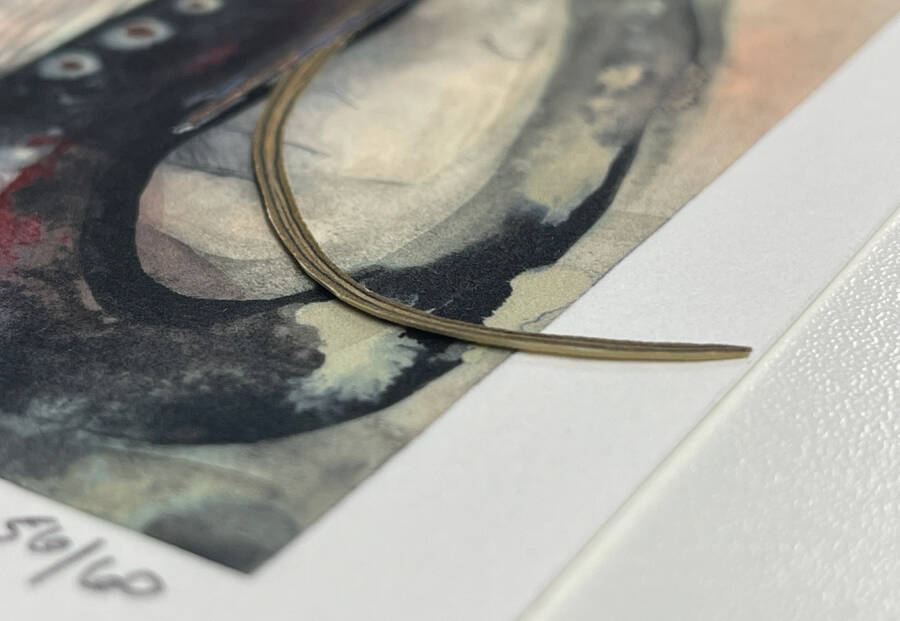 WaterSpirit washed Pelican, 2022 - detail
Take a closer look at *WaterSpirit washed Pelican*, 2022, a lithograph, collage, and mica on archival pigment print, measuring 7 1/2 x 11 in (19.1 x 27.9 cm) in an edition of 60 + 10 APs, each signed and numbered by the artist, here.