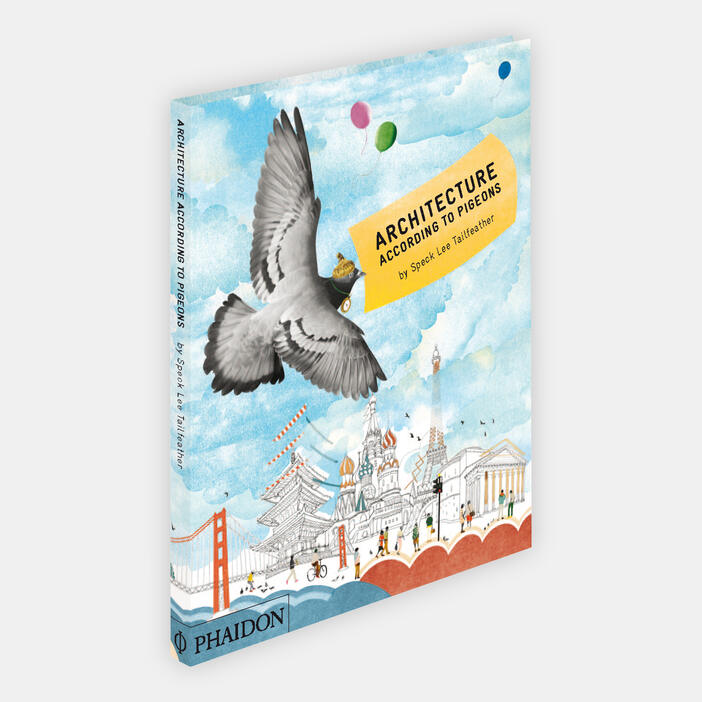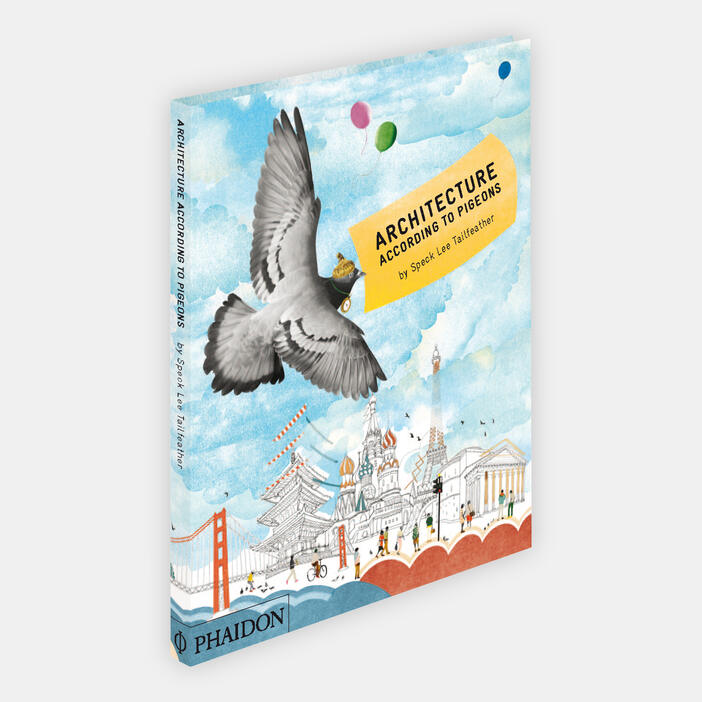 Architecture According to Pigeons
Price CAD$19.95 Price T19.95 Price USD$19.95
Hello. I am Speck. Come fly with me!

Architecture According to Pigeons is the perfect introduction for children to the most beautiful buildings in the world and the basic principles of architecture, using a fun, lively and engaging way of learning.

In this delightful book, a pigeon named Speck Lee Tailfeather reveals that pigeons are great aficionados of architecture and delivers an account of a journey around the globe with fun facts about each of the iconic buildings he visits. The book features the Colosseum, the Taj Mahal, the Golden Gate Bridge, the Sydney Opera House, the Eiffel Tower, Frank Lloyd Wright's Fallingwater and dozens of other buildings from a 'bird's eye view' to delight children and parents alike.
Specifications:
Format: Hardback
Size: 320 × 250 mm (12 5/8 × 9 7/8 in)
Pages: 64 pp
Illustrations: 32 illustrations
ISBN: 9780714863894
Speck Lee Tailfeather is a highly respected Pigeon Elder, elected by his peers to reveal to human beings the truth about pigeons' finer sensibilities and their love of architecture. Architecture According to Pigeons is Speck Lee Tailfeather's first book to be published.
Natsko Seki was born in 1976, grew up in Tokyo, studied illustration in Brighton, and made her way to London where she now lives and works. Inspired by architecture, vintage culture and fashion from different ages and cultures, Natsko creates vibrant cityscapes and enjoys applying her friends and family members into her illustrations by collaging photos from her old family albums and her own photographs.
"[A] fun and engaging book for children ages 7 and up is the perfect introduction to the basic principles of architecture."—360 West Magazine
"Colorful, visually dense."—Wall Street Journal
"Airy but informative and sure to tempt young readers into taking closer looks at the buildings (and pigeons) around them."—Kirkus Reviews
"A great way to brush up on your architectural essentials, no matter what age you are."—Architizer.com
"Perfect for the child who loves to build and create."—Washington Post
"Children will enjoy the interesting and entertaining facts that accompany each building... The buildings are brought alive by the talented artist Natsko Seki, who uses her stylish and unique technique of merging art and photos into a digital collage... I'm sure that after reading this delightful and quirky book which includes over 40 fascinating structures, children will look at pigeons and architecture in a new way - I know I do."—Montessori International
"Accompanied by gorgeous collages, this book eloquently explores what makes buildings-from Fallingwater to Brasilia to the Church of Light-unique... Tailfeather's love of architecture shines through with poetic and thoughtful insights."—Architecture MN