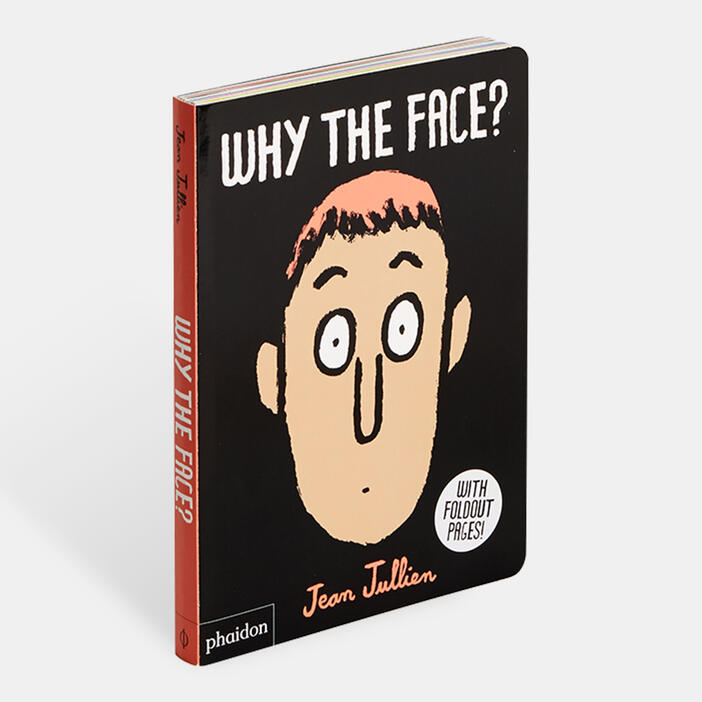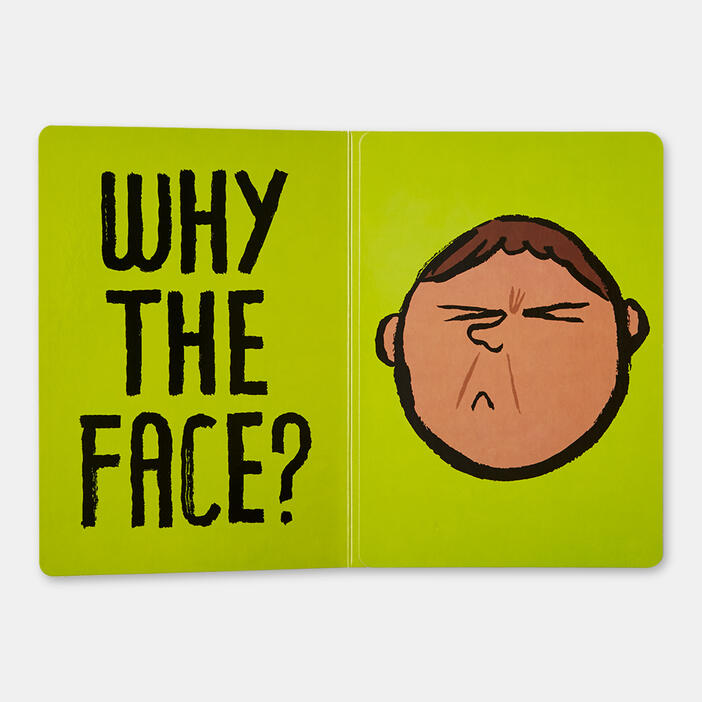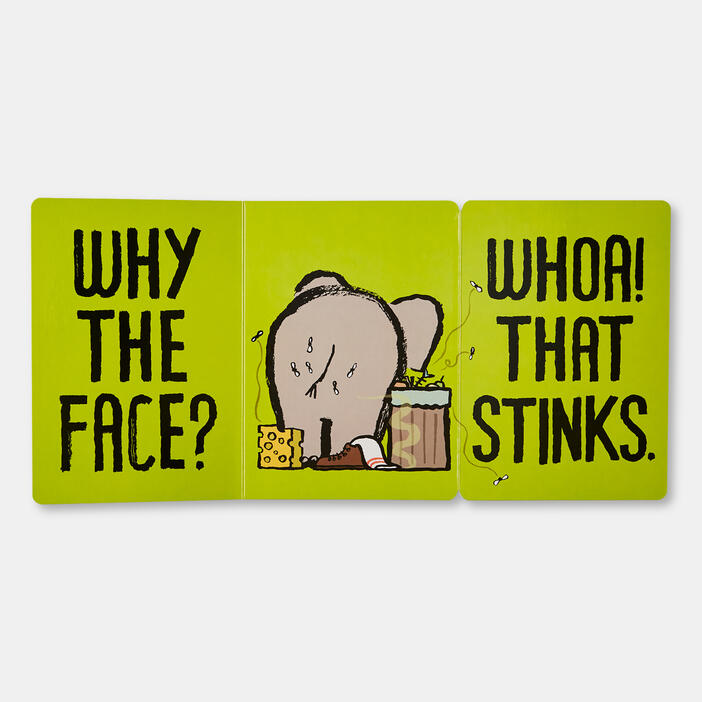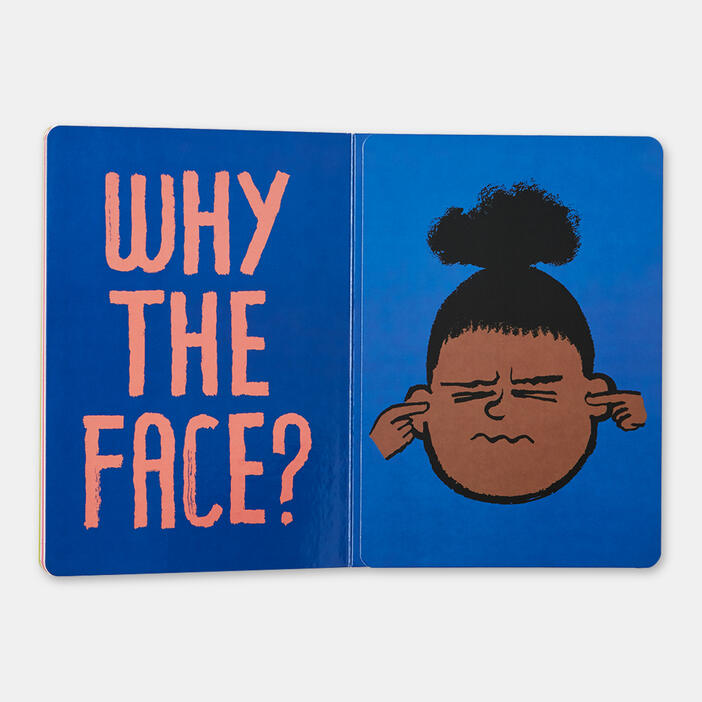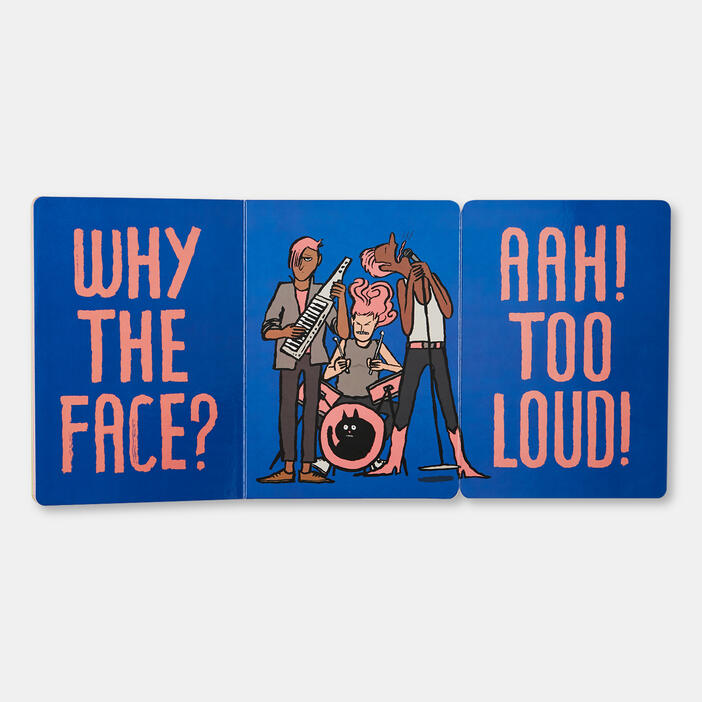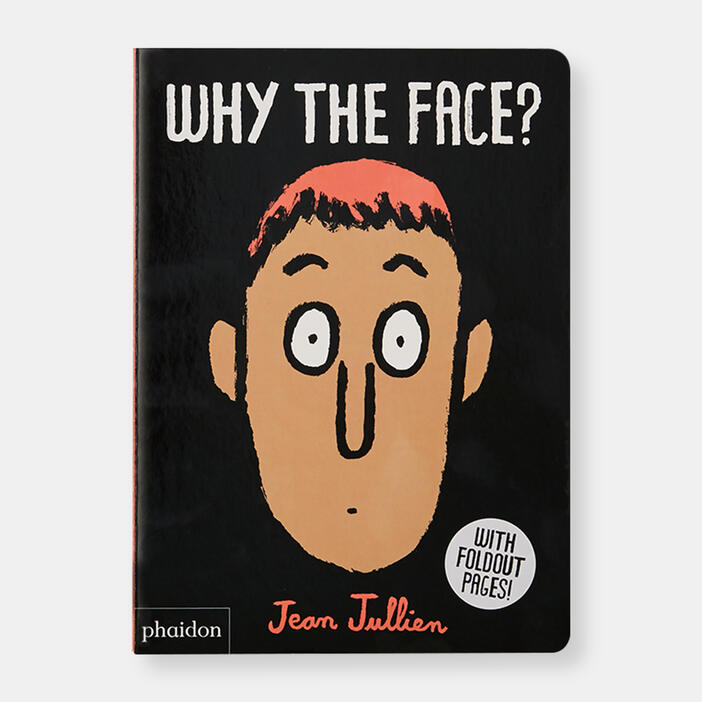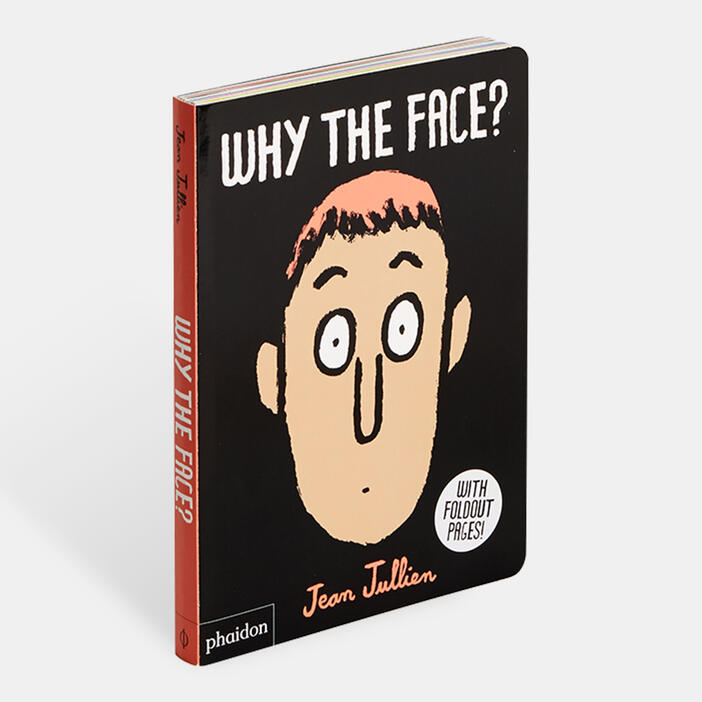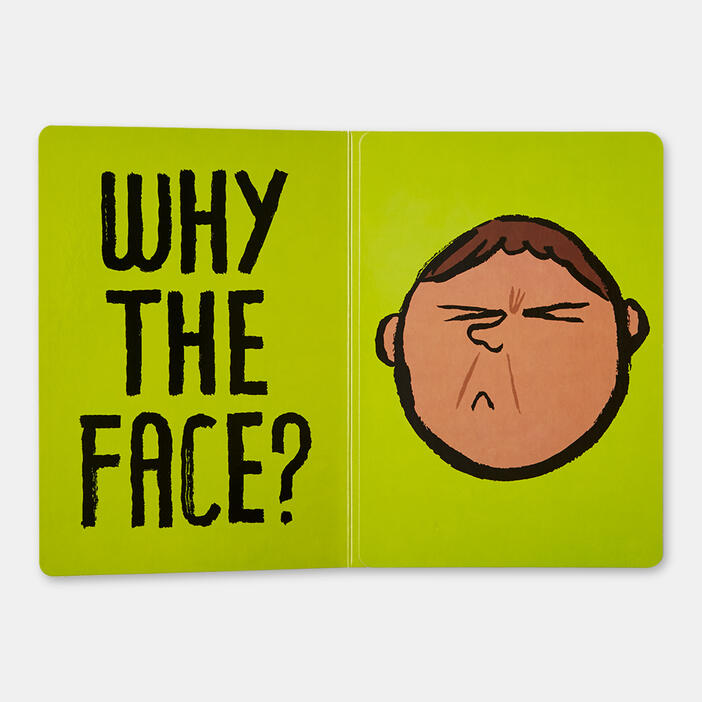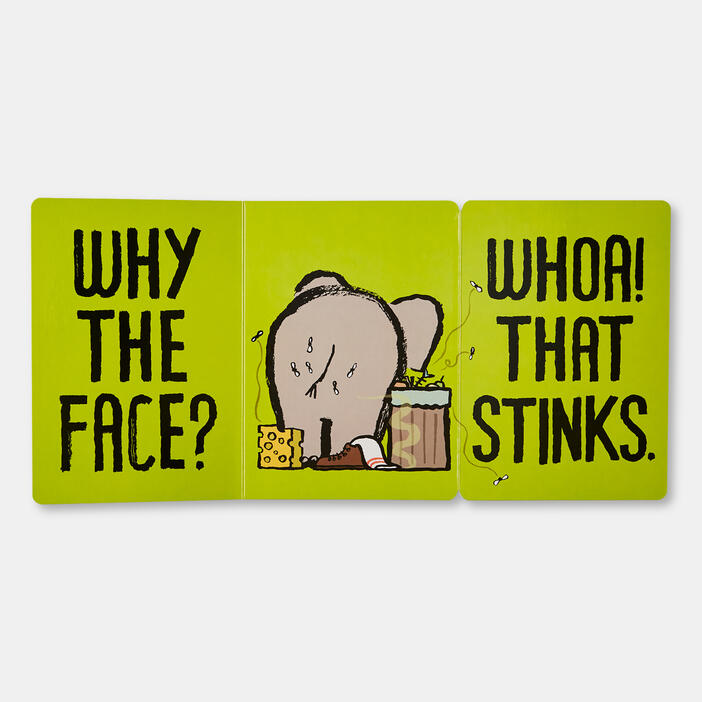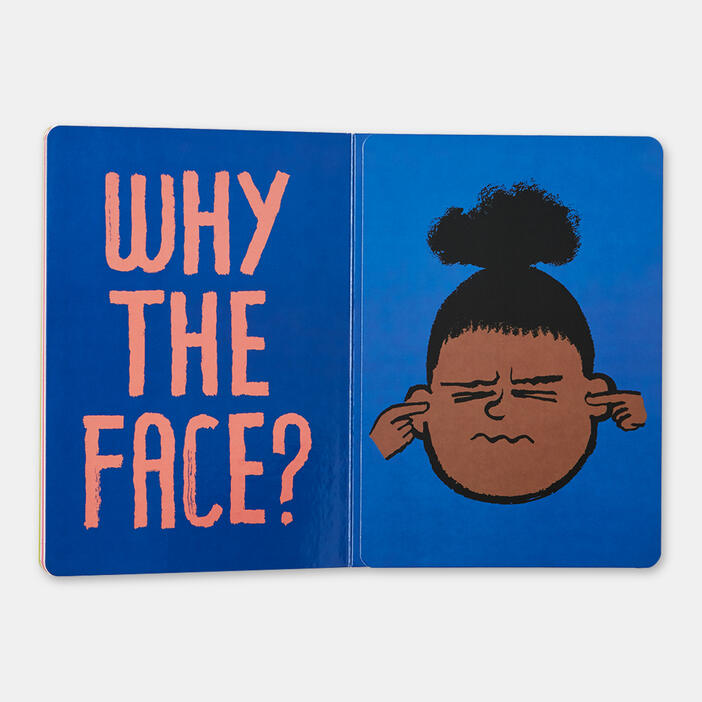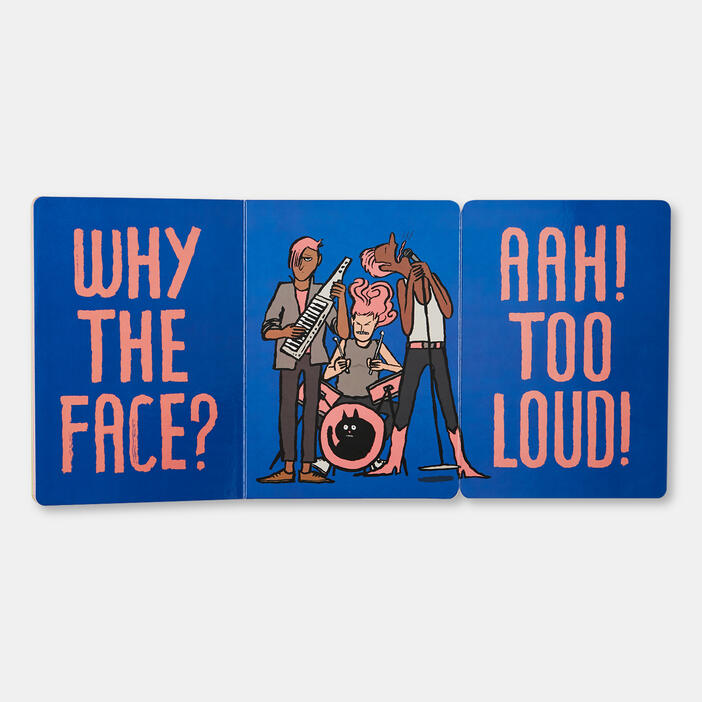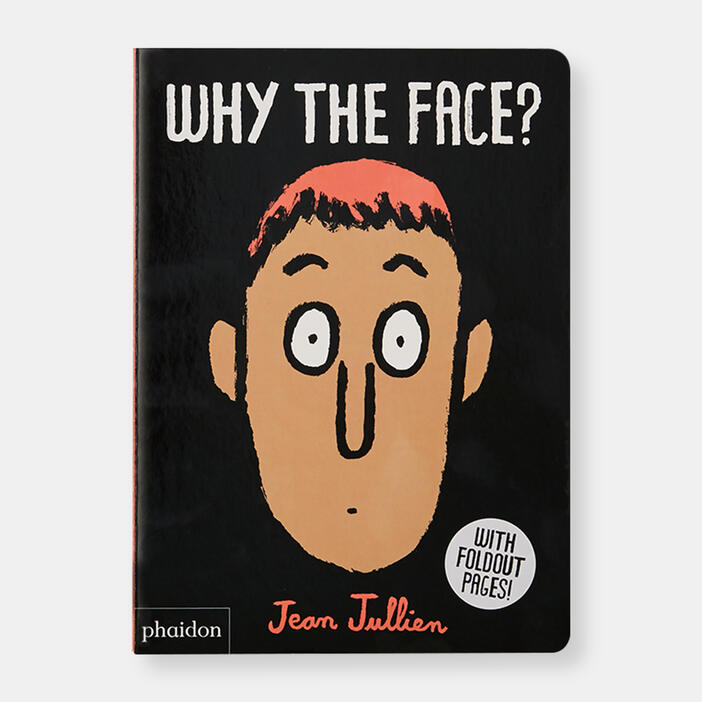 Why The Face?
Price AUD$19.95 Price CAD$19.95 Price £12.95 Price T16.95 Price USD$16.95 Price €14.95
A hilarious guessing game of facial reactions created by the author of bestselling This Is Not A Book
Jean Jullien tickles the funnybone once again with a book of facial overreactions. Faces are presented first, allowing the reader to wager predictions of what may have prompted such an expression, before the dramatic answer is revealed. Why the face? reads the text alongside an agitated boy with eyes and nose scrunched up. Pick up the full-page flap to reveal a whole mess of smelly items, from stinky socks to an oozing trash can, and the text, Whoa, that stinks. Jullien masterfully provides enough clues for the reader to piece together the narrative, including both predictable and surprising scenarios. Based on young children's natural fascination with faces, this book encourages readers to practice empathy and build emotional intelligence, with cleverly simplified and humorously satisfying vignettes. A brilliant addition to Phaidon's growing Jean Jullien board book library.
Ages 2-4
Specifications:
Format: Board Book
Size: 228 × 165 mm (9 × 6 1/2 in)
Pages: 32 pp
Illustrations: 16 illustrations
ISBN: 9780714877198
Jean Jullien is a prolific and beloved French graphic design artist. His creative output ranges from illustration, photography, and video to costumes, installations, books, posters, clothing — even skateboards. Jullien has shown work around the world with museums and galleries in Paris, London, Brussels, Los Angeles, New York, San Francisco, Berlin, Tokyo, Seoul, Singapore and more. His work appears in The New York Times, New Yorker, National Geographic, SZ Magazine, Telerama and more, and he has collaborated with Beams, RCA Records, The Connaught, Colette, Amnesty International, Le Coq Sportif, Jardin des Plantes (Nantes), Hotel Amour, Champion USA, Salomon, and Petit Bateau, among other global brands.
"Jean Jullien never fails to make the team at It's Nice That laugh, and he's done it again with his recent book for Phaidon. Why The Face? is a children's book that encourages little ones to guess why the characters are pulling funny faces before the answer is revealed in the opening of a flap. We see scrunched up noses, fingers in ears and sticking out tongues, all in reaction to myriad humorous scenarios."—ItsNiceThat.com
"Help your little one learn all about facial expressions and what they mean with the funny and colourful book Why the Face?... Your tot is naturally fascinated with faces, so she'll love to guess why the different characters are smiling, screwing their face up or pinching their nose."—Mother & Baby
"Why the Face?... provides a guessing game of facial reactions that encourages readers to practice empathy and build emotional intelligence."—Publishers Weekly Online
"Witty, smart, and funny - kids will love it!"—Kirkus Reviews - Starred review
"This book is so much fun."—Kiss the Book
"Clearly one of the best board books of the year... It's the rare board book that little ones will love and grown-ups will love reading. A true feat."—School Library Journal Online
"A great fun way to read with younger children... It's a great way to help children become storytellers and they will love opening the flaps to discover what the real cause is. Children love facial expressions and this is a wonderful way to embrace them."—GlobalMouseTravels.com
"A really great book to help children explore emotions and facial expression, with plenty of laughs and original, bold ideas and illustrations from Jullien... As ever, in this brilliant and original board book which, because of its style and size, will appeal to older readers as well as pre-schoolers."—BookTrust
"This board book is full of laughs and surprises."—5 Minutes for Mom
"Its brilliance lies in its deceptive simplicity."—The New York Times
"Engaging for the youngest of readers but important for children of all ages, particularly those children who need support with social-emotional skills."—Imagination Soup
"★ Playfully designed.... Wagering guesses about the why behind each facial expression is almost as much fun as finding out the answers."—Publishers Weekly
"So much fun. It's a guessing game with flaps. On one side you see an expression and on the next you see the reason for that expression. We're always on the lookout for books that show clear emotions with explanations. Hard to top this."—School Library Journal/A Fuse Eight Production
"Laugh-out-loud moments are sure to ensue... The bright, vivid colors and bold line will draw them in."—School Library Journal
"A hilarious guessing game of facial reactions... Jean Jullien tickles the funnybone once again... Based on young children's natural fascination with faces, this book encourages readers to practice empathy and build emotional intelligence, with cleverly simplified and humorously satisfying vignettes. A brilliant addition to Phaidon's growing Jean Jullien board book library."—ABC News Online/13 On Your Side
"Inventive... Our youngest friends will enjoy the brightly colored illustrations. This humorous story is fun for all."—The Telegraph Herald