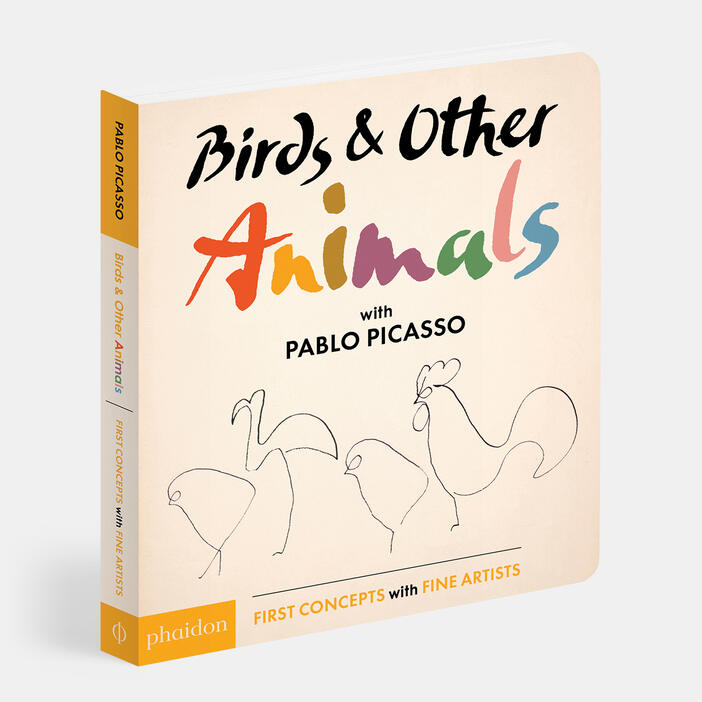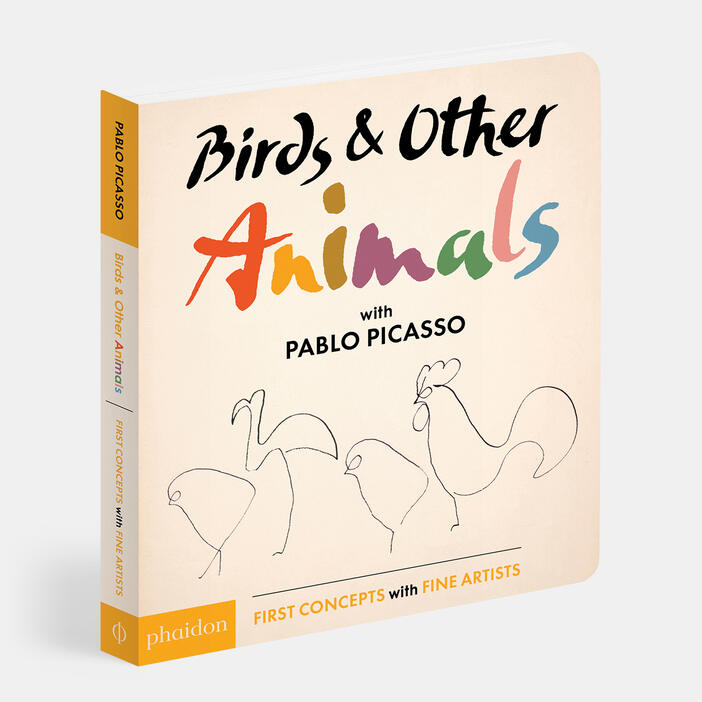 Birds & Other Animals: with Pablo Picasso
Price AUD$14.95 Price £6.95
A groundbreaking study of animals as captured in rarely seen sketches by legendary artist Pablo Picasso
The masterful drawings of Pablo Picasso are used to teach animal recognition in this artful, read-aloud board book. Birds & Other Animals takes children through Picasso's series of single-line animal drawings, beginning and ending with various kinds of birds. The cleverly whimsical charm of Picasso's sketches keeps readers engaged, while the accompanying text enriches the experience with conversational commentary. Readers will not only broaden their visual definitions of which animals are which, but also grow familiar with fine art in this relevant and relatable third title in the 'First Concepts with Fine Artists' series. Includes a read-aloud 'about the artist'.
Specifications:
Format: Board Book
Size: 204 × 178 mm (8 × 7 in)
Pages: 30 pp
Illustrations: 0 illustrations
ISBN: 9780714874128
Pablo Picasso was one of the twentieth century's most influential artists, as well as a co-creator of cubism. He produced over 50,000 paintings, drawings, engravings, sculptures, and ceramics throughout his life, and his work continues to be among the world's most exhibited and collected.
"The third title in a lovely early-learning concept series presenting fine art, this beautiful little board book features Pablo Picasso's masterful and whimsical animal sketches. There's even an introduction to the artist, perfect for mini art-fans in the making."—countryandtownhouse.co.uk
"Even preschoolers can be fine art experts with this series... Discover animal recognition together through this arty, read aloud book. Journey through a landscape of beautiful line drawings with a fun storyline that brings pets and animals to life in the most accessible way."—Smallish
"A gorgeous addition to any baby bookshelf."—BookTrust.org
"Simultaneously simple and sophisticated... Older preschoolers learning to make their own representational drawings will be inspired."—Kirkus Reviews
"Groundbreaking... The single line drawings bring birds, bugs, rabbits, turtles and camels to life, and it's thick sturdy board pages are perfect for little hands to get a grip on."—Absolutely Mama
"Featured here are drawings of animals that show what a superb draughtsman [Picasso] was... His drawings serve here as a lively and attractive way to introduce children to different animals and how to recognise them... These fine sturdy books [...] will be useful 'look together' resources."—Montessori International, May
"An unusual book and my immediate impression was that it would be too simplistic for young children who, I felt, would not be able to connect with the subtleties of Picasso's drawings. However, my three-year-old granddaughter was fascinated by it, able to identify every animal and as a result much discussion ensued... The First Concepts with Fine Artists series is a rather delightful way to introduce children to world-renowned artists; the other books in the series look at Blue & Other Colours: with Henri Matisse and Squares & Other Shapes: with Josef Albers. I hope more are planned."—Armadillo Magazine online
"The single-line drawings are beautifully simple, but their subjects are instantly recognizable and will likely inspire more than one kid (or parent) to pick up a pencil."—School Library Journal Online
"A stunning board book in which the very young can learn about animals through art while adults can appreciate the artistic genius of Picasso and his beautiful use of line... This little book is a wonderful introduction to the famous artist."—South Wales Evening Post
"Perfect for adults and children to share with a read-aloud section about the artist."—Early Years Childcare Magazine
"A standout gift for babies, toddlers, and new parents."—The Kid Should See This Gift Guide
"Whether they're helping to make actual or pretend tacos, 4- and 5-year-olds will love flipping the flaps on each page of this interactive cookbook."—New York Magazine Online/The Strategist