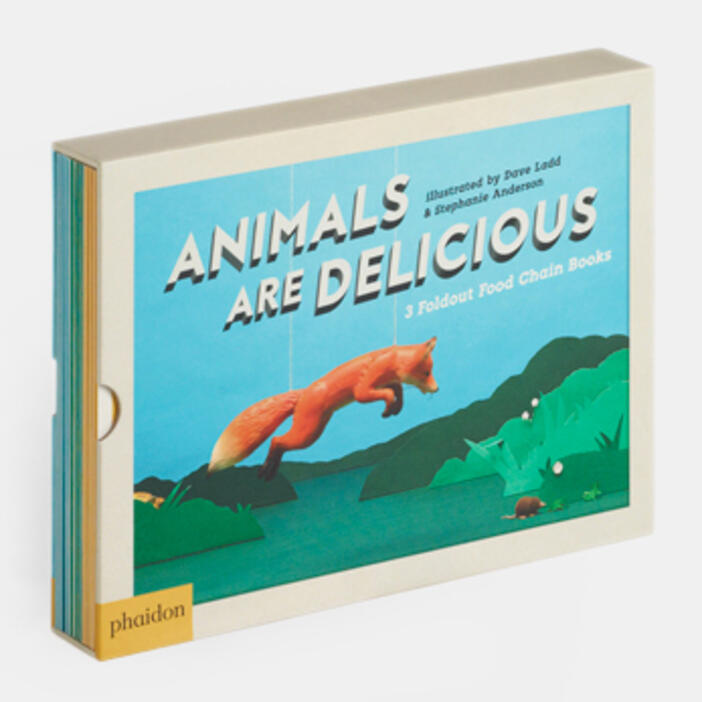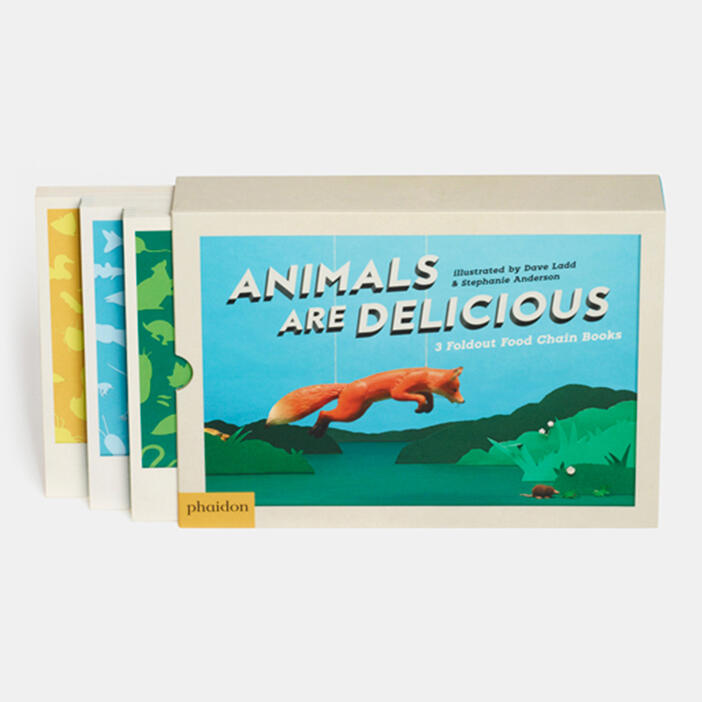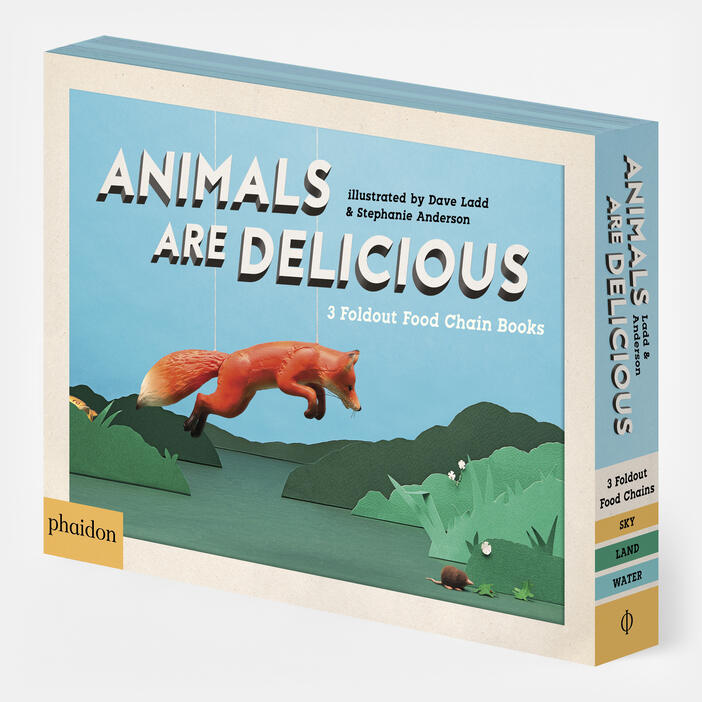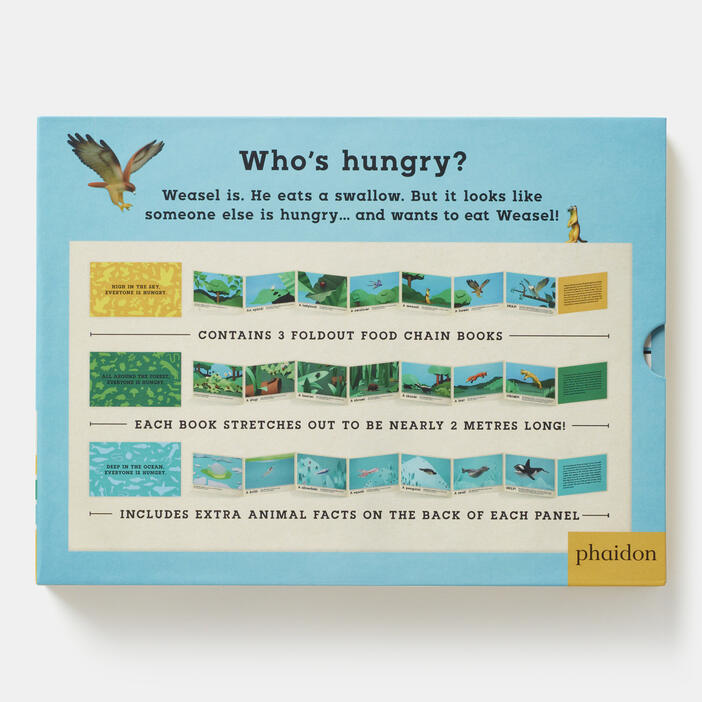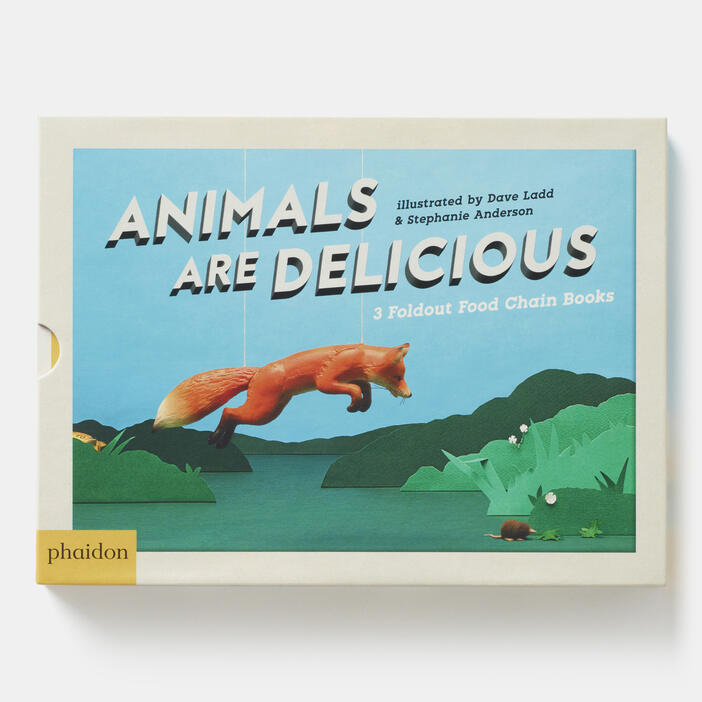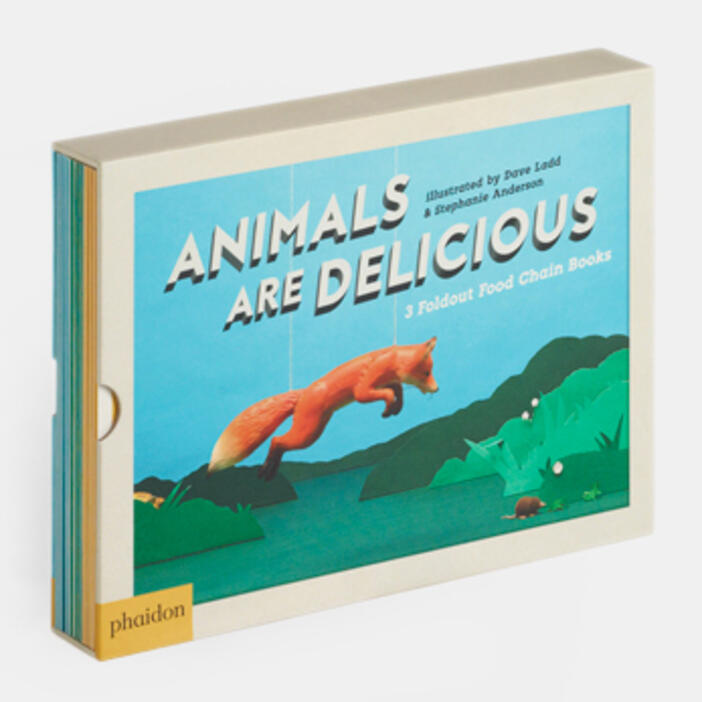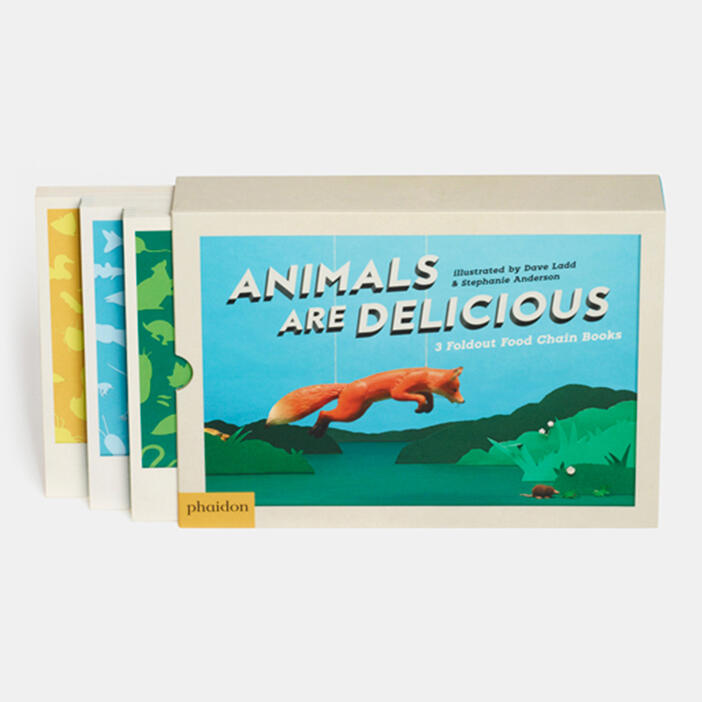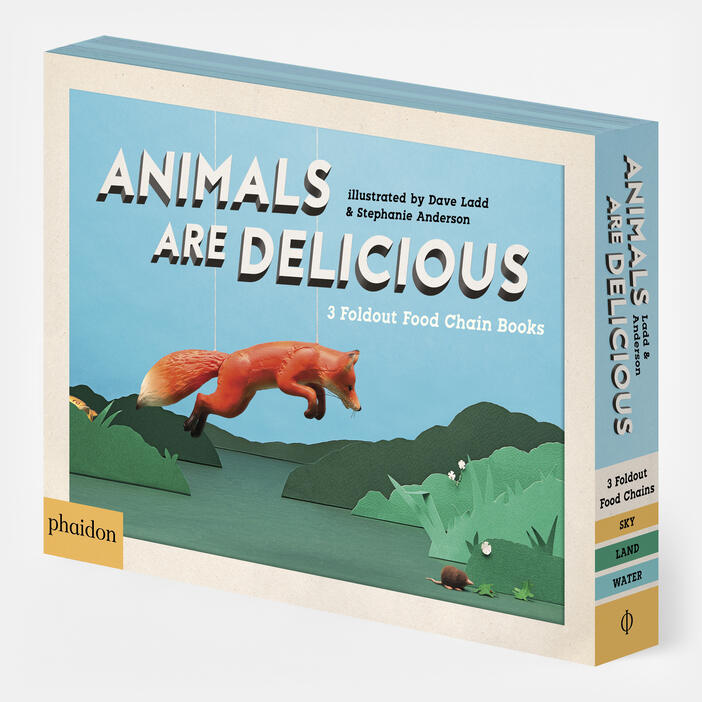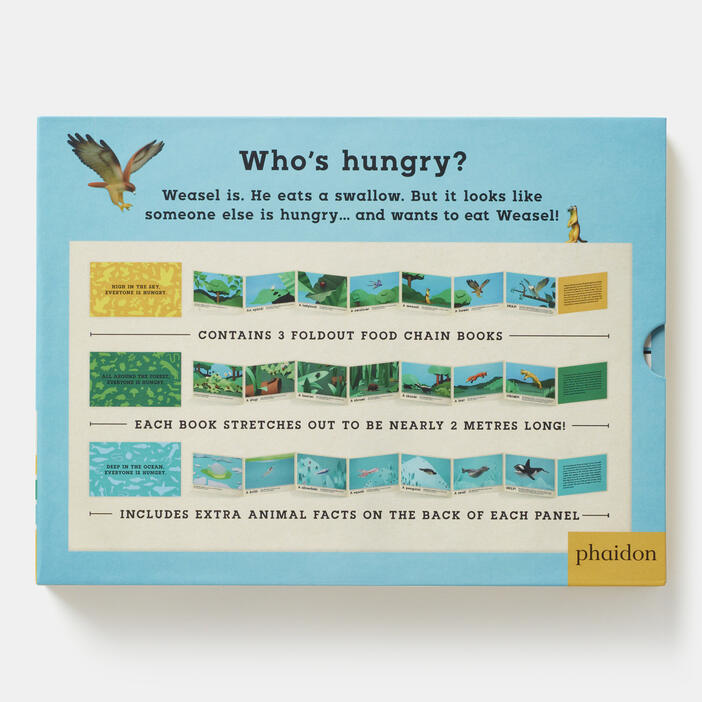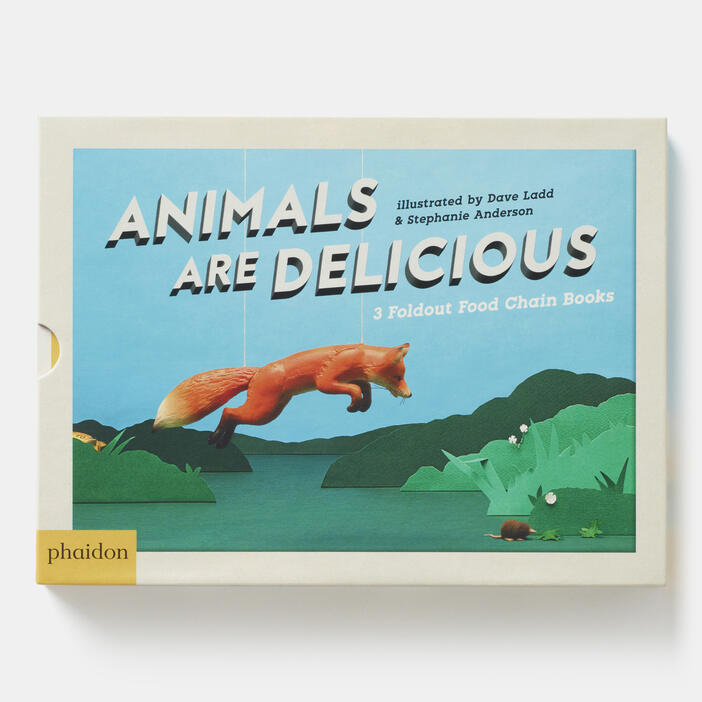 Animals Are Delicious
Price AUD$24.95 Price £11.95 Price €16.95
Animals eat animals in this informative exposé of three animal food chains
Three of the longest food chains of the animal kingdom are depicted in three accordion-foldout volumes, complete with stunning dimensional art and sparse read-aloud text.
Young children will experience the factual, specific, and possibly surprising information via bright visuals, pleasingly repetitive text, and a physical folding-out of the chain itself. The food chains are themed as terrestrial, avian, and aquatic, respectively, fully researched and vetted by a professional.
The information effectively expands upon the familiar experience of eating by portraying the parallel experience within the animal kingdom; it also creates a basis upon which to discuss the carnivorous tendencies of humans!
Created for ages 2-4 years
Specifications:
Format: Hardback
Size: 165 × 228 mm (6 1/2 × 9 in)
Pages: 48 pp
Illustrations: 24 illustrations
ISBN: 9780714871233
Dave Ladd and Stephanie Anderson are a husband-and-wife illustration and design duo. With varied backgrounds in art direction, prop-making, and animation, their work has been mostly commercial. They live with their daughter in Melbourne, Australia.
"The creators of the crazy foldout foodchain book Animals Are Delicious give you an insight into how they made their beautiful models" —TheGuardian.com
"It's the kind of book the kids will love to get down on the floor with - you should join them!" —West Australian
"Learning about food chains in the animal kingdom... imaginatively and humorously told." —Smallish
"[P]layful and informative... These brilliantly conceived and executed books would be great for classrooms." —The Buffalo News
"Explains three of the longest food chains within the animal kingdom-in a bright and playful way." —Cool Hunting
"As the tales unfold, the retro-style artwork brings the food chain to life... Discover fun facts about creatures and their environments." —Little London
"Playful, tactile and sure to appeal to the morbid fascination children have for who eats who." —The Bookseller
"These subtly educational books are full of retro charm" —Scottish Daily Express
"Winner in the Smallish Design Awards Picture Book. An imaginative lesson about the natural world... All the judges loved that Animals are Delicious pulls no punches on a fairly grown-up topic but bright illustrations, concise text and a fold-out format make the whole book brilliantly child-friendly. There are not cute, cuddly anthropomorphised animals here, which makes a refreshing read for both you and your child." —Smallish
"From a slug to a bobcat, an aphid to an owl and a krill to a whale, three animal-food books for your own little monster... Sarah Hutt's book promises to stir the excitement inside your little one's mind." —Gay Times
"The colorful artwork and simple verse of these books is entertaining, but the real fun is in stretching them all the way out!... A gentle way to introduce the food chain and what plants and animals need to survive." —Atlanta Parent
"These eye-catching books make for comprehensible and educational reads... Constructing them in their foldout style [...] makes for a more fun and interactive reading experience." —Inis, Reading Guide
"Playful language and brightly colored stylized illustrations that are big on science, yet short on gore." —Buffalo News Online
"Crisp, stylish photographs of models made from paper and other materials illustrate every page, creating a dynamic visual accompaniment to the simple yet informative text. The books are sturdy so will withstand plenty of handling, and the concertina design means they can be opened out fully and displayed, so the sequence of each food chain is clearly seen and understood. An outstanding set of books, which are fabulous to share with young children, particularly in an educational setting."—BookTrust.org.uk
"Take a visual journey through three different food chains: forest, sky, and ocean... The images created by Ladd and Anderson, which are made from a combination of mixed media "sets" and figurines placed in paper, are whimsical and reminiscent of dioramas found in a natural history museum." —Science Friday