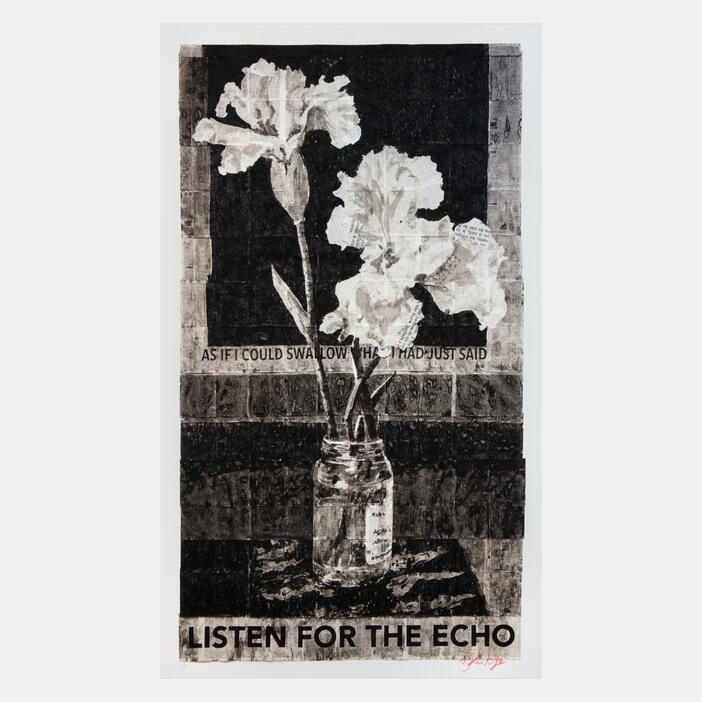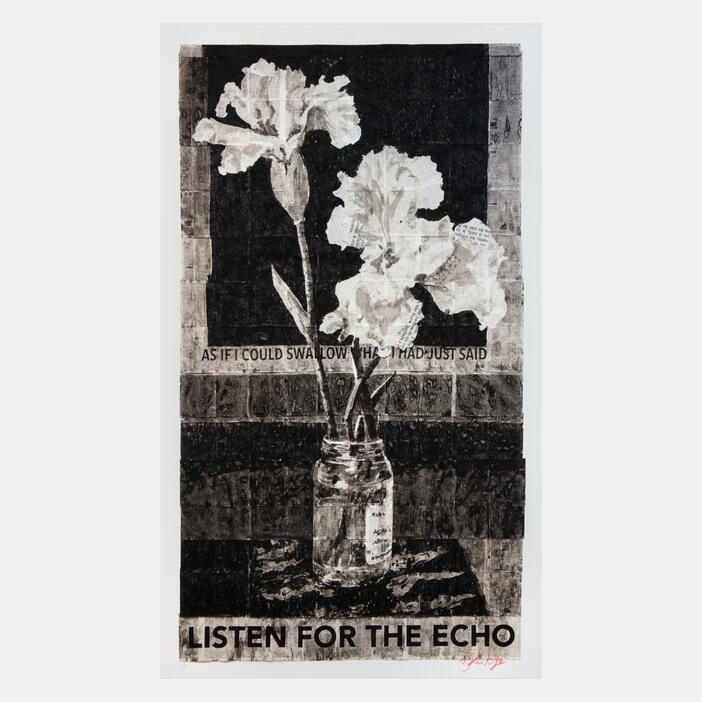 William Kentridge: Listen for the Echo (2015/2022)
Phaidon and Artspace is proud to announce a new hand-painted limited edition print by South African artist William Kentridge, entitled Listen for the Echo.
This edition has been produced in collaboration with The Broad, Los Angeles, where the artist's expansive survey exhibition William Kentridge: In Praise of Shadows opens to the public on November 12. In addition to his exhibition at The Broad, Kentridge's work is also currently on view at the Royal Academy of Arts, London.
William Kentridge is South Africa's most important contemporary artist, best known for his prints, drawings and animated films. Artspace's large-scale limited edition Listen for the Echo (2015/2022) showcases the qualities for which Kentridge is widely celebrated; the artist seldom works in color, allowing tonality and contrast to create tension and heighten the impact of text, which is frequently employed in his work. Kentridge has been making large scale images of flowers for many years, often referencing real arrangements that were given to the artist to commemorate specific occasions in his life.
Listen for the Echo references a monumental painting of the same title which is prominently featured in The Broad's exhibition. Each of the 40 signed and numbered prints have been hand-embellished by the artist with Indian Ink washes, resulting in unique finishes throughout the edition.
As noted by the Broad's curator Ed Schad, the edition's title "speaks to so much in Kentridge's practice. There is a focus on finding the evidence of lost histories or under-told stories in narratives, in images, and in landscapes… However, the echoes are also of a material and imagistic nature. Kentridge follows echoes in his work and these echoes can be found throughout his career as they are transformed and translated across topics, across mediums, and across cultures."
William Kentridge (b. 1955, Johannesburg, South Africa) grew up in Apartheid-era Johannesburg, and he has continued to live there throughout his life. His studio practice is inherently collaborative and expansive, spanning drawing, filmmaking, printmaking, sculpture, theater, opera, and installation. Recent major exhibitions of his work have been shown at Kunstmuseum Basel, Switzerland (2019); and a traveling exhibition which opened at the Whitechapel Gallery, London in 2016 and was shown at subsequent venues internationally. Kentridge has participated in Documenta (2012, 2002, 1997) as well as the Venice Biennale (2015, 2005, 1999 and 1993). The artist lives and works in Johannesburg.