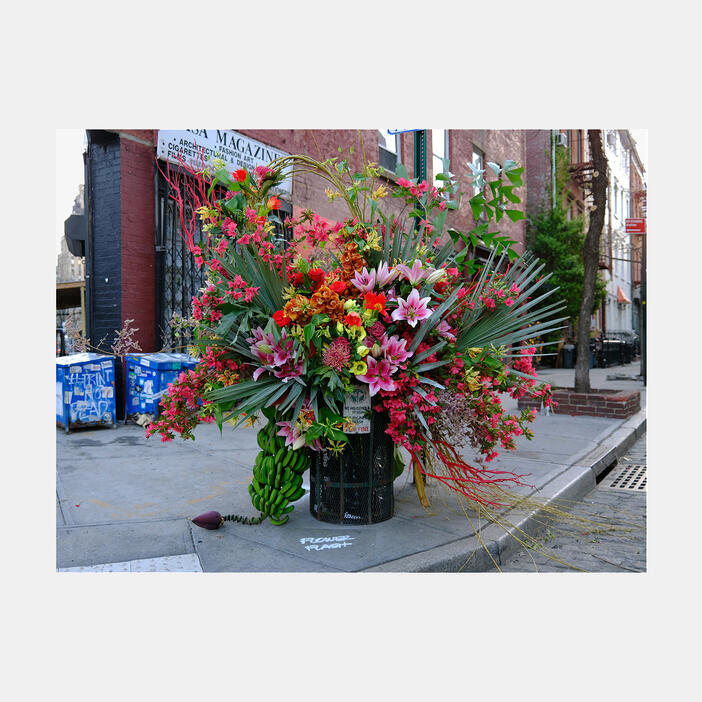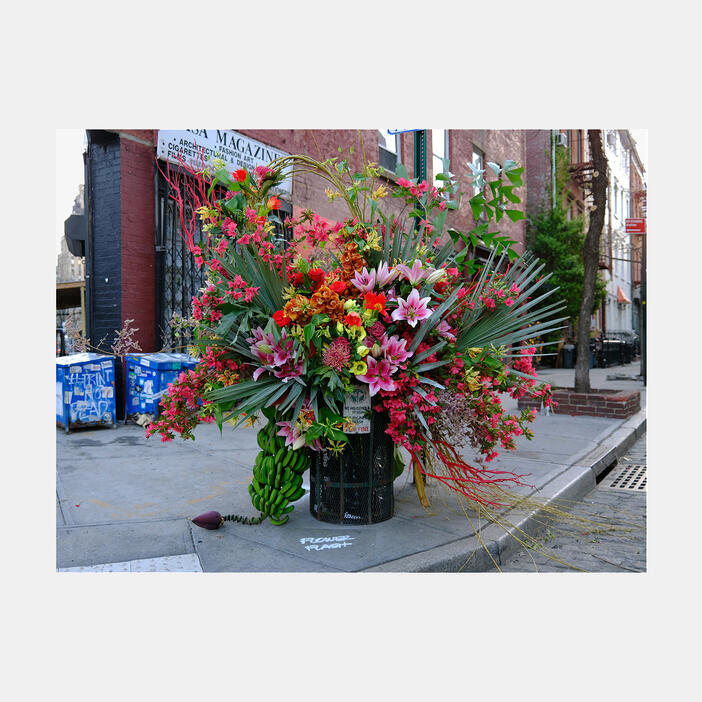 Lewis Miller: Flower Flash, Casa Magazines, West 12th Street & 8th Avenue, New York City (2021)
Price AUD$700.00 | Limited Edition Price CAD$650.00 | Limited Edition Price £480.00 | Limited Edition Price T500.00 | Limited Edition Price USD$500.00 | Limited Edition
Digital print on Moab Entrada 300 gsm Natural
20.00 x 25.40 in
50.8 x 64.5 cm
Edition of 100
Each edition comes with an artist signed and numbered label affixed on the back
Monacelli and Artspace are pleased to announce a new limited edition by Lewis Miller, celebrated floral designer and creator of the Flower Flash, the elaborate floral art installations that have brought moments of delight and wonder to countless New Yorkers and flower lovers everywhere since 2016.
Flower Flash, Casa Magazines, West 12th Street & 8th Avenue, New York City captures one of Miller's most sumptuous and spectacular Flower Flashes, assembled in front of New York's iconic newsstand in the early morning of April 6, 2021. Limited to only 100 signed editions, this print is bound to be as fleeting as the Flash itself.
Lewis Miller was born and raised in California farm country amid olive, almond, and peach orchards, and developed a respect for nature early on. At eighteen, he moved to Seattle where he studied horticulture and landscape design, and after seven years of successfully pursuing his interests in design, flowers, and event planning, Miller moved to New York, where he worked for one of the city's top floral boutiques. In March of 2002, Miller's vision of country life in a metropolitan setting inspired him to create Lewis Miller Design. Since striking out on his own, Miller has created stunning floral designs for the Met, the Whitney, Tiffany, Ferragamo, Versace, Viktor & Rolf, and Bergdorf Goodman among others. In 2016, Miller invented the Flower Flash—a guerrilla flower installation—and has created more than 90 since.