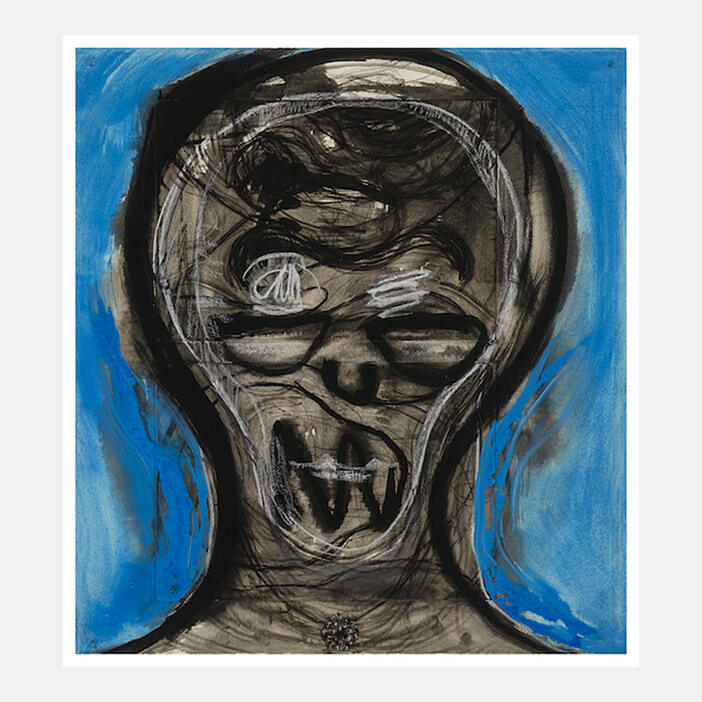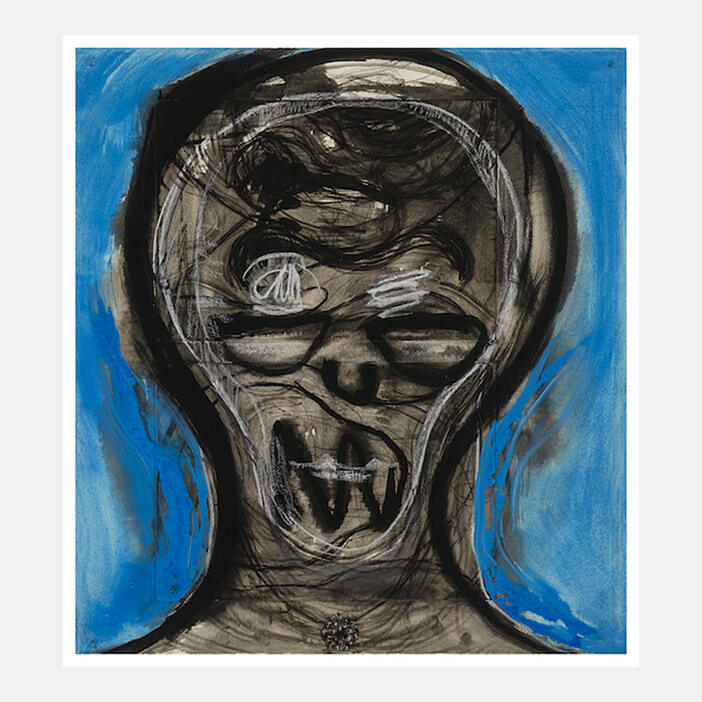 Huma Bhabha: Untitled (2021)
Price AUD$2100.00 | Limited Edition Price CAD$2000.00 | Limited Edition Price €1300.00 | Limited Edition Price £1100.00 | Limited Edition Price T1500.00 | Limited Edition Price USD$1500.00 | Limited Edition
Digital archival print on Epson Hot Press Natural 330g/m2 paper
20.88 x 19.00 in
53.0 x 48.3 cm
Edition of 50
Signed and numbered by the Artist on back
Artspace & Phaidon, in partnership with Museum of Contemporary Art Los Angeles, are pleased to announce Untitled 2021, a new limited edition by Huma Bhabha. Created exclusively to benefit MOCA through a unique Artspace editions initiative, proceeds from the sale of Untitled, 2021 will support programming at the museum for the coming year.
For me, ghastly and horror mean sophisticated and beautiful.
— Huma Bhabha
Huma Bhabha's multivalent practice spans sculpture, prints and drawings and often incorporates photographic and collage elements to create an arresting experience of the figurative form. Created exclusively for this MOCA benefit edition, Untitled, 2021 coalesces numerous layers of painting and drawing atop an original black and white print proof. Bhabha's frequent investigation of the portrait bust as seen here—centering pulsing, alien, humanoid heads—compels viewers to consider humanity, beauty and otherness from an entirely new and nuanced perspective.
ABOUT MOCA
Founded in 1979, MOCA is the defining museum of contemporary art. In a relatively short period of time, MOCA has achieved astonishing growth; a world-class permanent collection of more than 7,000 objects, international in scope and among the finest in the world; hallmark education programs that are widely-emulated; award-winning publications that present original scholarship; groundbreaking monographic, touring, and thematic exhibitions of international repute that survey the art of our time; and cutting-edge engagement with modes of new media production. MOCA is a not-for-profit institution in Los Angeles, California that relies on a variety of funding sources for its activities.
Huma Bhabha's (b. 1962) work addresses themes of memory, war, displacement, and the pervasive histories of colonialism. Using found materials and the detritus of everyday life, she creates haunting human figures that hover between abstraction and figuration, monumentality and entropy. While her formal vocabulary is distinctly her own, Bhabha embraces a post-modern hybridity that spans centuries, geography, art-historical traditions and cultural associations. Her work includes references to ancient Greek Kouroi, Gandharan Buddhas, African sculpture and Egyptian reliquary. At the same time, it remains insistently modern, looking to Giacometti, Picasso and Rauschenberg for inspiration, as well as to science fiction, horror movies, and popular novels.
The artist's work is currently included in Unsettled Objects at Sharjah Art Foundation (UAE) until June 2021 and Everyone Is an Artist: Cosmopolitical Exercises with Joseph Beuys at Kunstsammlung Nordrhein-Westfalen, Düsseldorf (DE) until August 2021. Bhabha's current survey retrospective, Against Time, at BALTIC Centre for Contemporary Art, Gateshead (U.K.) is on view until July 2021. Bhabha's work is represented in the collections of the Bronx Museum of Art, New York (NY); Centres Georges Pompidou, Paris (FR); the Hammer Museum, Los Angeles (CA); the Museum of Modern Art, New York (NY); the Metropolitan Museum of Art, New York (NY); the Saatchi Gallery, London (U.K.); the Sharjah Art Foundation (UAE); the Whitney Museum of American Art, New York (NY); and the Yale University Art Gallery, New Haven (CT), among many others.