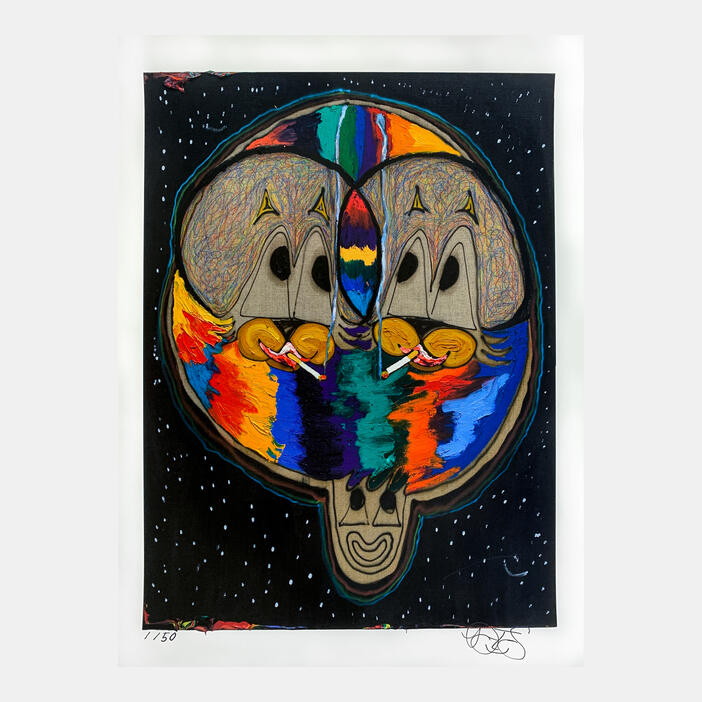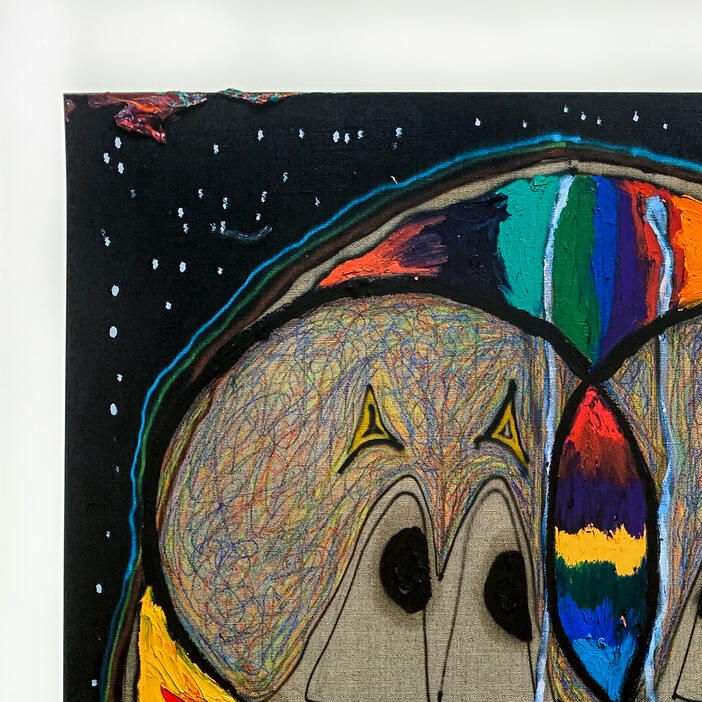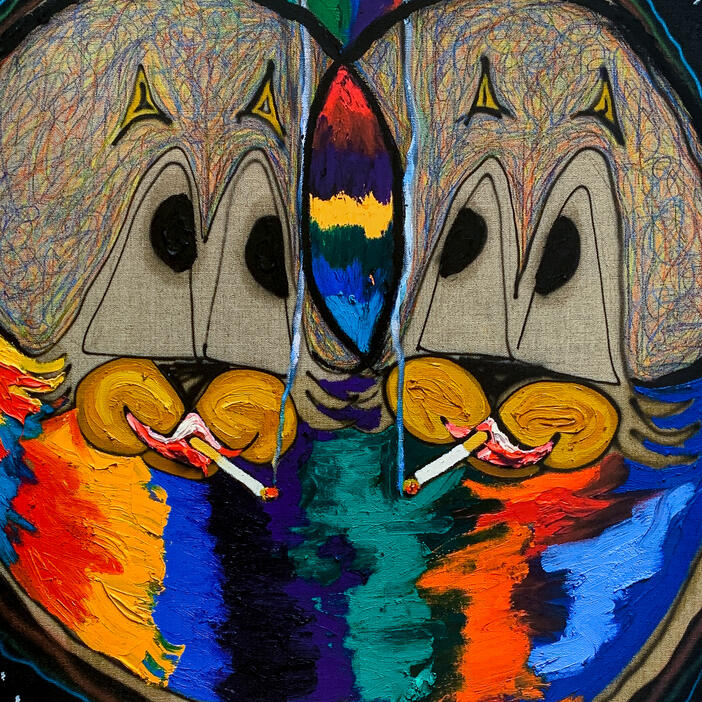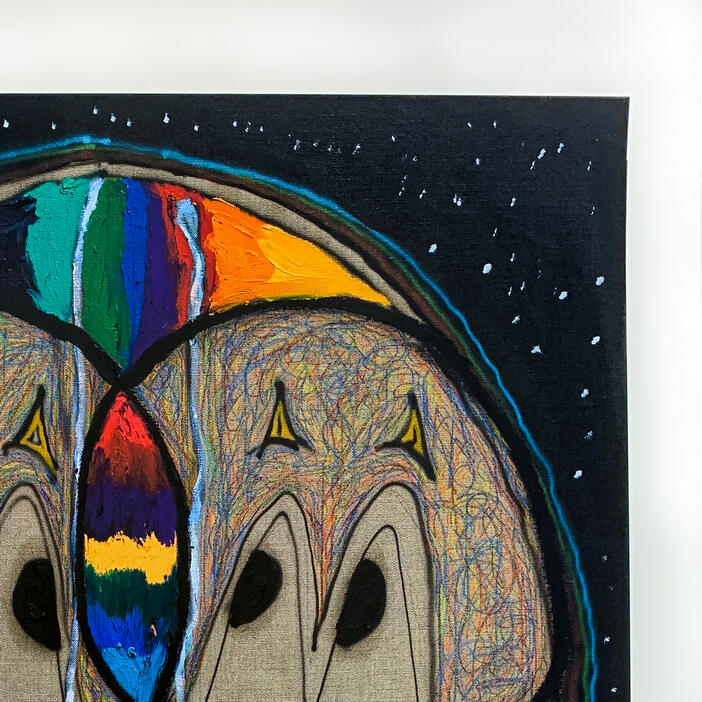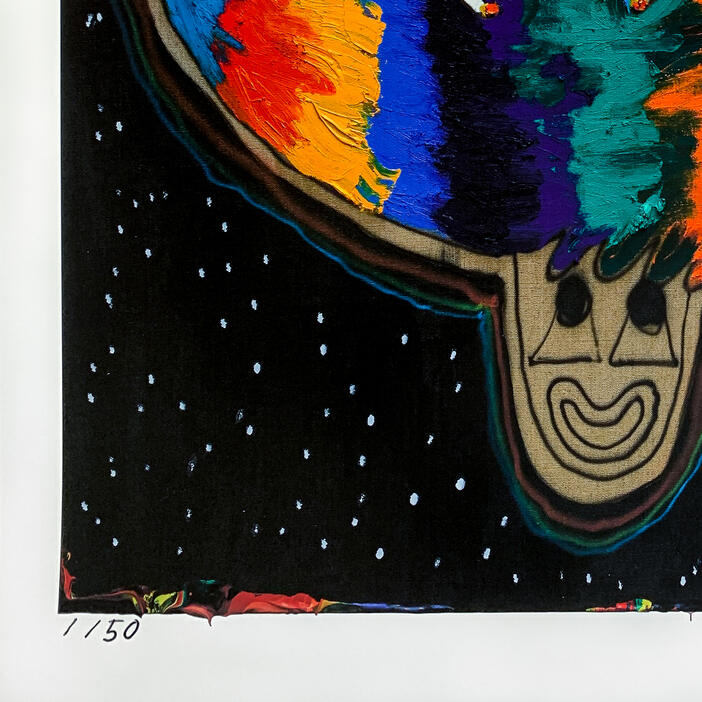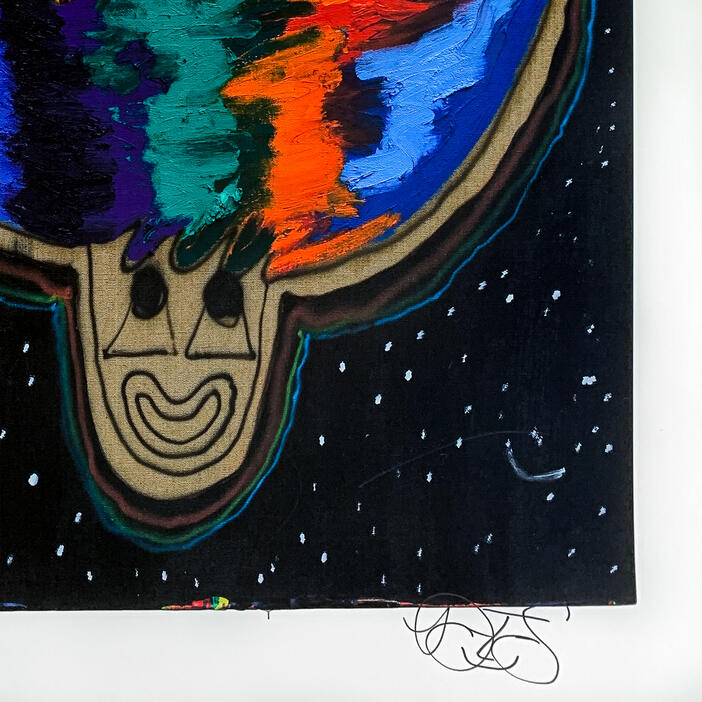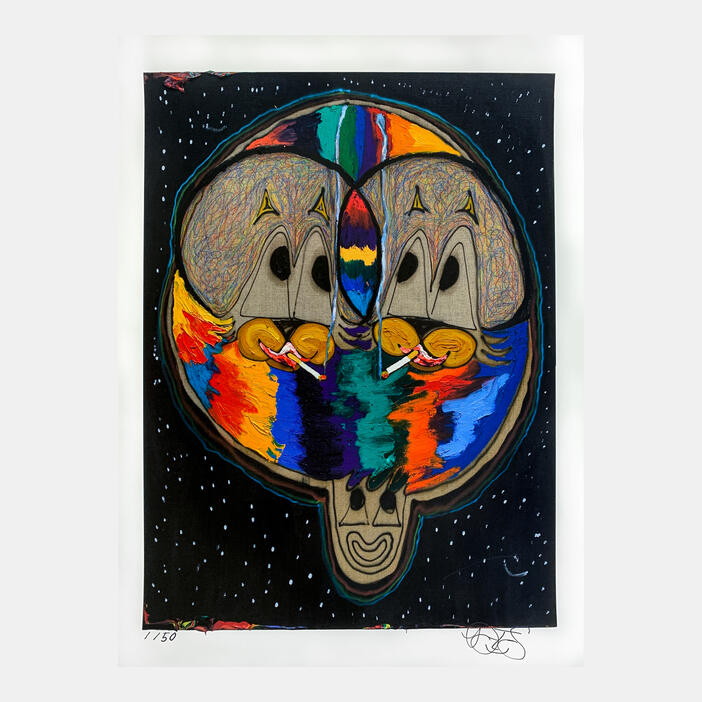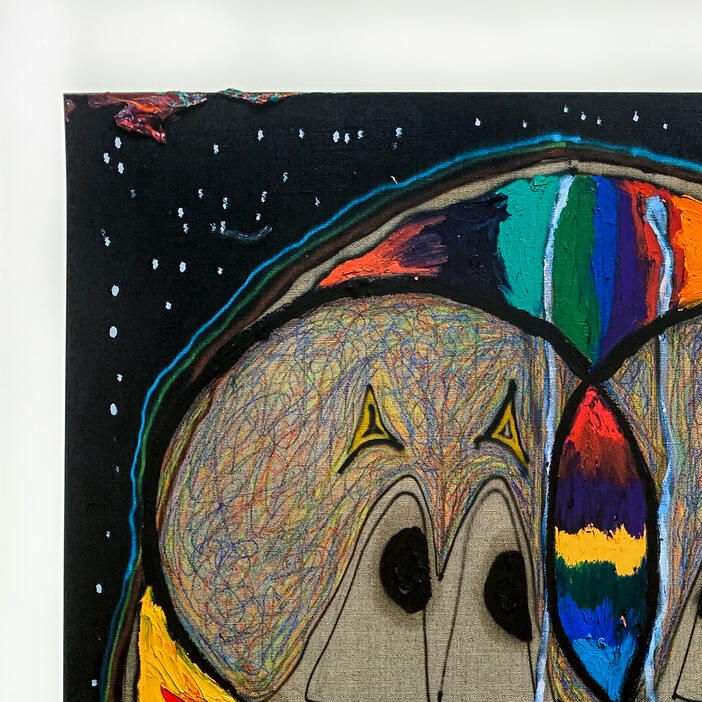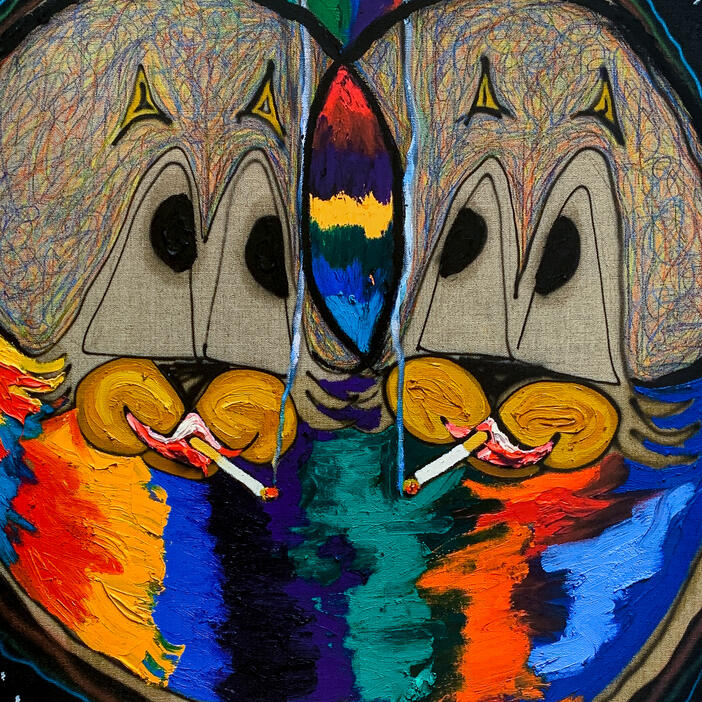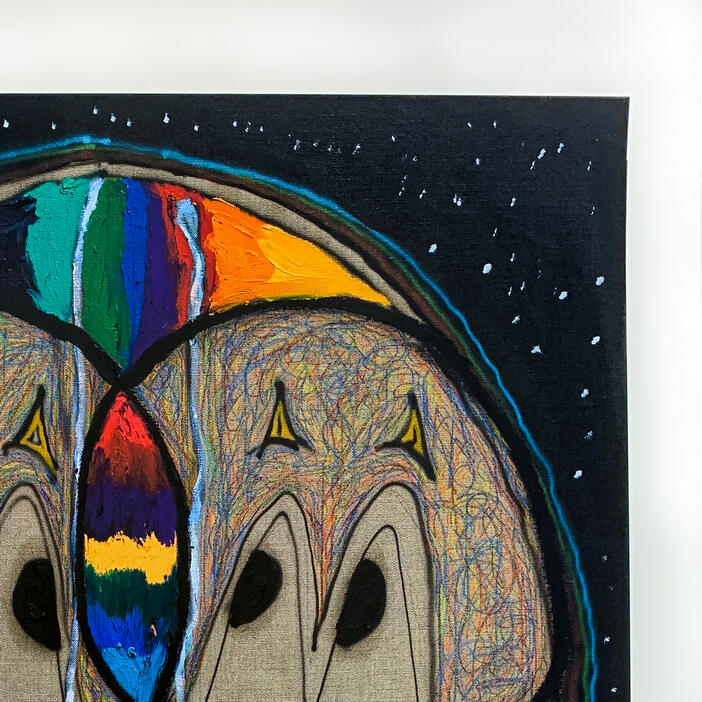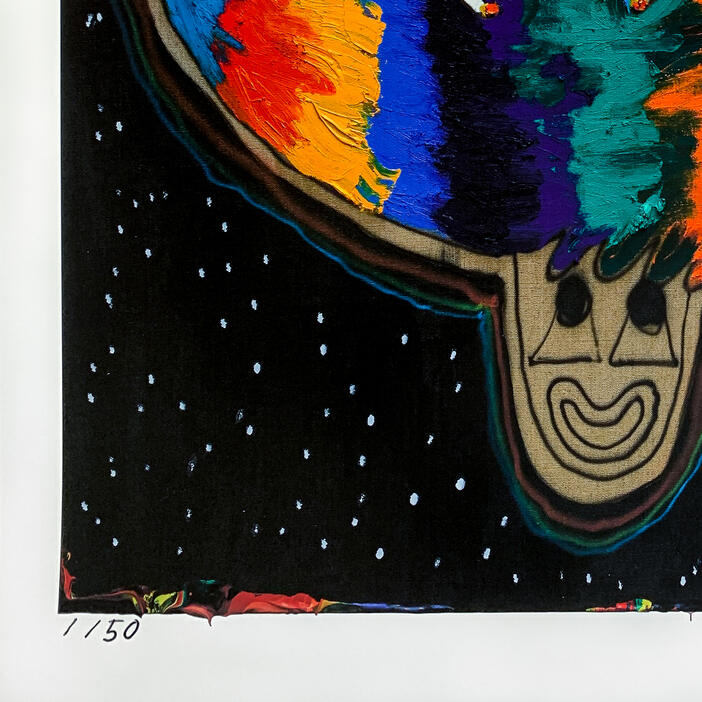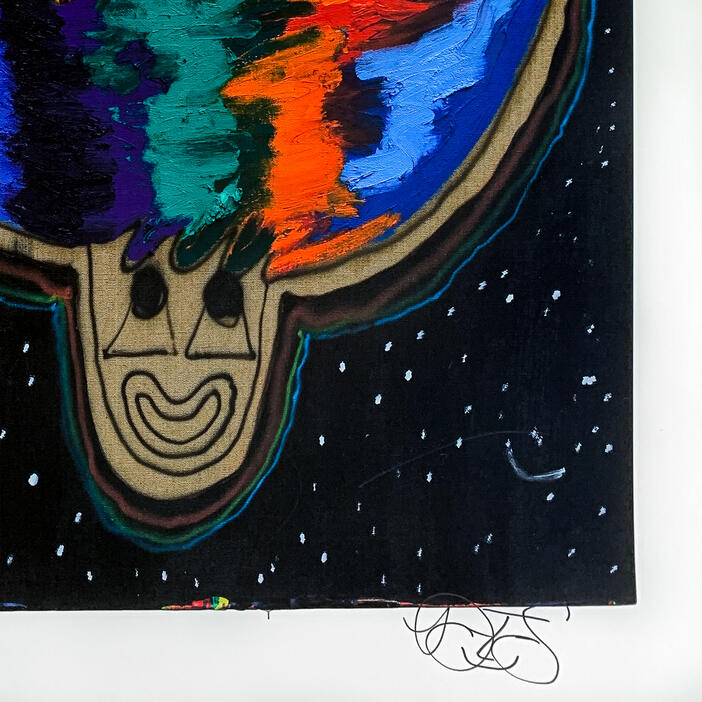 Devin Troy Strother: Grateful Dead Afro Cat Show (2021)
Price AUD$1500.00 | Limited Edition Price CAD$1300.00 | Limited Edition Price £800.00 | Limited Edition Price T1000.00 | Limited Edition Price USD$1000.00 | Limited Edition
Digital archival print and paint marker on Epson Hot Press Natural 330g/m2 paper
24.00 x 18.00 in
61.0 x 45.7 cm
Edition of 50
Signed and numbered by the Artist on the front
Artspace is proud to announce a new limited edition of 50 hand-embellished prints by pioneering multidisciplinary artist Devin Troy Strother. Proceeds from the sale of Grateful Dead Afro Cat Show will support Free Arts NYC, a New York-based nonprofit that empowers underserved youth through art and mentoring programs to develop their creativity, confidence, and skills to succeed.
Available exclusively on Artspace, Grateful Dead Afro Cat Show, 2021 spotlights Strother's trademark boldness, wit, and embrace of materiality, brought to life by distinct paint elements that speckle the image's enveloping nightscape. Devin Troy Strother is known for incorporating pop culture and personal narratives as well as humor and language in his multimedia works to explore alternative racial narratives; inspired by Strother's new body of work currently on view at Broadway in New York City, Grateful Dead Afro Cat Show, 2021 centers two cartoonish felines floating inside a rainbow afro suspended in an infinite night sky. Strother's appealing visual forms belie a critical examination of complex subjects which confront the viewer with some of the most pressing social questions of our time.
ABOUT FREE ARTS NYC
Free Arts NYC's mission is to empower underserved youth through art and mentoring programs that are designed to develop their creativity, confidence, and skills to succeed.
For 23 years, Free Arts NYC has been committed to providing high-quality arts programming to over 2,000 youth, annually. Through our partnerships with community-based organizations, NYC's Department of Homeless Services and city schools, Free Arts NYC continuously strives to create equity in the creative space by facilitating opportunities through two core programs:
The Teen Arts Program helps participants to gain job readiness skills and explore the arts academically and professionally while building a pathway to success with the support of a long-term mentor. The program offers opportunities including portfolio development, artist studio visits, career exploration, and paid internships.
The Free Arts Days Program is a unique volunteer opportunity that pairs underserved elementary-aged youth 1-on-1 with volunteers for an afternoon of "mini-mentoring" and art making inspired by themes that ignite a creative spark.
Throughout this past year, Free Arts NYC has continued to provide art supplies and remote programming to children and their families. The young people in our Free Arts Day Program -- from some of the city's highest need sites -- receive monthly art kits and activity packages. While the Teen Arts Program remains virtual, Free Arts has continued to lead digital literacy workshops, portfolio development and school application support, artist studio visits and remote summer internships. At a time when critical resources are being stripped from communities, art continues to be the inspiring outlet that helps children cope with challenging circumstances.
Los Angeles-based artist Devin Troy Strother (b. 1986 in West Covina, CA) finds inspiration in elements as disparate as stand-up comedy, music lyrics, and contemporary politics in a variety of media from painting and collage to video.
Strother received his BFA from Art Center College of Design, Pasadena, CA in 2009. He completed a residency at Skowhegan School of Painting and Sculpture in Skowhegan, Maine in 2010. Strother's work has been exhibited in numerous solo and group exhibitions in the US and abroad including at Broadway, New York, NY; V1 Gallery, Copenhagen, Denmark; Marlborough Contemporary, New York, NY; Torrance Art Museum, Torrance, CA; The Studio Museum in Harlem, New York, NY; and the Santa Barbara Museum of Art, CA. His works are in the permanent collections of The Los Angeles County Museum of Art; The Santa Barbara Museum of Art; and the Studio Museum in Harlem as well as in prominent private collections worldwide.