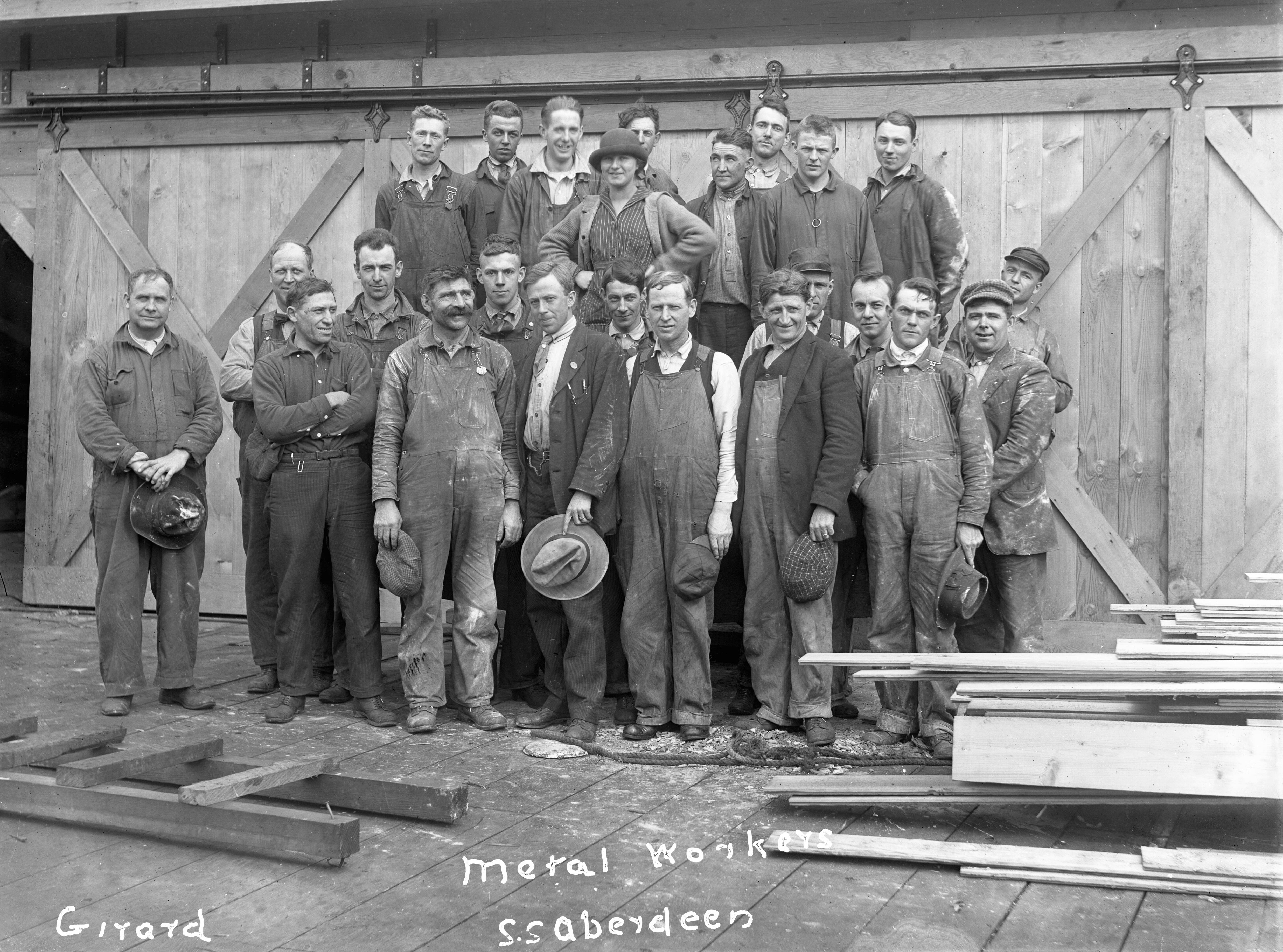 The Only Woman in industry
In her new book, The Only Woman, writer and film maker Immy Humes captures the moments in which a single, solitary female can be seen, in pictures of an otherwise all-male world
Immy Humes' new book, The Only Woman, shows just how gendered our workplaces once were. From the Bauhaus to the battlefront, the operating theatre to the daytime TV studio, each image in Humes' book features just one, single female figure, in among a crowd of men.
In her introduction, Humes describes trawling through photographic records looking for those rarer images of isolated females in among "a gazillion large groups of formally dressed, formally arranged men, facing the camera."
Humes marvels at this mix of variety and uniformity apparent in "class pictures from every imaginable school, associations, companies, offices, clubs, courts, government bodies, and political movements from the revolutionary to the regressive."
Of course, some workplaces and vocations, such as the military, retain strong gender segregation. However, The Only Woman reminds us just how little professional mixing there was once between men and women in the industrial workplace, while also marking the points at which those gender barriers began to be punctured.
This 1918 photo, above, of shipyard workers in Aberdeen, in Washington State, demonstrates how, in times of crisis, the barrier between men and women begins to break down. "Against the backdrop of World War I, this group was in a national spotlight, as participants in an audacious and much-publicized challenge to build a 'Wonder Ship' for the war effort in record time. In seventeen days, to be exact. The metalworkers here were among the 1,200 men and women who worked around the clock to speed the construction of the wooden steamship at Grays Harbor shipyard, strategically located near the lumber-producing forests on the Pacific coast. Their efforts transfixed the nation day after day, and when they successfully launched the SS Aberdeen on the seventeenth day, the town and nation rejoiced."
The solitary female in this picture clearly shares in this joy, even if her role in this local triumph remains a mystery. "Is she just 'one of the guys,' another metalworker?" wonders Humes. "It is certainly possible: photographs of the shipyard's other work crews—the joiners, for example—do include a few handfuls of women; in wartime it's common for new jobs to open to women due to shortages of male labor. But her attitude, her literal elevation, and her Onliness suggest that her role is likely different than the men's. Perhaps she is a friendly visitor."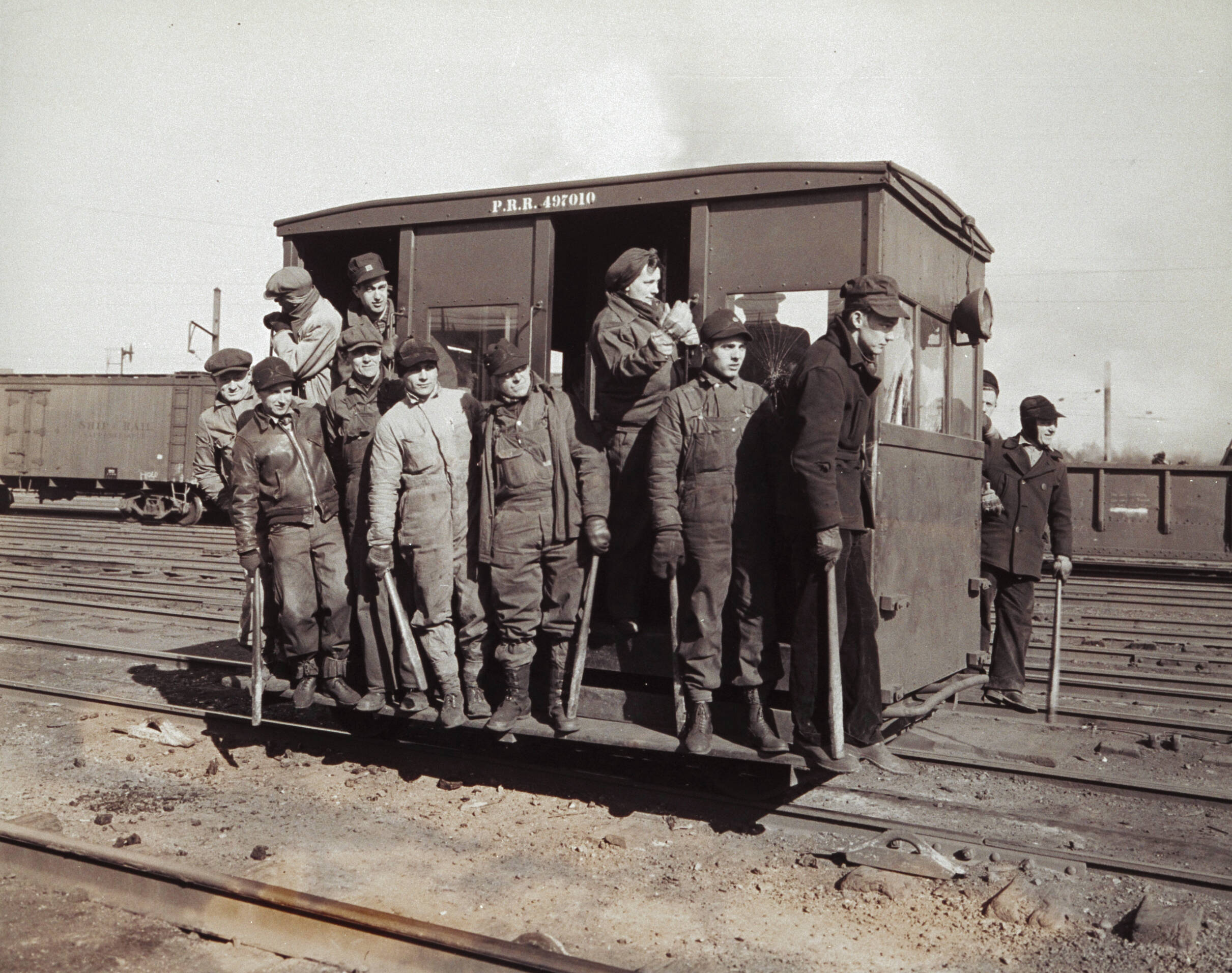 Unknown, Railroad Worker, Pennsylvania, USA, c.1942-44
No such ambiguity surrounds another photograph of any equally tough workplace. "Piloting a motor car in a Pennsylvania Railroad yard was one of the 'war jobs' that suddenly opened up when millions of American men were sent overseas between 1940 and 1945," explains Humes in her new book. "Women, minorities, people with disabilities, and others who'd been excluded from the labor market poured into the jobs. 'Rosie the Riveters' were often earning decent wages for the first time in their lives.
"The woman here is unidentified, but others reminiscing in the 1990s about their Pennsylvania Railroad war jobs spoke mostly fondly about the experience. It was fun, challenging work and good money. Kay Dworchak, a daughter of a railroad man, described her father's horror at the very idea of the railroad hiring her. He told her, 'You can't do it. You're not strong enough to do it. You just don't understand. It's a man's job.' Above all, 'He was scared to death every day. I was gonna do something wrong to disgrace him.'"
An earlier photograph in the book, taken at an Alaskan mining camp at the turn of the century, hints at more gendered roles, in an equally back-breaking working environment. Despite fairly good biographical records, Humes has been unable to clarify a great deal about the working life of Anna Fransen La Montagne, the woman in the picture.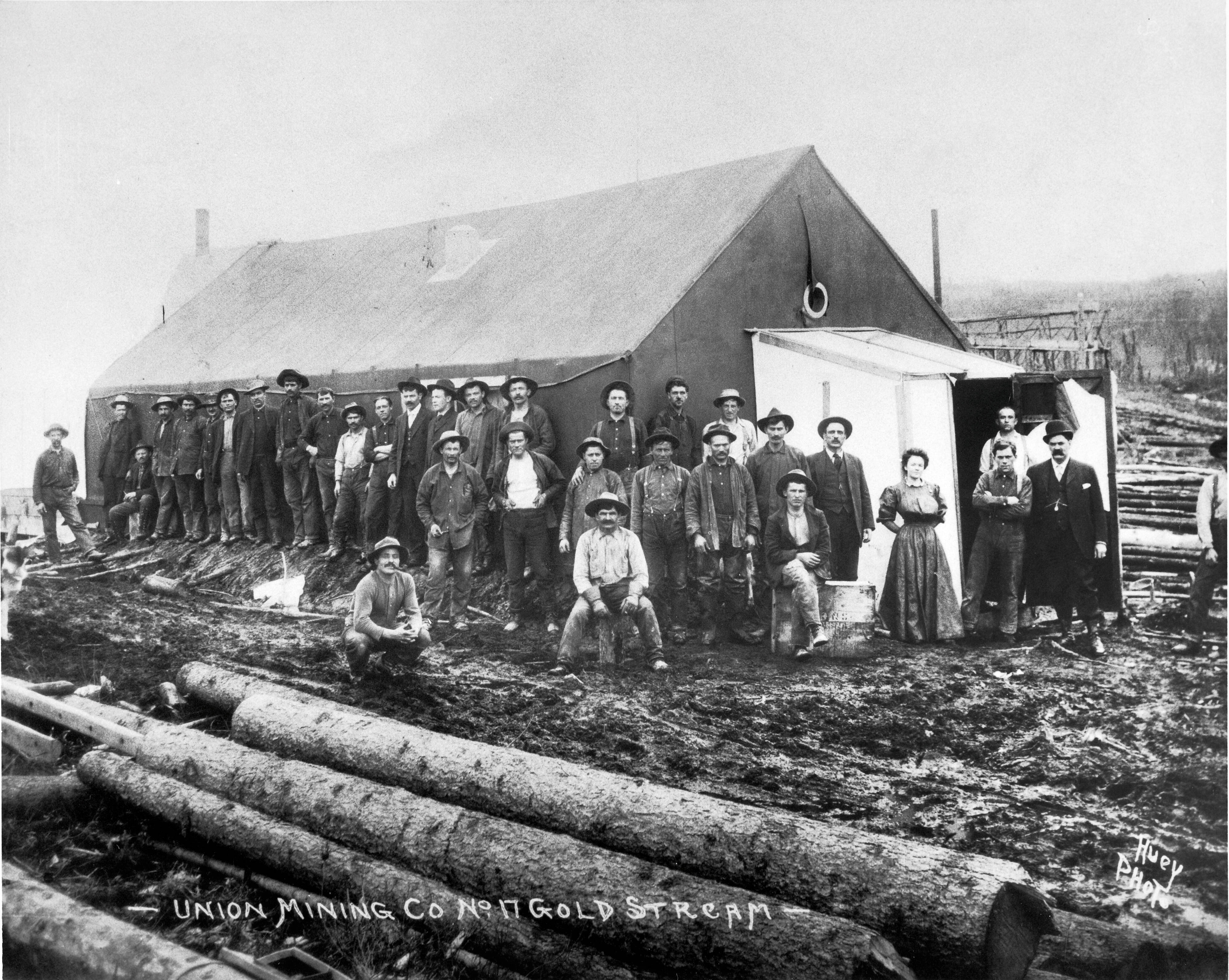 Anna Fransen La Montagne, Goldminer, Fairbanks, Alaska, c.1900
"Fransen was born to Danish immigrant parents in Washington State," the author notes. "For unknown reasons, she ended up in Fairbanks, Alaska, where, at the age of twenty-one in 1909, she married a handsome Quebecois gold miner named George La Montagne.
"Her husband had been drawn west ten years before by the gold rush, working in the Klondike and Nome before settling in Fairbanks and working for famed gold miner Felix Pedro, whose find in 1902 started the stampede. Pedro died in 1910, possibly poisoned by his wife, and George staked his own claim on what was called Goldstream No. 17.
"He is seen here on his wife's left, arms crossed, in front of the shed-like structure attached to the building that seals in warmth, known as an 'arctic entry'. At that time, women could not yet vote, nor were they legally able to stake a claim.
"Photographs of the young couple show them with their dog sled, and in one captioned 'Clean Up' Anna is all dressed up with four other ladies and all the men in suits at the camp. So, there were other fancy ladies, but they didn't regularly hang out at the camp. Perhaps Anna was working there, helping to feed the men, or visiting for photo ops."
The Only Woman
To see more remarkable photo ops such as the ones featured above, order a copy of The Only Woman, here.