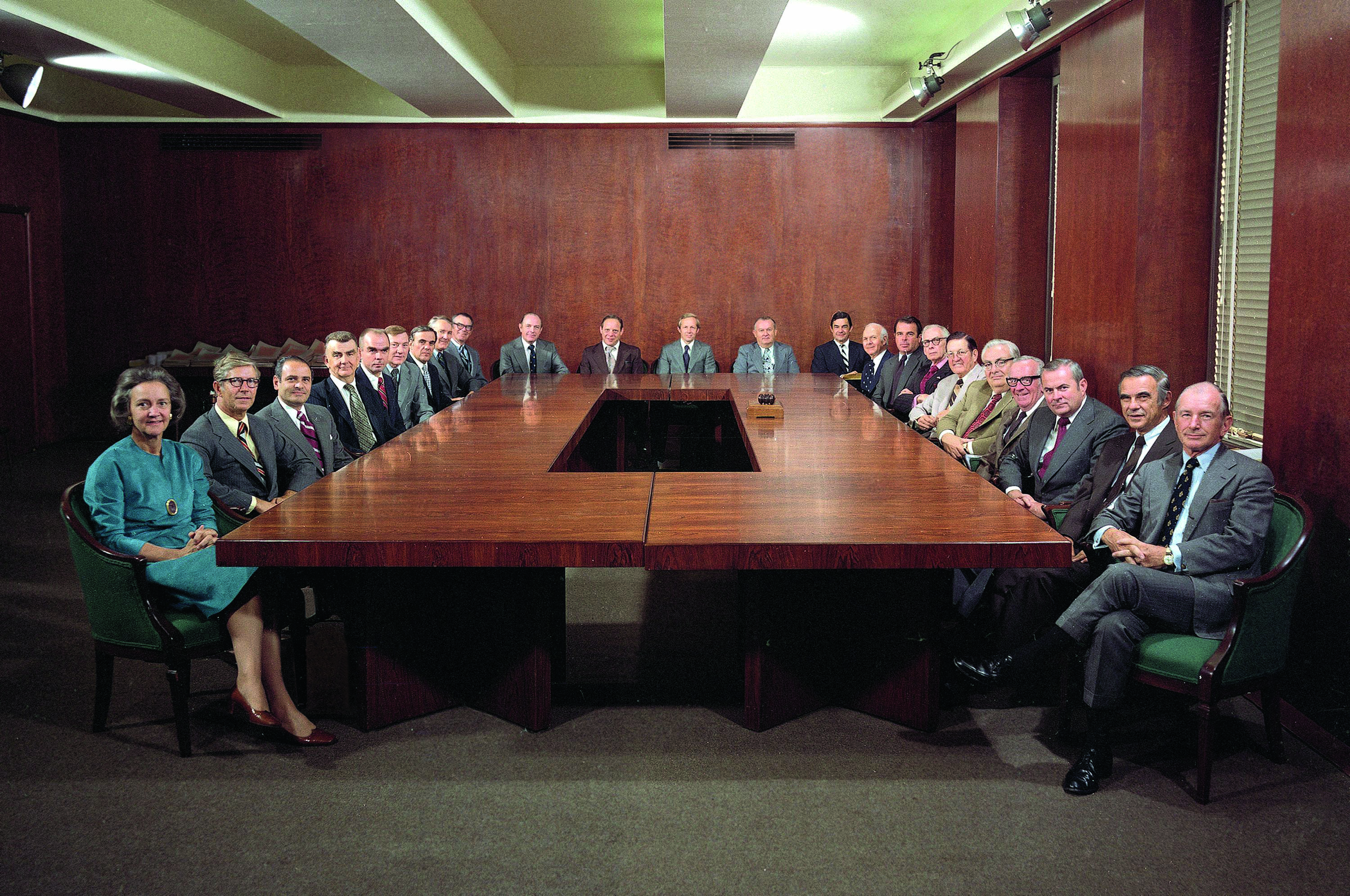 The Only Woman in publishing
In The Only Woman, Immy Humes gathers together group portraits featuring just one woman in each picture. Discover how these photos shed light on gender roles within our society
How do you feel when you see a large group portrait, with just one woman in the picture? Outraged? Intrigued? Compelled to find out more? Then maybe you should order a copy of The Only Woman. The new book is a astounding compendium of images and biographies, profiling the female figures who made their way into a man's world – each shown in a group portrait in which they are the only woman.
In some instances, these pictures are official group portraits for venerable institutions. Consider Katherine Graham, who stands out as the first and only woman elected to the Associated Press's board of directors in her 1975 photograph, above. "She sits here as the sole spot of colour in light blue with the other directors, all visibly pale and male," writes Humes.
"Three years earlier, she had already become the first female CEO of a Fortune 500 company, the Washington Post, which her father, Eugene Meyer, had bought in 1933," Humes writes. "When he quit the job of publisher in 1946 to become president of the World Bank, Meyer gave it to his son-in-law, Phil, a lawyer. Graham, who had worked for a paper in San Francisco as well as for the Post, did not mind—in fact, as she later wrote in her autobiography, 'It never crossed my mind that he might have viewed me as someone to take on an important job at the paper.'"
However, fate stepped in and, following Phil's death in 1963. Graham took the position, and led the Post through an illustrious period; "in 1971 she gave her paper the go-ahead to publish the Pentagon Papers, which brought to light the scope of US failed policy and involvement in the Vietnam War," writes Hume. Graham also presided over the newspaper during the Watergate scandal, "which ultimately brought about Nixon's forced resignation and numerous government reforms."
Martha Gellhorn, War Correspondent, Cassino, Italy, 1944
Martha Gellhorn's entry into the news media may not have been as august, but her record is no less impressive. "On D-Day—the June 6, 1944, Allied invasion of Normandy—150,000 men and exactly one woman hit the beaches and tried to make it alive onto French soil," writes Humes. "That woman was Gellhorn, an American journalist who was in England when her accreditation to travel with the troops was suddenly withdrawn. Determined to go, she slipped onto a hospital ship, claiming she was doing a story on the nurses. She locked herself in a bathroom and stowed away until she managed to disembark with the medics, carrying a stretcher under fire and finding her way inland with the soldiers who made it.
"Gellhorn covered every conflict in her lifetime, from the Spanish Civil War onward, including World War II and the liberation of the Dachau concentration camp, the Japanese invasion of China, the US war in Vietnam, and, in her eighties, the US invasion of Panama. An all-time-great war correspondent, she began by covering poverty during the Great Depression. She said that her approach to war was formed then: while her male colleagues rushed to the front, she made a point of lagging behind, writing about those left behind in the carnage."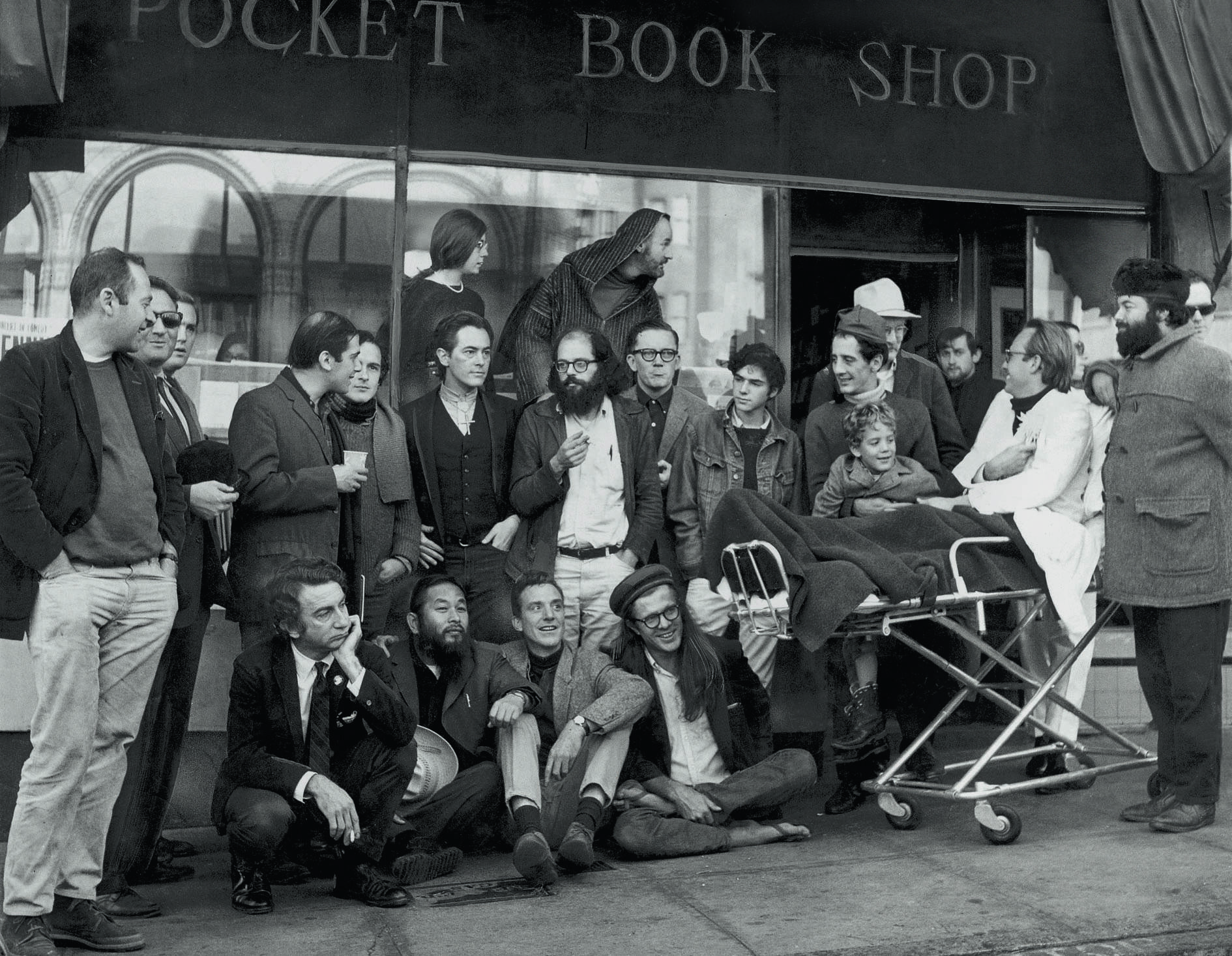 Stella Levy, Editorial Assistant, San Francisco, California, USA, 1965
A friendlier kind of chaos surrounds editorial assistant Stella Levy in her group portrait among notable beat poets, outside the famous City Lights bookshop in San Francisco. The shop and associated publishing house helped to introduce radical literary figures such as Allen Ginsberg, to a wider audience. However, as Levy later recalled, that day's shoot wasn't quite as all inclusive. "'The Poets' Pantheon is what the gathering in front of City Lights was called by the Chronicle newspaper, which published the photo by the gifted Larry Keenan," Levy is quoted in the book. "I was the first woman to work at City Lights, and then L.F. (Lawrence Ferlinghetti) hired me to be his first editorial assistant. Lawrence pissed off a lot of the men by insisting that I stand with him in the photo. I don't know if any women poets were invited but none showed up. I was later able to get a job as the first woman hired at Moe's Bookstore in Berkeley and ditto at Bookstore Santa Cruz based on having worked at City Lights.
"I am happy that other women followed me, most notably Nancy Peters. She and others convinced Ferlinghetti to make the bookstore a collective and today City Lights is still wonderful with women in charge of key positions," she concludes. "If you ever go there you will find the Poets Pantheon photo hanging high above a door frame. Look up and I will wink at you."
The Only Woman
We can't guarantee that Levy's image in the Only Woman will offer the same, supernatural, personalised response. However, you can find out more about all these shots, as well as many others, by buying a copy of The Only Woman here.