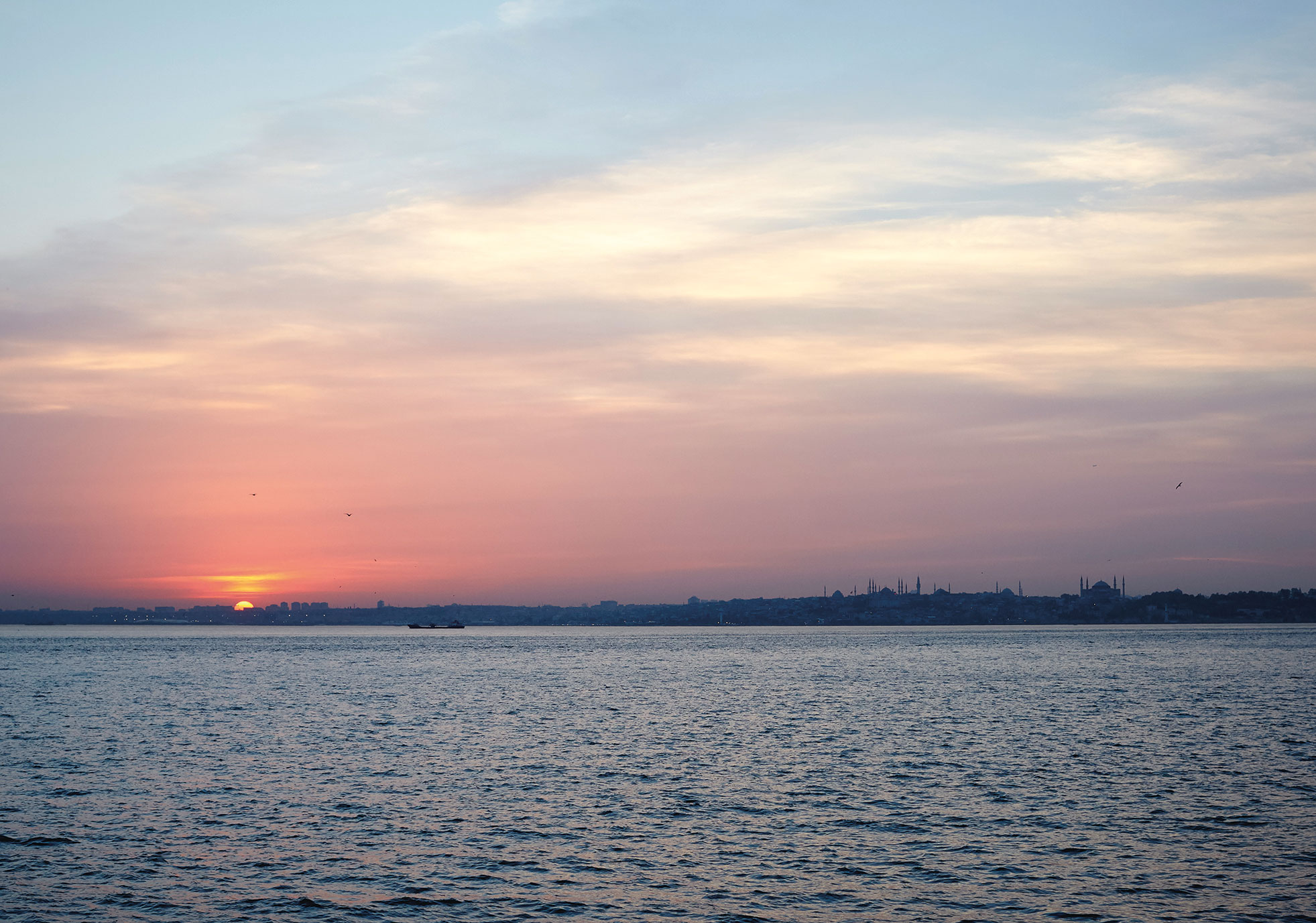 Destination Food - Turkey
Transport your taste buds in the first of a new summer series with some simple snacks and ambitious dishes from The Turkish Cookbook
Let's face it - none of us are going anywhere exotic anytime soon. The city breaks and long haul holidays we all took for granted until a few long months ago are fast becoming a memory. So how are we going to sate that taste for summer travel?
We thought that one good idea might be to take a tour of the world's cuisines via our food bibles - the big culinary books that focus on a nation's gastronomic excellence.
So over the coming weeks and months we'll be bringing you a smartly edited selection of dishes from each of them. We'll focus on snacks and street food for those of us with little extra time on our hands and we'll also include some slightly more ambitious dishes from each for those of you with some culinary skill who want to stretch out and surprise family and socially-distanced friends over the long summer weekends.
We start today with two dishes from our wildly successful The Turkish Cookbook authored by Musa Dagdeviren, a well-known and acclaimed chef in Istanbul, where he has three restaurants - the first of which, Çiya, opened in 1987.
Musa's foundation, which he runs with his wife, is devoted to rediscovering Turkish culinary heritage, and he publishes his findings in a quarterly journal. He has been featured in international press and regularly lectures at food conferences and culinary schools. You've probably seen him on Netflix too.
So with seat backs and tray tables in their upright position and seat belts correctly fastened. Let's go!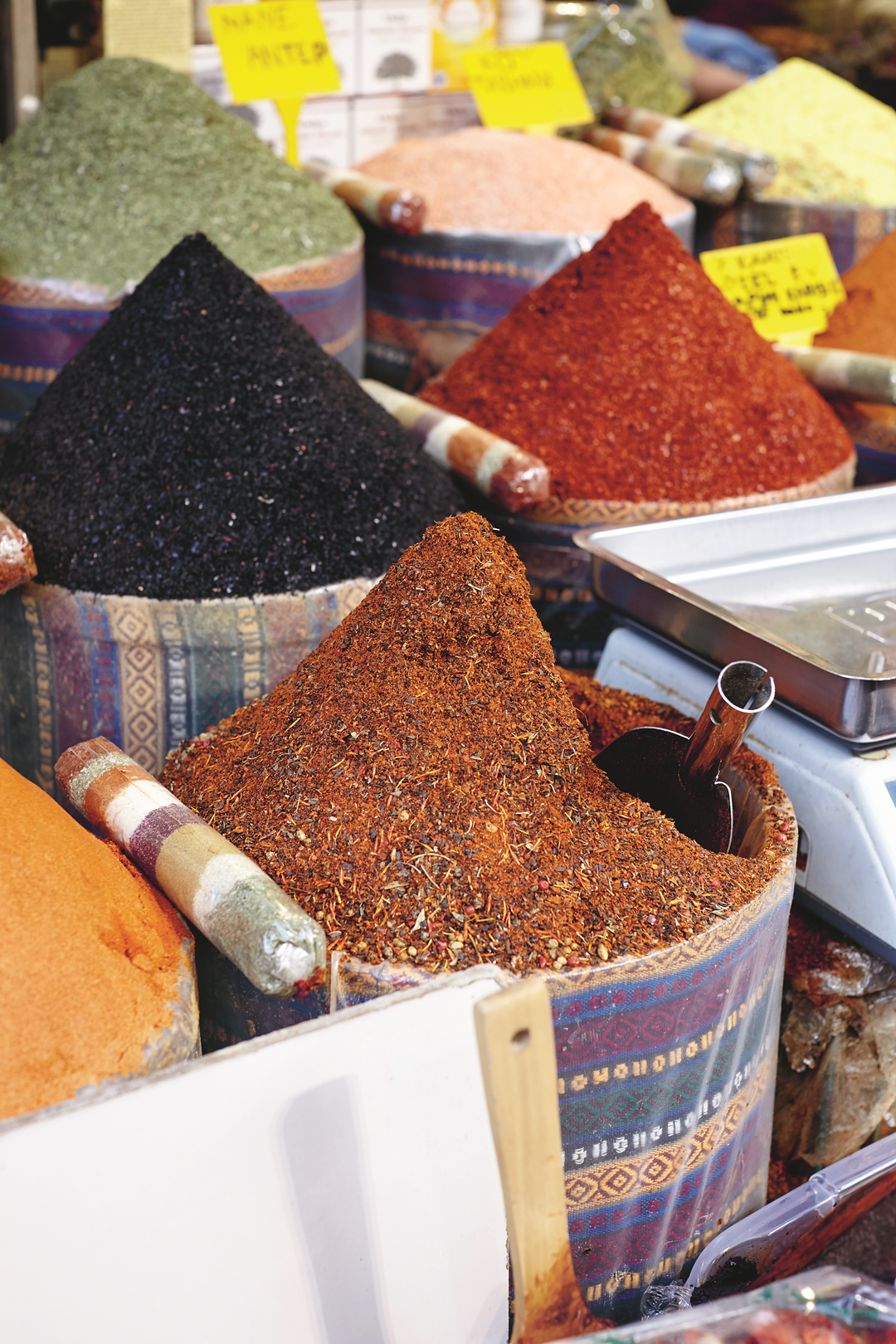 Turkey is truly at the crossroads of the Mediterranean, the Black Sea, Europe and the Middle East. It's surrounded by seas on three sides and bridges Asia and Europe. The geography and climate of the country has shaped the living conditions of the different regions but also the food.
The backbone of Turkey's culinary consumption is vegetable and olive oil dishes, with fish dishes along the coasts. Also popular are wheat-based breads, bulgur and pastries followed by grain-based pilafs, meals and pulse-based dishes. Salads are important too. Sheep and goat are the most popular meats.
The Aegean and the Mediterranean are popular tourist destinations with long coastal stretches and a milder climate. They grow the country's fruit and vegetables. The Black Sea region with its steady rainfall supplies fish, tea and other produce. The Marmara region, with Istanbul at its centre, is industrialised and densely populated. Central Anatolia has low rainfall, hence is suitable for cultivation of grains and pulses.
Eastern and Southeastern Anatolia are very hilly. Animal herding is done in the Eastern Mediterranean region. Southeastern Anatolia has provided many key parts of the country's culinary culture.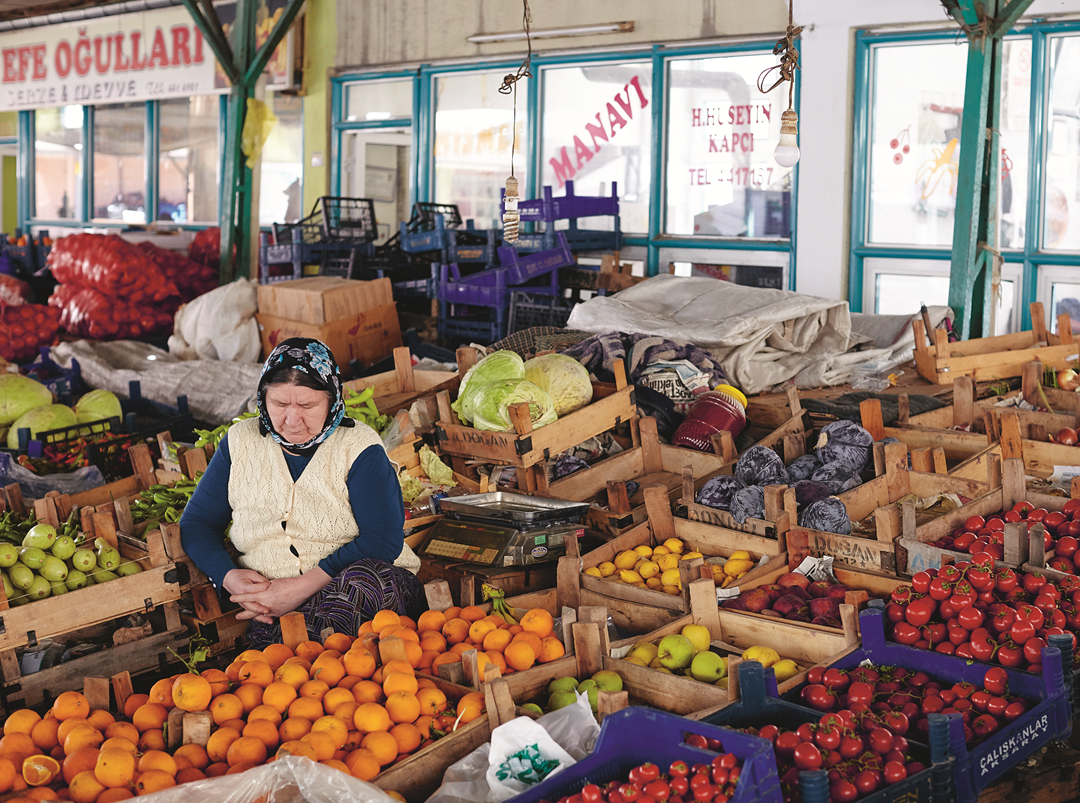 The diversity in the climate results in different produce and dishes. Meat, grains, vegetables and pastries form the mainstay of Turkish cuisine. There are regional differences between the use of meat and the cooking techniques of grains and pastries. Meat is cooked with beans in the west of the country, but the eastern version incorporates aromatic herbs and grains.
SMALL PLATES
TABBOULEH KISIR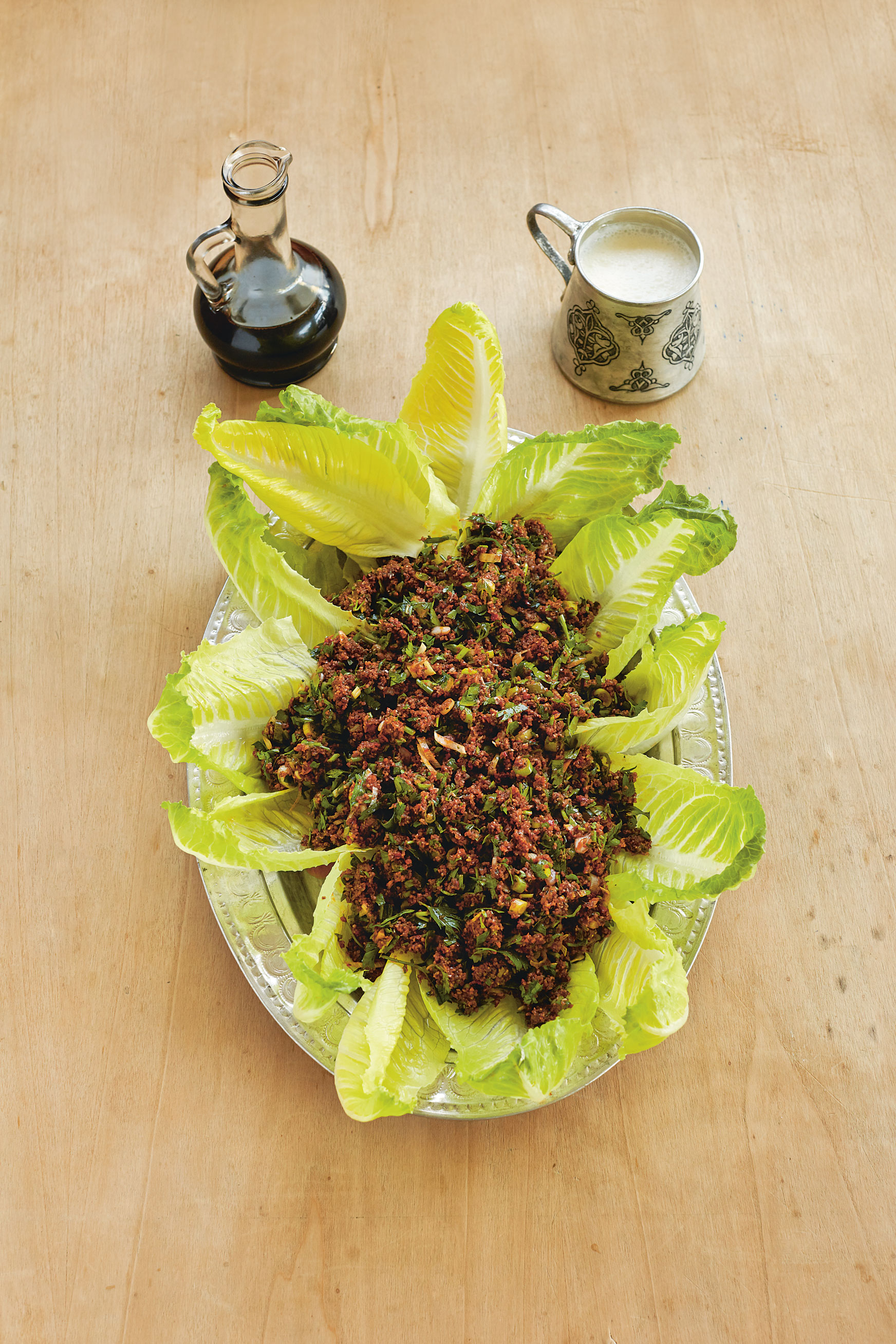 This is Turkey's favourite bulgur salad and there are plenty of regional variations. This version originates from the Hatay, Mediterranean Region. It's served with boiled fresh vine leaves when they are in season.
In a large, deep bowl or tray, combine the bulgur wheat, red bell pepper paste, tomato paste, dried chilli (red pepper) flakes, ground cumin, grated tomatoes and onions. Season with 1⁄2 teaspoon salt. Knead the mixture well with your hands for 20 minutes. Finely slice the spring onions (scallions), fresh mint and parsley. Add to the mixture and knead for a further 5 minutes. In a separate bowl, combine the pomegranate molasses and olive oil. Add to the other ingredients and mix gently. Serve on romaine lettuce leaves.
Preparation time: 40 minutes
Serves: 4
120 g fine dark bulgur wheat cooked 4 oz
1 tbsp red bell pepper paste (see p.492) 1 tbsp
1 tbsp tomato paste (see p.492) 1 tbsp
21⁄2 tsp dried chilli (red pepper) flakes 21⁄2 tsp
1⁄4 tsp ground cumin 1⁄4 tsp
200 g tomatoes, grated 1 cup/7 oz
1 (120 g) medium onion, 1 (3⁄4 cup/4 oz) finely sliced
4 spring onions (scallions), 4
1⁄2 bunch fresh mint 1⁄2 bunch
1 bunch flat-leaf parsley 1 bunch
2 tbsp pomegranate molasses 2 tbsp
60 ml olive oil 1⁄4 cup/2 fl oz
16 romaine lettuce leaves 16
DINNER
STUFFED CHICKEN - TAVUK DOLMASI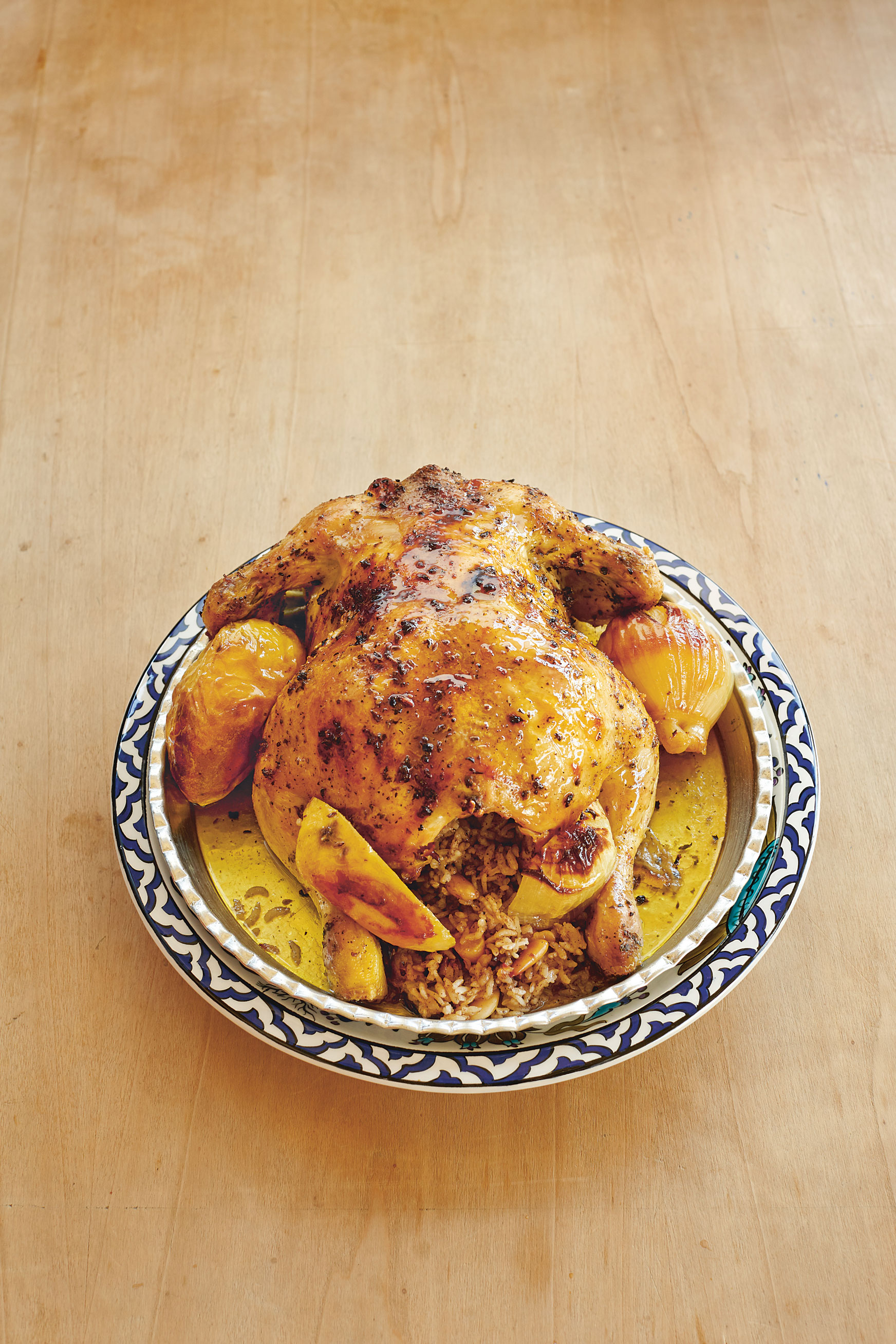 This dish is served across Turkey but in Bursa, in the Marmerra region of the country, the chicken is served whole and shared around the table. Lamb, rabbit, turkey and other fowl are stuffed whole, the only difference being whether rice or bulgur wheat is used in the stuffing. The liver is usually added, together with currants and pine nuts.
Preparation time: 20 minutes, plus 10 minutes soaking
Cooking time: 1 hour 20 minutes, plus 10 minutes resting
Serves: 4
1 (2.5kg) chicken 1 (5 lb 8oz)
1⁄2 tsp olive oil, for oiling 1⁄2 tsp
480 g potatoes 2 cups/1 lb 1 oz
(480 g) medium onions 8 (31⁄8 cups/1 lb 1 oz)
For the stuffing:
200 g medium-grain rice 1 cup/7 oz
70 g butter 2⁄3 stick/23⁄4 oz
60 g onion, finely sliced 21⁄4 oz
60 g almonds, skinned 1⁄2 cup/21⁄4 oz
1⁄4 tsp ground cinnamon 1⁄4 tsp
1⁄4 tsp ground cardamom 1⁄4 tsp
120 g chestnuts, peeled and crushed 4 oz
100 g dried apricots, quartered 1 cup/31⁄2 oz
For the seasoning oil:
4 garlic cloves, crushed 4
11⁄2 tsp dried oregano 11⁄2 tsp
1⁄8 tsp black pepper 1⁄8 tsp
2 tbsp olive oil 2 tbsp
Preheat oven to 160°C/325°F/Gas Mark 3.
To make the stuffing:
Soak the rice in 1 litre (41⁄4 cups/34 fl oz) hot water with
1⁄4 teaspoon salt for 10 minutes. Drain and rinse.
Heat the butter in a sauté pan over medium heat, add
the onion and cook for 3 minutes. Reduce the heat, add
the rice and almonds and cook for 7 minutes, stirring
continuously. Add 500 ml (generous 2 cups/17 fl oz)
hot water, cinnamon, cardamom, 1⁄8 teaspoon black pepper
and 1⁄4 teaspoon salt. Cook, covered, for 10 minutes.
Remove from the heat and rest for 10 minutes. Add the
crushed chestnuts and dried apricots, then toss gently.
To make the seasoning oil:
Mix the garlic, dried oregano, black pepper, olive oil
and 1⁄4 teaspoon salt for 1 minute in a bowl. Massage the
chicken with this mixture, inside and out.
Oil a roasting pan. Fill the chicken with the stuffing.
Put the chicken into the oiled pan. Add the potatoes
and onions, 500 ml (generous 2 cups/17 fl oz) water and
1⁄2 teaspoon salt. Roast in the hot oven for 1 hour, checking
regularly. Divide into pieces and serve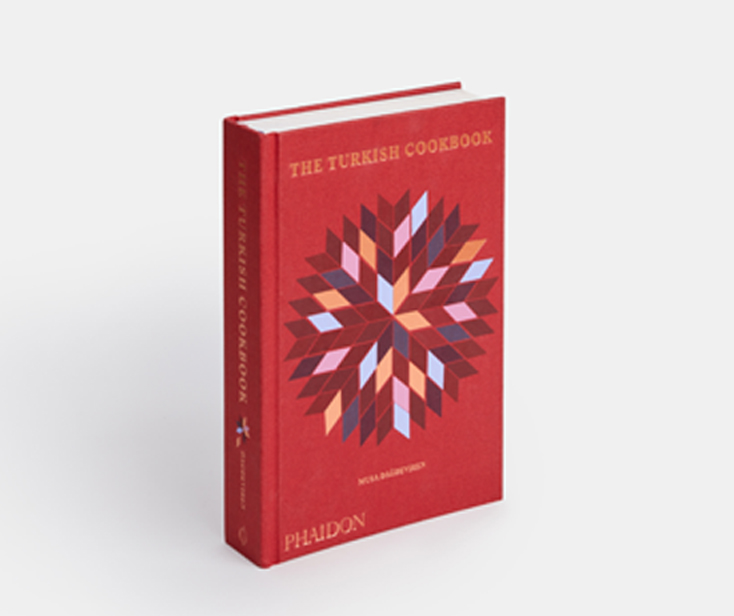 Want to bring these and many more Turkish delights to your door this summer? To find out more about the dishes Dagdeviren has collected together and to find out some of the fascinating stories behind them, get a copy of The Turkish Cookbook.
It boasts 550 recipes for the home cook that celebrate Turkey's remarkable European and Asian culinary heritage – from little-known regional dishes to those that are globally recognized and stand the test of time, be they lamb kofte, chicken kebabs, tahini halva, or pistachio baklava. Find out more here.