Ferran Adrià believes elBulli-style restaurants will help the industry bounce back
Innovation, says the Spanish chef and Phaidon author, will blaze new trails in the culinary arts after Covid-19
How have your lockdown projects gone? Chances are, you haven't been working on them quite as assiduously as Ferran Adrià. The hugely innovative elBulli chef has been confined to an old town house just off La Rambla in Barcelona, Spain, where he's been attempting to rethink restaurants in the age of Covid-19.
"I wake up at 4.30 every day and work straight through until nine at night," the chef tells the Telegraph newspaper. "I've been working through my foundation [elBullifoundation] to find ways to help our sector and I have also been studying economics. Now more than ever, the restaurant industry is about economics, more so than any debate about the cuisine itself. In one year's time we can go back to debating whether you prefer traditional or more modern, formal or more informal dining, but today it's only about economics."
To be fair, pandemic or no pandemic, this has been Adrià's questing, questioning nature has been focused in this direction, since elBulli's closure in 2011.
His latest book, What is Cooking: The Action: Cooking, The Result: Cuisine is an engrossing examination of our culinary culture, from a chef who takes a long view of his profession.
"Humankind began two and a half million years ago because homo habilis took a stone and turned it into a knife with which to cut flesh," he tells the paper. "The only activity that we've been doing in an ongoing way for the past two and a half million years aside from basic things like breathing and walking is cooking."
This sort of all-questioning approach seems exceptional, but Adrià feels it should be the norm. "It surprises me when people are surprised that cooks want to understand what cooking is," he tells the paper. "The most incredible thing of all is that there was no book anywhere in the world that answered this question that I was aware of. Are you aware of any? And the most incredible thing is that cooking schools don't have this sort of reference work. I had no books about the theory of cooking to read."
Of course, not title can predict the future of the culinary arts, but, in this respect, the chef remains hopeful. "The so-called Spanish flu epidemic in 1918, the First World War, the Second World War, the Spanish Civil War, crises at the same level as the one we are living through now or worse," he says. "The restaurant industry always reactivated. Look at the Roaring Twenties for example. That was a very fast response to World War One and the flu epidemic of 1918."
And when it comes to bouncing back, he believes innovative places, similar to elBulli will play their part, to some extent.
"The world evolves through innovation. It's mandatory. It's an obligation that we have places that innovate," he reasons. "It's an obligation that we have places that take risks, that blaze new trails, but there can only be maybe five places like elBulli in the entire world, no more. For them, it's not a business but a way of life."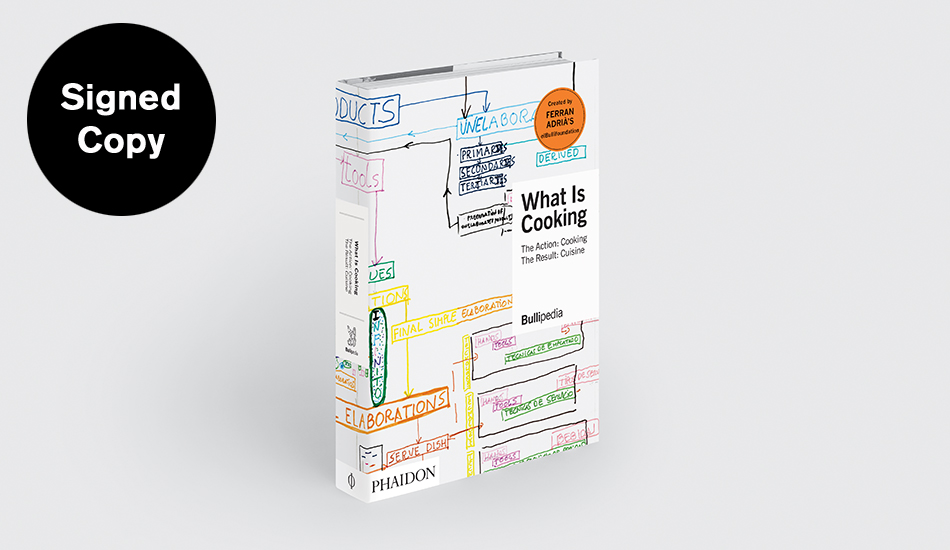 For more of this vital take on the culinary arts, order a copy of What is Cooking here; signed editions are currently available.