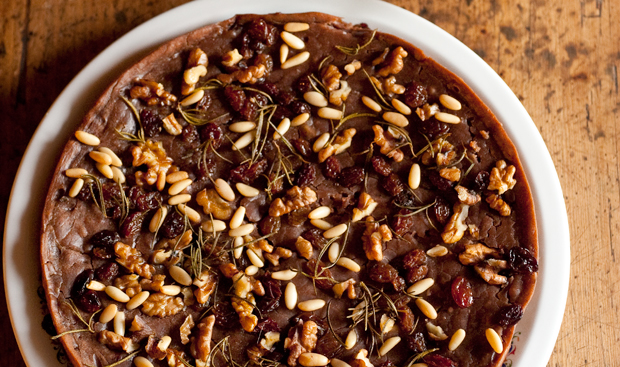 Pistoian Style Chestnut Cake
A recipe from Tuscany
Preparation: 20 minutes
Cooking: 40 minutes
Serves: 6-8 people
Ingredients:
50 g (scant 1⁄2 cup) raisins
3 tablespoons olive oil, plus extra for brushing
600 g (5 1⁄4 cups) very fresh chestnut flour
1 teaspoon salt
100 g (scant 1 cup) pine nuts
100 g (scant 1 cup) shelled walnuts, coarsely chopped
1 small sprig rosemary
Method:
Put the raisins into a bowl, pour in warm water to cover and let soak for 15 minutes, until plumped up. Drain, squeeze out the excess liquid and pat dry with paper towels.
Preheat the oven to 220°C/425°F/Gas Mark 7. Brush a 30-cm (12 -inch) round cake pan with about 3 table- spoons oil.
Sift the chestnut flour into a bowl and gradually stir in about 900 ml (33⁄4 cups) water to make a smooth batter. Stir in the salt, pine nuts and raisins and mix well.
Pour the mixture into the prepared pan and sprinkle with the walnuts and a few rosemary needles.
Drizzle with the oil, put the pan on a baking sheet and bake for 40 minutes, until the top is golden and the surface is cracked.
Remove the pan from the oven and let cool slightly, then serve.