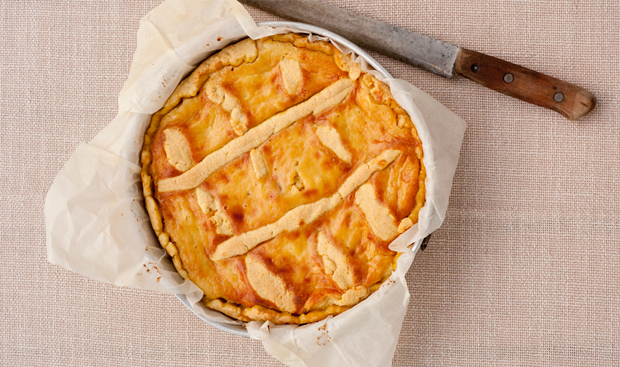 Garfagnina Ricotta Tart
A recipe from Tuscany
Preparation: 40 minutes
Cooking: 1 hour + 5 minutes for resting
Serves: 6 people
Ingredients:
70 g (generous 1⁄2 cup) raisins
4 tablespoons Marsala
500 g (2 cups) ricotta
100 g (1⁄2 cup) caster (superfine) sugar
1 tablespoon plain (all-purpose) flour, plus extra for dusting
4 eggs, separated
100 ml (scant 1⁄2 cup) single (light) cream
grated zest and strained juice of 1 lemon
250 g (9 oz) ready-made shortcrust pastry (basic pie dough)
Method:
Put the raisins and Marsala into a bowl and let soak for 30 minutes, until plumped up. Drain, reserving the soaking liquid.
Preheat the oven to 180°C/350°F/Gas Mark 4.
Line a 26–28-cm (101⁄2–11-inch) round cake pan with baking parchment.
Push the ricotta through a sieve (sifter) into a bowl, then beat in the sugar. Gently stir in the flour, reserved soaking liquid, egg yolks, cream, grated lemon zest and raisins until thoroughly combined.
Whisk the egg whites with 1 teaspoon lemon juice in a grease-free bowl until stiff peaks form, then fold into the mixture.
Set aside a small amount of dough for the lattice. Roll out the remainder on a lightly floured surface into a round slightly larger than the prepared pan and use to line it.
Spoon the ricotta mixture into the pastry case (shell).
Roll out the remaining dough and cut into strips.Arrange them over the filling in a lattice pattern, brushing the edges with water to seal. Put the pan on a baking sheet and bake for 1 hour.
Remove the tart from the oven, let stand for 5 minutes and serve warm.