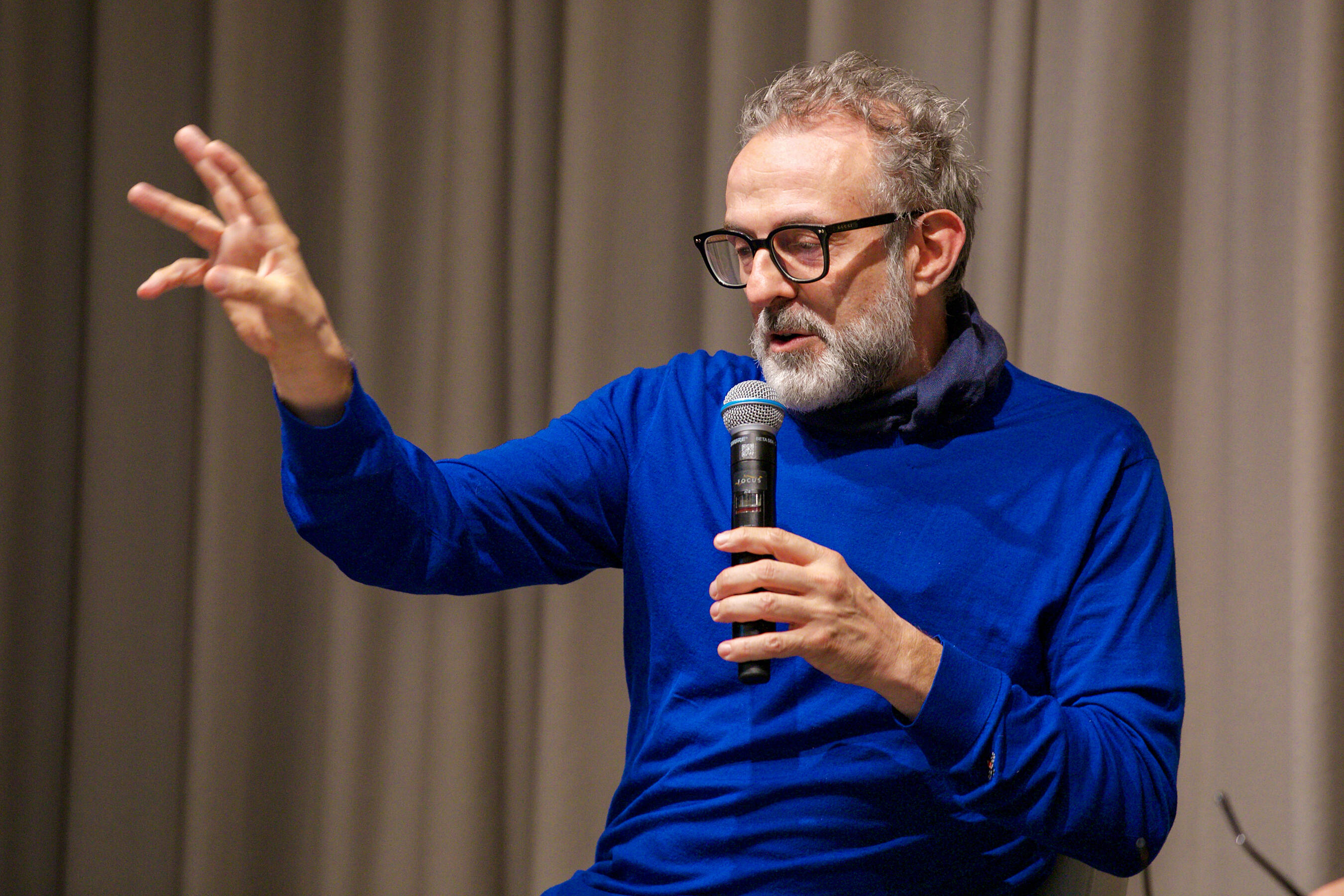 How Massimo Bottura's mother made her presence known at Casa Maria Luigia
Massimo and Lara Gilmore talk about Slow Food, Fast Cars, how Massimo's mother inspired his latest venture, that time he proposed to Lara over the phone, and why you should never lose faith
When our Skinny Italian Chef Massimo Bottura  and his wife, Lara Gilmore, opened Casa Maria Luigia, in Emilia Romagna, Italy, in 2019 they wanted their guests to experience the wonderful, earthy food of the region, but much more too.   As you'd expect, Casa Maria Luigia offers exquisite food. But it also has amazing art, intriguing design objects, beautiful interiors, and an impressive collection of cars and motorcycles -  Lamborghini and Ducati level impressive, in fact.  
The house, just a few minutes' drive - Lambo or no Lambo - from Massimo's Osteria Francescana restaurant, provides a space for discovery and ideas. It defies expectations and provokes reactions. Nothing is as it seems.
Our new book Slow Food Fast Cars celebrates life at Casa Maria Luigia. The 85 recipes in it cover off simple dishes and drinks served at Casa Maria Luigia to make at home, including breakfast dishes, sweet and savoury snacks, along with more elevated brunch dishes, and pantry items.
There are cakes and cookies, frittatas and focaccias, salads, sausages and more, with seasonal variations as well as information about the dishes' origins and any regional ingredients. The recipes are simple to make but imbued with complex ideas, and in them the past collides with the contemporary.
Interspersed with these recipes are fascinating stories looking at every element of the place, from the art on the walls to the food and landscape; as well as illuminating texts that ruminate on all manner of subjects from Joseph Beuys's art, to why Enzo Ferrari liked his personal cars to be grey rather than red. And, of course, there are myriad evocative images of the food, art, design, cars, garden, and interiors.   As part of their world tour promoting the new book, Massimo and Lara gave a talk at the V&A this week and here are some of the highlights from it.  
They began talking about how they met at a café where both of them were working in early Nineties New York.
Lara Gilmore photographed by Ian Macaulay
L: "After a few weeks (at the café) I had tasted Massimo's cooking, and Massimo's cooking in 1993 already had everything that he has today, his confidence, his vision, his passion. He made risottos that weren't on the menu, he was finding the best ingredients, he was turning that menu upside down. So I could see that this person had much more than culinary skills, he had passion, he had vision enough to turn that small café - that wasn't even his – and while working part time, into the most extraordinary little place it could be."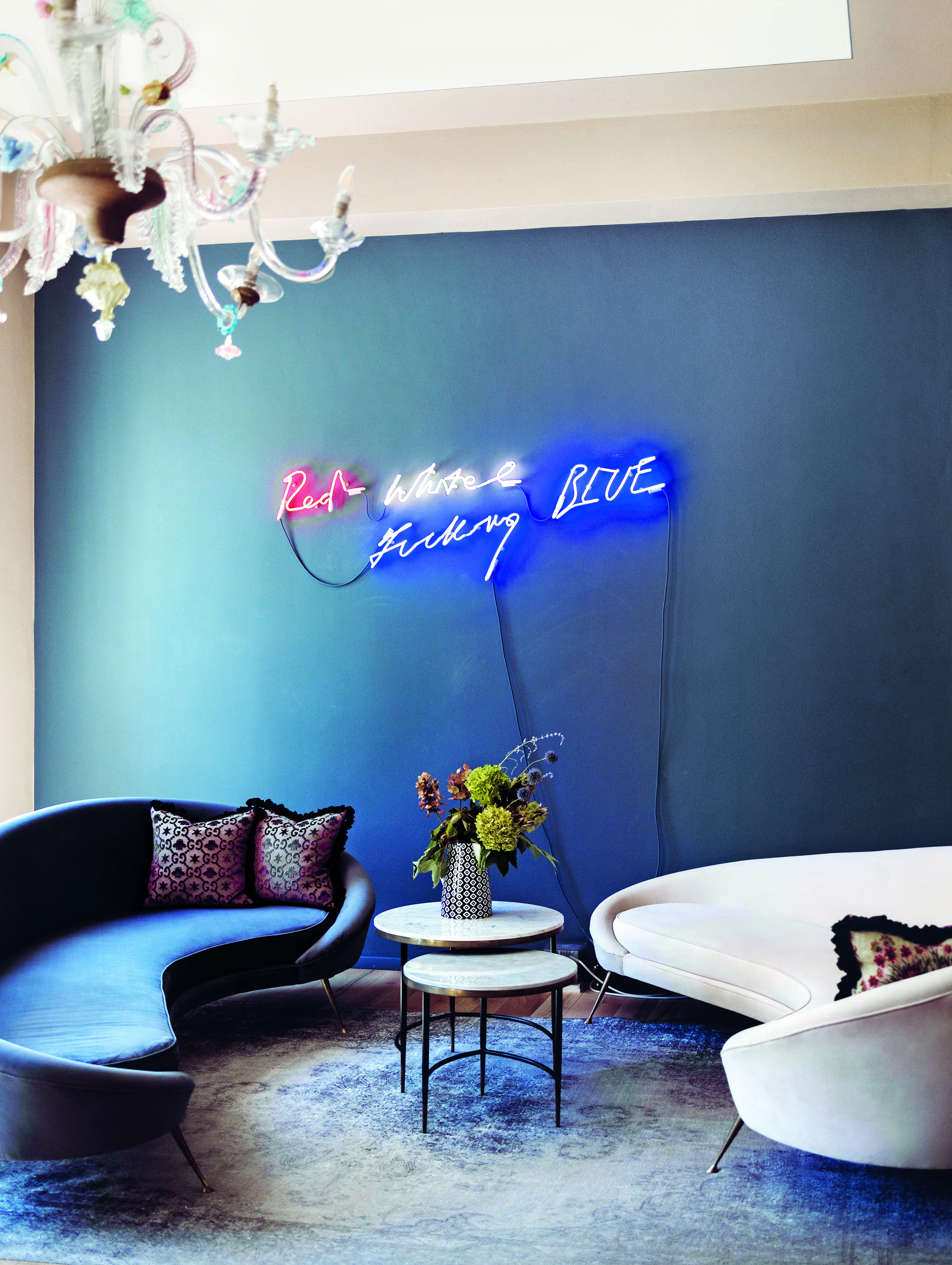 Seating area, with sofas by Federico Munari and artwork by Tracey Emin. Photography by Michael Gardenia (Fusillo Lab)
Togetherness was key
L: "We have always had this way of keeping ourselves 'unstable'. By that I mean we're constantly asking questions, trying to look deeper – we're never too sure of ourselves. So we keep looking, keep thinking there's another stone to unturn. And that's how we've always grown so well together."
So well in fact that when he returned to Italy to open Osteria Francescana, Massimo felt confident enough to propose over the phone…
"I remember my mother calling me, Lara! It's Massimo on the phone. The last thing I was expecting was the marriage proposal coming in at 7.40 in the morning."  
"M: It was March 1995, the opening day of Osteria Francescana. It was about 11.40 in the morning, and I had ten minutes spare and I thought what am I gonna do in this ten minutes? So I called Lara in New York and said, will you marry me?"  
L: "We had never talked about marriage, so I thought he must really need me in the restaurant! But it's been an amazing thirty years together. It goes by quickly. Especially when you're busy."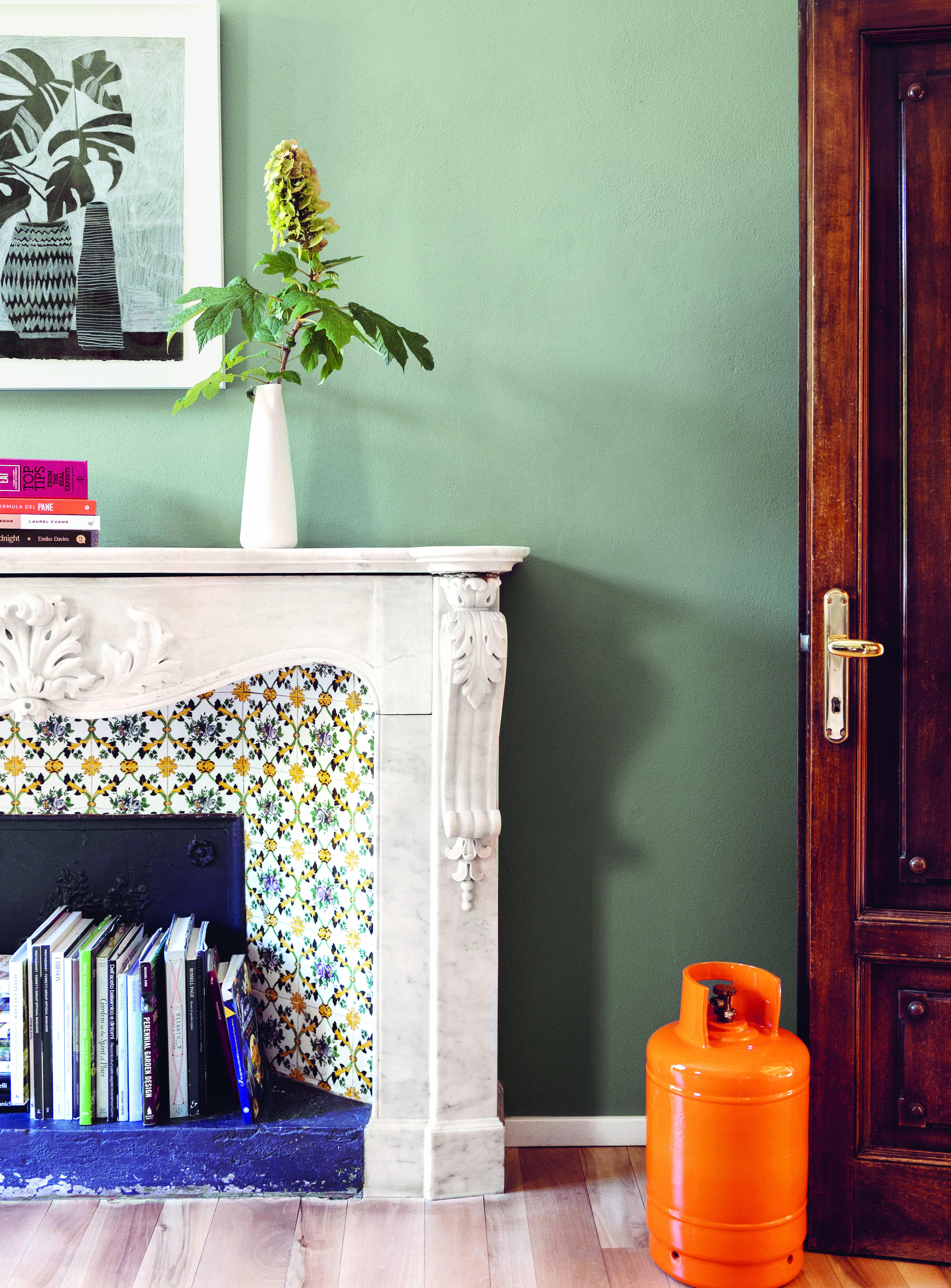 Kitchen fireplace, filled with books. Photography by Michael Gardenia (Fusillo Lab)
Luck played a part.
M: "At the start of Osteria Francescana I was selling all my most precious things to pay the bills at the end of the month, my motorcycle everything. It was a very tough period. I was already thinking of offers to open a restaurant outside of Italy, at one point in London. Out of the blue one evening a very important Italian food critic stopped and came in to eat because there was an accident on the highway. It was a Monday night, and he had dinner there. I asked him what I can expect? He said you're gonna read it in the magazine next Friday. By the end of the year we got dinner of the year, best young chef, and the first Michelin star."
Lara never lost faith.
L: "You have to fight for your identity, you have to fight for your dream. That's what I saw when I met him and when I saw him working in the kitchen for the first time. That's him in his element and that's where he was expressing himself."
"I thought if he's going to change his career path just because he's not having the success he expected then it's not going to be him, and he's never going to have the chance to express himself. I could imagine Massimo having success somewhere else but coming back to his hometown and always having that feeling of, 'I didn't make it here'."
House Savouries: Celery Root and Mixed Seeds. Photography by Michael Gardenia (Fusillo Lab)
But he did and changed food culture in the process.
M: "I think a restaurant like Francescana is much more than a simple restaurant. For one simple reason. We built an everyday culture; we built knowledge consciousness and a sense of responsibility."  
"In our restaurant we create culture every day. We are ambassadors of our agriculture because, when we speak about our artisans, people listen."
"Our cheesemaker up in the hills who we've supported for 25 years, last year in Paris was named the best cheese maker in the world – by the French!"  
"So it's about culture and agriculture. Right now we have 2,800 CVs from people who want to come and experience the life and training of Osteria Francescana. They come to understand what we are doing."
"They learn how we think, but they learn how to express themselves and to manage their creativity. And this is a very important thing for the young generation. 98 bed and breakfasts have been built around Osteria Francescana in the past 15 years. Before Francescana, there were none."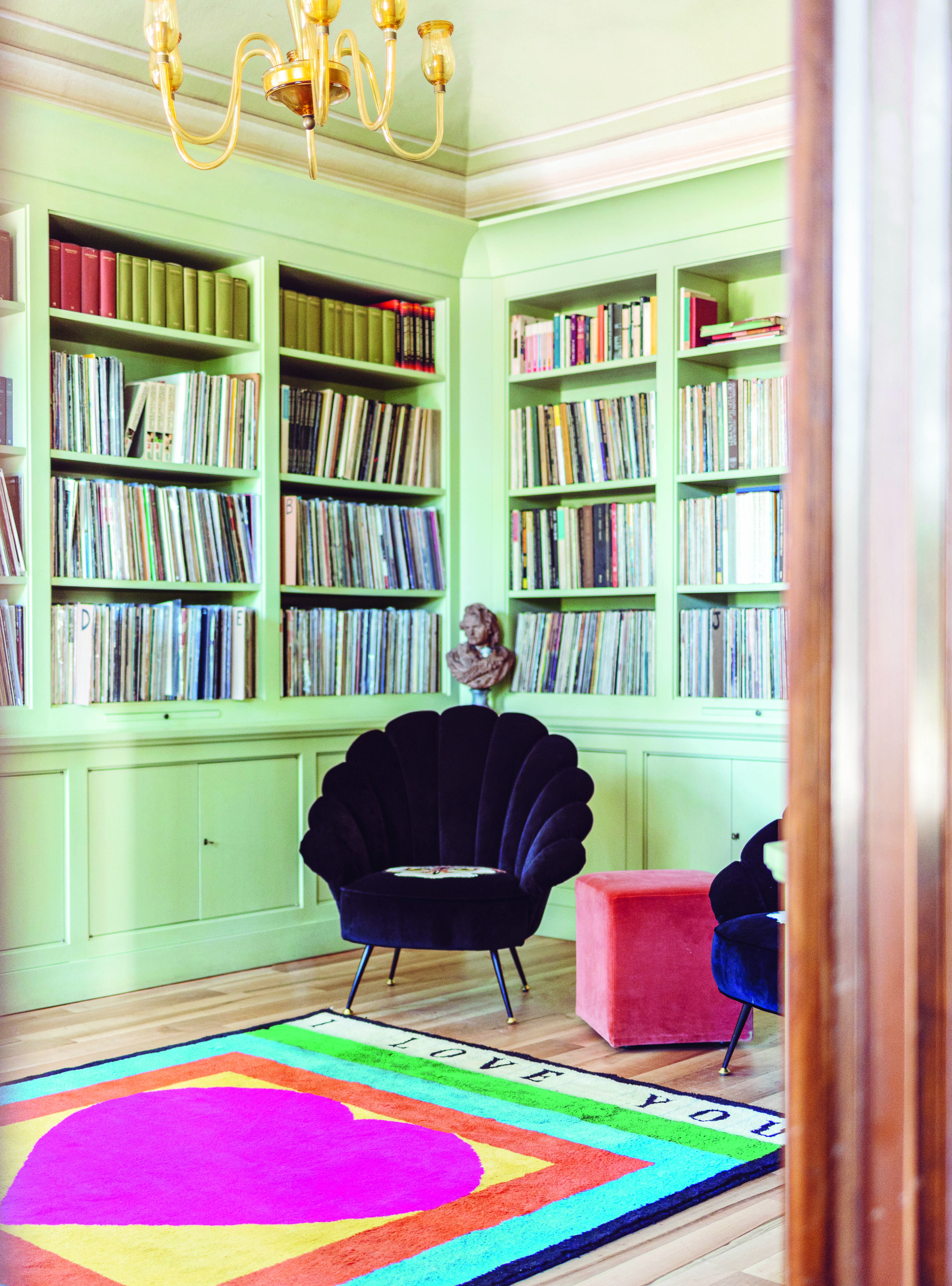 The Music Room, with I LOVE YOU rug by Peter Blake. Photography by Michael Gardenia (Fusillo Lab)
And now there is Casa Maria Luigia.
"People were coming to Modena but there was nowhere to stay at a certain level. And Maserati, Ducati, Lamborghini, Ferrari were all saying to us, 'you have to make somewhere for our guests to stay'."  
"We found this property five minutes from Modena, twenty minutes from Maranello, very private. It was up for auction. So we put an offer down, but it was too low. Then a few years later we were in New York, and we received a message, and it was the judge, and he said, 'the country place is yours'. I said what are we gonna do now? Oh my god!"
L: "I think we had seen the property for all of ten minutes. We'd gone down this long driveway not knowing what was ahead of us, scratched the car and saw this overgrown tennis court."
"But we knew we had all these ideas and there wasn't enough room in Osteria Francescana for all those ideas and all that passion. People weren't staying there long enough to discover all the things we were talking about. So we went down that driveway, and we opened up this whole other world of possibilities, that are still evolving."
Home is definitely where the he(art) is.
Before Covid I was travelling 170-days-a-year and the thing I was missing was home. Home is very important. I was waking up in Buenos Aires, Tokyo, South Africa. At Casa Maria Luigia the kitchen is always open - there may be dirty dishes in there - and you can make your own coffee, or cappuccino, and you can make a snack of parmigiana and Lambrusco."
"And everything is free, it's your home. So you don't have to sign anything. You want something? Open the fridge, there's always something. Or you want to listen to some music? There's a music room with 8,000 records. From Callas, to Pavarotti, to Charlie Parker, to Billie Holiday – and yes Bonney M. The first record I ever bought! And we have a gym with Lamborghini cars and Julian Schnabel and Damien Hirst paintings."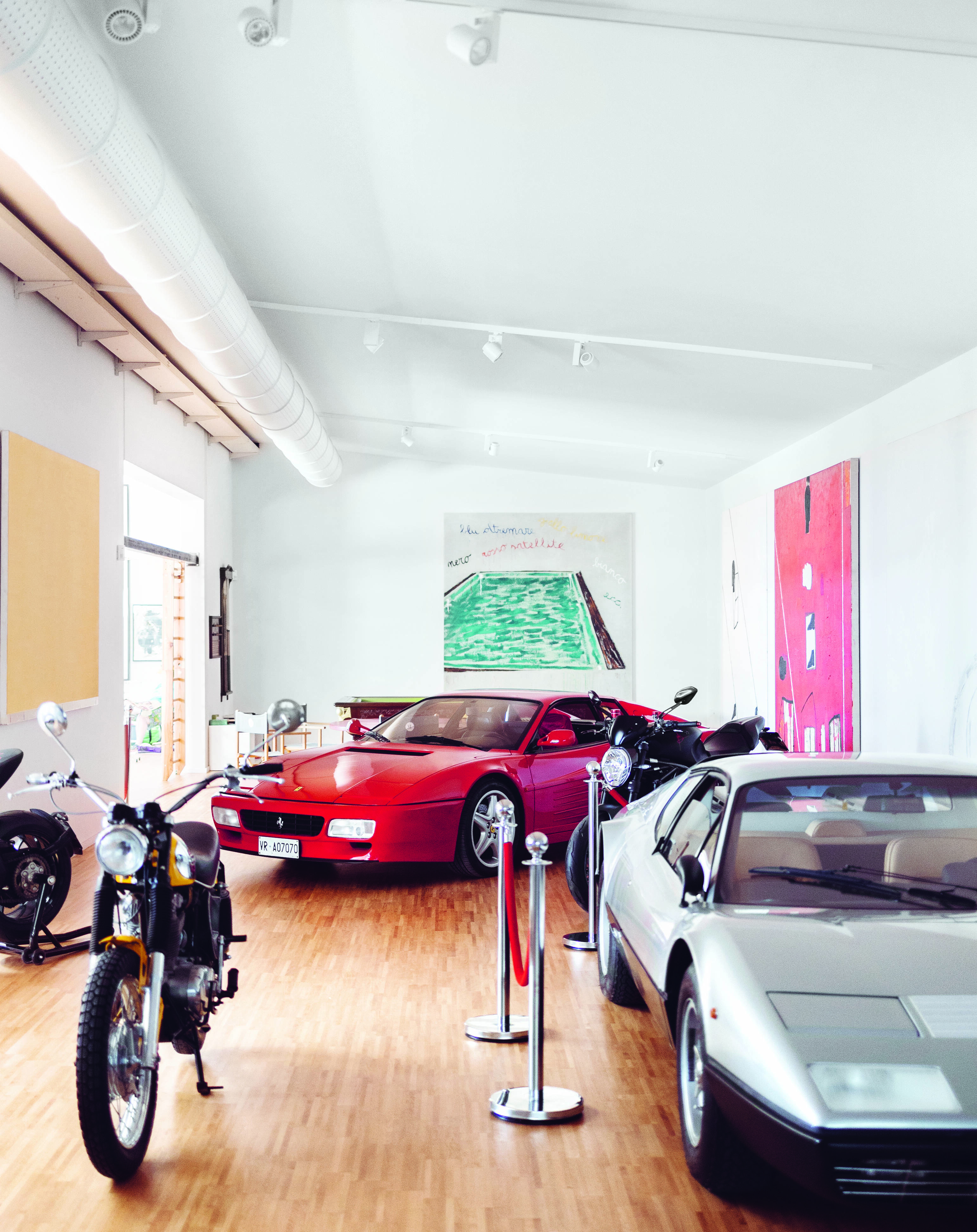 The Playground in the converted barn, with cars, bikes, and artworks. Photography by Michael Gardenia (Fusillo Lab)
L: "I do a lot of yoga in than at space we have a sculpture by an artist called Duane Hanson who portrays people who do not get noticed. So we have Rose, the flea market lady, who is selling some used shoes, and Frankie, the security guard,  at the door. They always keep me company when I'm in there."
And although she passed in 2014, Massimo's mother is still in his heart.
M: "Just in the last couple of months I've had this crazy, foggy, nostalgic way of thinking of mum back home. This is the first time I'm saying this. I'm sometimes thinking I didn't dedicate enough time to my mum. She would fight for me with my father when I decided to give up law school and become a chef. And my father was very sad. He didn't talk to me for two years."
"And probably in those six seven years when no one was coming to Francescana, I never gave up, because I thought we had good ideas but also I didn't want my father to say to my mother, to say that he was right, and she was wrong. I would love to have my mother come back to me and she could cook a Tagliatelle Ragù. That would be the best meal ever!"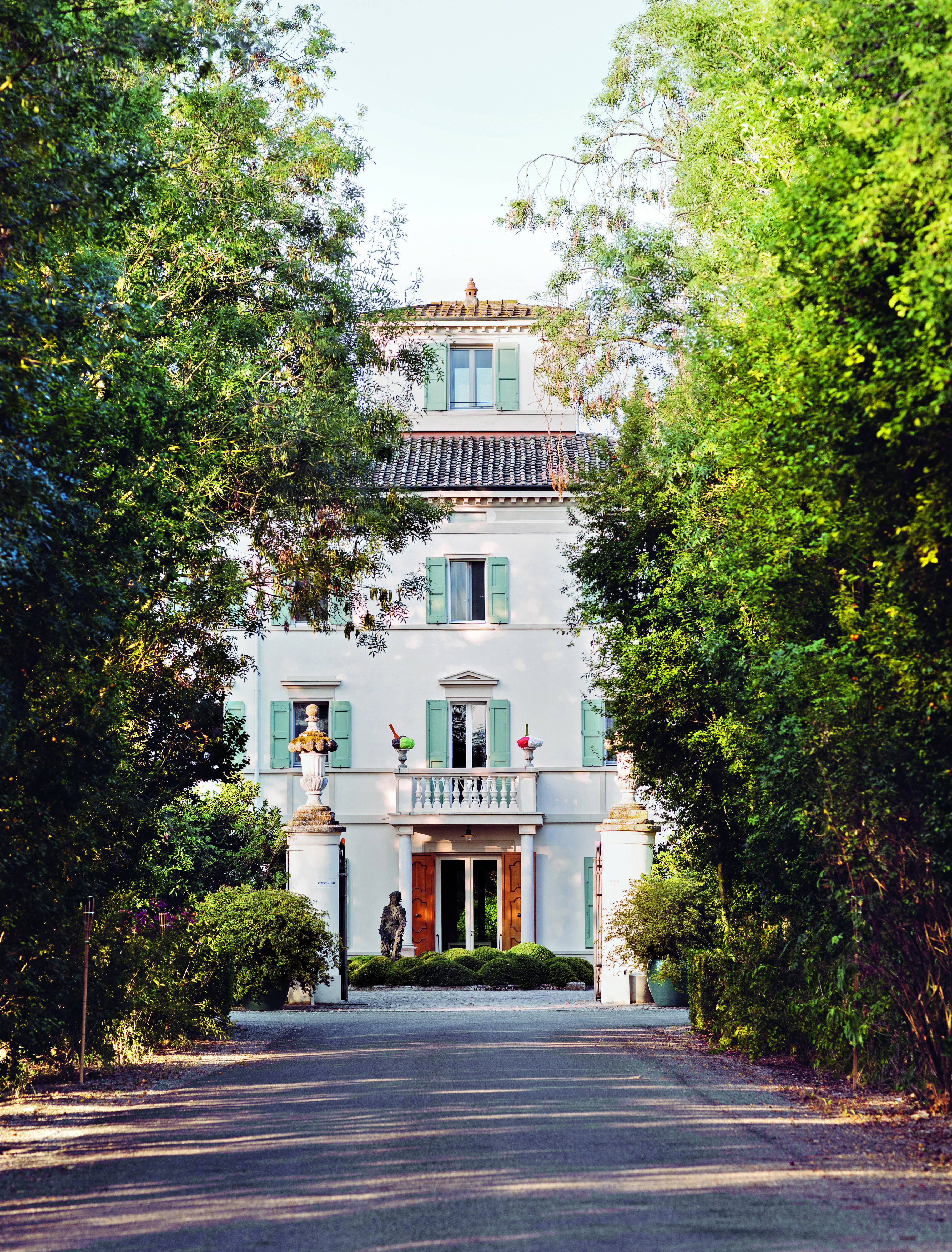 Casa Maria Luigia, Modena, Italy. Photography by Michael Gardenia (Fusillo Lab)
But her memory lives on in Casa Maria Luigia.
L: "When we were looking for this property we knew we would call it Casa, but Casa what? We didn't know. Everyone used to call Massimo's mum Nonna Lu. One day when I went up to see her graveyard and I remembered that her real name was Maria Luigia."
"When we got married in 1995 friends of ours who were graphic designers did the invitation for our wedding and they came up with this fun anagram of an M and an L that made a round face."
"At that moment I said why don't we call it Casa Maria Luigia after your mum who is the one who always opened up her house to your friends?"
Learn more about Casa Maria Luigia in Slow Food, Fast Cars: Casa Maria Luigia – Stories and Recipes in the store. And check out Massimo Bottura's other books: Never Trust a Skinny Italian Chef, and Bread Is Gold.