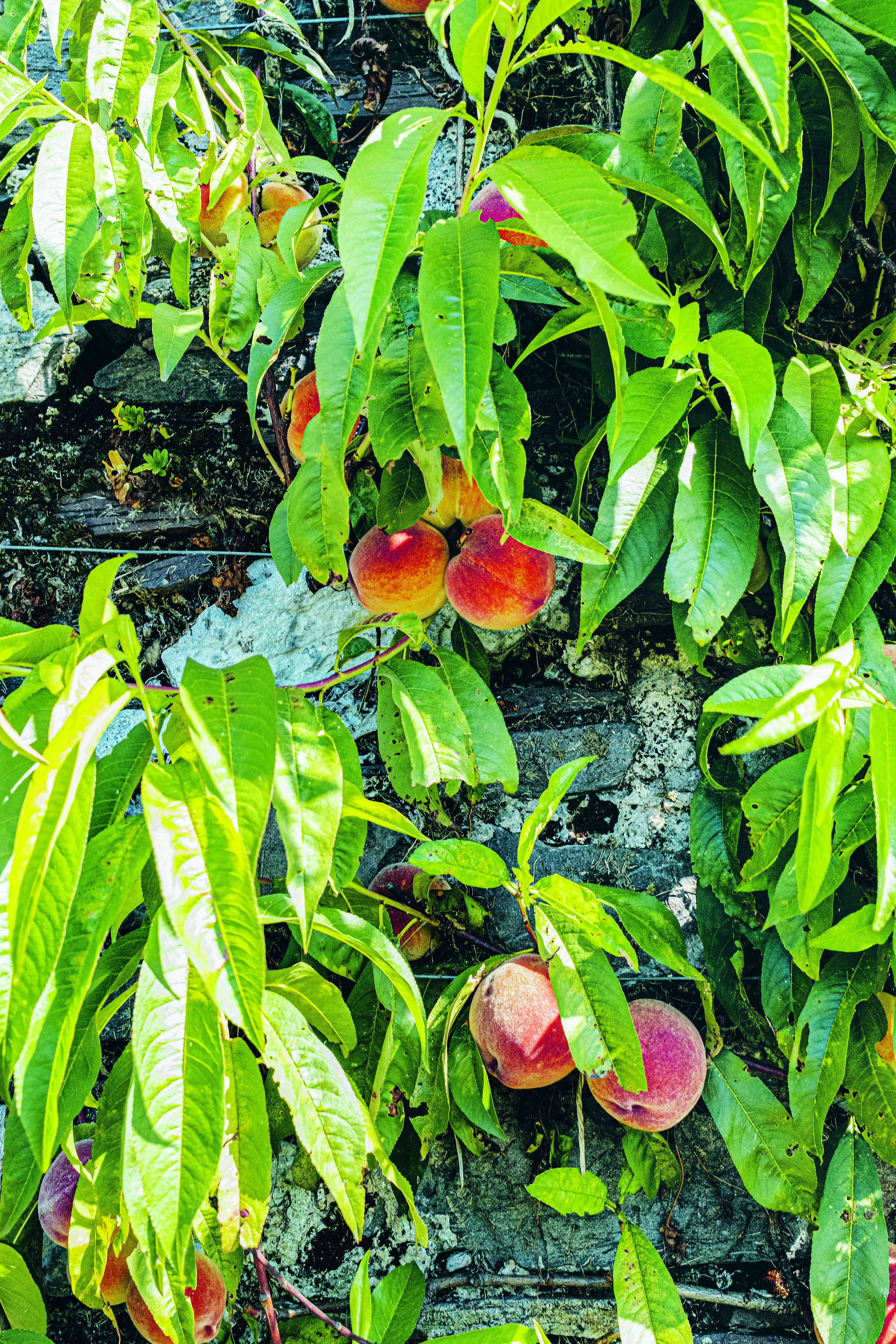 The fruit and friendship that enrich Ballymaloe Desserts
In his new book, the brilliant pastry chef JR Ryall describes how the generosity of County Cork influences his menus
JR Ryall operates an open-door policy in his kitchen. This young Irish chef heads up the pastry kitchen at the acclaimed County Cork hotel and restaurant, Ballymaloe House, and in his new book, Ballymaloe Desserts: Iconic Recipes and Stories from Ireland, he explains that despite the house's dual function, "the building has never felt quite like a hotel or like a house.
"When I was training, there were often so many things going on at once that I could never keep track of all the activity," he goes on to say. "The chefs would always be running out to the garden between jobs for more herbs or fruit, or down to the woods to find something. Mrs Allen would 'borrow' anyone who was free to accompany her to the beach to collect carrageen moss, while other team members might have gone for a swim during their afternoon break. Guests would wander into the kitchen any time of day for a look and a chat, and neighbours would arrive at the kitchen door with bowls and boxes of whatever grew in their gardens."
The coast near Ballymaloe. Photo by Cliodhna Prendergast
Now that JR is in charge of 'sweets', he maintains this porous approach, adapting his dishes and altering his menus according to the kind of produce that makes his way to the kitchen door.
The chef grew up on a farm, and can recall the soft and hard fruits that grew in his family garden, as well as the sweet wild blackberries that filled the summer hedges, and elder trees that marked the edge of the woods. In his book he confesses that he is mildly obsessed with fruit. "I love to handle and work with it," he writes. Few things are more elegant than a string of redcurrants catching light like perfectly formed, delicate jewels, bittersweet and vibrantly alluring. Seeing orchard branches dripping with pears, the weighty fruit holding a careful pose on tips or spurs, waiting and teasing, fills me with awe."
JR's focus has enabled him to make the most of Ballymaloe's four-hundred acre farm, as well as the generosity of neighbours and their penchant for picking wild crops. "At Ballymaloe I plan each dish when I know what fresh produce is available, so I often change the menu at the last minute," he writes. "Perhaps the plums that I was eagerly watching are just not ripe enough to pick on the day I thought they would be, and then an unexpected basin of wild blackberries arrives at the kitchen door. Perfect, a blackberry dessert it is."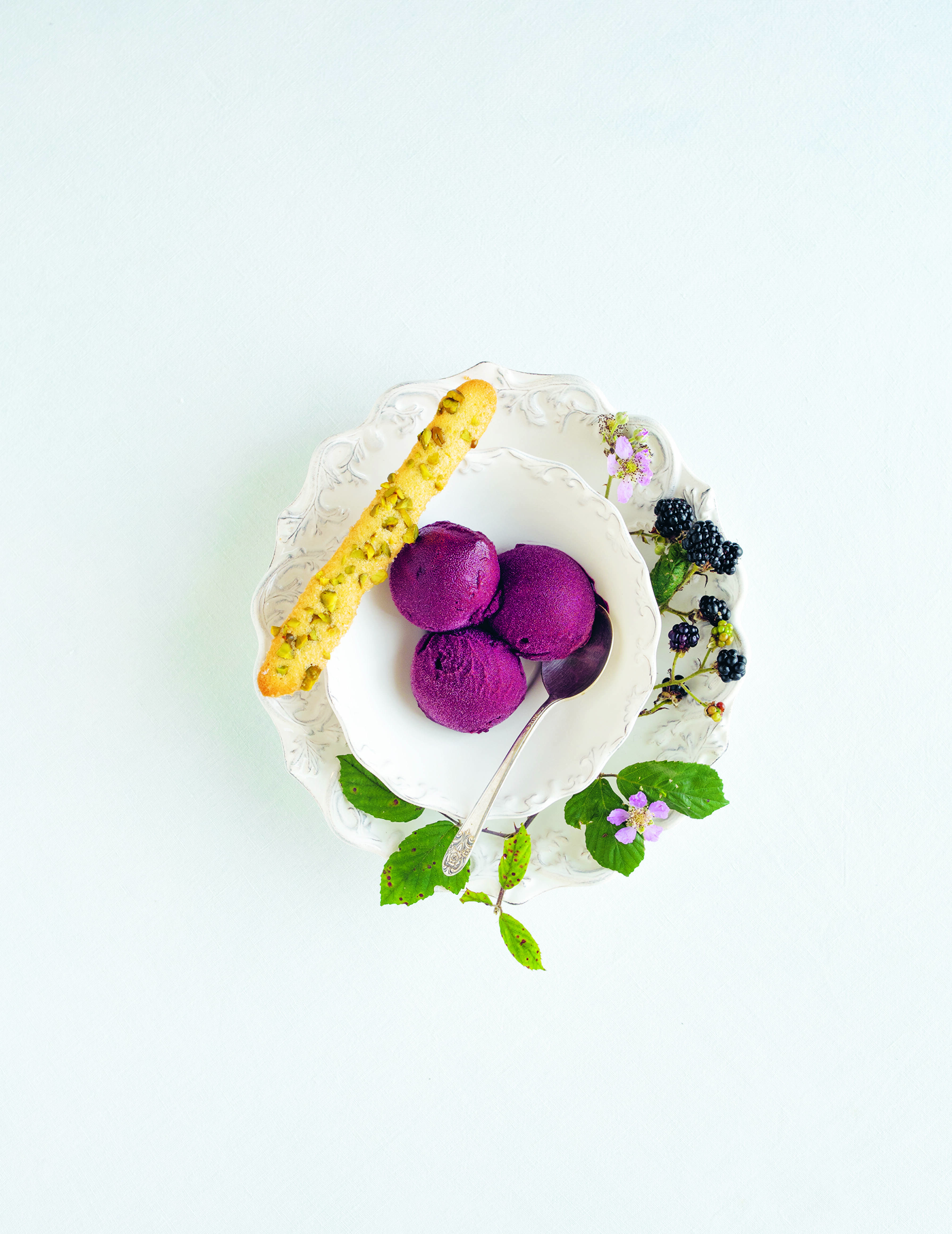 Wild Blackberry and Sweet Geranium Sorbet. Photo: Cliodhna Prendergast
There are many restaurants with thriving kitchen gardens, and many others that work closely with local producers to make the most of seasonal crops. However, few places have developed such a supportive network of amateur gardeners and growers; it's this social bond that makes Ballymaloe so special.
"From early February to late October, the gardens and farm at Ballymaloe feed a steady supply of fresh fruit into the kitchen, supplying most of the fruit we need each year," writes JR. "In addition, many local gardeners and farmers produce beautiful fruit with minimum intervention, much of which makes its way to our kitchen. This is every pastry chef's dream and my team and I deeply appreciate our close connection to the land and soil that surrounds us."
Ballymaloe Desserts
To see what this chef makes with all that seasonal goodness, order a copy of Ballymaloe Desserts here.