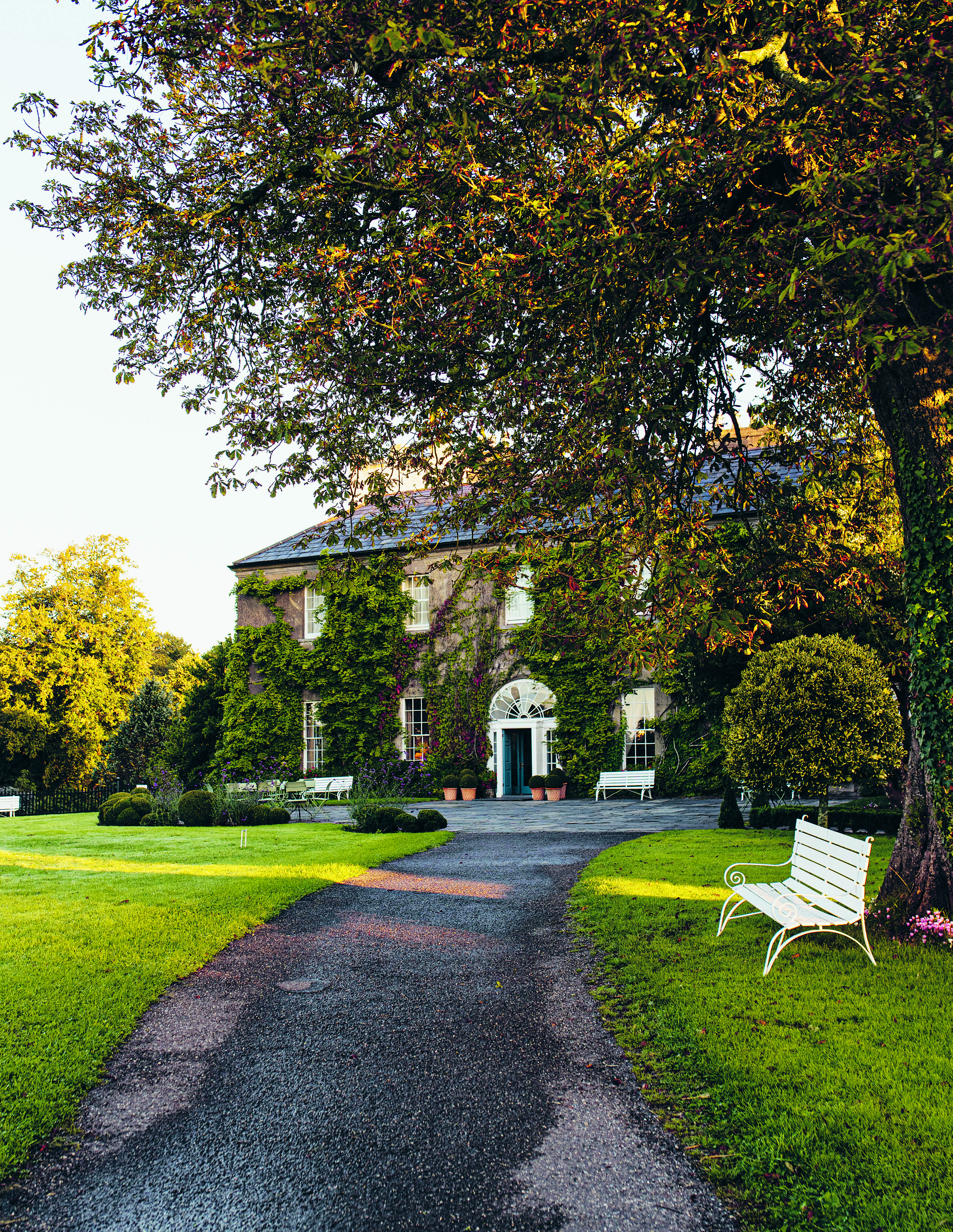 The country house that nurtured Ballymaloe Desserts
JR Ryall may be one of the world's most exciting pastry chefs, but he always grounds his cookery in his restaurant's historic surroundings
Myrtle Allen was a chef who went with her glut. Her protege, the brilliant Irish pastry chef JR Ryall writes in his new book Ballymaloe Desserts: Iconic Recipes and Stories from Ireland, that Allen gained her experience "working with the abundant produce of the four hundred acre Ballymaloe farm that her husband, Ivan, ran."
Mrs Allen, whether cooking domestically or for the dining room at Ballymaloe House, always looked for ways to use the crops and produce from the farm and "whenever there was a glut, she learnt every possible way of cooking whatever could not be sold," he writes.
"Inspired by the contemporary cooks of her time – from Elizabeth David to Jane Grigson and from Margaret Costa to Rosemary Hume, not forgetting Simone Beck, Louisette Bertholle and Julia Child – Myrtle practised techniques and developed recipes that worked with the produce available to her. In 1964 she felt she had enough experience to open a small restaurant."
That restaurant was housed in Ballymaloe House, within the grounds of this agricultural estate in County Cork, Ireland, and its initial appeal traded on its handsome, largely nineteenth century country home. The initial advertisement for the restaurant, placed in the local Cork Examiner newspaper read 'Dine in a Historic Country House'. No address was given, just a phone number for reservations.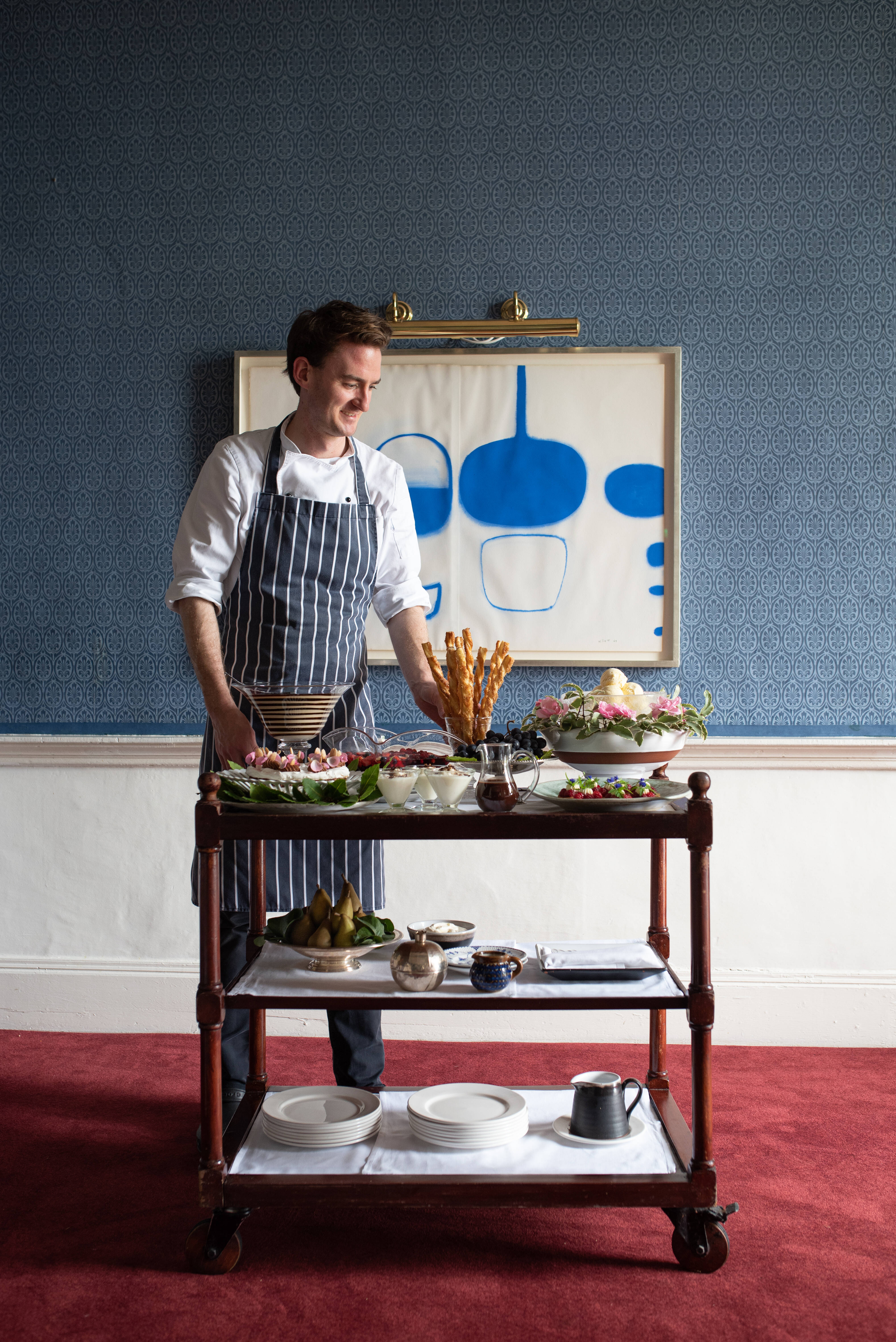 JR Ryall
Guests may have come for the house, but have kept coming back for the remarkable food and service. "Myrtle hand wrote individual menus for each meal," explains JR in his book. "Joe Cronin, the shepherd, was roped into serving drinks and Wendy, Myrtle's eldest daughter, served the tables. Ivan supplied Myrtle's kitchen with fresh produce every day. He grew fruit, vegetables, herbs and mushrooms: tomatoes, cucumbers and strawberries in glasshouses; pears, apples and stone fruits in orchards; and the centuries-old walled garden adjacent to the house provided leaves, herbs and edible flowers. Potatoes and other vegetables grew in surrounding fields; and a herd of Jersey cows ensured a steady supply of fresh milk, thick cream and rich butter. There were also pigs, hens, ducks, geese, and other animals.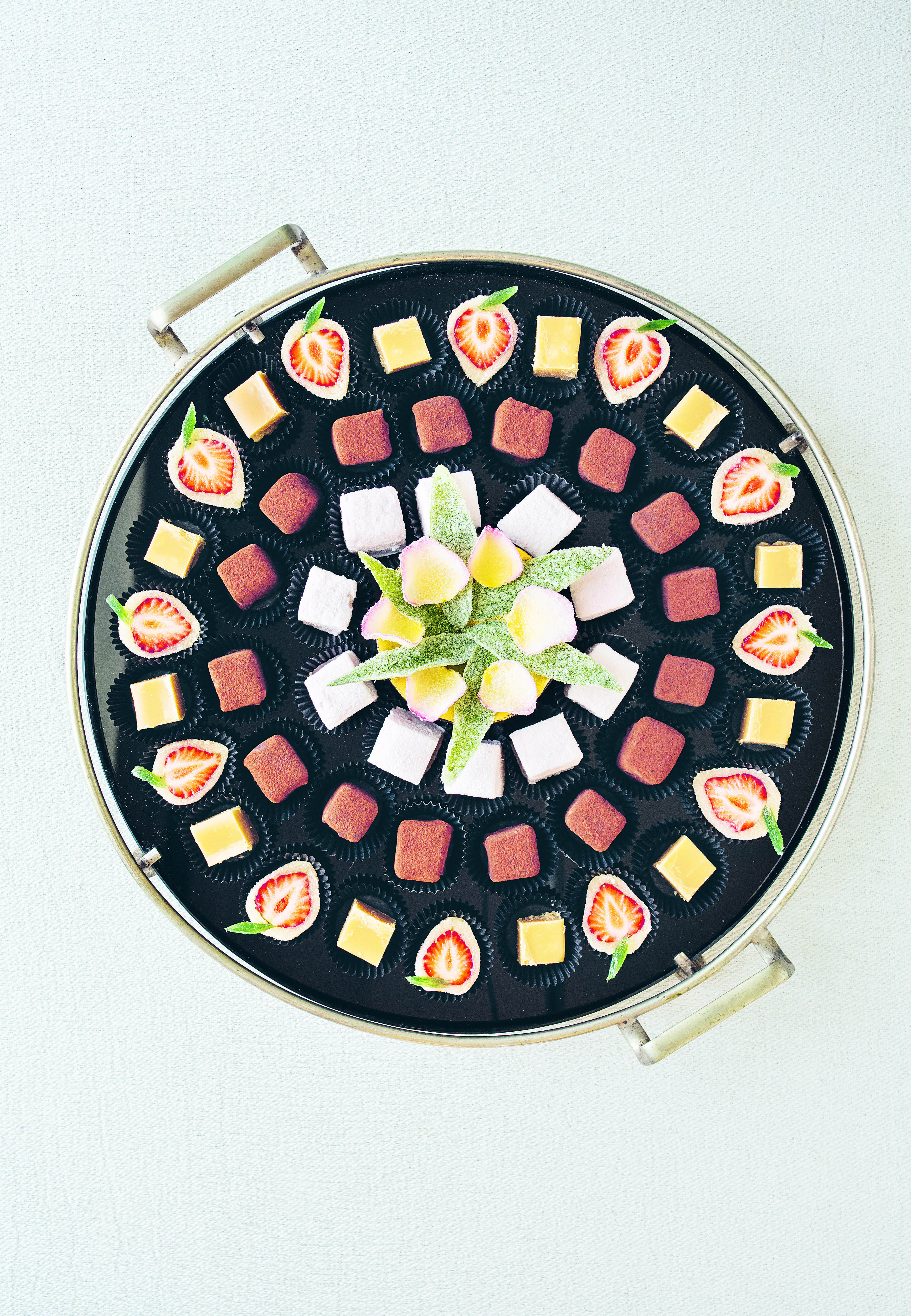 Strawberries Amandine and Molly Keane's Vanilla Fudge. Photo by Cliodhna Prendergas
"As Myrtle laid the foundations for her radical produce-focused restaurant, Ivan himself was also enticed into the business. Together as husband and wife, and as chef and grower, Mr and Mrs Allen pioneered a new movement in Irish food," JR goes on. "Myrtle's vision for the restaurant was clear: she wanted to serve delicious flavourful food made with seasonal home-grown and local produce specially picked for each meal."
Baked Alaska. Photo by Cliodhna Prendergas
The idea that a restaurant's menu should be inspired by local produce was not a hugely popular or fashionable idea sixty years ago, yet the cuisine cooked and served at Ballymaloe House wasn't the result of fashionable choices or popular trends. The food that was served there then, and is still served there now arose from Myrtle Allen's honest response to the house's produce.
"She wanted to serve delicious flavourful food made with seasonal home-grown and local produce specially picked for each meal," writes JR. "This vision was Myrtle's north star."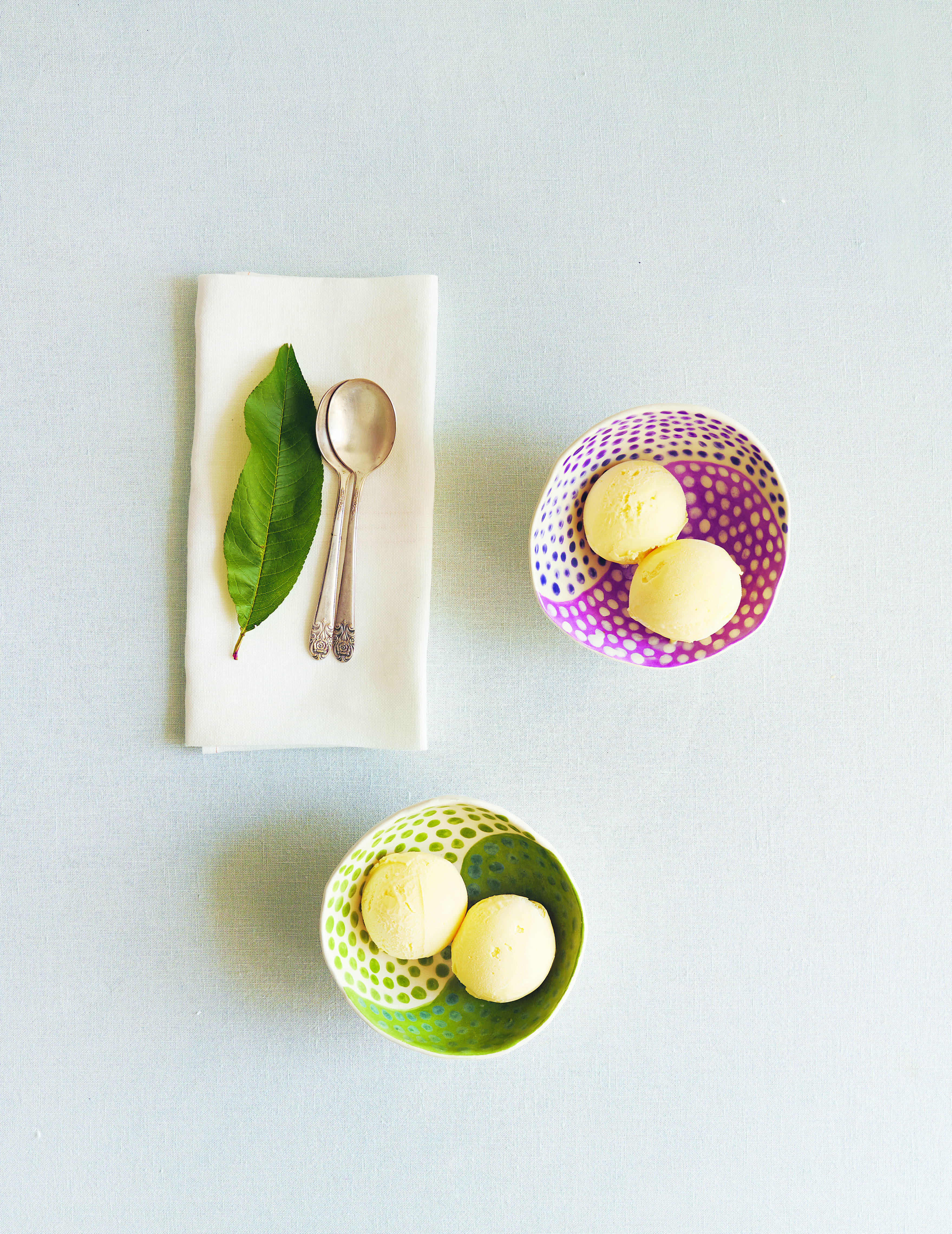 Peach Leaf Ice Cream. Photo: Cliodhna Prendergast
As the restaurant thrived so the kitchen's repertoire expanded. "Things were reworked and the dishes evolved until they were to Myrtle's taste: the Ballymaloe taste as it has come to be," writes the chef.
Myrtle Allen may have passed away, by JR, as head chef in the restaurant's pastry kitchen, continues to keep this practice alive, reproducing Mrs Allen's Carrageen Moss Pudding, a silky soft-set seaweed dish that is a Ballymaloe speciality, while working with the incredible produce that finds its way to his kitchen door.
Aside from the great fruit and vegetables, Ballymaloe's nearby cookery school has a micro-herd of organic grass-fed Jersey which supply the house. "The small herd is milked once per day and the milk from these cows is astonishingly good," writes JR. "The thick yellow cream that naturally floats to the top of the raw milk is the gold of the dairy world and almost a dish in itself – for me this Jersey cream sets the bar for how good cream can really be."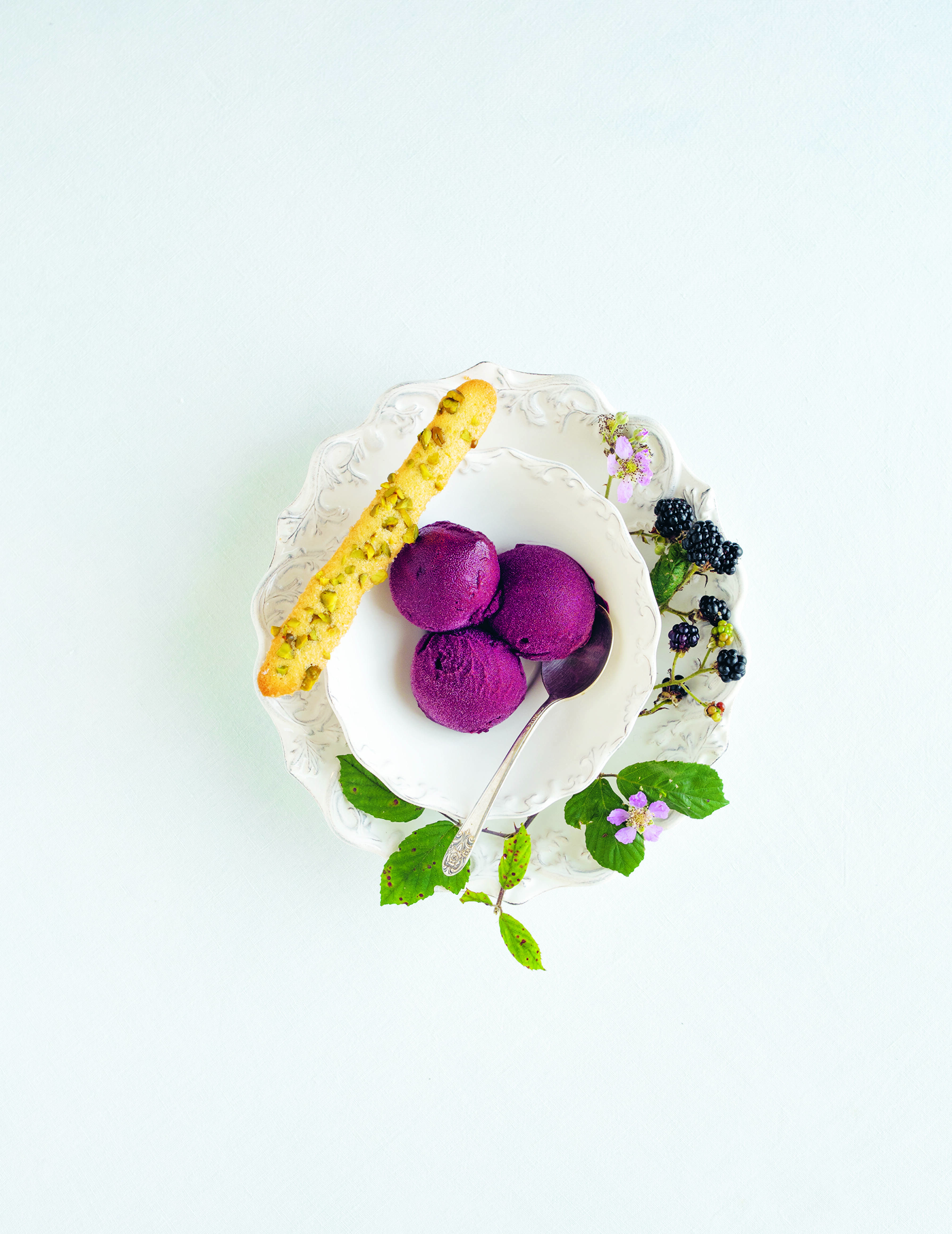 Wild Blackberry and Sweet Geranium Sorbet. Photo by Cliodhna Prendergast
The chef also benefits from not one but two flocks of free-range hens. "Both flocks run around green pastures by day, and at night the hens sleep in specially designed houses where they safely lay eggs in individual nesting boxes," he explains. "Every morning the freshly laid eggs, which vary in size, are brought into the kitchen where they are stored in a cool dark cupboard. All of the eggs get used within a day or two of being laid."
Then there are the nuts. "At Ballymaloe there are numerous cobnut, hazelnut and walnut trees," he writes. "In early autumn, when the nuts are just harvested, their flesh is creamy and notably different from the dried nuts we use for the rest of the year."
Some of the recipes in JR's new book are Ballymaloe classics that predate his time in the kitchens; others have been developed and adapted by him; yet none of them are fancy, lab-like concoctions, divorced from the house's surroundings.
"It is often by necessity that a recipe gently evolves, though it is seldom ever for the sake of change," writes JR. "When produce is at the centre of decision making, it is crucial to think with versatility – often a recipe gets altered to make the most of what's available, or perhaps by discovering something isn't available – and through trial and error we make new discoveries and learn more about our recipes and the dishes we cook from them."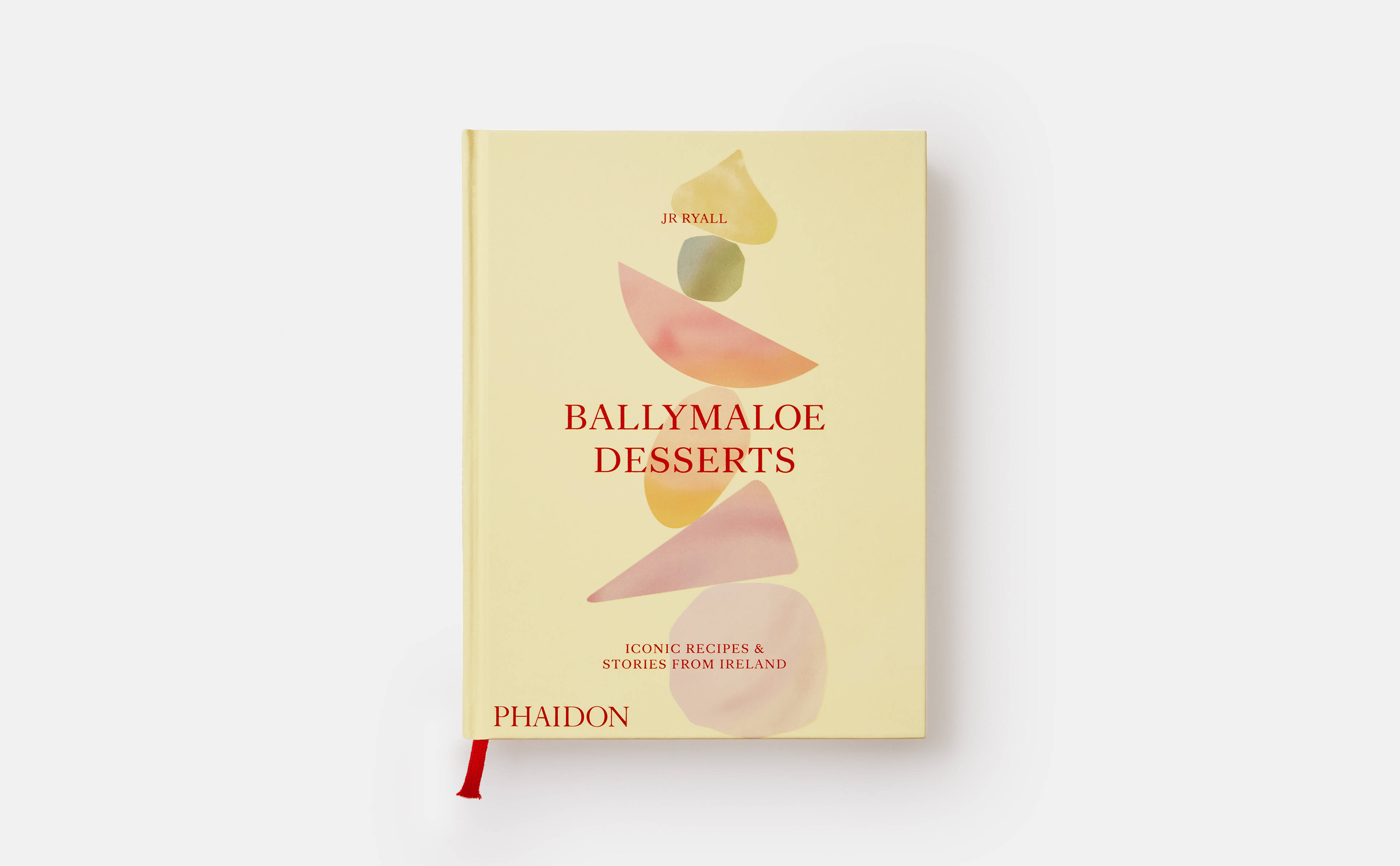 Ballymaloe Desserts
To find out more about those recipes and recreate the dishes yourself, order a copy of Ballymaloe Desserts here.