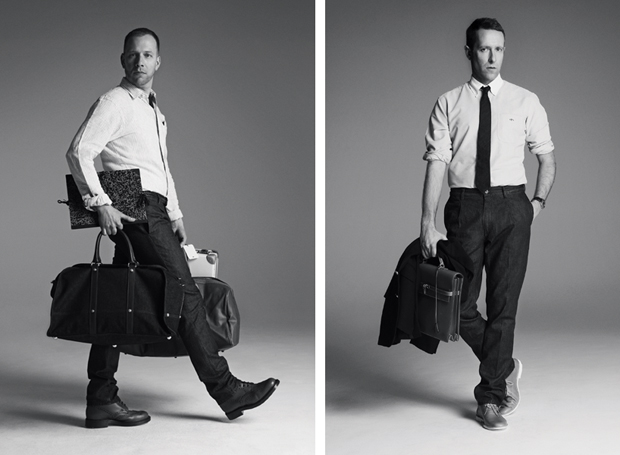 How these guys made Fantastic Man
The magazine's founders on how they went from a gay-interest quarterly to profiling Tom Ford and Bryan Ferry
Back in 2005, Gert Jonkers and Jop van Bennekom used to have a big box in which they kept journalistic cut outs of rivals who'd referenced their work. The Dutch editors and co-creators of the brilliant men's magazine Fantastic Man, which celebrates its tenth anniversary this autumn with this new anthology, were delighted by the initial success of their publication, though they were not always so pleased by the influence its minimal design and cheery mid-century ad-copy prose style was having on others.
"The first few times we saw something that obviously copied Fantastic Man it was flattering," says Jonkers, "but sometimes it was painful. In the beginning we had this box, which we put in everything that we found which seemed to make a clear reference to what we were doing. There were some odd examples, like a food magazine from Thailand. Then after a while we stopped doing that, because it got pretty boring."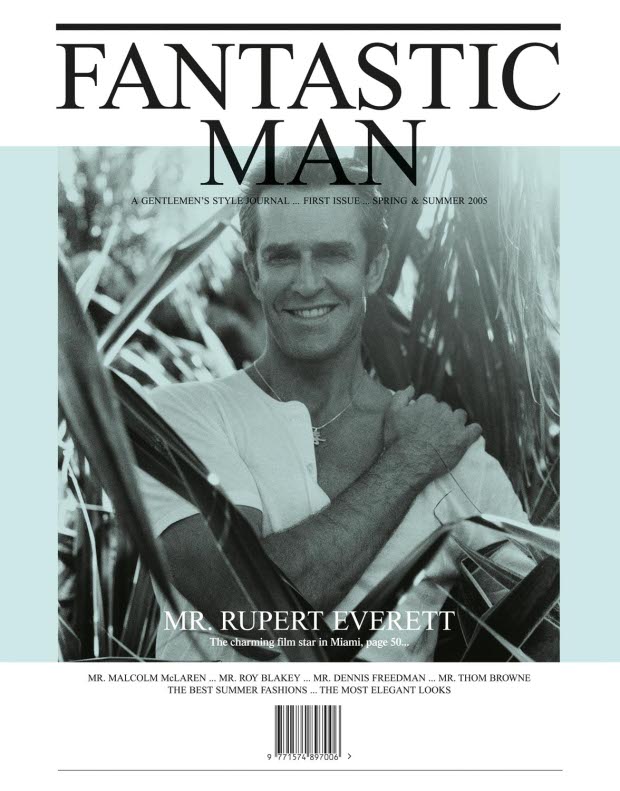 Had they continued, Gert and Jop would have amassed a substantial archive of catalogues, competitor titles, websites and other publications, so widespread is their creation's influence. Today, the magazine, which presents men in thoughtful lengthy profiles in an intelligent, witty manner accompanied by fashion shoots that favour a more sincere sense of style over faddish, seasonal trends, has changed the way men's fashion, and perhaps also the way men – especially gay men – regard themselves. While neither Jonkers nor van Bennekom would have predicted their magazine's influence, both understood from the outset, the changes they wanted to make to men's media.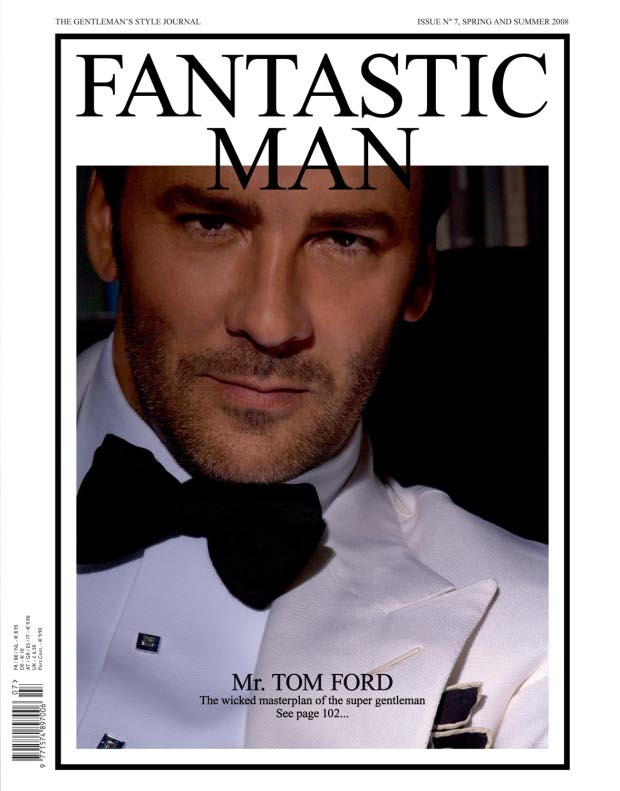 "When we started the magazine we were both over thirty," explains Jonkers. "Looking at clothes worn by eighteen-year-old fashion models didn't make sense." Yet such images were common in men's titles at that time.
They also sought to continue the work they had begun with another, more niche title. A couple of years earlier, the pair had founded a smart quarterly magazine for gay men called BUTT, and liked how the title had broken down certain homosexual preconceptions.
"BUTT drew from the pornography and Gay media that used to be published pre-AIDS," explains van Bennekom. "which was more fun, and more vulnerable. It also went against the heavy commercialisation of the gay scene."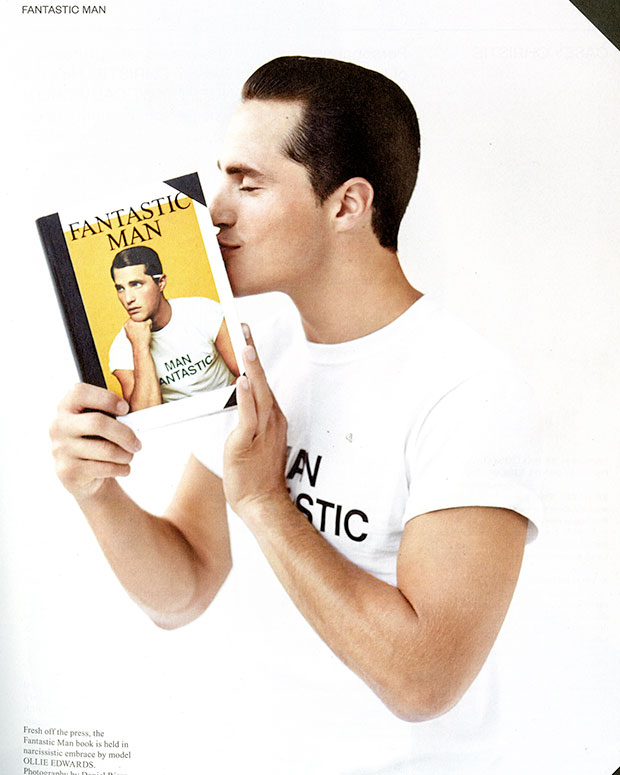 "We're not criticising that," explains Jonkers. "But when marketing departments started to target the gay community, they just produced commercial products, instead of things driven by a real concept or energy."
The pair looked back to the jocular advertising copy employed by the likes of George Lois, as well as the freer, happier house styles of pre-AIDS gay publications like the American nightlife title After Dark, while reaching out to prominent figures who seemed to embody the ethos of their title.
Their first cover star, Rupert Everett, was the friend of a (stylist) friend, and agreed to appear immediately. The Belgian fashion designer Raf Simons also knew the editors well, and set aside a significant amount of time for his profile. The same went for Tom Ford, Wolfgang Tilllmans, Bryan Ferry and David Walliams, all of whom feature in our new book. "I think the name helps a lot when it comes to getting interviewees," admits Jonkers. "A lot of people said, 'Fantastic Man? I want to be in it!'"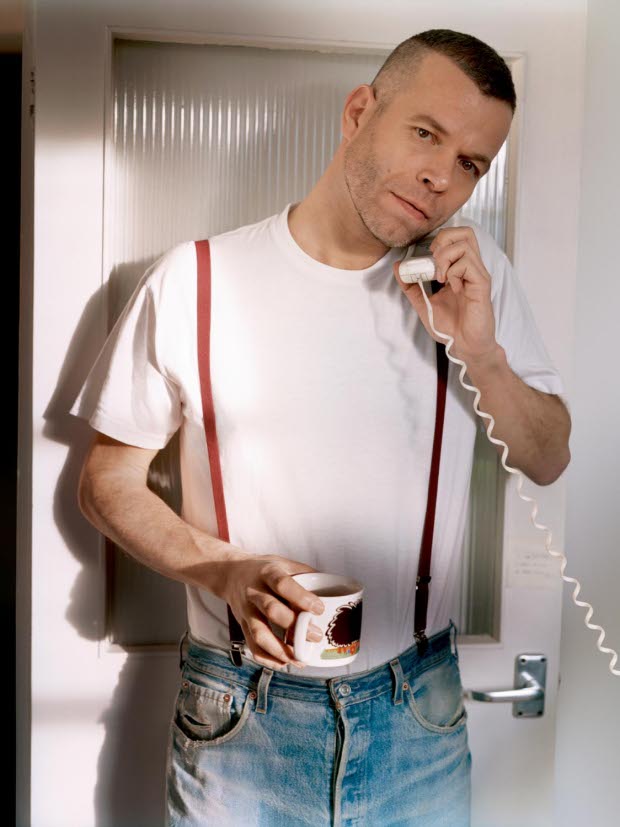 The name, as you may or may not know, was also the title of an obscure 1970s Nigerian pop record, as well as a Filipino superhero. Jonkers and van Bennekom say they hadn't heard of the pop song when they started the magazine a decade ago, though they were aware of the superhero. "If you Googled it, it was the first thing to come up," says van Bennekom!" "Not now, though," says Jonkers. "Now it's us, of course." It definitely is and they should not underestimate the allure of the aesthetic and the cultural changes their magazine has brought about over the last ten years. To find out more about our new Fantastic Man book go here; and to order your copy go here.