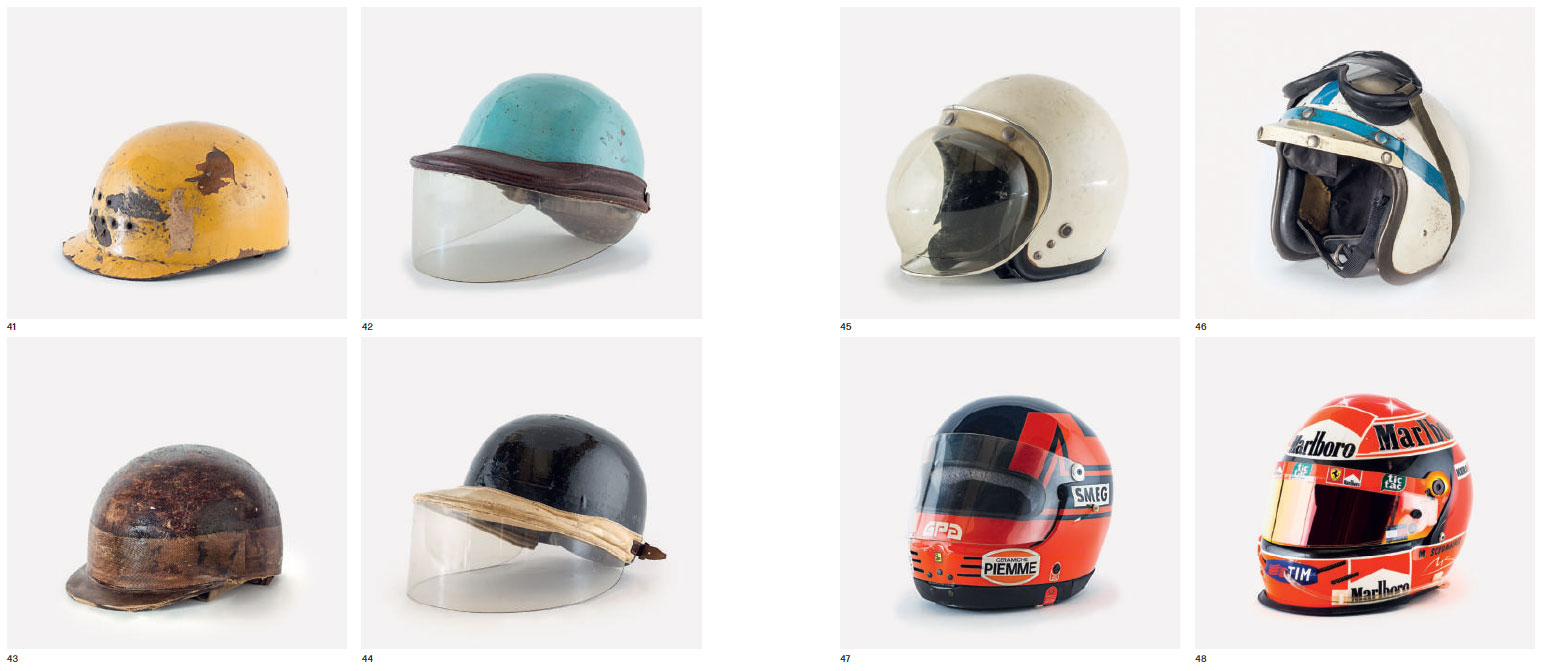 A history of Ferrari F1 champions in 8 helmets
How the Prancing Horse's drivers went from old polo helmets to hi-tech, ad-emblazoned, full-face protection
Scuderia Ferrari may still paint its cars an evocative shade of red, but today, motor racing is, thankfully, rarely a blood sport. Racing drivers still crash, however technological advances and improved safety measures, in helmet design and elsewhere, mean those crashes are less often fatal. Here's how, over five decades, Ferrari's drivers have gone from wearing horse-riding gear through to heavily advanced head protection, courtesy of our new book Ferrari Under the Skin.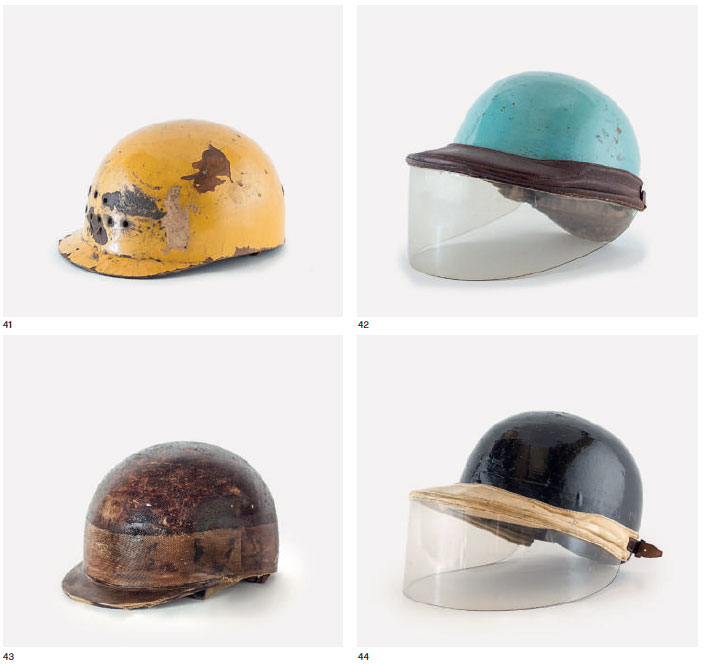 The first image shows the Argentinean driver José Froilán González's helmet (41). As the text explains, "González only ever owned one helmet throughout his entire racing career, he must have worn this when achieving Ferrari's first ever Grand Prix win in 1951 [at the British Grand Prix]."
The second (42) is Albert Ascari's first hard helmet. Ascari first found fame as a motorcyclist, before switching to Formula One. He went on to become the only man to win the World Championship on both two and four wheels, and had a reputation for being a careful driver. Unfortunately, his noted skill and caution did not prevent him from being killed at the Autodromo Nazionale Monza in 1955, aged just 36.
This bit of headgear (43) is believed to have been designed not for motorsport, but for polo. Nevertheless, this didn't stop another Argentinean racing champion, Juan Manuel Fangio, from wearing it during his illustrious career; Fangio won the Formula One World Drivers' Championship five times during the 1950s.
In 1953, all Formula One drivers were compelled to wear helmets. However the designs – like the cars – developed substantially over the following decades. This 1958 helmet (44) belonged to the British driver Mike Hawthorn, who won the 1958 World Championship for Ferrari. The exaggerated rain visor was typical of the time; Hawthorn favoured this style of helmet over goggles, and wore the visor even when it wasn't raining.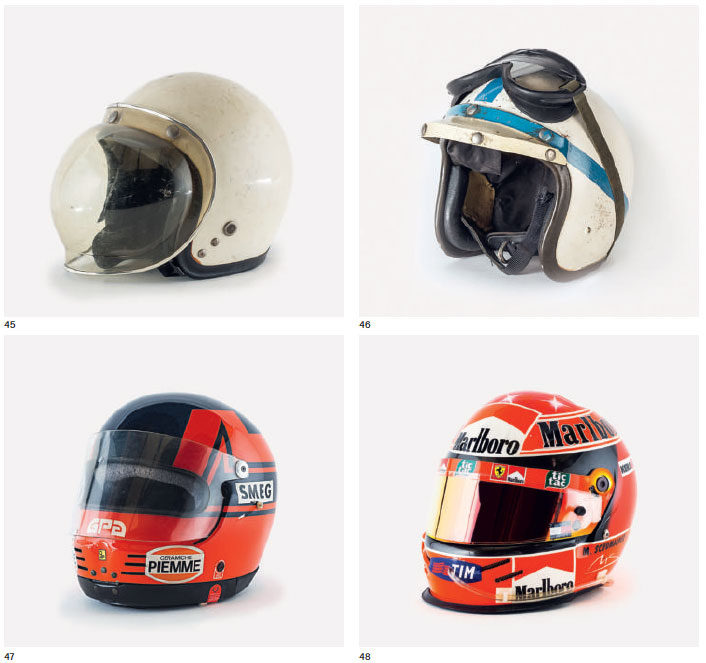 This simple, unadorned white helmet (45), belonged to Phil Hill, the 1961 World Champion for Ferrari and first American World Champion. Its near full-face visor prefigures later, more protective helmets.
John Surtees, 1964 World Champion, wore this helmet (46) during his most successful season. Though Surtees' open-face helmet was paired with a pair of goggles, in 1968, F1 drivers began to wear full-face helmets, abandoning earlier, outmoded styles of helmet.
By the time of Gilles Villeneuve's final season in 1982, helmets were providing space for advertising media, as can be seen in this helmet (47). Come the end of the century Ferrari's racing helmets were not only far tougher than earlier models, but also much lighter - a lightweight helmet decreases the likelihood of whiplash injuries. Seven-times World Champion Michael Schumacher wore many helmets during his career. He wore this one (48) at the Monaco Grand Prix in 2000.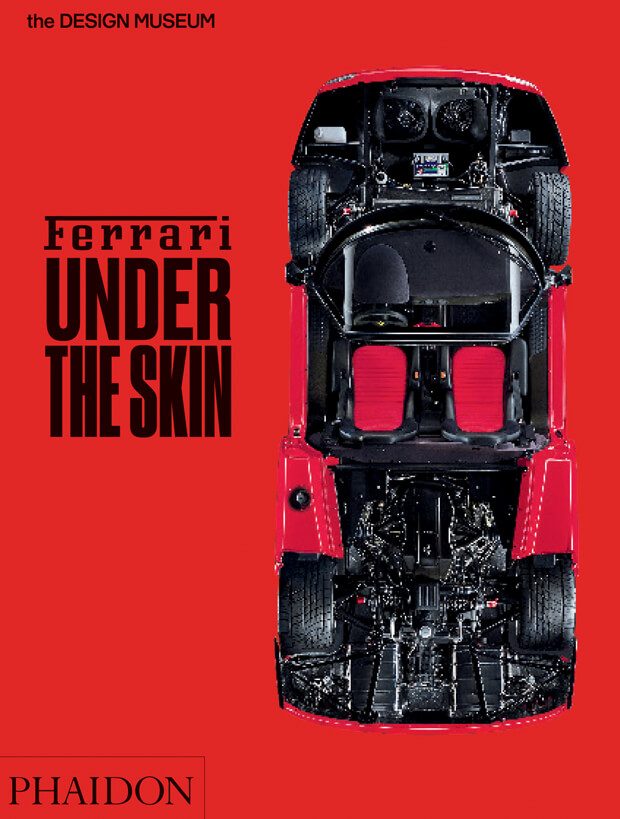 For more on Ferrari from its F1 successes through to every aspect of its beautiful road cars, buy a copy of Ferrari Under the Skin here.