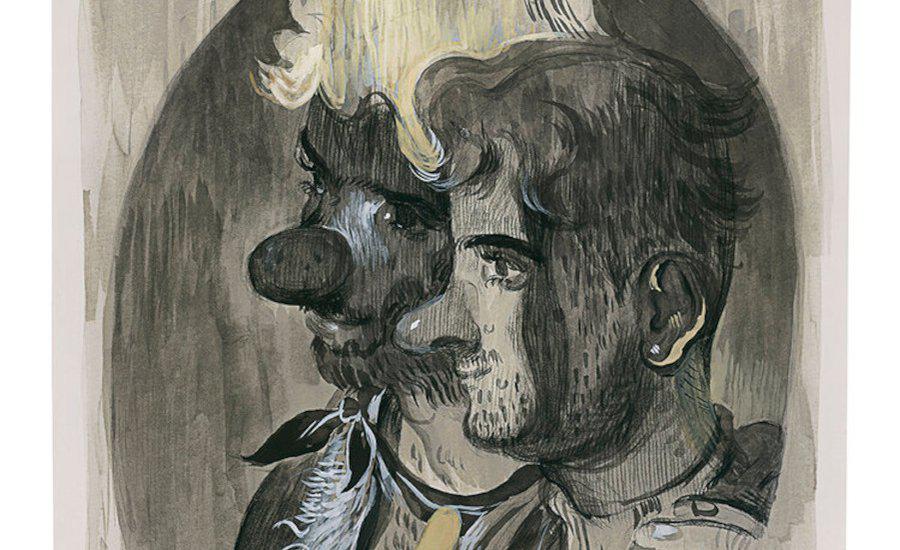 Salman Toor on Unquestioning Love
The Pakistani-born, New York-based artist describes the work he has contributed to the New York City AIDS Memorial Auction at Christie's
Life doesn't look too easy for the people in Salman Toor's paintings. As Roberta Smith put it in her 2020 New York Times review of Toor's Whitney exhibition, the artist's pictures "tell the stories of lanky, slightly rubbery dark-haired young men, gentle souls who wouldn't hurt a flea." Smith goes on, "the narrative imports zigzags from the personal to the social and political and back."
Toor was born in Lahore, Pakistan (where homosexualty remains illegal) in 1983, and now lives in New York. He received his MFA from Brooklyn's Pratt Institute, in 2009, and, over the following decade, he has developed a strong reputation for his beautiful, poignant works, which capture the tribulations faced by some queer asian men.
The artist is also one of the many generous contributors to Unquestioning Love, a high-profile sale featuring a truly incredible selection of contemporary art, at Christie's this week to benefit the New York City AIDS Memorial. Ahead of the sale, which takes place on 9 and 12 November, at Christie's in New York, Toor shares his thoughts on his art, and the cause it benefits.
Could you tell us a little bit about the artwork you donated? I thought of this drawing as an affectionate portrait of friendship, although these two can be read as a couple as well. I grew up in an intolerant, conservative environment where I had a few close friends. Our shared sense of being on the outside became an empowering space of resistance and camaraderie for us. I was thinking of those friendships when drawing this picture. In some parts of the drawing I was actually on the phone with some of these friends! For me, a sense of nostalgia, a flair for fashion and a clown-like sweetness endows a sense of humor and vulnerability to the drawing.
Have you ever visited the AIDS memorial? If so, what effect did it have on you? I have not been to the NY AIDS Memorial yet but look forward to doing so this winter.
The memorial features a plaza engraved with sections from Walt Whitman's Song of Myself, chosen by Jenny Holzer. Is there a poem, song or work of art that brings to mind the crisis for you personally? Two works of art that bring to mind the AIDS epidemic: The Death of Sardanapalus by Delacroix, and Untitled (Perfect Lovers) by Félix González-Torres.
There is a terrible sense of chaos and doom in the Delacroix, in the desperate gesture of the female figure at the center, begging to be saved by a king who is resigned to a final ending and impervious to her terror. González-Torres' clocks are an invitation to a transformed sense of time experienced by so many who were struck with the disease during the AIDS epidemic. But there is a tenderness as well, in the synchronicity of the clocks.
For more on Salman Toor go here. If you want to find out more on Unquestioning Love, go here