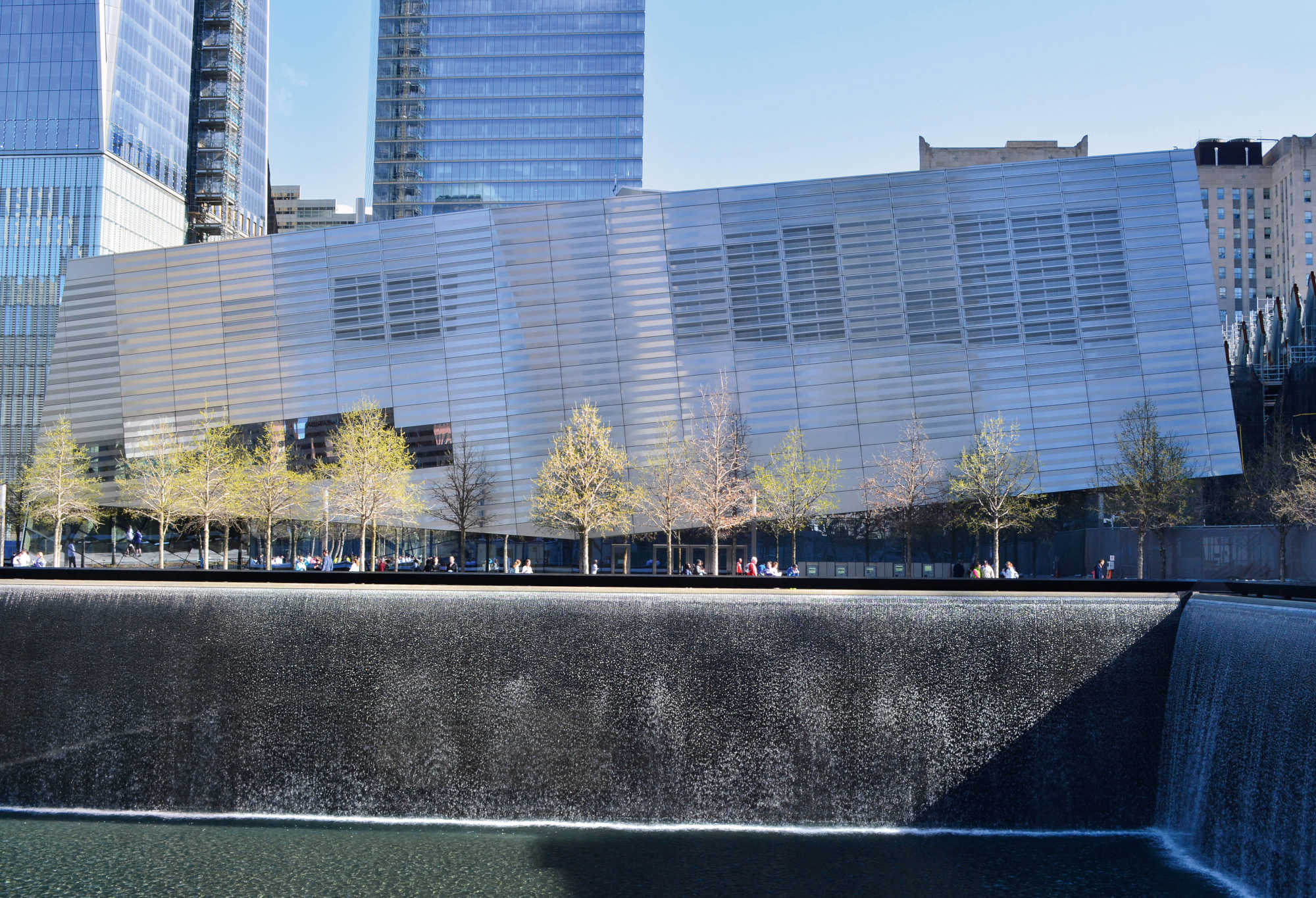 The memorials of 9/11
20 years after the attacks, we look back at the tragedy's architectural reminders, via our book, In Memory Of
"Regardless of who's steering the narratives, from Berlin to Washington, D.C., from Montgomery to Mexico City, one thing underlies every single memorial," writes the author Spencer Bailey in his book, In Memory Of, "the urge we have to never forget."
On Wednesday 8 September, Bailey will take part in a talk organised by the National Archives Foundation, looking at just how that process is carried out. Entitled, How We Remember: September 11 Memorials, the Phaidon author will be joined by Michael Arad, architect of the 9/11 Memorial in New York City; Julie Beckman and Keith Kaseman, the husband-and-wife team who designed the National 9/11 Pentagon Memorial; and Paul Murdoch, architect of the Flight 93 National Memorial.
Each of these memorials feature in our new book, alongside other works that contribute towards a deeper understanding of how our built environment serves to commemorate this tragedy.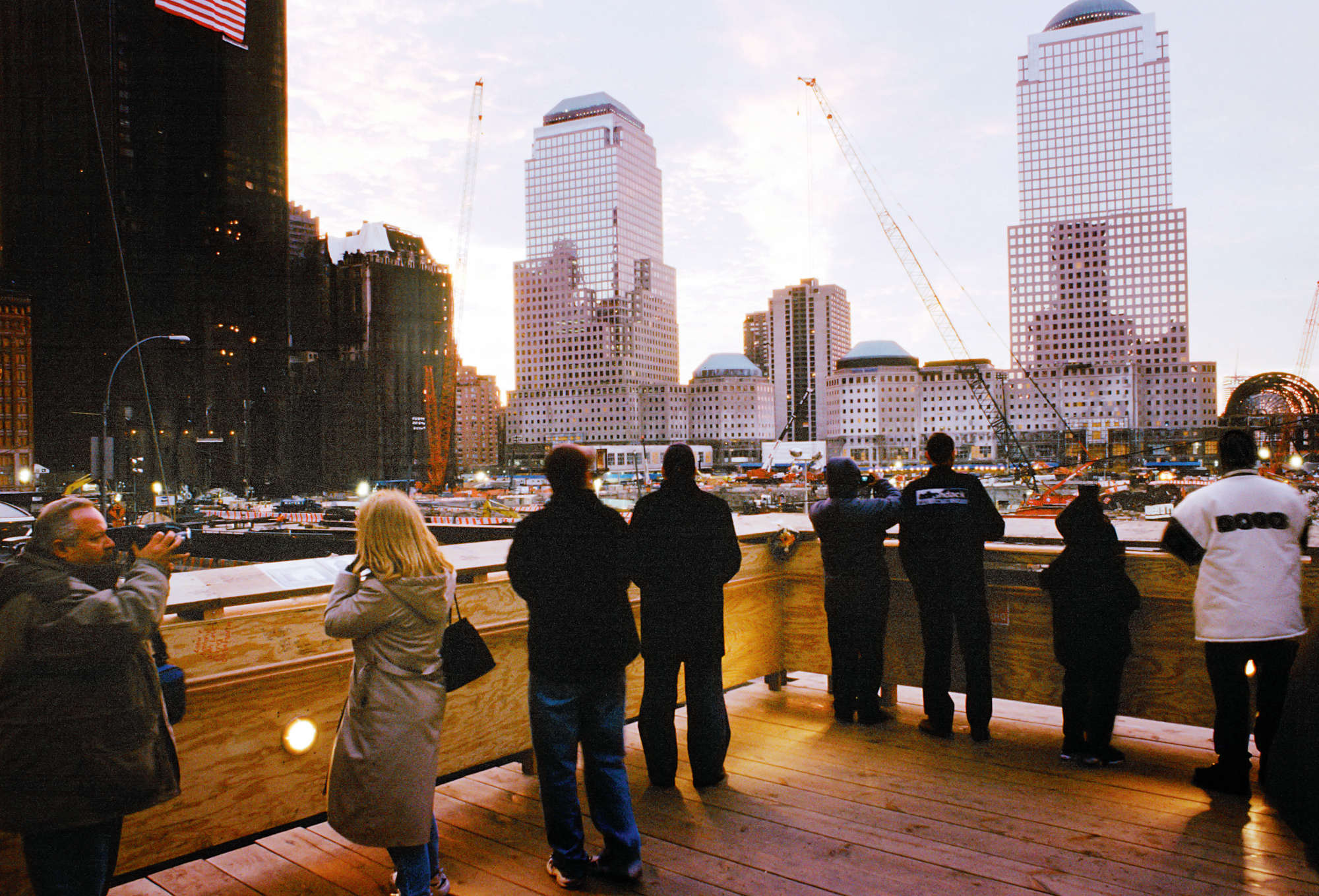 The earliest 9/11 inclusion, built remarkably quickly in the months following the attacks, no longer stands. The World Trade Center Viewing Platform overlooked the remains of the WTC site, and was created by a stellar, civic-minded design team, comprising David Rockwell, Elizabeth Diller and Ric Scofidio, and Kevin Kennon. Together they created "a simple 13-foot-high (3.9-meter-high) platform with two long, gently sloping ramps and a stage offering 180-degree views," explains the book. "Completed on December 27, 2001, and made of raw plywood with metal scaffolding as supports, it was the first piece of post-9/11 public architecture at the site." It also features in our Rockwell book, Drama, from which this image (above) is taken.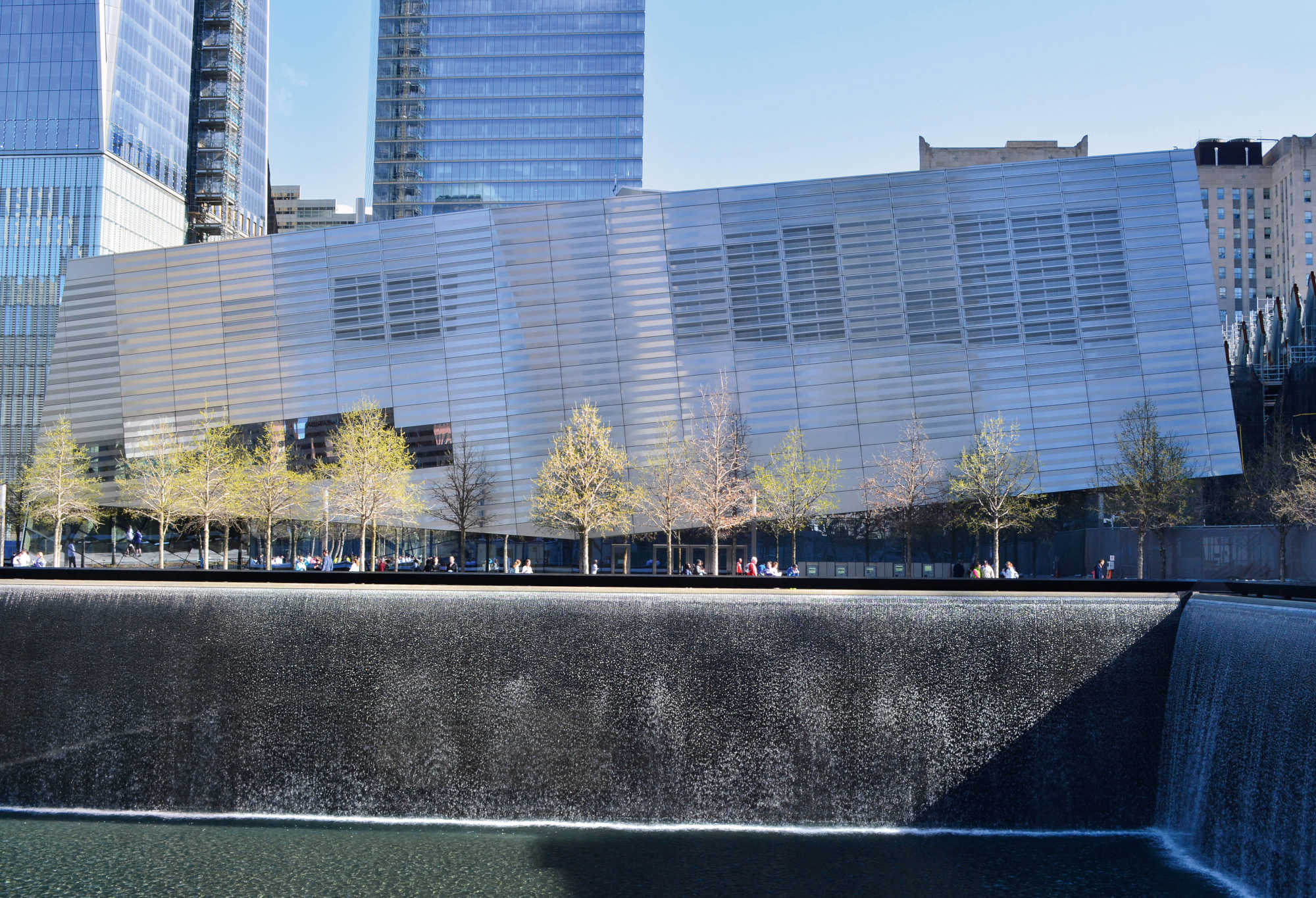 The viewing platform's site now holds Reflecting Absence. Created by Michael Arad, "the memorial comprises two pools, measuring 176 feet (53.6 meters) on each side," explains In Memory Of "Thundering waterfalls cascade 30 feet (9.1 meters) down into square basins, then drop another 20 feet (6.1 meters) into smaller abysses. The names of 2,983 people killed in both the 2001 and 1993 attacks are inscribed on canted bronze parapets that ring the edges of the pools. An area honoring those who are sick or died after 9/11 as a result of exposure to toxins, called Memorial Glade, opened in May 2019 and features a granite pathway arranged with six large stone monoliths, each inlaid with WTC steel."
That recovered steel also forms part of the adjoining 9/11 Memorial and Museum, also completed in 2014, by the architectural practices, Snøhetta and Davis Brody Bond. "At the entrance, visitors pass two fork-shaped, 80-foot (24-meter) tridents, salvaged from the North Tower facade. Next they descend on a long, gently sloping ramp that guides them to the bedrock level.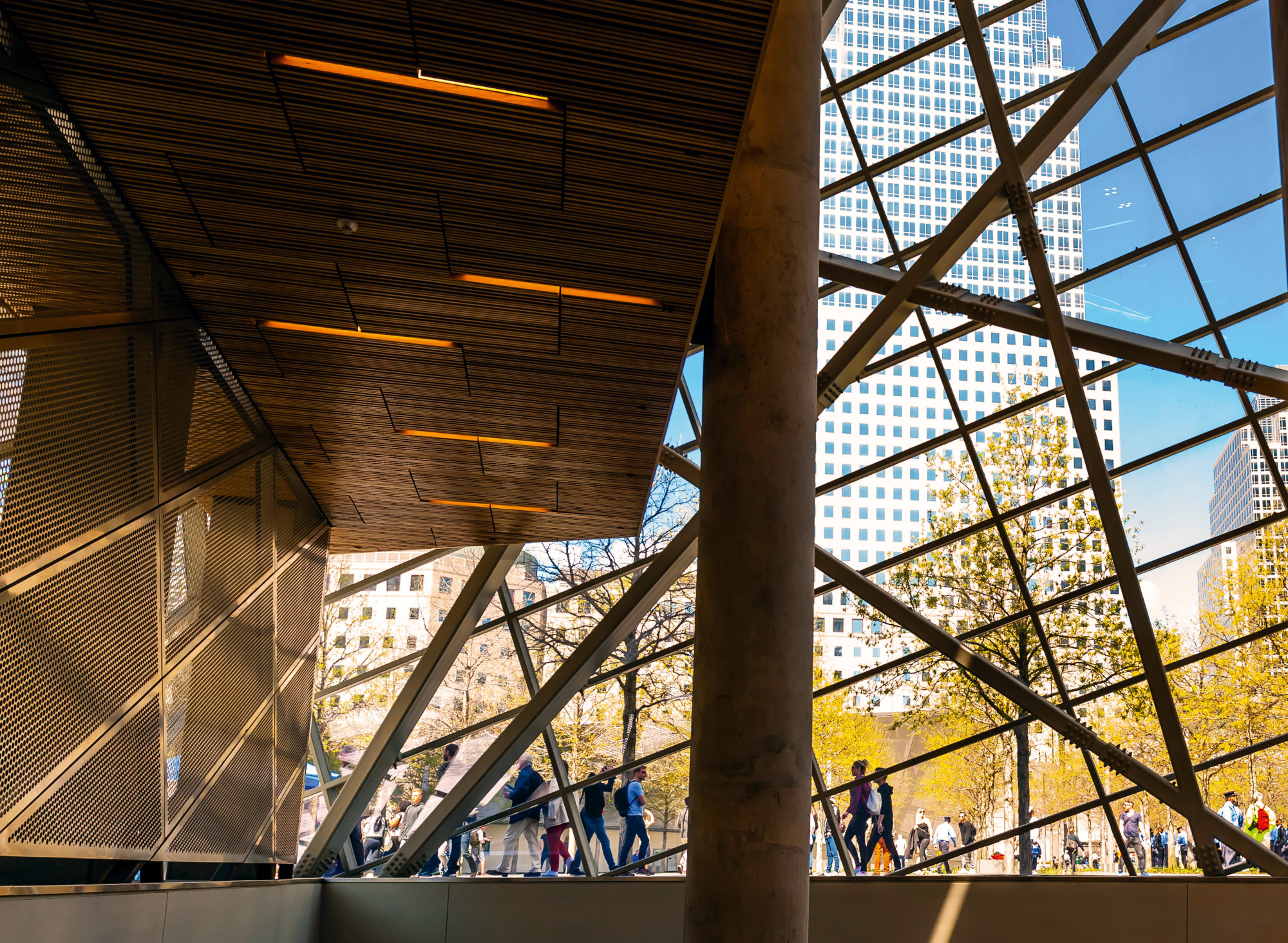 "At about 40 feet (12 meters) below, they reach a balcony that overlooks a vast space housing the museum's centerpiece: the Last Column, the final slab of steel removed from the Ground Zero cleanup. Accenting the environment is the adjacent rough-hewn slurry wall, built with the original towers to retain the Hudson River. Farther in, there's a quote by Virgil ("No day shall erase you from the memory of time") rendered in cast steel recovered from the original towers."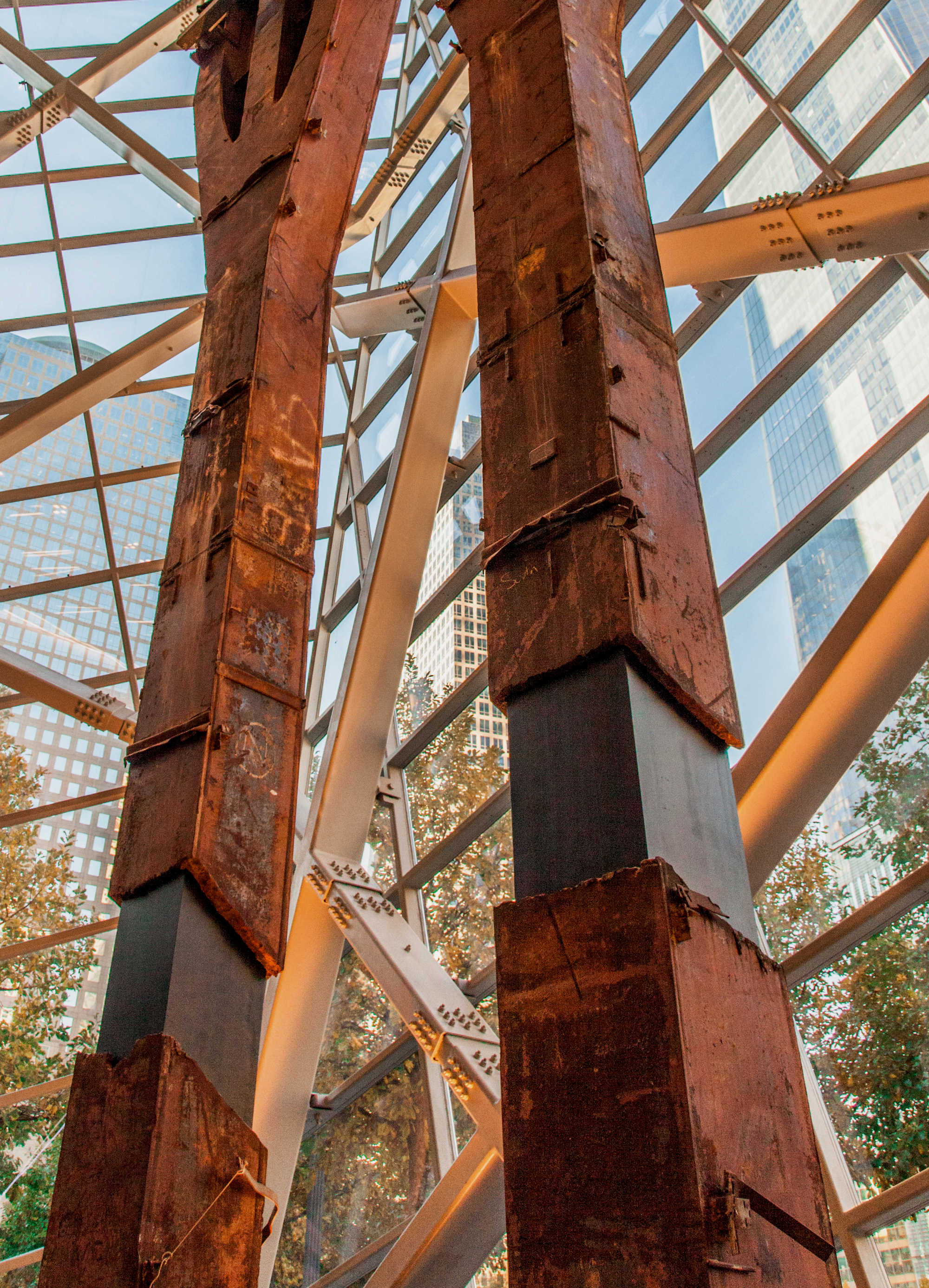 Indeed, metal remnants feature in many other far flung 9/11 memorials. "In the aftermath of the September 11, 2001, World Trade Center attacks, the Port Authority of New York and New Jersey donated salvaged steel remains to cities, museums, firehouses, and military bases for use in memorials around the world," explains the book, "to London, in the form of artist Miya Ando's Since 9/11 sculpture; to Denver, Colorado, where the pieces are on display in Babi Yar Park and at the Counterterrorism Education Learning Lab; to the George W. Bush Presidential Library and Museum in Dallas, Texas. One steel beam, given by the U.S. to the region of Veneto, Italy, went to the city of Padua, where it was incorporated as a core part of Daniel Libeskind's evocative Memoria e Luce (or Memory and Light) memorial, a 56-foot-tall (17-meter-tall) book-shaped structure."
Libeskind's memorial is certainly among the more noteworthy smaller reminders of 9/11. In terms of scale and elegance, it is equalled by the Staten Island September 11 Memorial, designed by the architect Masayuki Sono, and completed just a few years after the attacks, in 2004. "The proposal, titled "Postcards," was intended to relate to the idea of a postcard—something personal and intimate, to be sent to loved ones. Its two walls, folded over, create a metaphorical pair of postcards that are oriented toward the former twin towers, spreading outward to the sea and sky," says the book. "Originally intended to be built with concrete, the finished structure was eventually made with carbon fiber fabricated by New England Boatworks in Portsmouth, Rhode Island. The result, as architect and professor Jeffrey Karl Ochsner has declared, creates 'the fortuitous effect of enhancing the feeling of lightness, and even flight.'"
Of course, not every attack on 9/11 occurred in New York City. In Memory Of includes the National 9/11 Pentagon Memorial, Washington, D.C., consisting of "184 cantilevered benches—made of polished stainless steel and inlaid with Spanish granite—each representing a victim of the terrorist attack on the building on September 11, 2001", as well as the Flight 93 National Memorial in Shanksville, Pennsylvania. This latter memorial, created by Paul Murdoch Architects, marks the site where the hijacked United Airlines plane crashed, after passengers overpowered their attackers.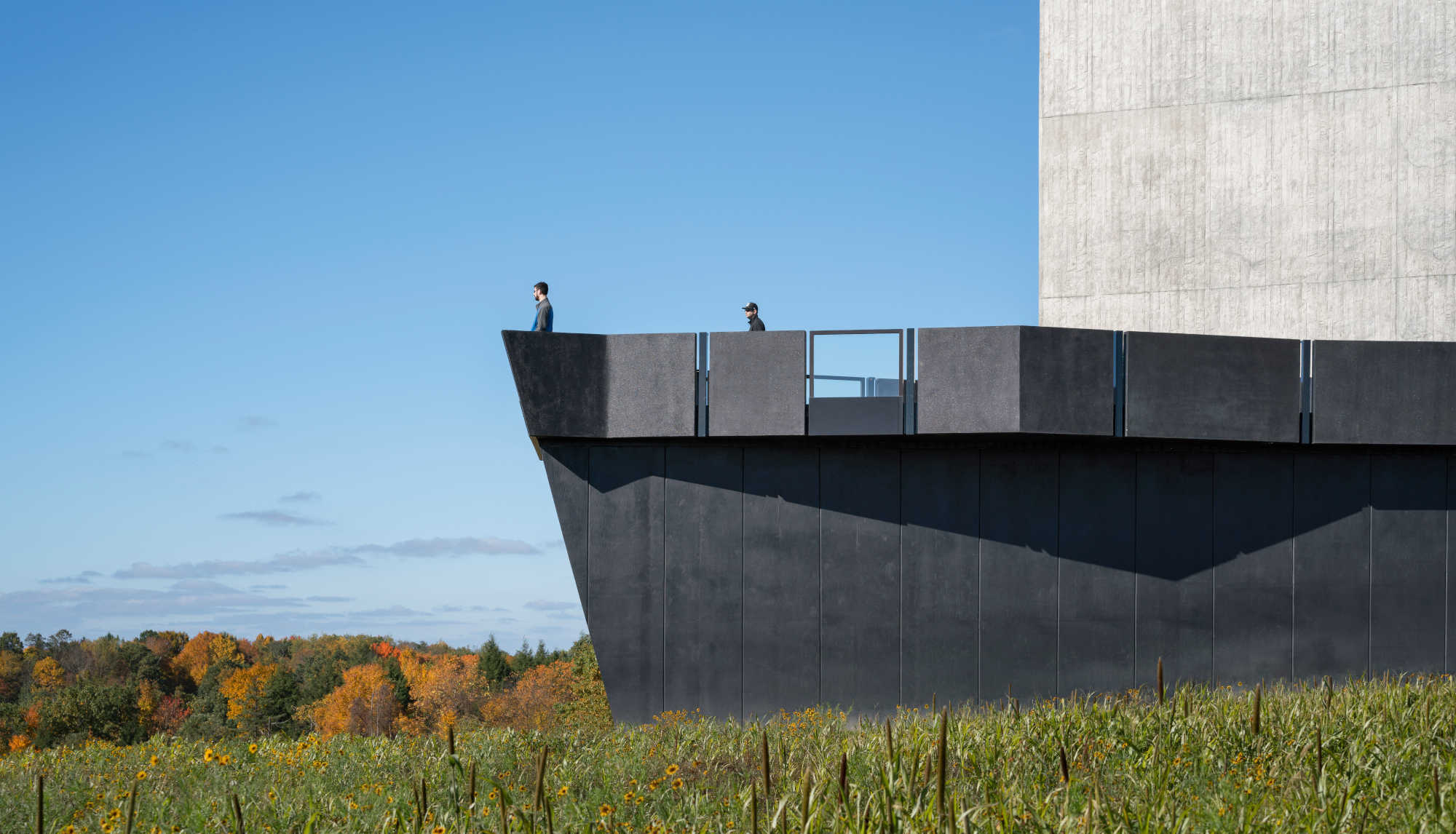 "Built in three stages, the memorial opened on the tenth anniversary of 9/11, with a plaza that's located along the edge of the elegantly reshaped crash site (or Sacred Ground)," says our book. "A bowl-shaped landform (or Field of Honor) features a wall of the victims' names. A second phase, completed in 2015, introduced a visitor center, as well as a meandering walkway that connects to the crash site. The final phase, dedicated in 2018 and completed in 2020, is the 93-foot-tall (28-meter-tall) Tower of Voices, a musical instrument that holds forty polished-aluminum wind chimes, each meant to represent a different tone or 'voice.'"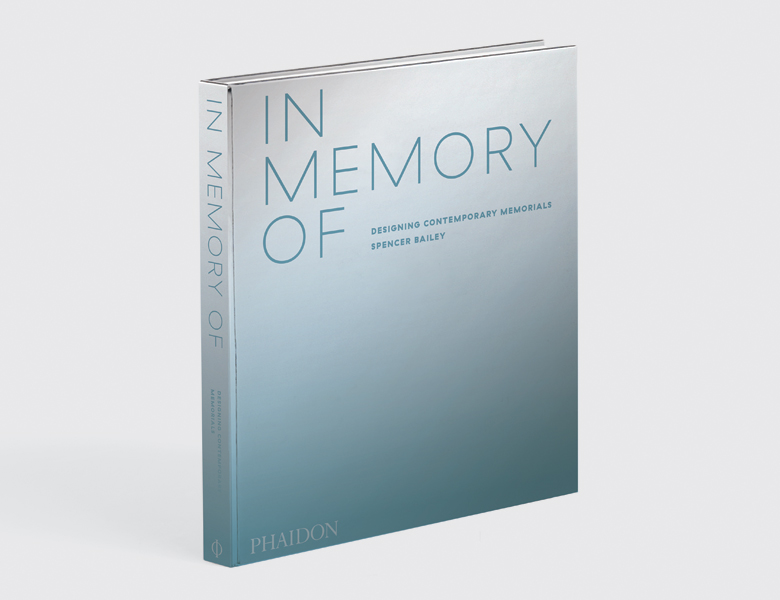 To see all the memorials mentioned and to gain greater insight into this side of architecture, order a copy of In Memory Of here.