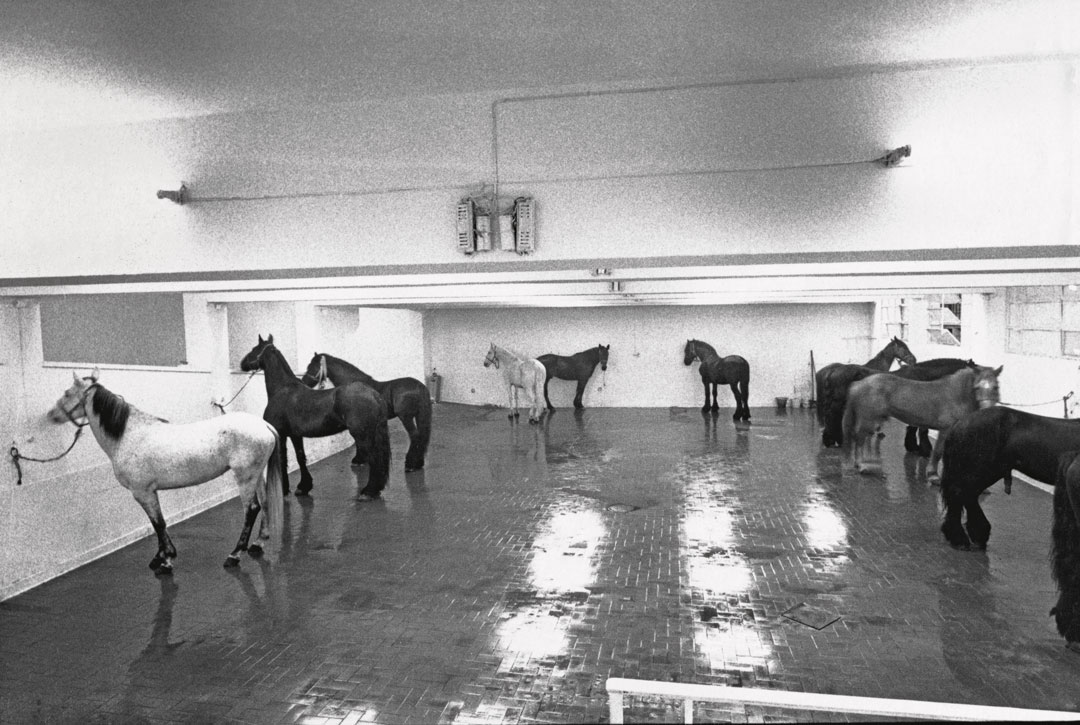 When Jannis Kounellis painted with horses
On the 85th anniversary of the artist's birth, we look back at the time Kounellis coaxed 12 horses into a gallery
Jannis Kounellis's Untitled stands as the ne plus ultra of a certain radical strain of art-making in the late 1960s. There is no transformation of material or exhibition space; instead, the sole artistic act is an act of displacement, that is, the decision to position twelve horses in the gallery.
In this sense, the horses can be seen as an application of Marcel Duchamp's concept of the readymade, but with the crucial difference that Kounellis's readymade is a live animal and not a mass-produced object like a hat-rack or urinal.
Kounellis, who always maintained that he was a painter, conceived of the installation pictorially: the rectangular gallery at L'Attico, in Rome, referenced the shape of the painter's canvas, with the horses organized like elements within the picture plane. If the gallery contains the horses like a frame, the horses in turn indicate the dimensions of the gallery and become part of the architecture by being attached to the wall.
How did he get to this point? Today's artists might struggle with the problems presented by the Internet and digital media. Yet these are surely dwarfed by the changes witnessed by Jannis Kounellis' generation, who would have known both horse-drawn carts and sports cars, folk songs around the fire and radio; the beauty of antiquity, the rise and fall of fascism, and the advent of the Space Race.
"Kounellis was born in 1936 in Piraeus, Greece, into a family of sailors," writes the curator Philip Larratt-Smith in our new monograph. As a young man, the artist grew up "surrounded by the paraphernalia of trade and sea travel, amidst raw materials and industrial implements that would later seep into his work."
In 1956, he moved to Italy, settling in Rome, and immersing himself in the culture of the city, drawing inspiration from Italian Neorealist cinema, and overseas influences such as Jackson Pollock, whose work he saw at the Galleria Nazionale d'Arte Moderna in Rome in 1958.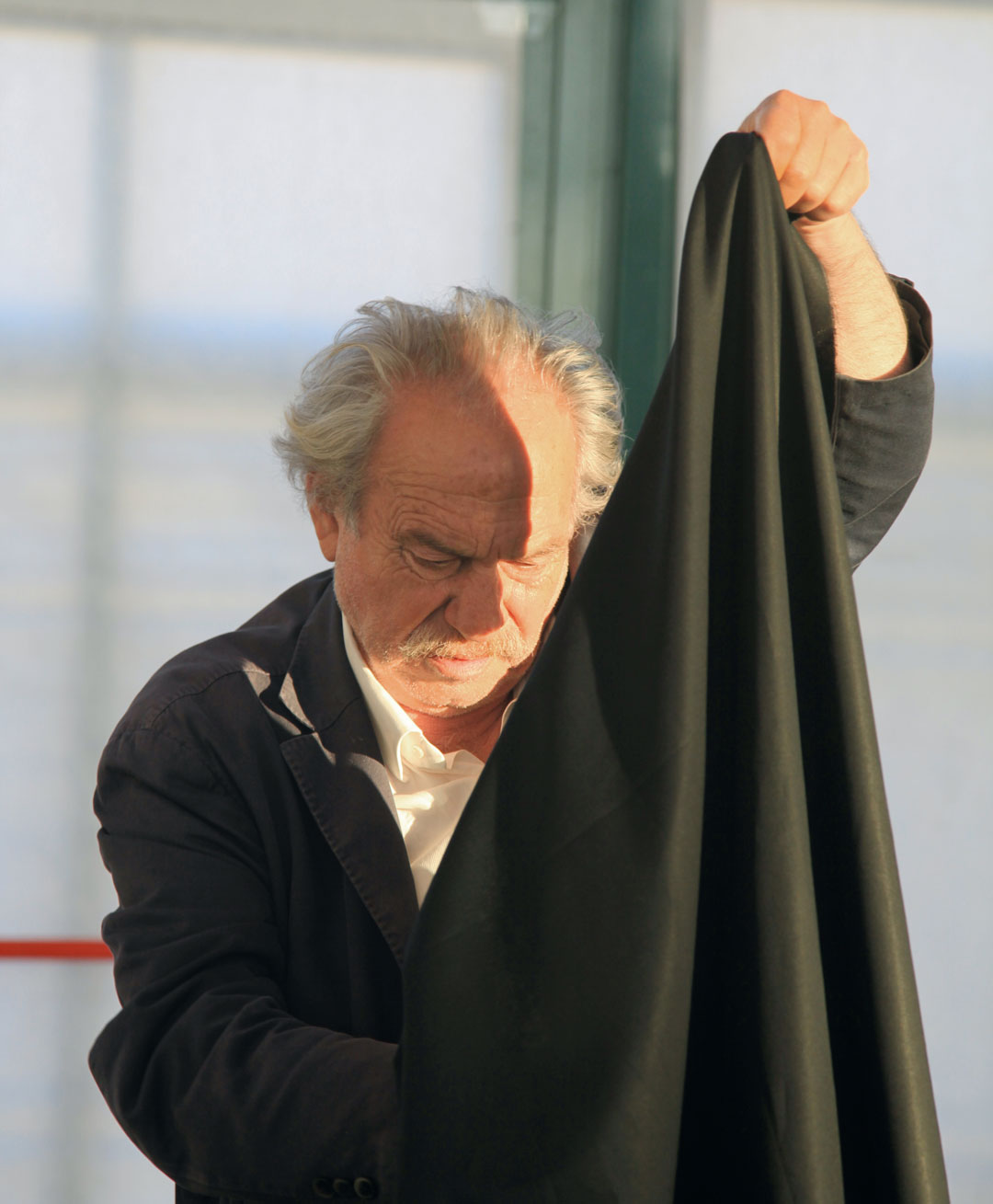 Kounellis was an aspiring painter, and loved Pollock, not only for "for his exploration of the 'epic nature of space'," writes Larratt-Smith, but also for the way he broke up time, in terms of the burden of art history. Pollock and his fellow painters were important in Kounellis's view for the way they "revive a precultural world."
In post-war Rome, Kounellis was acutely aware of the pressure of history, and the distinct break WWII had brought. The centre of the art world was now New York, and the war had ended any illusion of steady, artistic progress. However, Kounellis's fellow Europeans –surrounded by great, classical works – couldn't simply adopt new styles, such as pop art, from overseas.
Kounellis opened his first exhibition of paintings – "an abstruse alphabet of letters, numbers, arrows, signs, symbols and words stamped or stenciled onto canvas, paper and board" writes Larratt-Smith – at the age of 24 in Rome in 1960.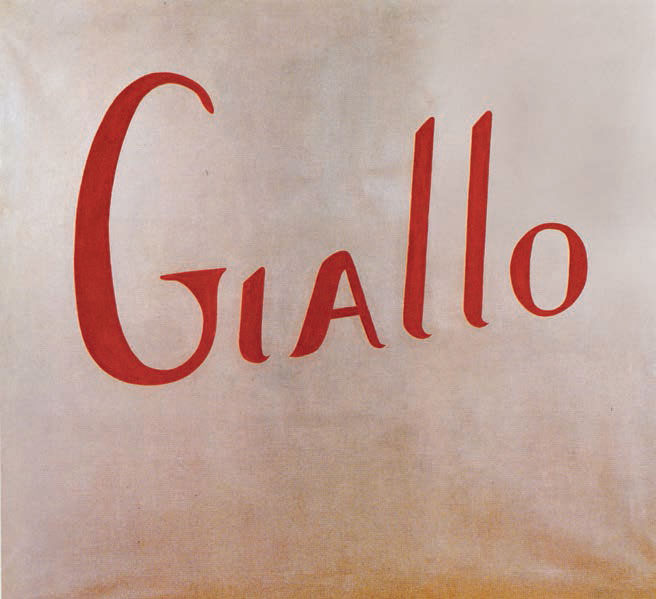 The works were well received, and he continued to show over the following years, but he grew disenchanted with the limitations of painting and, from 1963, a deepening creative crisis caused him to cease making them almost completely, at least in any conventional sense.
Art, he once declared "must be born of historical necessity: that is, it must be of a historical situation and constitute the indispensable language of that moment." And that meant more than just oil on canvas.
In 1960, he "draped himself in one of his sign paintings and performed an action in his apartment-cum-studio, to the accompaniment of Gregorian chant." In 1967, he mounted caged birds onto the side of a canvas.
Yet none of this would quite satisfy the artist until Kounellis – who still regarded himself as a painter – began to make three-dimensional works out of simple materials, such as wool, burlap, steel and coal.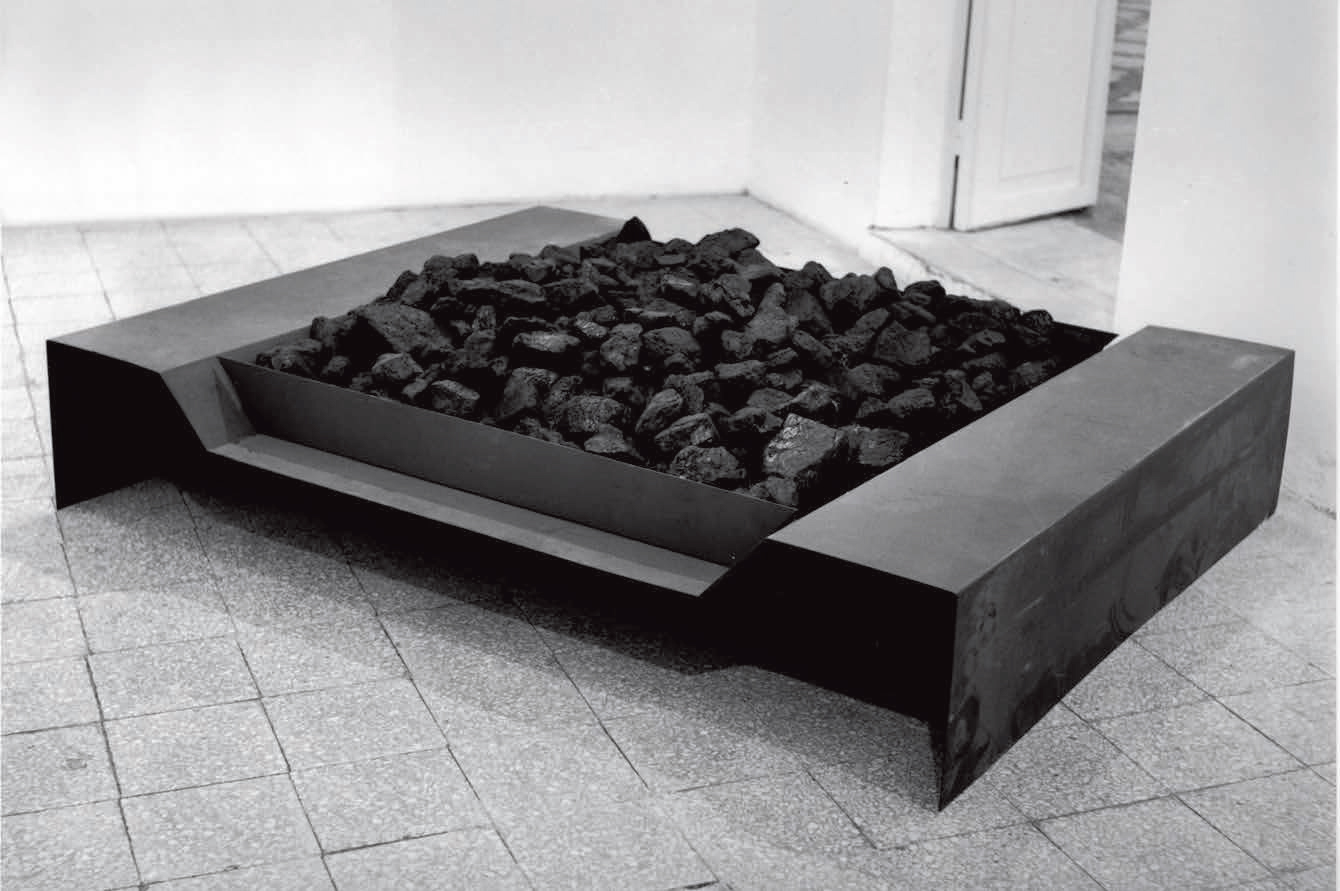 One of these early works, "Untitled (Carboniera) (Coal Container) consists of a quintal (hundredweight) of coal deposited in a low-slung iron box on the floor," explains Larratt-Smith. "Here the container doubles as a receptacle in which to collect and weigh a raw material that possesses a range of associations – symbolic (coal is a fuel, hence fire in embryo), historical (coal is synonymous with the industrial revolution), subjective (the viewer's memories and experiences of coal), and sensory (coal has an odour and dirties the hands)." Yet Kounellis's work also remains satisfyingly enigmatic.
Despite that enigma, pieces such as Carboniera are now often classed as Arte Povera, an Italian mid-century movement in which artists used lowly materials to make high art.
Larratt-Smith disputes this neat definition. "Kounellis, who has often been taken as Arte Povera's purest exponent, found it problematic and misleading," Larratt-Smith goes on. "The concept of poor materials in particular has been understood in too literal-minded a fashion, especially against the backdrop of an Italy that had by then matured into an advanced economy. As Kounellis tartly remarked, 'It is certainly not poverty that makes us use poor materials'; nor was it a question of slumming. It is rather that Arte Povera aims to liberate the viewer from the ideological constructs and behavioural incrustations that condition his experience of art and, through it, life."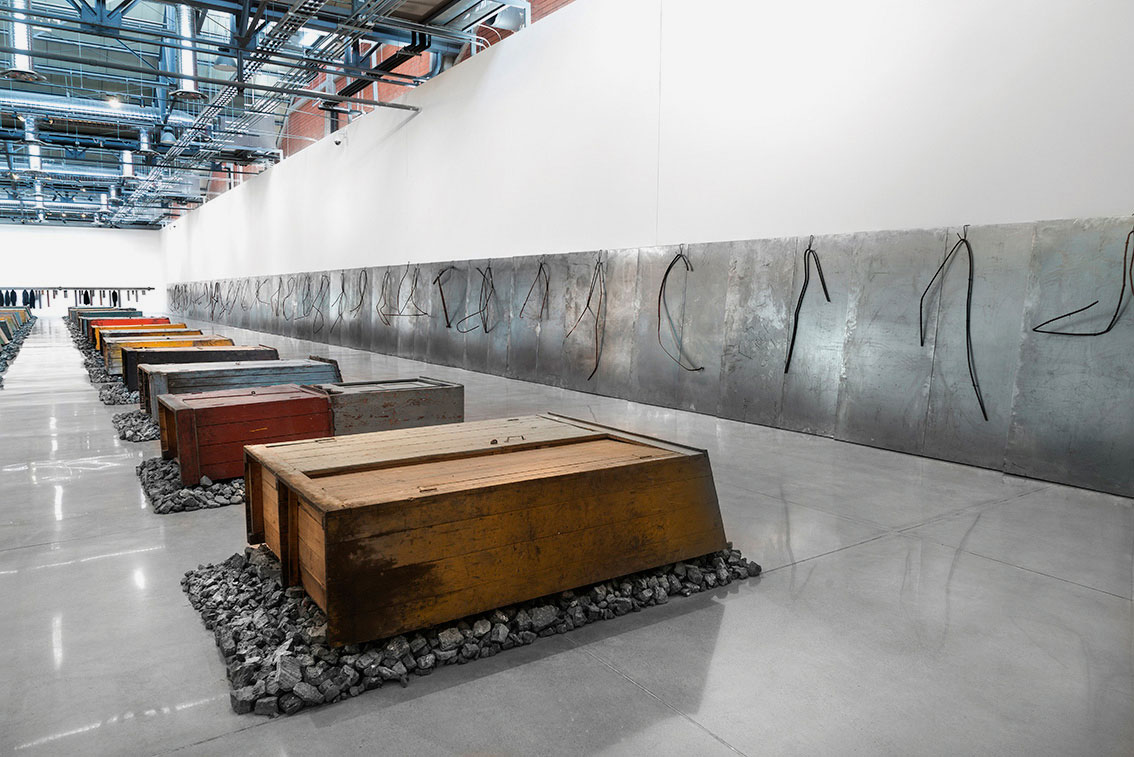 And Kounellis did this most conclusively in, his great masterpiece, Untitled (Cavalli) (Horses). This ground-breaking work, can still, nevertheless, be regarded as a simple kind of painting. Here's how our book tackles this work.
"In January of 1969, Kounellis inaugurated the new location of the Roman gallery L'Attico, which occupied a former underground garage, with a revolutionary new work in which twelve horses were stationed at regular intervals around the perimeter of the gallery for three days," writes Larratt-Smith. "Tended by professional grooms throughout the day and returned to the stable in the evening, the horses were tethered facing the wall, leaving a void at the centre of the exhibition space.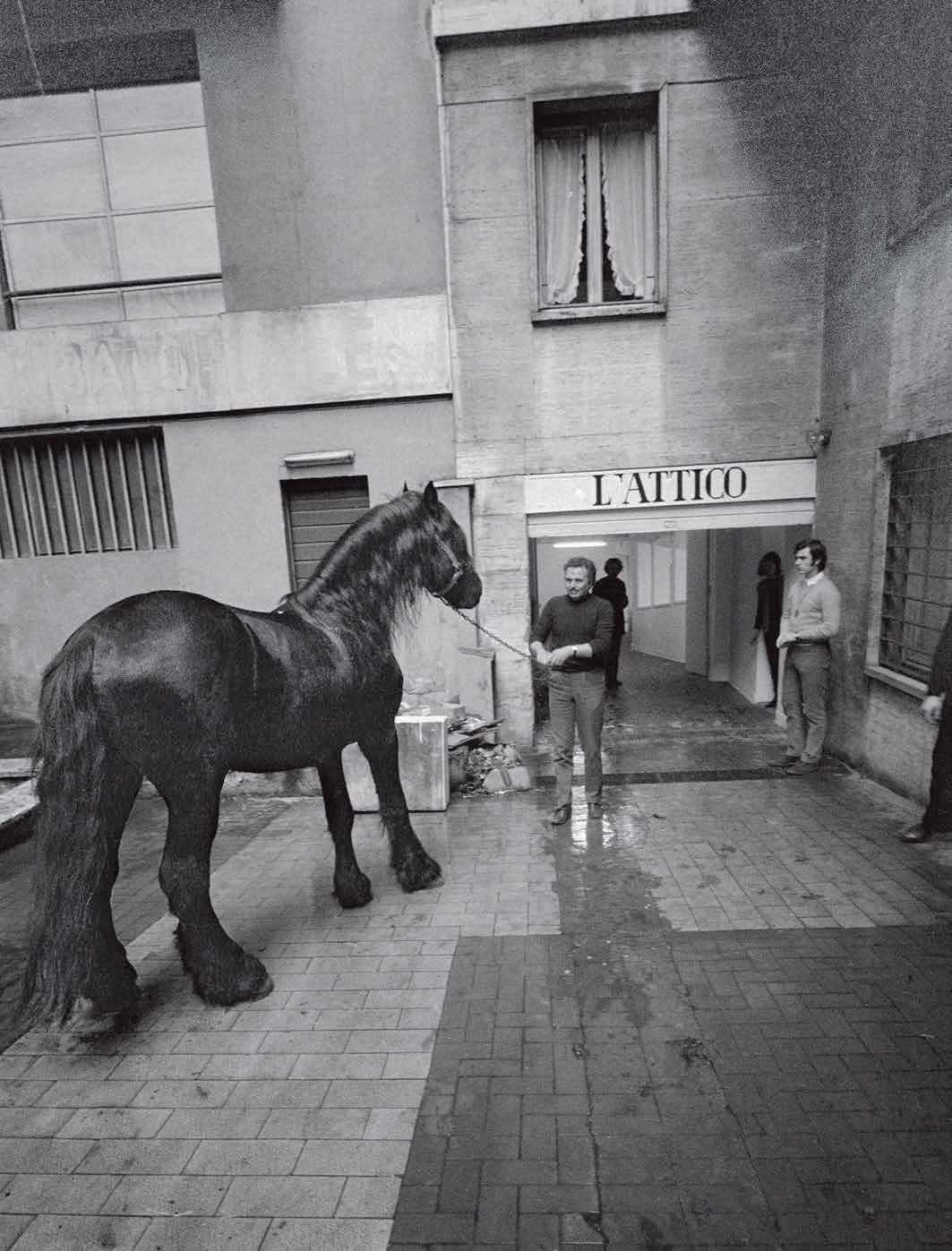 "Infrequently exhibited (it has been staged only five times since its Roman premiere) and known mostly through a grainy black-and-white photograph, Untitled has attained the status of an invisible classic. Kounellis's Untitled encapsulates the constitutive contradictions that structure all of his art. In it, organic and inorganic, human and nonhuman, mythic and everyday, nature and culture, ephemeral and eternal, history and the present are dialectically comprehended and united."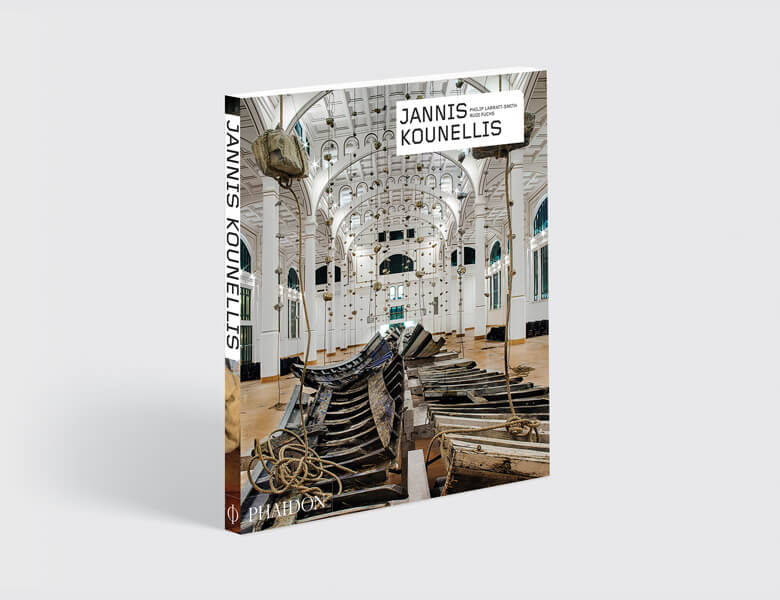 For a deeper grasp of this important artist, order a copy of our Jannis Kounellis book here; it's the latest addition to our Contemporary Artist Series.