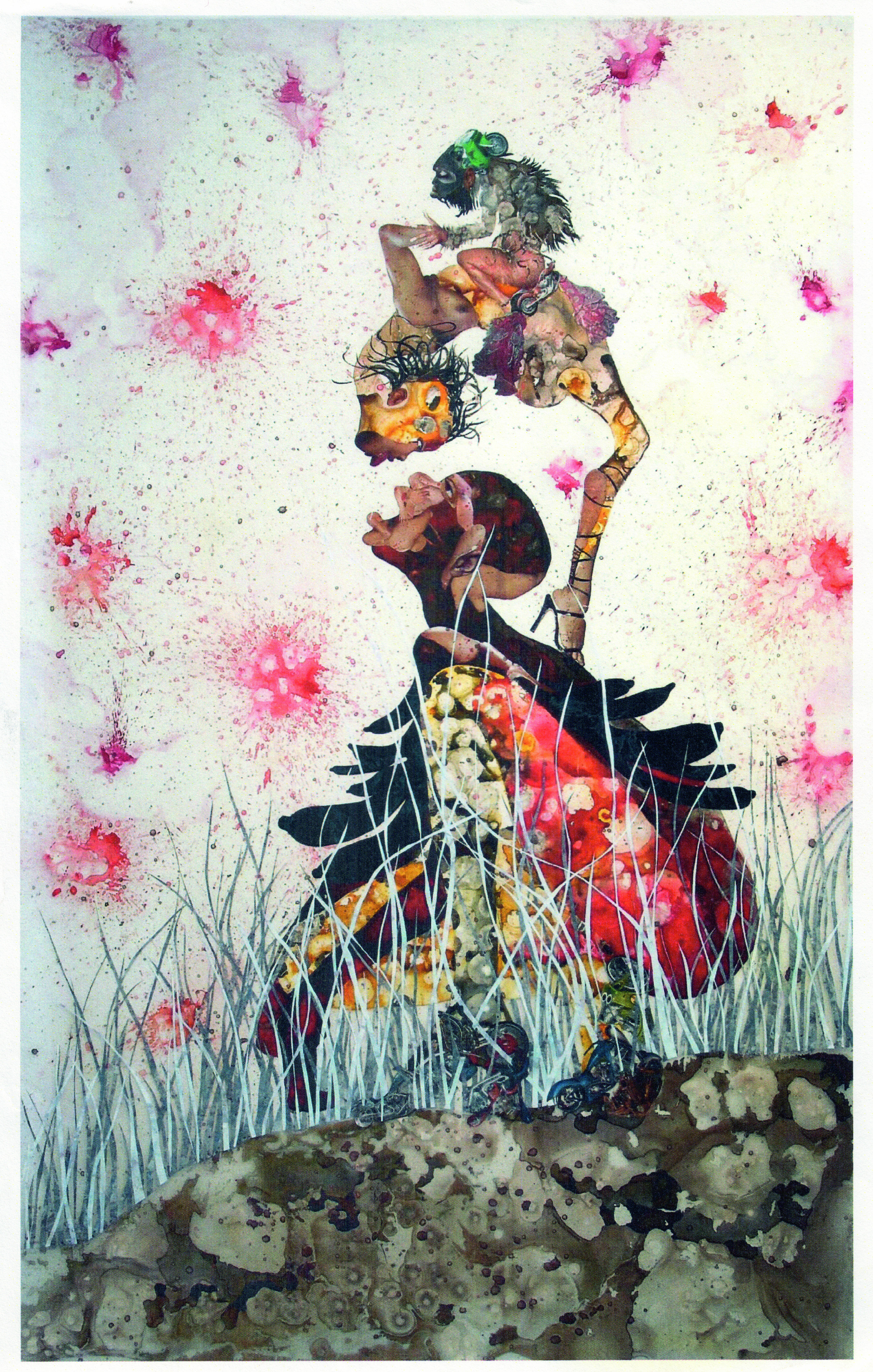 Wangechi Mutu's mutant collages
Though she cut-and-pasted Cola ads together as a student, this Kenyan artist's collage works serve to upend old cultural and social assumptions
One of Wangechi Mutu's first proper jobs was working as an illustrator for the Kenyan office of American advertising agency, McCann Erickson. "This was the age of cut-and-paste graphic design," the fifty-year-old Kenyan-born contemporary artist explains in our new Mutu monograph. "These were people who were doing ads for Johnson & Johnson and Coca-Cola. I learned a lot about these big companies and big products as a minion. I was that little person who did the drawings and figured out how to make them attractive to the public. But really, I played a very minor role in what the finished product was going to be. I think that working this way inspired a lot of my collages. My love of cut and pasting wasn't born here, but it was reinforced."
You probably won't see a Mutu collage accompanying a Johnson & Johnson or Coke campaign any time soon. Mutu's unnerving creations draw on pornography, anatomical texts, style magazines, as well as other sources, to create troubling figures that don't spur on aspiration, but instead lead the viewer to reflect on some of the underlying assumptions of our world, such as race, gender, and old colonial certainties.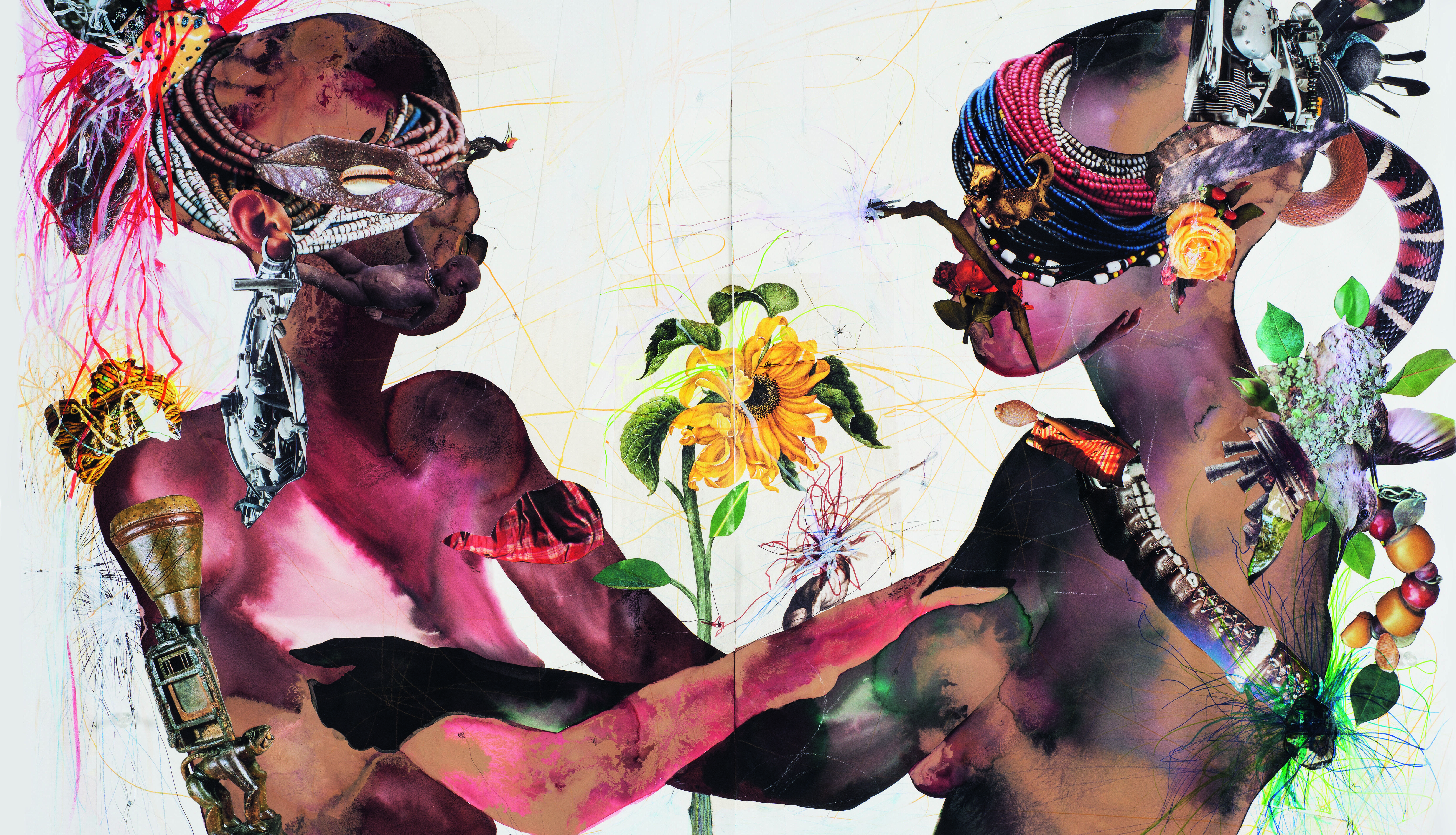 Wangechi Mutu, You Are My Sunshine, 2015. Collage painting on paper, 61 x 91 cm
In our new book, the art historian and curator Kellie Jones reflects on an early collage series of Mutu's entitled Pin Ups. "It was Mutu's meditations on the body conflicted by racial ideology, inequity, war and desire that first made an impact on the traditional Western art world in her Pin-Up series, which emerged at the beginning of the twenty-first century," writes Jones. "We witness the artist conflating, refashioning and literally hacking skin magazines and fashion glossies to create a form both mutilated and mutant."
Jones follows this analysis with an examination of Mutu's later, more more focussed 2006 collage series The Ark Collection. "As with the Pin-Ups, Mutu skims her imagery from fashion and skin magazines," writes Jones. "But The Ark Collection also more directly engages the ethnographic imagination by stripping images from sources like postcards, calendars, books and magazines such as National Geographic, in which the nude bodies of African women are circulated and exchanged in the name of science and knowledge. These are joined by Black Tail and Player's Girl Pictorial, the other end of the literary spectrum, which, in their fashion, rely equally on performances of racial primitivism and rawness."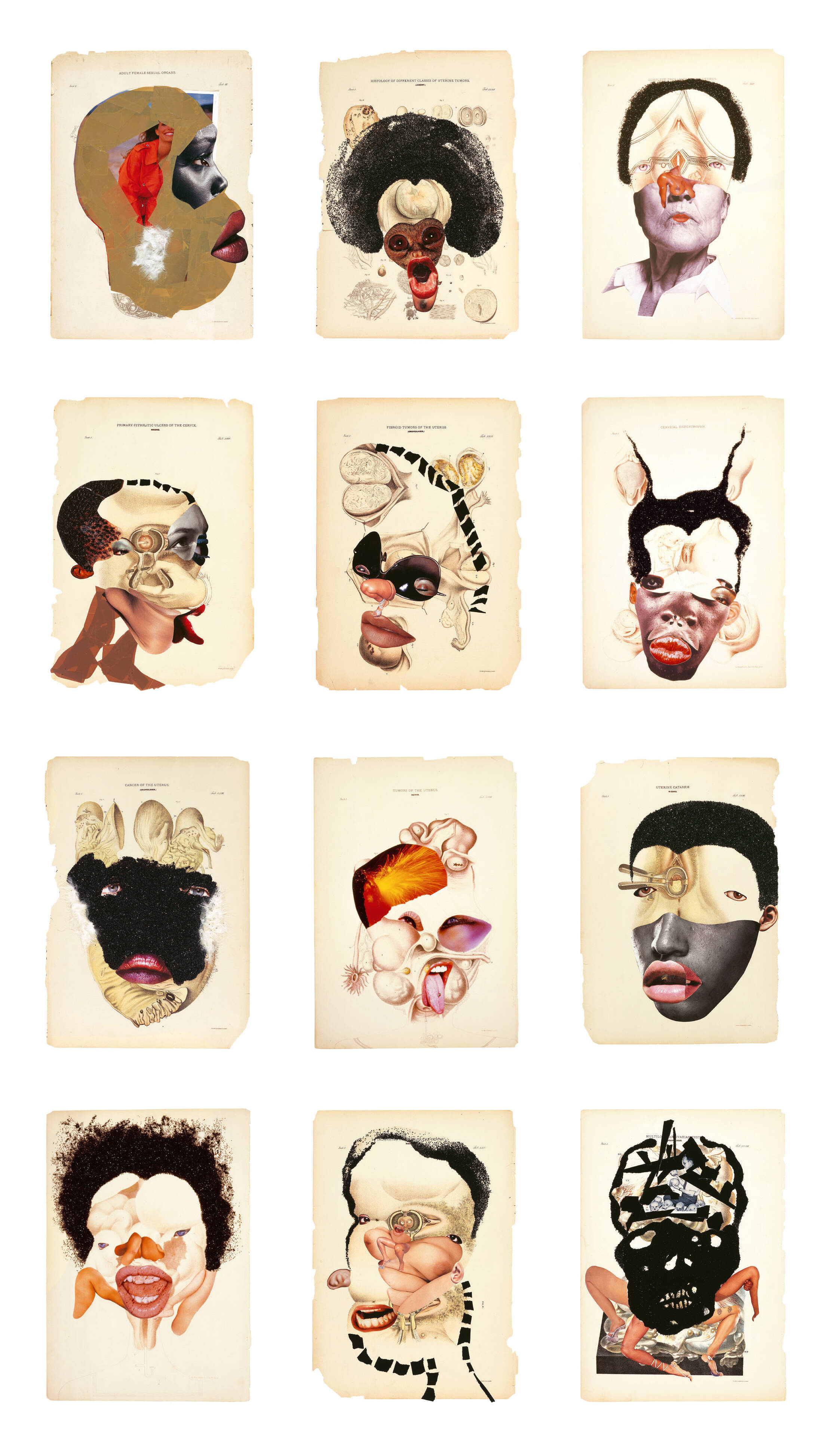 Wangechi Mutu, Histology of the Different Classes of Uterine Tumors, 2006. Glitter, ink, collage on found medical illustration paper, 12 parts, each 58 x 43 cm
The source material may objectify black women, but the resulting images, "upend social hierarchies," argues Jones, describing the images as "fusions that transgress boundaries, their speculative forms unlocking possibilities. These figures wander, opening new pathways, proclaiming the right to reassemble, reconfigure, regenerate," she goes on, "their mischievous body parts rebel against norms both social and material."
This strange sense of animation and empowerment is most apparent in one of Mutu's most disturbing series, Histology of the Different Classes of Uterine Tumors.
In these works Mutu takes found vintage medical illustrations of female genital conditions and turns them into a dozen portraits. "Glitter, ink, fur and body parts drawn from the same mix of fashion, skin and ethnographic magazines fill in facial features," writes Jones. "In relying on watercolour, ink and paper here, Mutu also takes up the tools of those who charted the project of empire centuries earlier: geologists, archeologists, surveyors and mapmakers. Her humorous incongruities push against the notion of the incontrovertible evidence of medical science, and remind us that exactly because Black women were categorized as outside 'biopolitical calculations of personhood' gave white male doctors license to look, disfigure, debilitate."
Wangechi Mutu
The images, in Mutu's hands, recalibrate that power imbalance. To see more of these collages, as well as many other images, order a copy of Wangechi Mutu here.