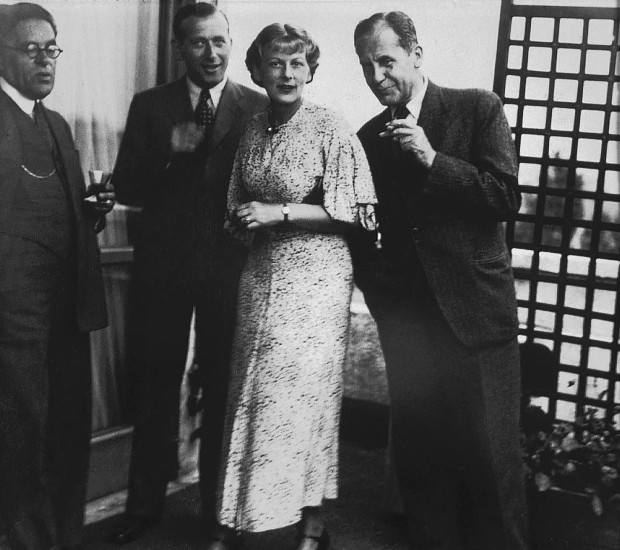 When Marcel Breuer settled in London
How the war brought the architect and designer to the UK and how its climate led him back to carpentry
Few refugees enjoy the kind of reception Marcel Breuer did, when he came to the British capital in the mid-1930s. Not only did the architect and furniture designer have friends in the city, he also had a good job and pleasant accommodation waiting for him, as author Robert McCarter explains in our new book on Breuer.
"With the coming to power of Hitler and the Nazis, many architects and artists fled Germany, and [Bauhaus founder Walter] Gropius moved from Berlin in 1934, settling in London where he established a practice with the architect Maxwell Fry," McCarter writes "Gropius and his wife, Ise, immediately began work to try to bring Breuer to London. In 1935, Breuer, having concluded that there was no future for him in Germany under the new regime, moved to London."
Gropius, who had recognised Breuer's genius as an undergraduate at the Bauhaus, alerted London manufacturers and architects to his protégé's skills.
"When he arrived in London, Gropius had been given a residence and professional employment by Jack Pritchard, head of the Isokon Control Company," McCarter explains. "After establishing a relationship with a lumber company, Pritchard asked Ise Gropius to inquire as to whether Breuer would be interested in allowing Isokon to manufacture furniture to his designs."
Breuer accepted the offer, as well as an apartment within the modernist Lawn Road Flats in Hampstead, known today as the Isokon building, where he socialised with the city's cultural elite, including the sculptors Henry Moore, Naum Gabo, and Barbara Hepworth, and the painter Ben Nicholson. However, his new life was not without compromise; in order to meet the needs of the British market, Breuer was told he would have to adapt his designs.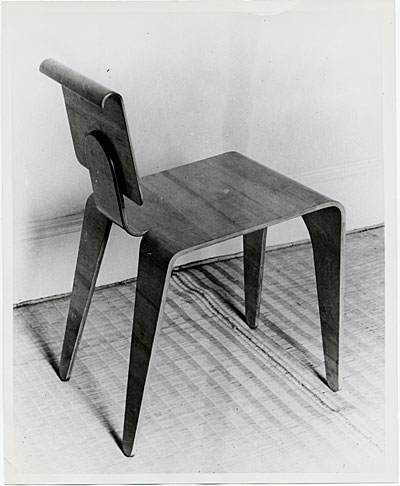 "The vast majority of Breuer's designs that had been put into production were made with steel tube," writes McCarter, "along with the more recent aluminum bar furniture, but Ise Gropius wrote to Breuer that Pritchard was interested in producing chair designs that could be manufactured in wood: "There is a certain difficulty here with steel furniture as long as so few people have central heating."
The challenges of steel furniture in a cold climate was one encountered by the Finnish architect designer and architect Alvar Aalto, who had found ways to remake Breuer's ergonomic metal furniture in a material that was warmer to the touch: wood. Now faced with the very same problem, Breuer chose a similar solution.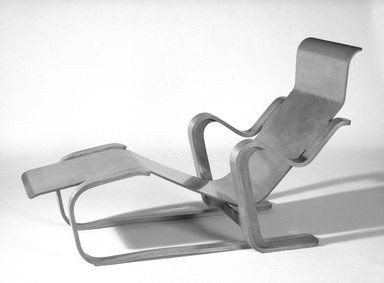 "Less than ten years after Aalto had developed his first bentwood chairs (inspired by Breuer's tubular steel ones), Breuer was engaged to design a series of furniture pieces for Isokon to be fabricated almost entirely of bent wood and bent plywood," writes McCarter.
"For Isokon, in 1935–6, Breuer designed the chaise longue and armchair (sometimes called the "long chair" and "short chair," as they are both lounge chairs), which were made entirely of bent plywood. Modelled on the bent aluminum bar lounge chairs and armchairs he had designed for Wohnbedarf two years earlier, the thick plywood J-shaped sled rails turn up to form the front legs and then back to meet the bed of the seat and back, made of a single thin sheet of bent plywood. Two double-curved arms are set parallel and outside the longer rails at the floor, curving up to form the back legs, which, because they take the greatest loads, are reinforced with plywood blades; then curving back to form the arms; and finally curving up to run parallel and connect to the back. The back legs are joined beneath the seat by a plywood bar, and the chairs had fabric-covered padded cushions that fit to the flowing form of the chair. These chairs, with their elegantly curving and interweaving frames and planes were among Breuer's personal favourites, and would be found in every one of his future residences."
Breuer's return to wood, a material he worked with a great deal in his youth, marked a renewed interest in traditional materials. In 1936 Breuer created Gane's Pavilion for The Royal Agricultural Show in Bristol. The émigré was commissioned by Crofton Gane, a modern furniture company, and worked on the job with his British partner F.R.S. Yorke, who would later go on to design much of Gatwick Airport.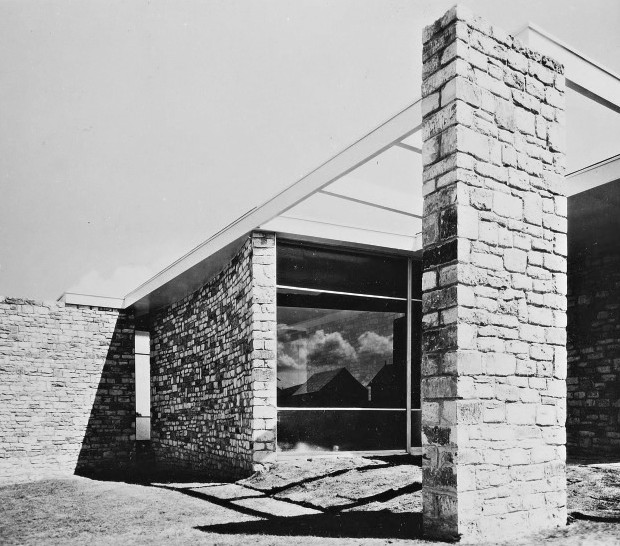 "Not unlike Mies van der Rohe's famous exhibition house built in Barcelona in 1929, which also did not have a kitchen or bathroom, the Gane's Pavilion was intended to showcase the domestic furnishings made and sold by P. E. Gane Ltd." McCarter explains "Breuer took this opportunity to engage the ideas regarding the parallels between the modern and the vernacular that he had articulated in his 1934 Zurich lecture. The Pavilion was structured by a series of massive stone structural walls, made of roughly squared local stone. On the exterior, large floor-to-ceiling glass walls stood between the stone walls, and the flat, wood-framed roof was opened above the terrace and projected over the entry in the northwest corner."
In this way, Breuer distinguished himself from his contemporary, Mies. There are no glass curtain walls, as the German architect favoured, indeed, as McCarter points out, "Breuer later argued against the modernist tendency to enclose buildings only with glass walls, noting that, for modern architects, transparency "is definitely one of our objectives … but transparency needs also solidity … because total transparency leaves out such considerations as privacy, reflecting surfaces, transition from order to disorder, furnishings, a background for you, for your everyday life. Transparency becomes more so next to solidity—and solidity makes it work."
That balance of the solid and the see-through, as well as a respect for traditional materials and vernacular techniques was something that Breuer would take with him, when he emigrated to an even more industrially advanced country, the USA, just a year later.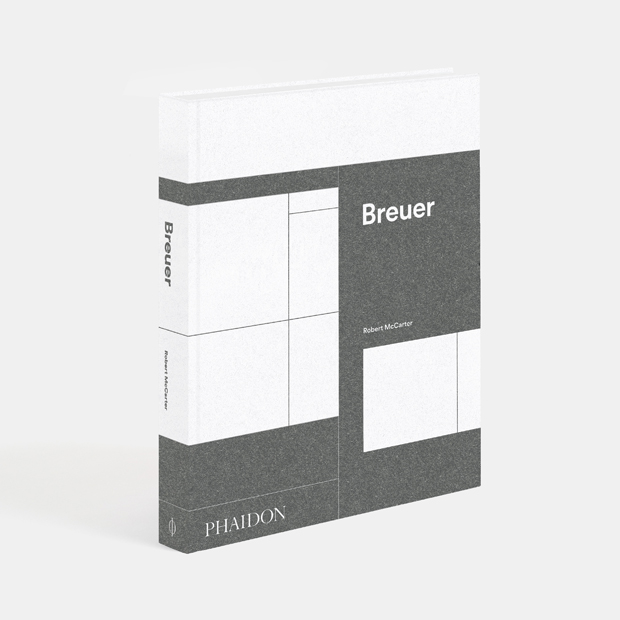 Check back soon for more highlights from this wonderful book, and, to discover more about this important architect, buy a copy of Breuer from Robert McCarter here.