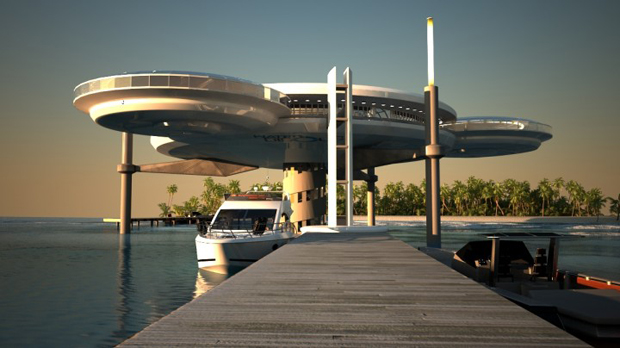 Deep sea hospitality planned for Dubai
It's built tall and supertall, now Dubai mines the sea depths for its latest architectural venture
As if it wasn't enough of a coup for Dubai to be home to two of the world's 10 tallest buildings set to complete this year, it could also become home to the world's biggest underwater hotel.
The Water Discus hotel is proposed as just that: two main discs of hotel rooms and other facilities, one above water supported by stilts and the other on the seabed. A central chunky column is designed to carry the lift shaft and stairs. And attached to the upper disc will be mini-discs acting as helicopter landing pad and other must-have amenities.
Downstairs, along with the 21 bedrooms, there'll be a diving centre complete with decompression chamber, as this is envisaged as a destination for the would-be David Doubilet. However, we expect that the real draw will be the bar down there, with its 24/7 marine views.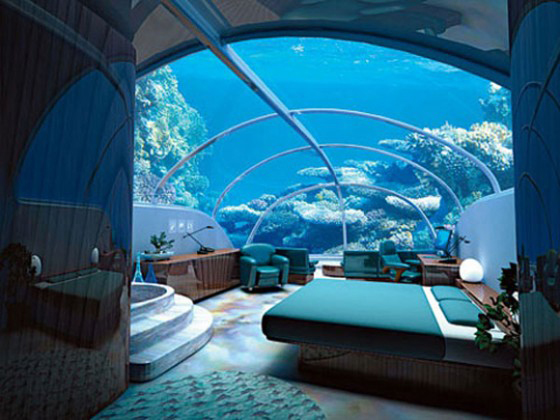 The Water Discus has been designed by Deep Ocean Technology in Gdynia, Poland, which has patented the modular design.
DOT explains the rationale behind the concept: "Top-rated resorts offering luxurious conditions and amenities have become the new standard for active leisure. A wide selection of luxury hotels can be found in virtually every part of the world. But we bring you a deluxe hotel combined with a real marine adventure and breath-taking views found only in the heart of the ocean."
It's as yet unclear as to whether DOT has actually got a client signed up, or whether this is just an excellent idea for an Emirate that's never been shy of pushing the boat out, architecturally. With Dubai back on the rise however, our money's on the former.
Incidentally, if you weren't sure, the David Doubilet we referred to above is an underwater explorer and photojournalist - quite possibly the most notable underwater photographer in the world. We've published a beguilingly beautiful book with him called Water Light Time which we urge you to take a look at in the online store. If you've ever been lucky enough to go diving it'll bring back some happy memories. If you haven't, it's a great introduction to the world that lies beneath the sea.