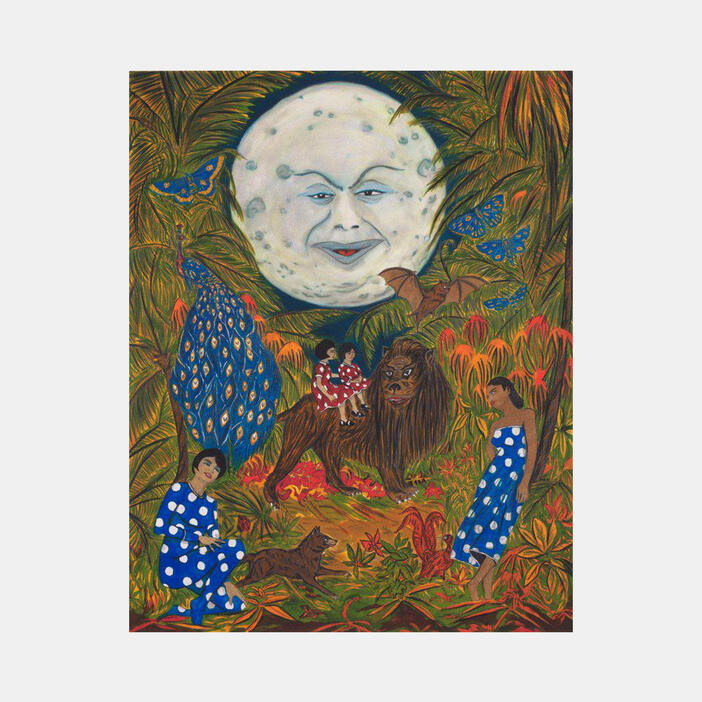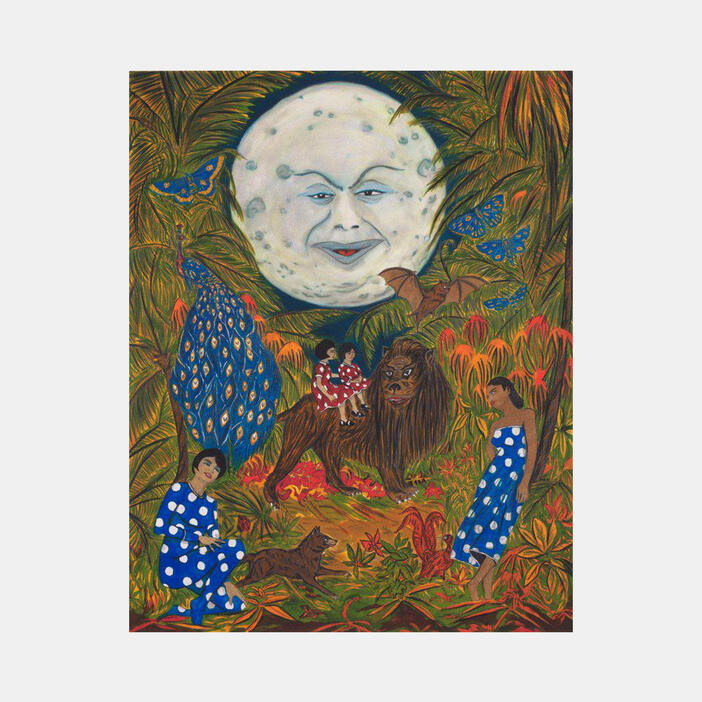 Marcel Dzama: The Illumination of the sisters of paradise (2020)
Price AUD$2100.00 | Limited Edition Price CAD$2000.00 | Limited Edition Price £1150.00 | Limited Edition Price T1500.00 | Limited Edition Price USD$1500.00 | Limited Edition
Print: Archival Pigment Print on Hahnemühle German Etching 310 gsm
Size: (584 x 483 cm) (23 x 19 in)
Edition of 30
Signed, dated and numbered on recto
Inspired by recent travels in Mexico and Morocco, Marcel Dzama created The Illumination of the sisters of paradise to conjure the vibrant cultures and landscapes of faraway lands while in quarantine. As noted by Dzama, the print "was my way of traveling while being at home every day...I was trying to recreate some sort of Garden of Eden or Paradise Lost". The Illumination of the sisters of paradise presents lush flora and whimsical fauna in a utopian twilight scene, rendered in emblematic saturated hues. A full, bright moon plays the protagonist, imbuing the image with a captivating sense of wonder, inspiration, and hope.
Each print from the edition of 30 is signed, numbered and printed on Hahnemühle German Etching 310 gsm paper by Lower East Side Printshop's master printer Erik Hougen. Proceeds from this sale support RxART's mission to help children heal through the extraordinary power of visual art. RxART commissions exceptional contemporary artists to transform sterile healthcare facilities into engaging and inspiring environments full of beauty, humor, and comfort. RxART has completed 51 projects with 60 artists in almost 40 hospitals across 20 cities in the U.S. since it first launched in 2000.
Since rising to prominence in the late 1990s, Marcel Dzama has developed an immediately recognizable visual language that investigates human action and motivation, as well as the blurred relationship between the real and the subconscious. Drawing equally from folk vernacular as from art-historical and contemporary influences, Dzama's work visualizes a universe of childhood fantasies and otherworldly fairy tales.