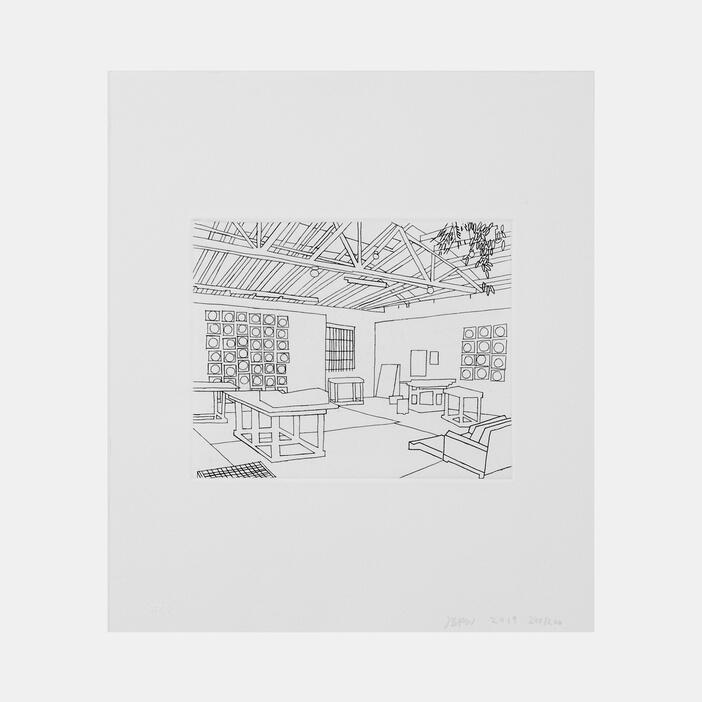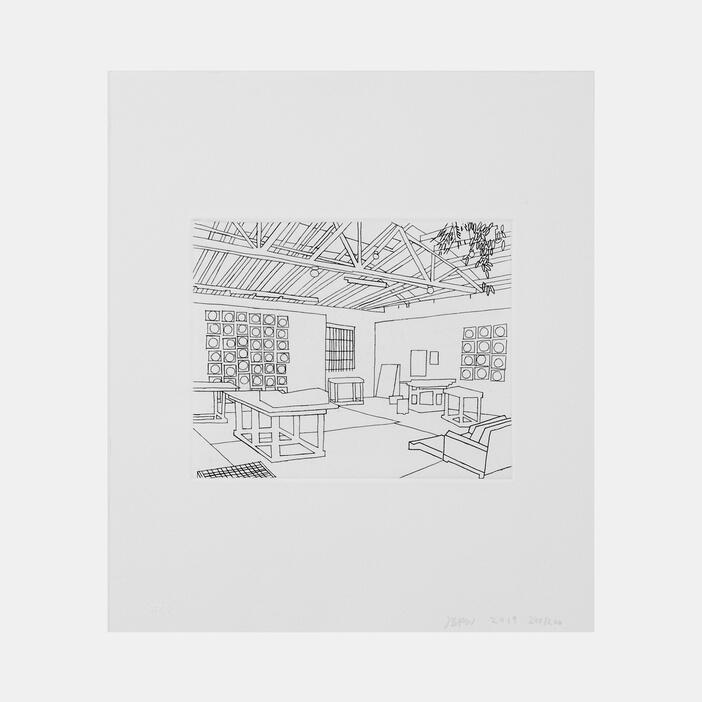 Jonas Wood: Bball Studio (2019)
Price AUD$3000.00 | Limited Edition Price CAD$2700.00 | Limited Edition Price £1550.00 | Limited Edition Price €1900.00 | Limited Edition Price USD$2000.00 | Limited Edition Price T2000.00 | Limited Edition
This special limited edition is presented in a bespoke portfolio case, numbered mailer box and silkscreened tote bag alongside a hardcover edition of Phaidon's Jonas Wood monograph.
Print: Etching on white Rives BFK paper
Image Size: 158 x 127 mm (6.25 x 5 in)
Paper Size: 279 x 241 mm (11 x 9.5 in)
Edition of 200
Signed and numbered with publisher's chop on recto
Hardcover book
Size: 290 x 250 mm (11.37 x 9.87 in)
160 pages, 200 illustrations
Jonas Wood's Bball Studio (2019) depicts the studio that Wood rented from Ed Ruscha from 2007 to 2017. "Everything kind of happened in that space", Wood recounts in an exclusive interview with Artspace. The etching recreates a preparatory tracing that Wood says was the impetus for the painting featured on the cover of Phaidon's monograph, Jonas Wood.
The etching, produced in-house by Jonas Wood's studio, is signed and numbered to 200, and comes with a hardcover copy of Phaidon's Jonas Wood, inside a silkscreened limited-edition tote bag. "It wraps up all of these things: Nostalgia for this old studio, this great painting that we used for the cover, and the original drawing changed back into a print—eight years later—to raise money for charity," says Wood. Proceeds benefit Creative Growth, an Oakland-based non-profit that serves artists with developmental, intellectual, and physical disabilities.
With one foot rooted in Analytic Cubism and the other in Contemporary Pop art, Jonas Wood is an artist who bridges two seemingly disparate traditions to create paintings that present contemporary life from multiple perspectives. Born in Boston and now living and working in Los Angeles, Wood took a somewhat circuitous route to becoming a professional artist, even considering pursuing a PhD in psychology before deciding on an MFA in painting. His work still contains subtle psychological elements, tying together elements of the past and the present, either through empty but intimate interiors or through other paintings of contemporary American life. Wood's use of color in his embracement of quotidian domestic settings calls to mind David Hockney's dreamlike depictions of suburban subjects. Though not inherently mathematical in composition, the artist's paintings often contain numerous intersecting geometrical elements, as objects and patterns become flattened in his artistic process, which involves creating drawings of photographs of his subjects that eventually serve as the primary models for his paintings. In creating artworks from the items and environments around him, whether they are sports imagery, animals, or furniture, Wood extracts the beauty from the ordinary, proving that there's more to the everyday than meets the eye.