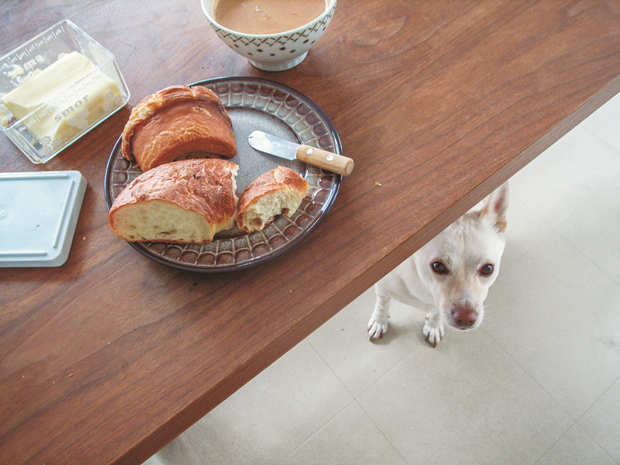 Meet Kipple - she really loves bread!
How a Japanese food stylist turned baking and cute doggie photos into a fun, tasty title
When, nine years ago, the Japanese food stylist and baker Natsuko Kuwahara took in a stray, three-month-old dog, little did she know that the animal would help her to create a fun, runaway hit book.
So Kuwahara, a renowned cookery expert and skilled photographer who works for a wide range of prominent magazines, advertising agencies and publishers, had been pining for a pet when she saw this mongrel on the Satoya Boshu animal fostering site. She and her husband adopted the dog, naming her Kipple, inspired by Mr Techie & Miss Kipple, a 1984 solo album by Hajime Tachibana, guitarist and vocalist for Japanese band The Plastics.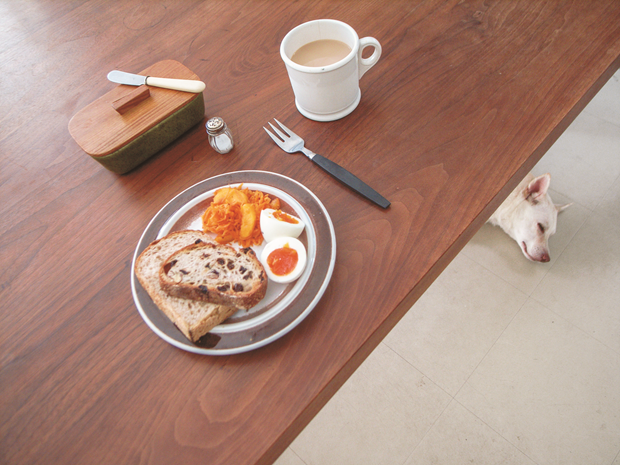 Kipple soon found her place within Kuwahara's home in the Tokyo suburbs, even if she didn't quite understand her place within the domestic food chain. Whenever Natsuko prepared herself a pleasant breakfast, lunch, bready snack, or baked dish for a photo shoot, the dog's hopeful snout would appear beside her table.
Kuwahara began photographing her greedy little pet, posting the images on social media, alongside a description of the dish and a fun stab at her dog's likely thoughts and intentions. Surprised by the great response from friends and readers, Kuwahara decided this winning series of a winsome animal and a carefully prepared meal needed to be set down in print.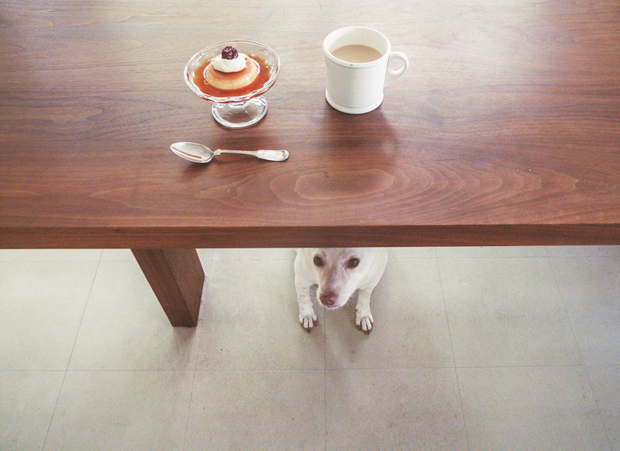 Hence Bread and a Dog, a heart-warming record of the food Kuwahara has baked for herself, and the lengths her dog Kipple has gone to, in order to get a taste for herself.
As well as featuring lots of tasty dishes, the book capitalises on our twin enthusiasms for the sharing of both food - and pet - pictures on social media.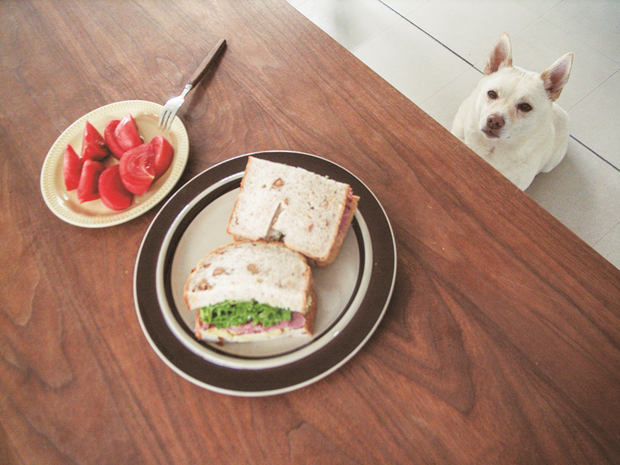 There are shots of Kipple eyeing up bread pudding, cinnamon rolls, muffins, sandwiches and bagels, as well a the occasional image of the dog rebuffing less canine-friendly food, such as pickles and fruit.
Each image is wittily captioned, with a clear description of the meal, and a cheeky line on behalf of the dog. The book's 100 artfully composed photographs capture every dish perfectly, as well as a dog and owner's relationship, while also serving as an engaging culinary log.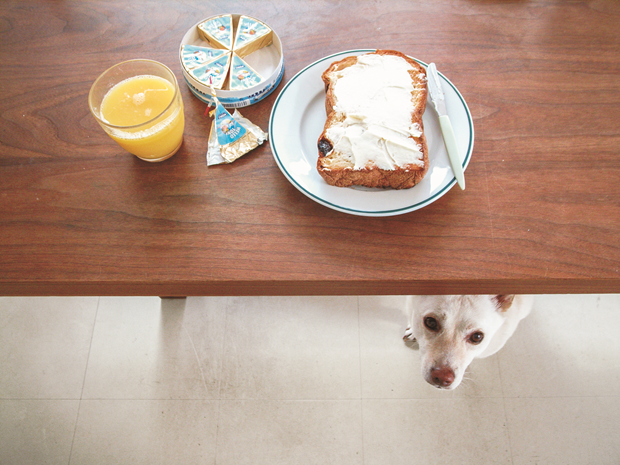 In the process, Bread and a Dog offers surprising insight into Japan's bread and baking traditions. And aside from the charming photographs of Kipple begging for treats, (and some of Kuwahara's cat Kuro too) the book also includes a wide selection of recipes, from distinctly Japanese refreshments like ume juice and amazake, through to simpler confections like French toast and layer cake, by way of a few bread-free dishes, including great carrot salad and clafoutis with plums.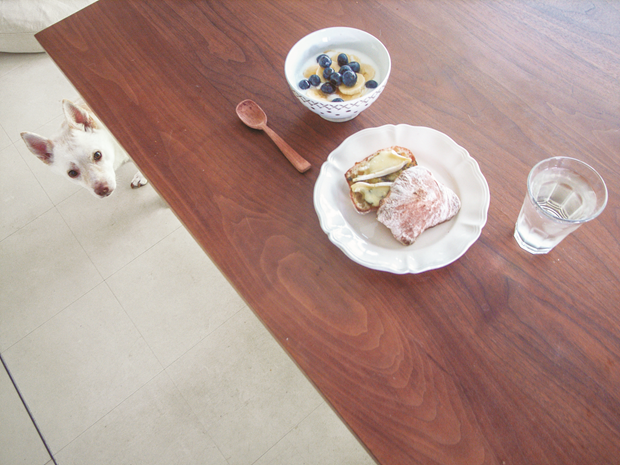 The soft-backed title is a delightfully easy read, likely to appeal to fans of Japanese popular culture, animal lovers and culinary enthusiasts alike. After the first thirty pages, we think even the most casual readers will begin to side with Kipple, given the tastiness of the treats on offer. You can pre-order Bread and a Dog here, and check back soon for more on this fun new title.