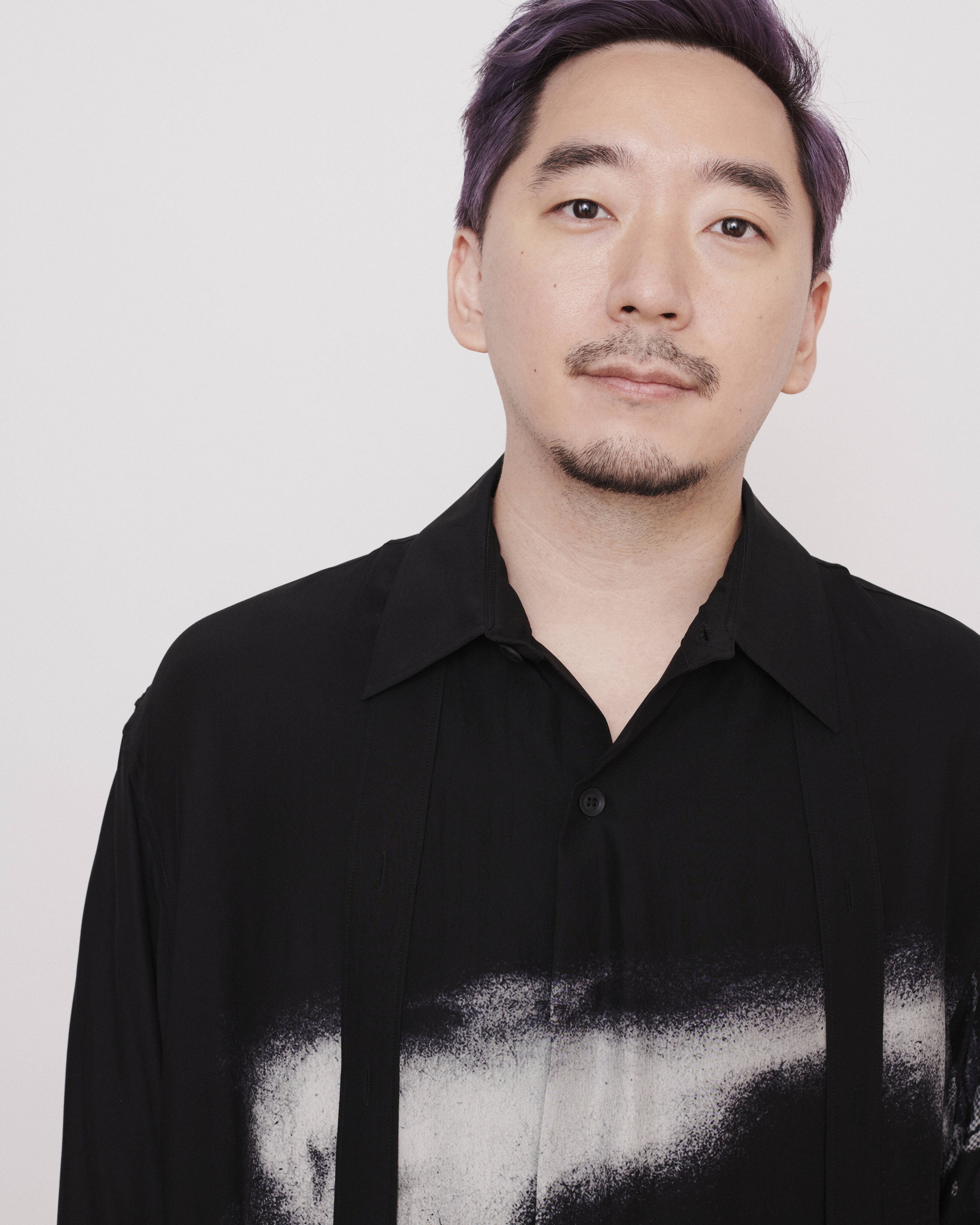 Junghyun Park on K-Food, success, and the best recipe for a hangover
We talk to America's best chef and The Korean Cookbook co-author and food historian Jungyoon Choi
Phaidon.com readers will need no introduction to the groundbreaking chef Junghyun Park, who runs three restaurants in New York: Atoboy, Naro, and the 2-Michelin-starred Atomix, which is the highest rated restaurant in America on the world's 50 Best Restaurants list, rising from number 33 in the world in 2022 to number 11 this year. However, they may be a little less aware of Jungyoon Choi, a renowned culinary historian, researcher, lecturer, and writer in Korea.
But together, Junghyun Park and Jungyoon Choi have created the latest of Phaidon's celebrated global food bibles The Korean Cookbook, a comprehensive and authoritative tome featuring over 350 delicious and authentic Korean dishes — classic recipes alongside regional specialties — all approachable and to be recreated at home and featuring 110 incredible photos of finished dishes, cooked by the authors; along with beautiful plateware, and atmospherics showcasing the region. From traditional dishes to everyday food in home kitchens, The Korean Cookbook presents years of in-depth research.
We caught up with Junghyun Park and Jungyoon Choi and, in the first of a two-part interview, they told us about the philosophy of Korean food, some of the dishes from the book, including a popular hangover cure recipe, and how they're part of the new global popularisation of Korean culture 'Hallyu', or 'Korean Wave'.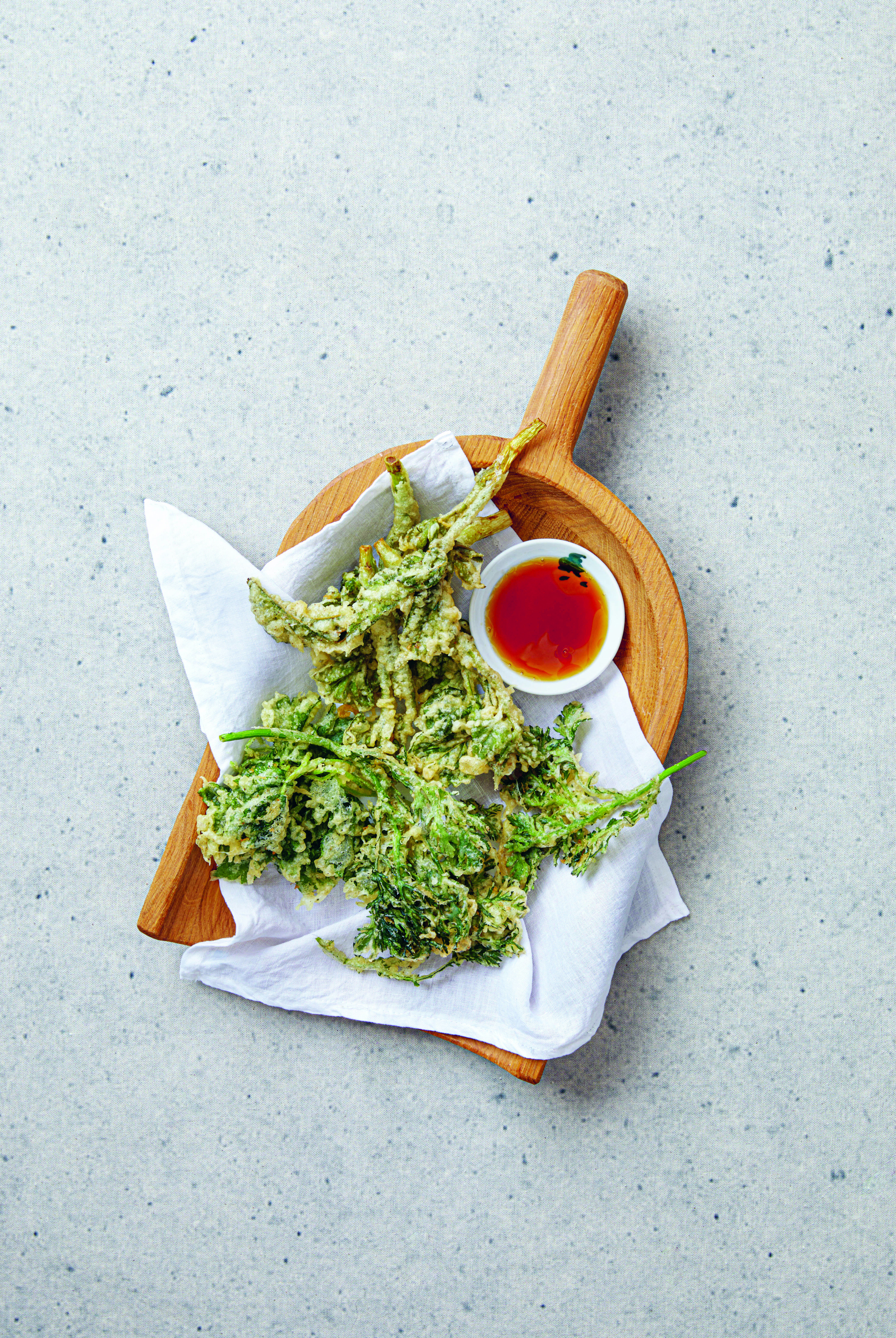 Sweet and Spicy Korean Fried Chicken. Photography by Jinju Kang
Before we start, how does it feel winning the James Beard Best Chef in America award and having the highest ranked US restaurant (Atomix) again on the World's 50 Best list?
Junghyun Park – Our foremost feeling is gratitude for the love and support that we have received in order to achieve, and since achieving, these milestones. These sorts of awards are ultimately recognition of the hard work that individuals, as a collective, put in to achieve a vision or dream; receiving such recognition is a sort of fuel and support, a source of happiness. We are thankful that these communities exist, in recognition of each other in the same industry.   
It's been a decade since we moved to NYC, and all our achievements within these ten years were only possible because of our team members who individually committed so much to make our restaurant's visions come true, contemplating each day and challenge together.  
We believe there are many more visions that we can share in the future, and we are always working to find new ways to improve, small and large, every day. We are excited for the bright future and to share it with everyone. 
Ganjang Stir-Fried Tteok. Photography by Jinju Kang
The global popularisation of Korean culture through K-Pop, film and design has played a big part in putting Korea on the world map, have you played a part too within Korean cuisine? Korea has thousands of years of rich cultural history, especially in the cultural arts. We are all thrilled to see it get a spotlight in recent years, fuelled by the globalization of its 'soft cultures' which encompass K-Pop, K-Drama and K-Film, and of course K-Food; this global popularization is referred to as 'Hallyu', which translates to 'Korean Wave'.   
Korea is a small peninsula nation in Asia, which has only recently "modernized" within the context of globalization, both economically and culturally, despite the thousands of years of history. The charm and finesse of K-Pop and K-Drama has been critical in capturing the attention of the world, and it has opened so many doors for people to be curious about many facets of Korean culture.   
Food is one of the most intimate, important parts of getting to know and understand a culture. The interest in K-Food is a natural next step for anyone who has discovered Korea through other means of its cultural exports. As a country or people, we believe that Koreans are glad that people are interested, eager to showcase the beauty and deliciousness of our food, and especially of our communal eating culture: the one that shapes our community and our way of life.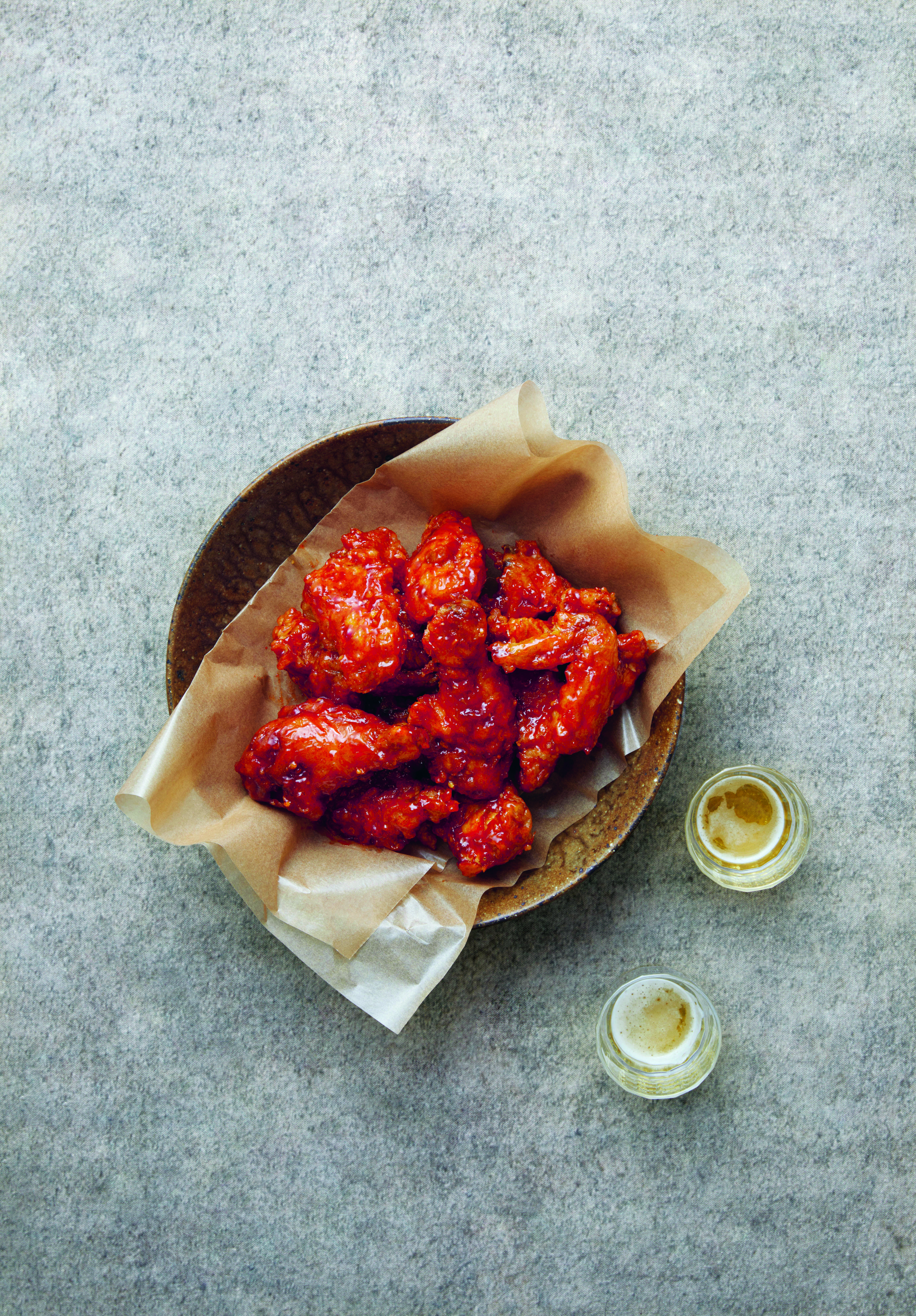 Sweet and Spicy Korean Fried Chicken. Photography by Jinju Kang
Even in New York City and many global cities abroad, the palates and awareness of Korean food have expanded dramatically beyond the few iconic dishes such as K-BBQ, bibimbap, and kimchi. The steadfast growing popularity of these cuisines are foundational to the next step which is often referred to now as "New Korean", through which chefs of all backgrounds are showcasing various Korean ingredients, techniques, and newly imagined ways of applying them on a global scale.
There are also movements to research Korea's culinary traditions to deepen our core identity and share that with the world. With passion from both culinary creators to showcase Korea's cuisine and culture as well as the global audience to expand their knowledge around the Korean palette and cuisine culture, it is an exciting time with a bright future for Korean food.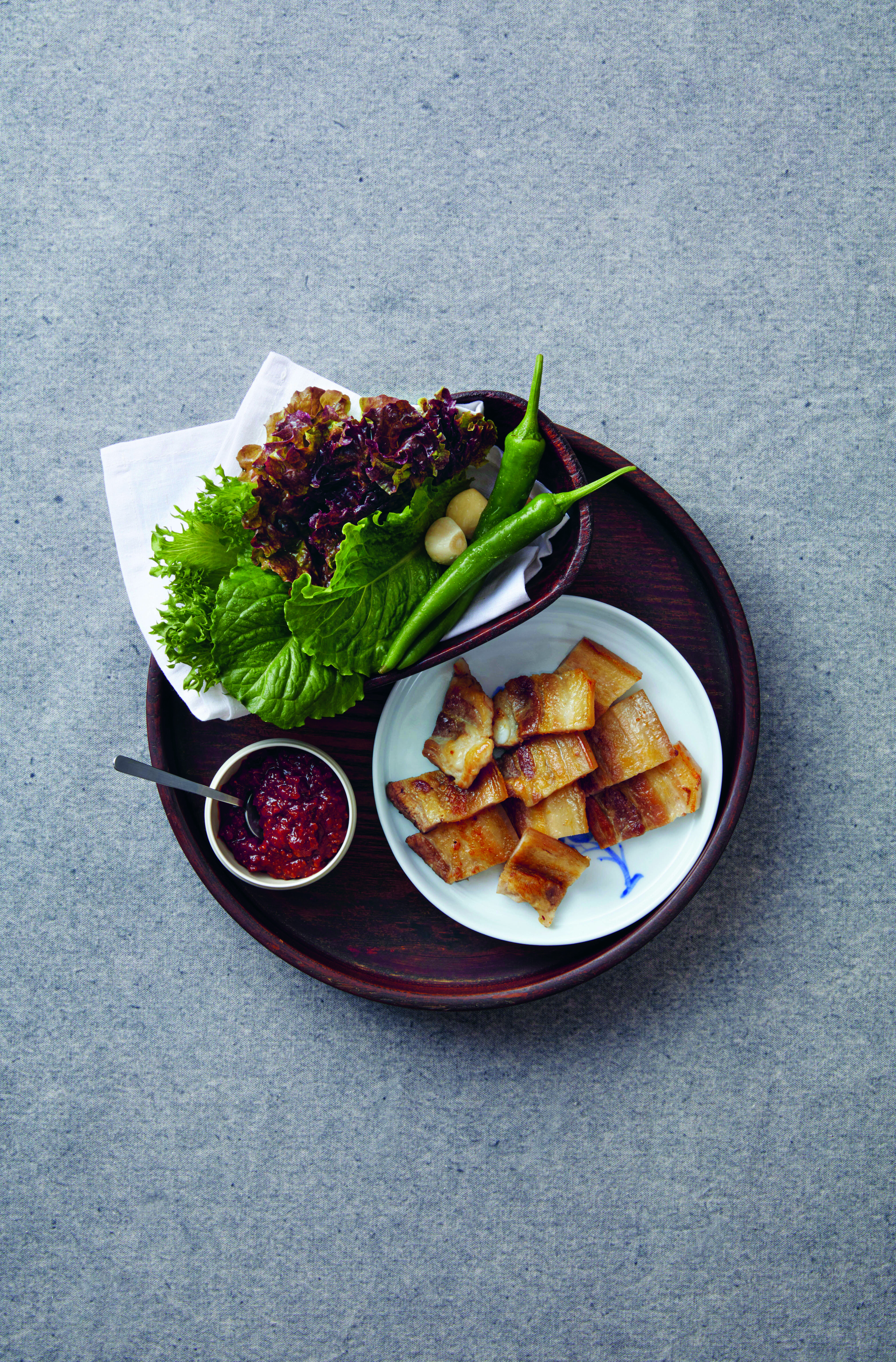 Stir-Fried Gochujang & Lettuce Ssam. Photography by Jinju Kang
What inspired your love of food and how did you forge such successful careers?
Junghyun Park – My love and interest in food has been constant. Ever since I was a child, I was eager to help out in the kitchen, be it a part of a mundane prep or helping make a larger family-style meal during the holidays. That innate curiosity towards food continued into my education, and personal pursuits during my young days, and led me to study Food Science in college in Seoul while being active in Seoul's culinary communities.
During this time, I began to pursue the first of my professional experiences in kitchens, which led me to my decision to find employment abroad to broaden my skill set. I considered these experiences as a professional continuation of my culinary studies. 
After experiences in many kitchens – many of them Euro-centric – I began to contemplate what I could do best, what my personal cuisine would be rooted in. Of course, this naturally turned my focus back to Hansik and the techniques, flavours, ingredients inherent in my life. Once I realized that this identity was the most invaluable asset I had, it became the basis for my journey as a chef, my continued studies and research, to this day and looking forward.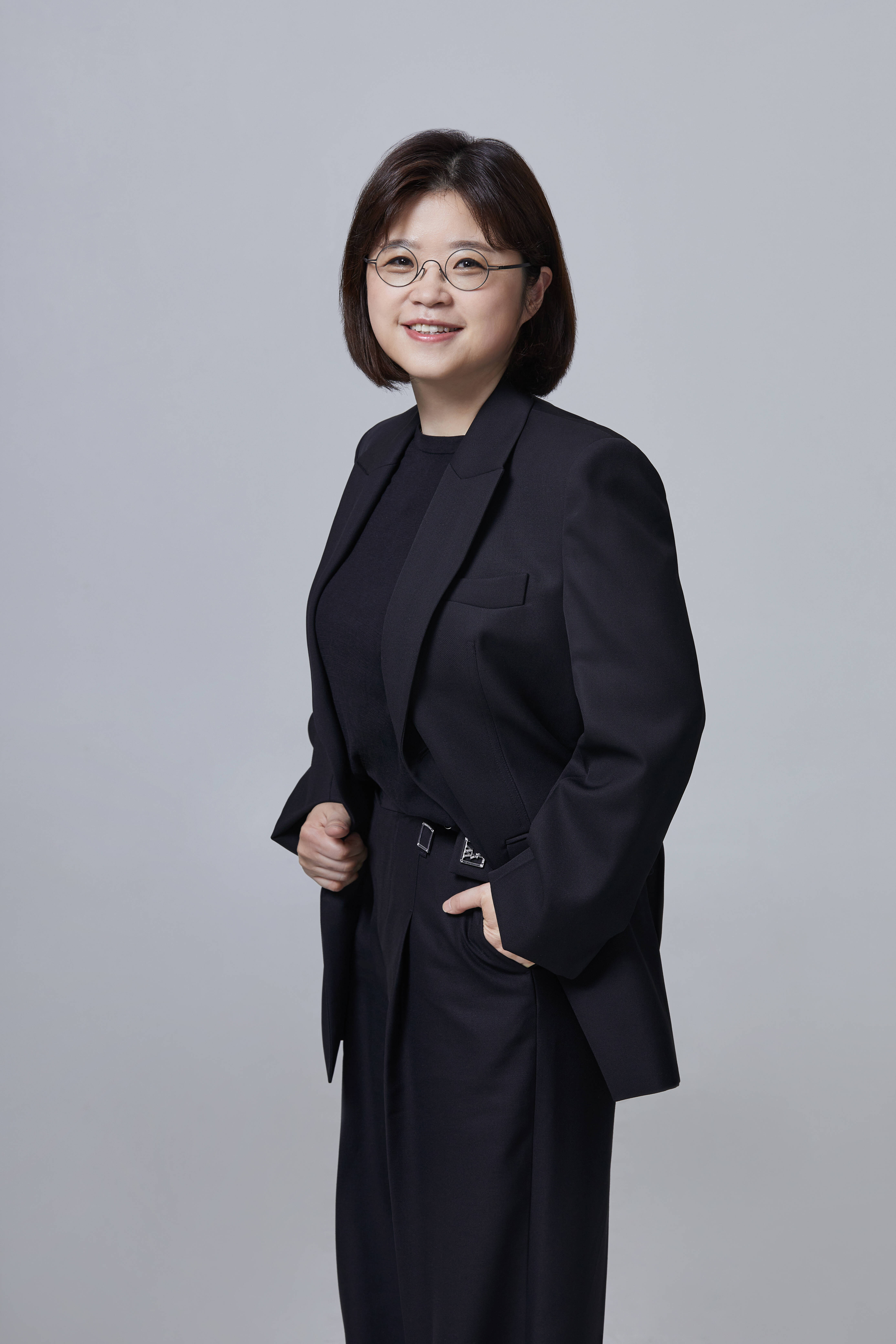 Jungyooon Choi. Photo: Jaeyoung-heo
Jungyoon Choi – My parents have always thought of 'culture' as one of the most important facets of life, and as part of that, always told me that cuisine is the foundation of a joyful life, in both the careful making of food as well as in the sharing and enjoyment of food. This lesson was coupled with another constant lesson, which was that you must always stay curious, always observing and questioning, to live a full life.   
To me, ever since I was a curious child, food has been a source of continuous joy. There is nothing more exciting than cooking and finding new ways to explore and exist with the world. Thanks to my parents, food and cuisine became both the root and foundation of my life.   
I have been so fortunate to work across the world, beginning with Korea, to Australia, Spain, China, America, and more. Naturally through my experiences I learned the different cuisine culture of the world, and the more I became fascinated with foreign food cultures, the more I became curious about my own: Hansik.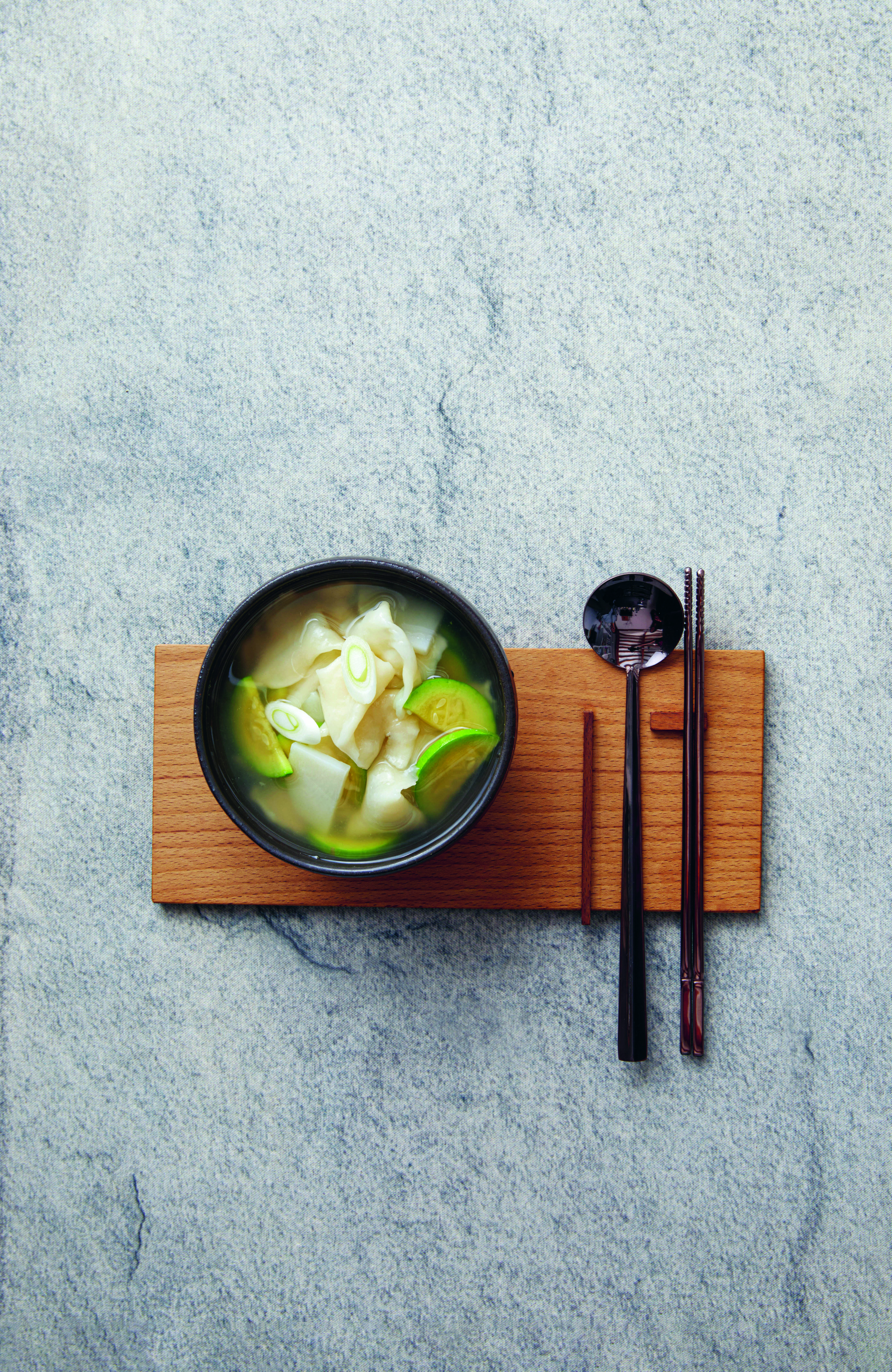 Hand-Torn Guksu. Photography by Jinju Kang
How does your own personal pairing work? What does each of you bring to the book? We have known each other for decades now: first as peers and friends in the culinary circle in Seoul in our youth, and then as mutually admiring professionals in the same global industry. As like-minded people who are dedicating their life to culinary arts and specifically in the evolution of Hansik, our process of collaborating went very smoothly.
Our routine of weekly meetings to discuss began with first discussing the larger framework of the story that we wanted to tell through this book. From then, we came up with smaller chapters and decided on recipe topics together and divided up the responsibilities from there. We always read through each other's recipes, edit, or give feedback to arrive at our final form.  
You talk a lot about hansik and hansang in the book, can you explain what they are? Hansik is the Korean term for Korean cuisine, in which Han refers to the country of Korea, and Sik refers to cuisine. Hansang has a dual meaning in both referencing Han, Korea, and another definition of Han which is 'One'. Sang refers to table. Hansang refers to a meal spread, which combines bap and varied banchans, meant to serve a meal.
Can you take us through some of the basics of Korean food outlined in the book? The basics of Korean food are outlined in the way that we have divided up the table of contents. With the foundational technique of fermentation, Koreans build out a traditional meal through the building blocks of bap and banchan.    While of course other key elements, such as husik (dessert) are paid their due, we focused on this foundational cultural concept of Korean cuisine of Bap and Banchan, in which cooked rice plays the role of canvas for bringing together a myriad of banchan, dishes created to accompany rice. Rather than a singular recipe, we focused on this way of eating, which emphasizes balance and harmony in flavours, textures, temperatures, even health and seasonality.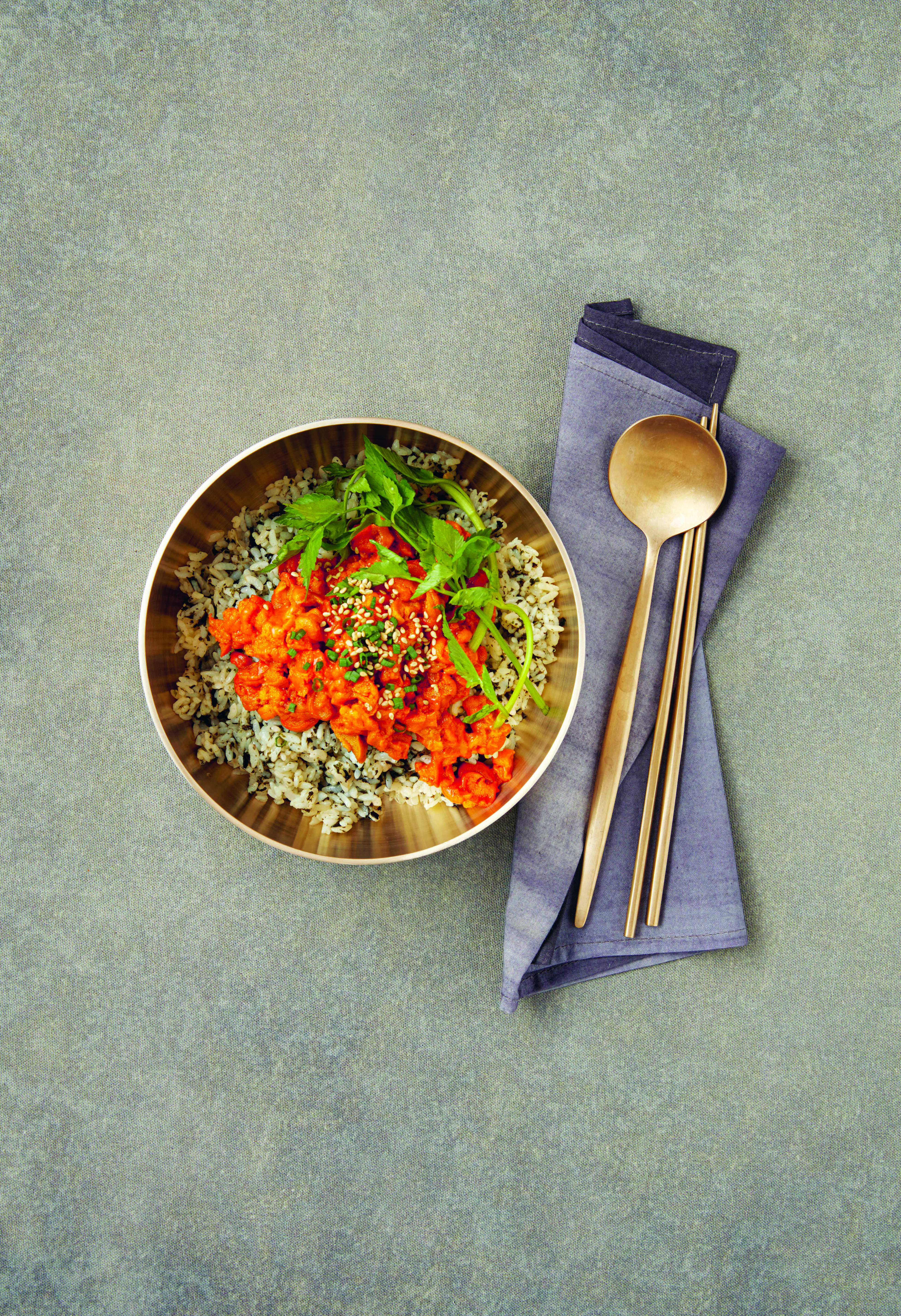 Jeju Sea Urchin Bibimbap. Photography by Jinju Kang
What is the basic philosophy of Korean food, how have you worked with it and how have you helped reinvent it?
Junghyun Park – Two of the tenets of Korean cuisine – fermentation and balance – are present in my articulation of my personal cuisine.    Fermentation is one of Korea's key techniques that is present in almost all Korean dishes because we use fermented jang, jeotgal as a seasoning to add not just salinity but also depth, even to fresh vegetable dishes. I have utilized this technique and applied it to novel ingredients or in combination with unexpected ingredients or applications to expand my understanding of the technique while honouring the Korean roots. 
Balance – as shown in the way that Koreans will create a complementary spread around a rice dish, or a main banchan dish – is also a theme that defines my personal cuisine. When asked to describe my cooking style, I always answer that balance – whether it's through complimentary ingredients or finding an unexpected harmony when using contrasting ingredients – is my north star. I always think about how things will end up together on the palate, and that harmony that it creates. I think this is very much rooted in the philosophy of Korean cuisine, yet I am finding new ways to explore this through a globalized view of ingredients, techniques, and cultures that I am fortunate to have.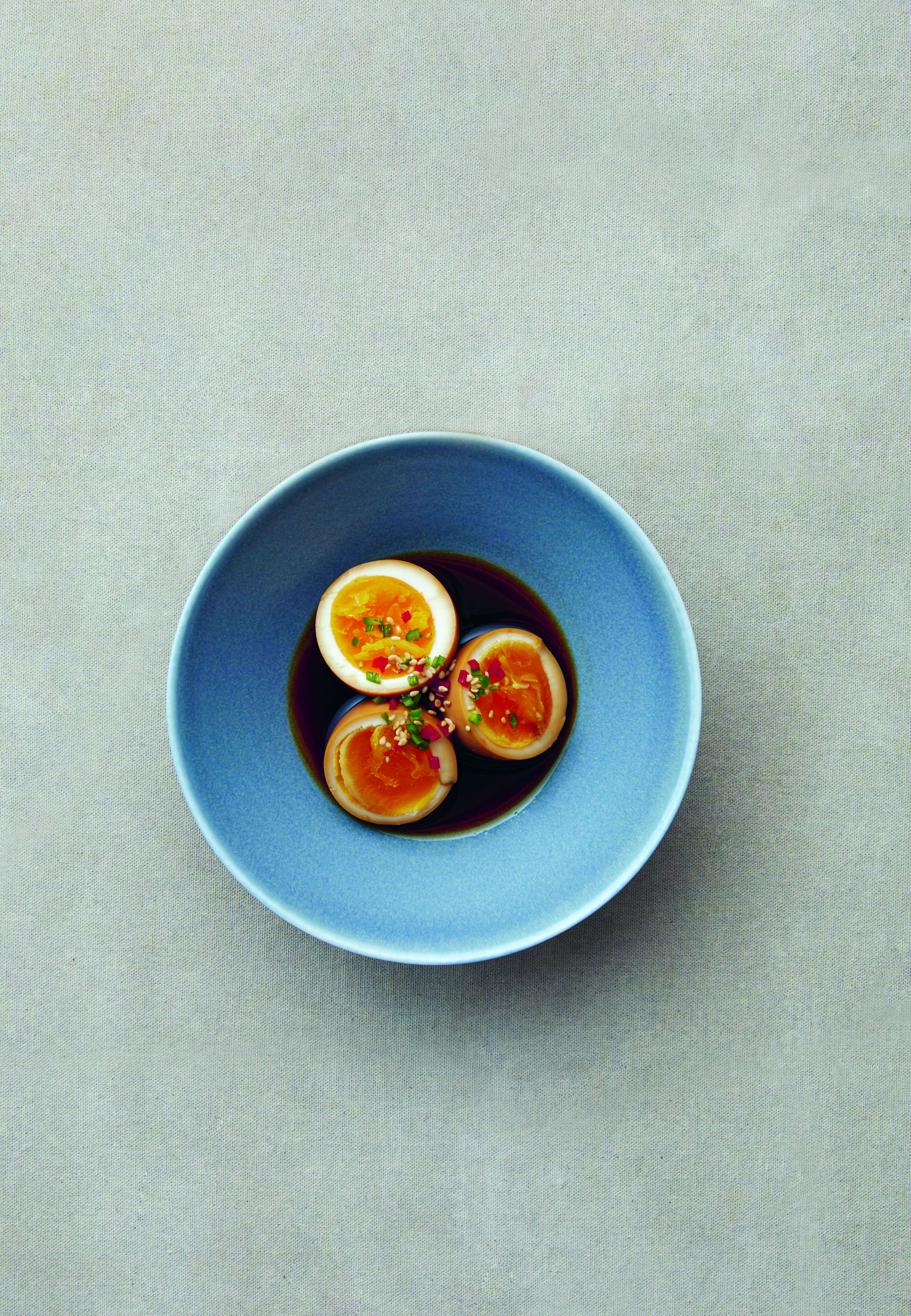 Soft-Boiled Egg Jangjorim. Photography by Jinju Kang    
We learn from the book that the combination aspect of Korean is important, can you tell us a bit about that? Korean cuisine is one of the most joyful eating cultures as while we have the unique bap and banchan combination, and the communal spread format of eating, each person has agency at the table to have a deeply personal eating experience.
Within the same spread, one could stick to a combination that they consider the best: for example, grilled pork belly and a favoured jang condiment wrapped in perilla leaf with warm rice. Yet, given the number of banchans on the table, another person can explore imaginative bites: a bite of pork belly with grilled bean sprouts in the rendered pork fat along with fresh scallion kimchi; the same pork belly slice simply dipped in salt; or create any other custom bite of their fancy. While there are many classic combinations, one is free to explore different textures, different combinations, different flavours without judgement. 
This freedom to combine, which is often encouraged, makes for not just a joyful but a delicious experience that allows each eater to explore their own preferences of flavours, textures, temperatures, and combinations at the dinner table. A Korean table is one of the most empowering and enjoyable experience that balances communal eating and individuality.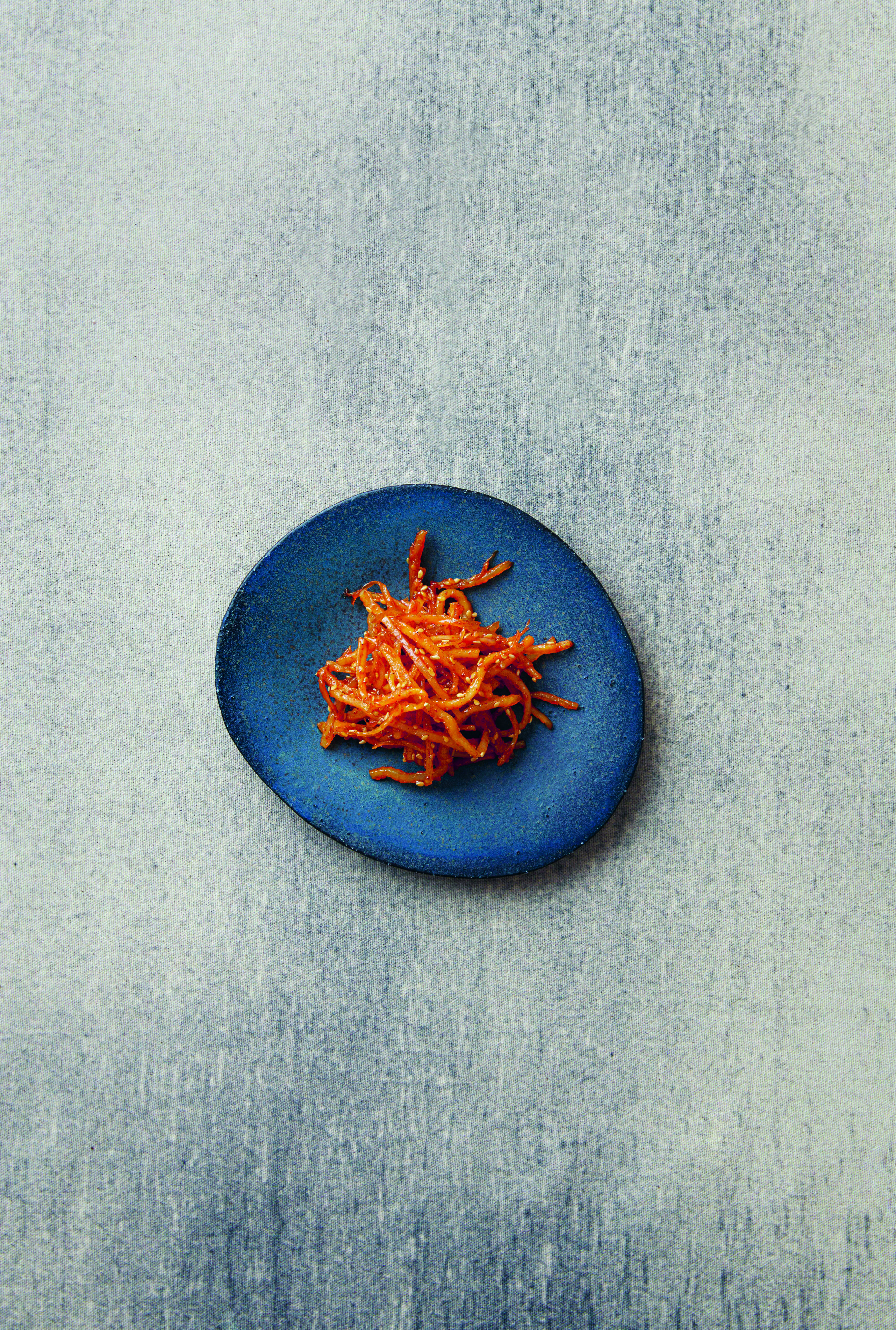 Dried Shredded Squid Muchim. Photography by Jinju Kang
What should I order or make from the book if I'm feeling adventurous? The distinct flavour imparted by the passing of time, is one of the pillars of Hansik's flavour profiles. For those who are interested in enjoying through the natural flavour development of fermentation, we would recommend trying out a kimchi recipe – and tasting through its stages.   
We saw in the book that there's a dish called Hangover Gukbap Haejang. What is that about? While each individual has their own preferences regarding drinking; as a collective, Koreans are notorious for their love of it. Dinners are very often paired with a drink of choice, with the most common choice being soju due to its clean pairing with many Korean dishes. This is not a ritual that's saved for a special occasion but rather a common ritual during weeknights, and definitely during the weekends. This eating and drinking culture is one that has marked the communal life of Korea over its long history. 
Thus, Koreans are no strangers to the hangovers that follow a jovial night, and even have a whole category of foods for 'haejang', translating to relief of hangover. These dishes are delicious and also nutritious, and often are in the form of gukbap, rice in soup, to provide a quick one-meal solution.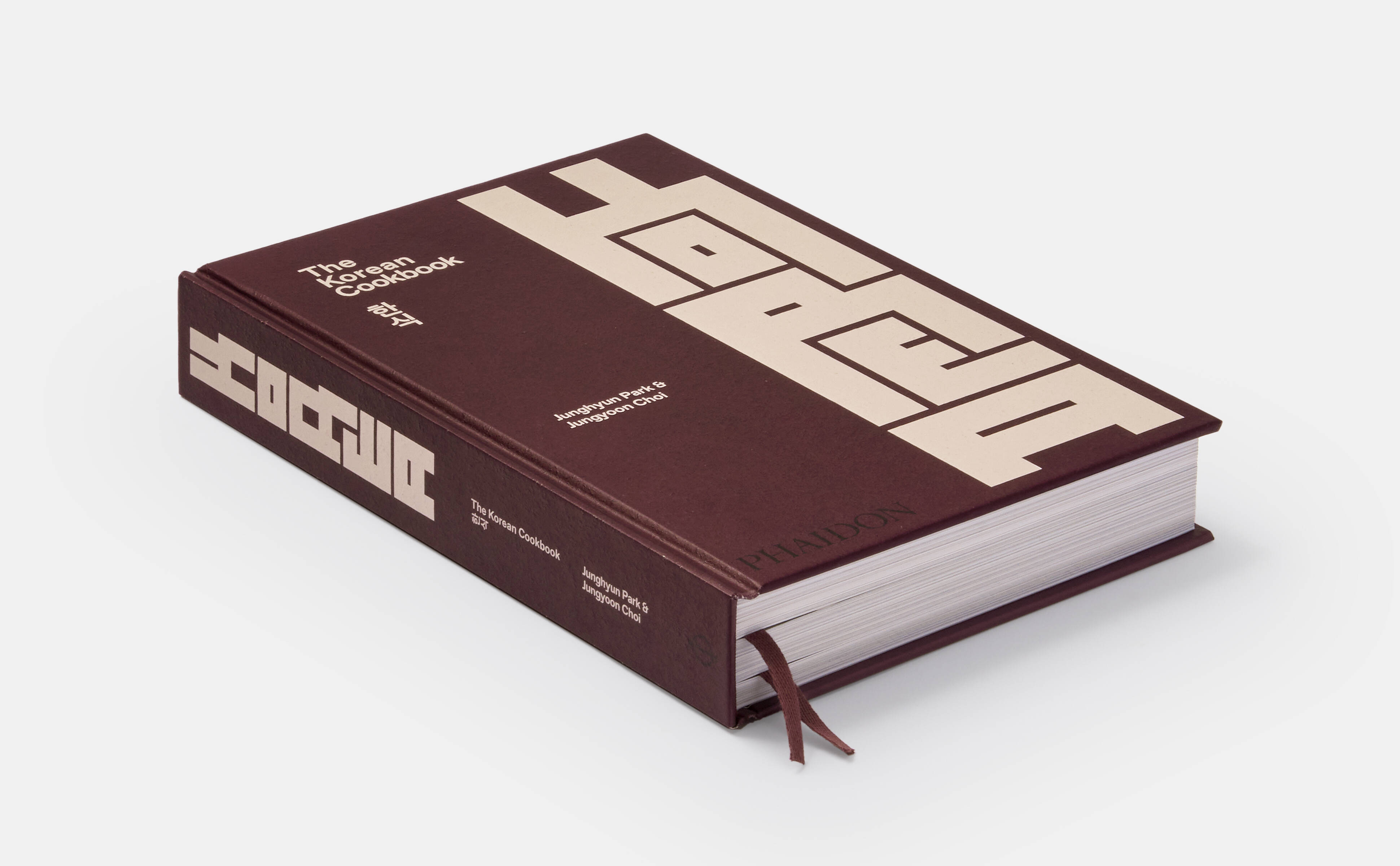 Where do you get your inspiration from these days and what role does a good cookbook play in that for you? Junghyun Park – I am known, at least to my close colleagues or peers, to be inspired by a truly wide range of things. It could be a movie, a color palette, a culinary experience I have, an old textbook. I think that if you have an open mind and keep your imagination alive and near, the world provides a truly endless source of inspiration especially in our world, where so many colourful and historical cultures exist.  
Still, I turn to my ever-growing collection of cookbooks for inspiration, often leafing through multiple cuisines or chefs' recipes at a time. A cookbook is a documentation of a philosophy, a technique, an idea of cuisine that can be kept and rediscovered. While trends may come and go, these collections that took the writer dedication of time and effort to document are timeless treasures. 
Jungyoon Choi – Cookbooks are my teachers. Cooking is the conversion of nature's pure ingredients, through the conditions set by human circumstances, into the creation of culture. In a cookbook, there is more than just a list of ingredients and techniques; they also contain the stories of nature's climate and typography, history, and even the emotions and memories of the humans who put it together.
Through cookbooks, I have been able to learn of diverse cultures, nations, personalities, and stories: cookbooks have played an important role in how I understand and view the world. There is nothing that better tells the story of a human life than a book that contains the daily food that we create for ourselves and each other. This is the essay and expression of a life.
Check out The Korean Cookbook in the store. and check back soon for the second part of our interview with JP Park and Jungyoon Choi.