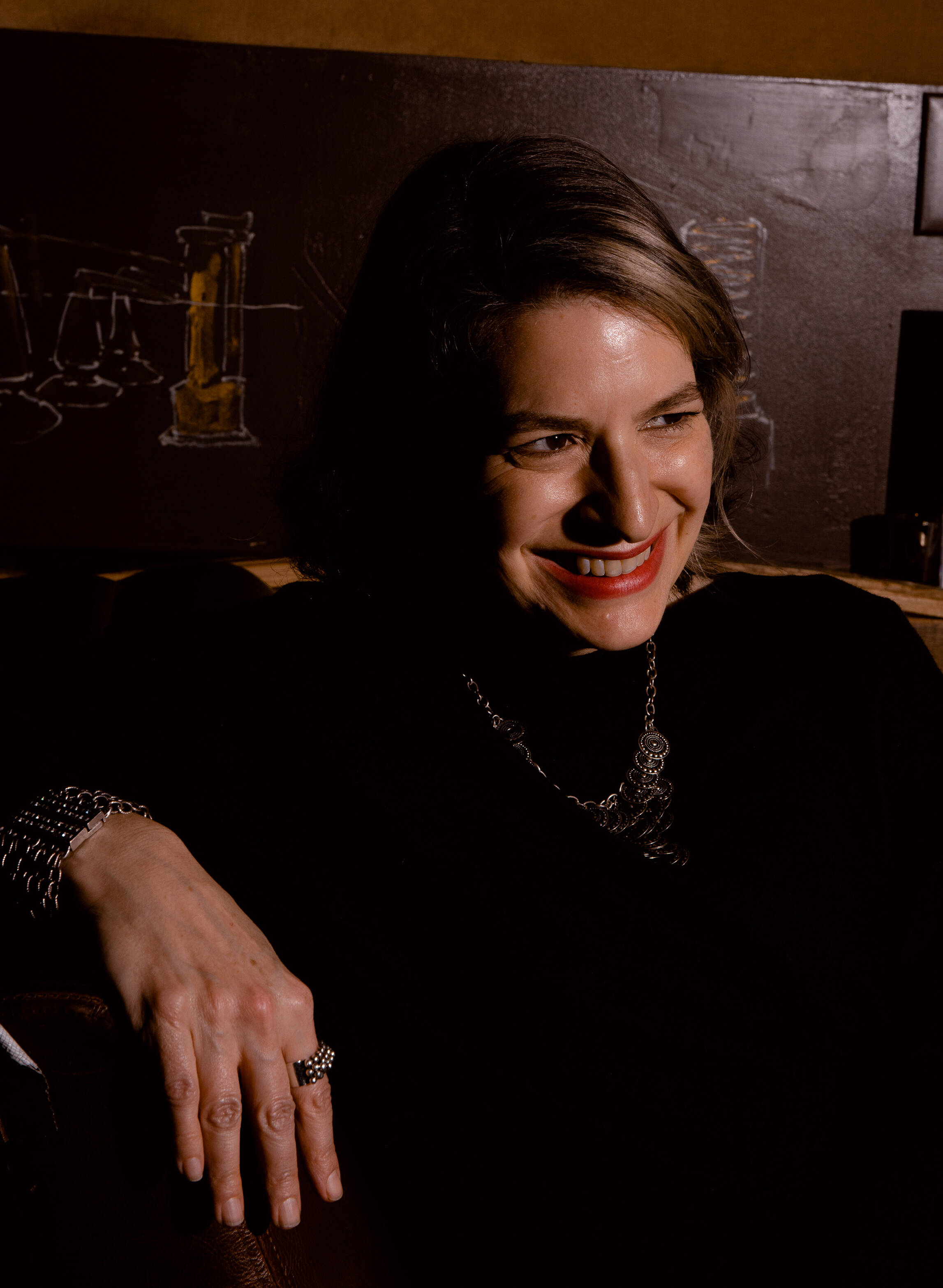 Amanda Schuster tells you everything you need to know about Signature Cocktails
The cocktail trends taking place in a bar near you, the one cocktail anybody can make and how Mick Jagger reinvented the Tequila Sunrise are all revealed in this fascinating interview
Our new book Signature Cocktails packs a powerful punch, taking readers from the Atholl Brose of medieval Scotland to the golden age of early 20th century New York City; from the Fish House Punch of colonial America, to the Negroni in Milan. Along the way you'll sample delicious Cuban and Parisian cocktails, both versions of the Singapore Sling, learn the cheeky history of Dick Bradsell's Espresso Martini in London, Kazuo Uyeda's hard-shaken Tender Gimlet of modern Tokyo, and get clued up on the contemporary scenes of Mexico City, Goa, Jakarta, Beirut, Kyiv, New Orleans, and more.
We learn that Doctor Funk is based on a recipe by Dr. Bernard Funk, physician to author Robert Louis Stevenson, who created it to help Stevenson cope with the intense heat and humidity while he was living in Samoa. It was in the 1950s that, with the addition of rum, it was reinvented and popularized at Hollywood's famous Don the Beachcomber's tiki bar.
We also discover that the Cosmopolitan, first served to Madonna by Tony Cecchini in the late 1980s at New York's Odeon, became the iconic drink it is now, following its starring role in the TV series Sex and the City at the end of the 90s.
The woman who put it all together and wrote the entertaining, incredibly informative and engaging texts for each cocktail is New Yorker Amanda Schuster. We caught up with her – sadly over Zoom – not in a downtown lounge. In this, the first of our two- part interview she talks about the cocktail trends taking place in a bar near you, the one cocktail anybody can make at home and how Mick Jagger reinvented the Tequila Sunrise.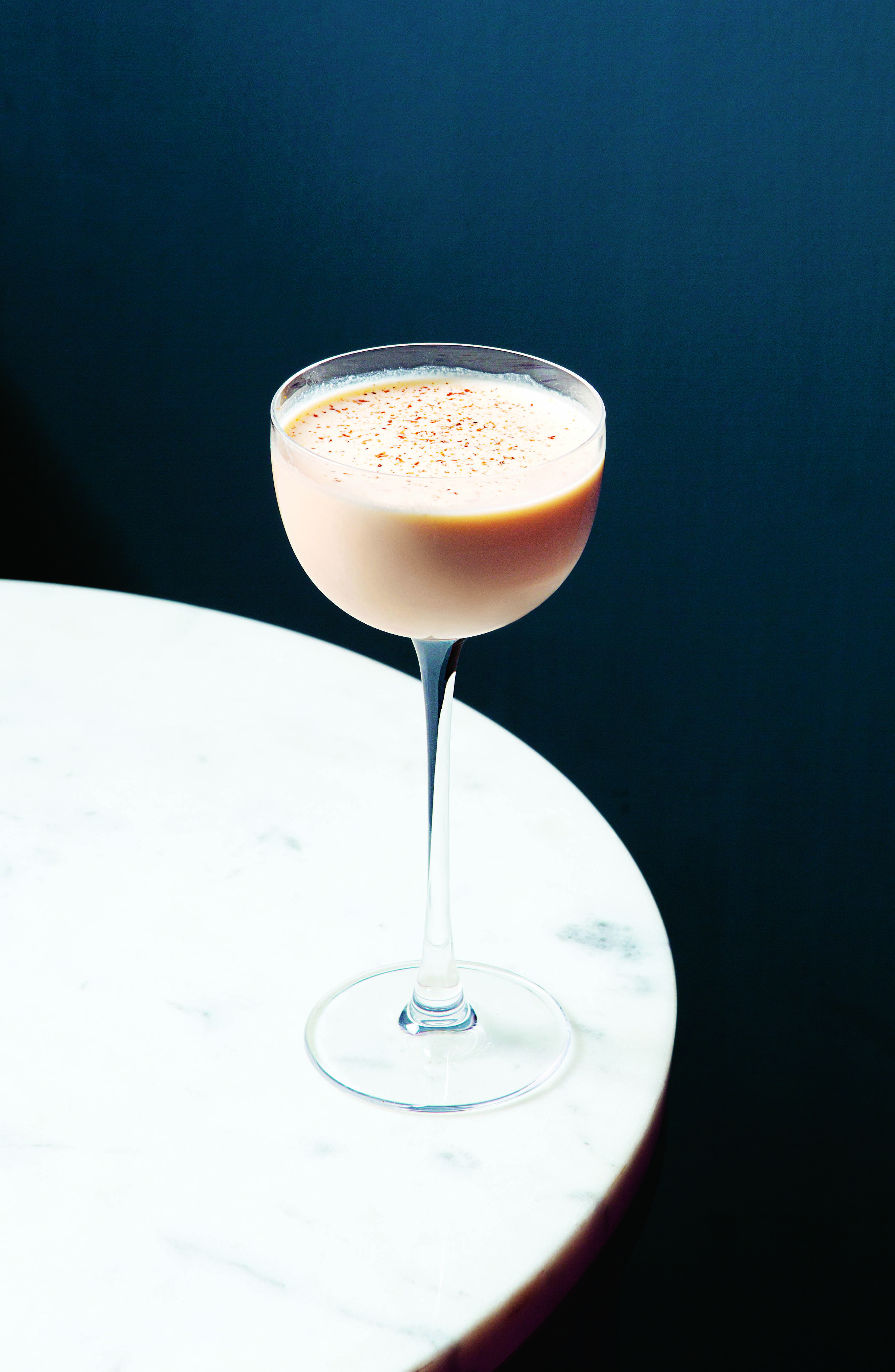 Atholl Brose. Photography: Andy Sewell 1475, Highlands, Scotland, Earl of Atholl  
First of all, contratulations, the book is an incredibly well sourced, well written and lively read. It must have been a really hard job putting it together. It was a very hard job yeah. During the writing people would ask me, how's mama doing? and I would reply mama needs an epidural! It was quite something, but we got it done. I don't do anything half-arsed!
How did the idea for Signature Cocktails come about? It was actually pitched to me by Phaidon. I think they wanted to do a companion to the Signature Dishes book. But taking it in a slightly different direction. When it was pitched to me I thought this is actually really interesting because it forced me to think about what a signature cocktail is, what does that actually mean?
What is a  signature cocktail versus an interesting cocktail? What makes it interesting and how does it represent somebody? The more I thought about it the more I realised it was an interesting way that narrowed down what I could cover. For example, you can't write about the Manhattan because nobody really knows whose signature that is, but you could discuss a particular venue's special version of a Manhattan that is their signature. That's the distinction.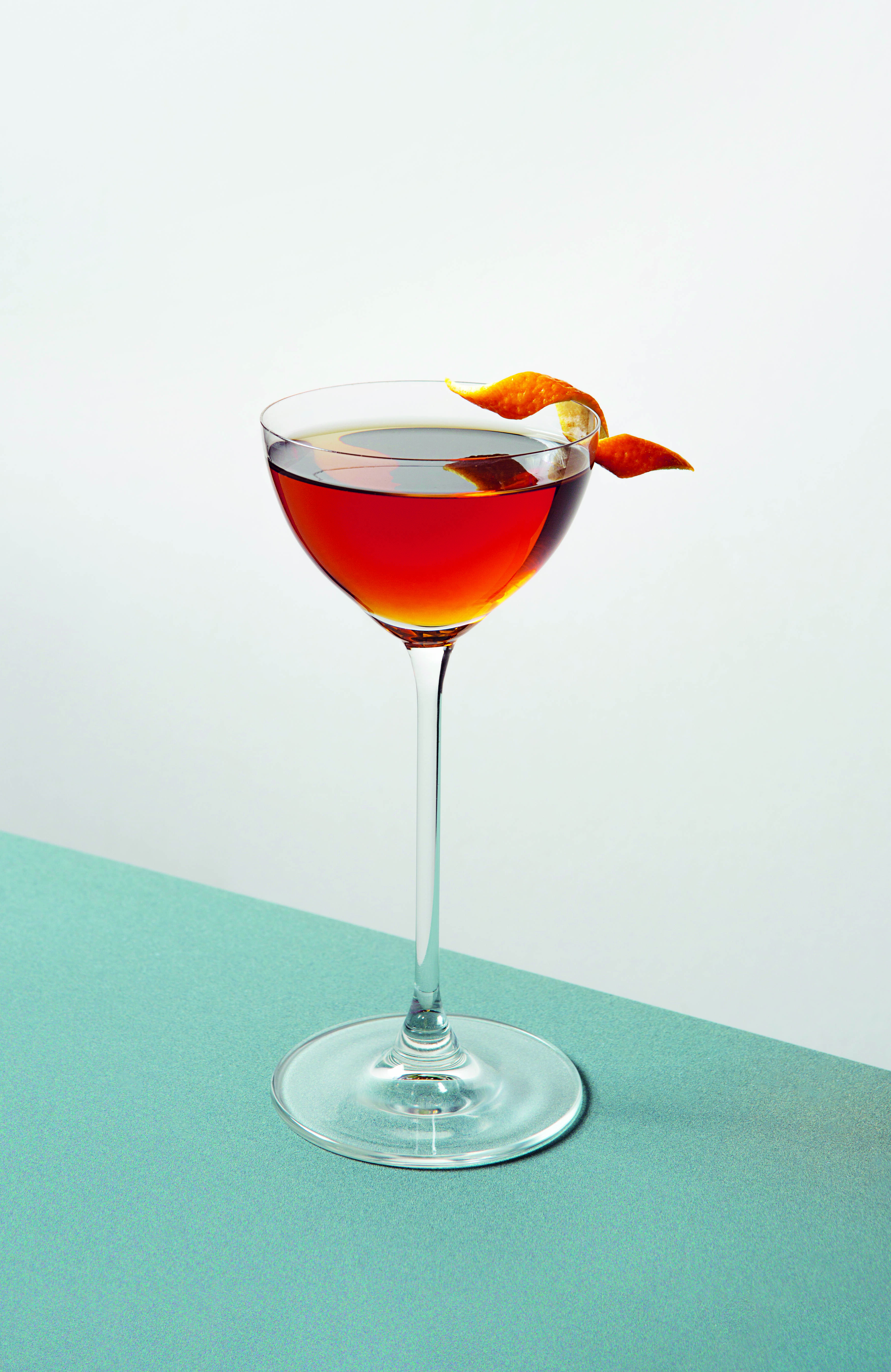 Adonis. Photography: Andy Sewell 1884/85, New York City, USA, Joseph F. McKone
What was your process for writing the book? I was writing two essays a day every day. They're 300 words each which is actually a challenging number. There so much info, and you have to think about what to cover. And some of them required a lot of different bits of research in order to put it together so each one was a huge task. I get up pretty early in the morning anyway. I'm a light sleeper and I'm usually up by six. It was a case of right: let's do one before breakfast or at least get the draft out and let's do another later in the afternoon.
I would just decide what kind of mood I was in that day, or what country I felt like visiting. So on an extremely cold day I wanted to write about a tropical cocktail.  
How did you become so knowledgeable about cocktails? It was really kind of a trial by fire. I've always liked the idea of cocktails and when I was working as a spirits buyer at Astor Wine and Spirits in the city in the early 2000s I was introduced to a lot of people in that world. People like Eric Seed, the founder of Haus Alpenz, who was directly responsible for importing a lot of the things that hadn't gone away during prohibition and weren't even produced too much in Europe. Things like Crème de Violette liqueur that's in The Aviation. Batavia Arrak that's made in Indonesia which is an intensely bitter spirit. And various other things. Some brandies and some pine flavours that we hadn't seen before. So he was the first person to bring me to Death & Co and some of those spots; Cake Club and, oh God, Milk & Honey! Hanky Panky. Photography: Andy Sewell 1918, London, UK, Aida Coleman
Through your research you must have picked up a lot of  trends in sprits and botanicals. Where are we at the moment and where are we going? We're in this really interesting moment where I think we've gone just about us high as we can go. We've reached the apex of cocktails. In the same way that fine dining became all about the pomp and circumstance around the foams, and all of the sculptural kinds of things and the crazy garnishes; people have been doing that with cocktails.
I think now we're coming down the mountain, and people are finding where they're comfortable and they just want a good drink. It's about hospitality and having something delicious. Not necessarily this whacky kind of presentation.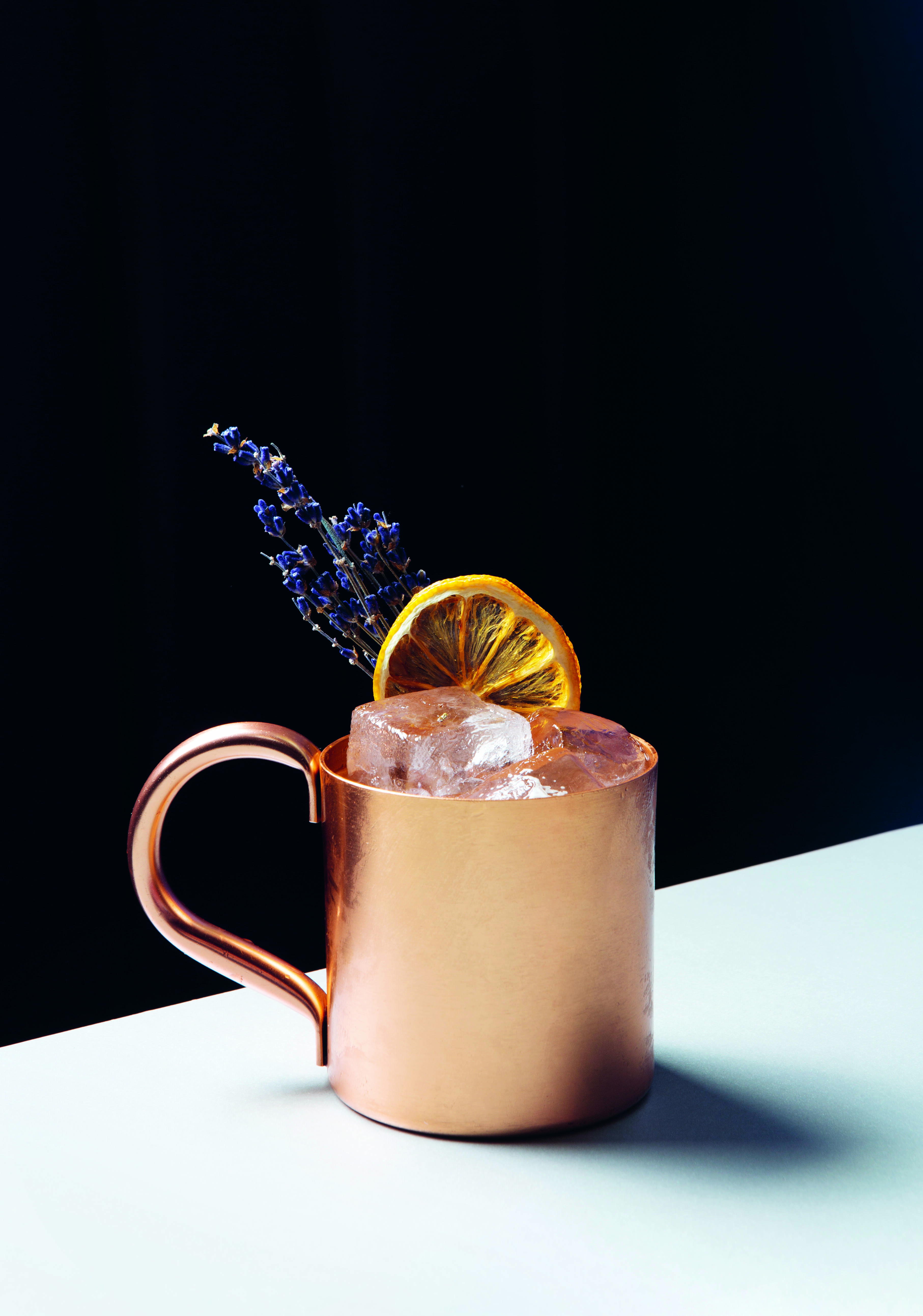 Lavender Mule. Photography: Andy Sewell 2013, San Juan, Puerto Rico, Leslie Cofresi
Given your research you must have bust a good few myths along the way Oh tons! I would say that unless the bartender is alive, still with us, and still working don't trust anything that you find on the internet. Because it's  like a game. I call it cocktail telephone you know the game of telephone where you tell somebody something and they're supposed to tell the next person and the idea is what did that person say?
I've been doing this long enough that I've come to recognise this. There were going to be certain recipes for this book where I went to the original references or asked the people who've done the research.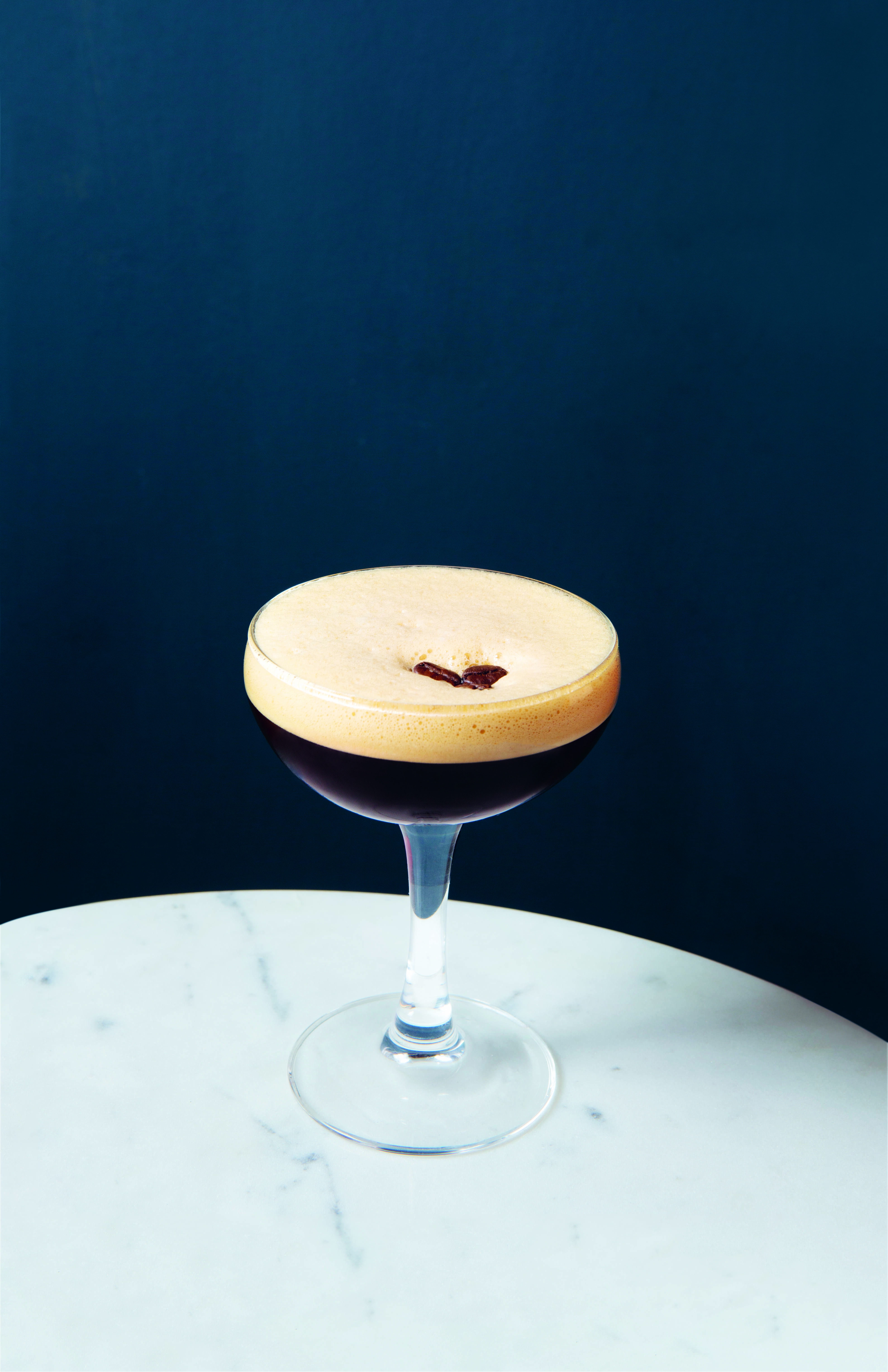 Espresso Martini. Photography: Andy Sewell (page 191) 1983, London, UK, Dick Bradsell
And you made a big cocktail discovery along the way, didn't you? There were a couple of things that were so cool, and it was down to how this had to come together.  And through the sequence that I was following I did the Bizzy Izzy which is a tall summery drink that was created in the early 1900s by Tom Bullock, the person who is credited with being the first black mixologist to write a book. That's his signature the Bizzy Izzy.
And the next one I did just cos it was this time of year and I feel it's like refreshing but also autumnal is the Jack Rose which is made with apple brandy. And everyone was saying nobody knows who put together the final ingredients that we use for this recipe. And I thought, yeah they do. It's somewhere! And because I had to flip though Tom Bullock's 1917 book, The Ideal Bartender, I was like it's here! He did it! The Jack Rose is by Tom Bullock, and no one put those two together - again just because they weren't looking for them the same way. That was awesome!
I didn't want to tell too many people because I wanted to keep it until the book comes out. There were a couple of things I didn't know. I didn't realise there were two versions of the tequila sunrise: the 1970s Mick Jagger one and the original one from the 1930s. Mick didn't come up with it, but he and the Stones were the ones who kept drinking it. They were on tour they would call ahead and the rider had to have the ingredients for a Tequila Sunrise wherever they were going. So that's how that recipe was spread. There were quite a few of them, you think you know something and then you find out you didn't!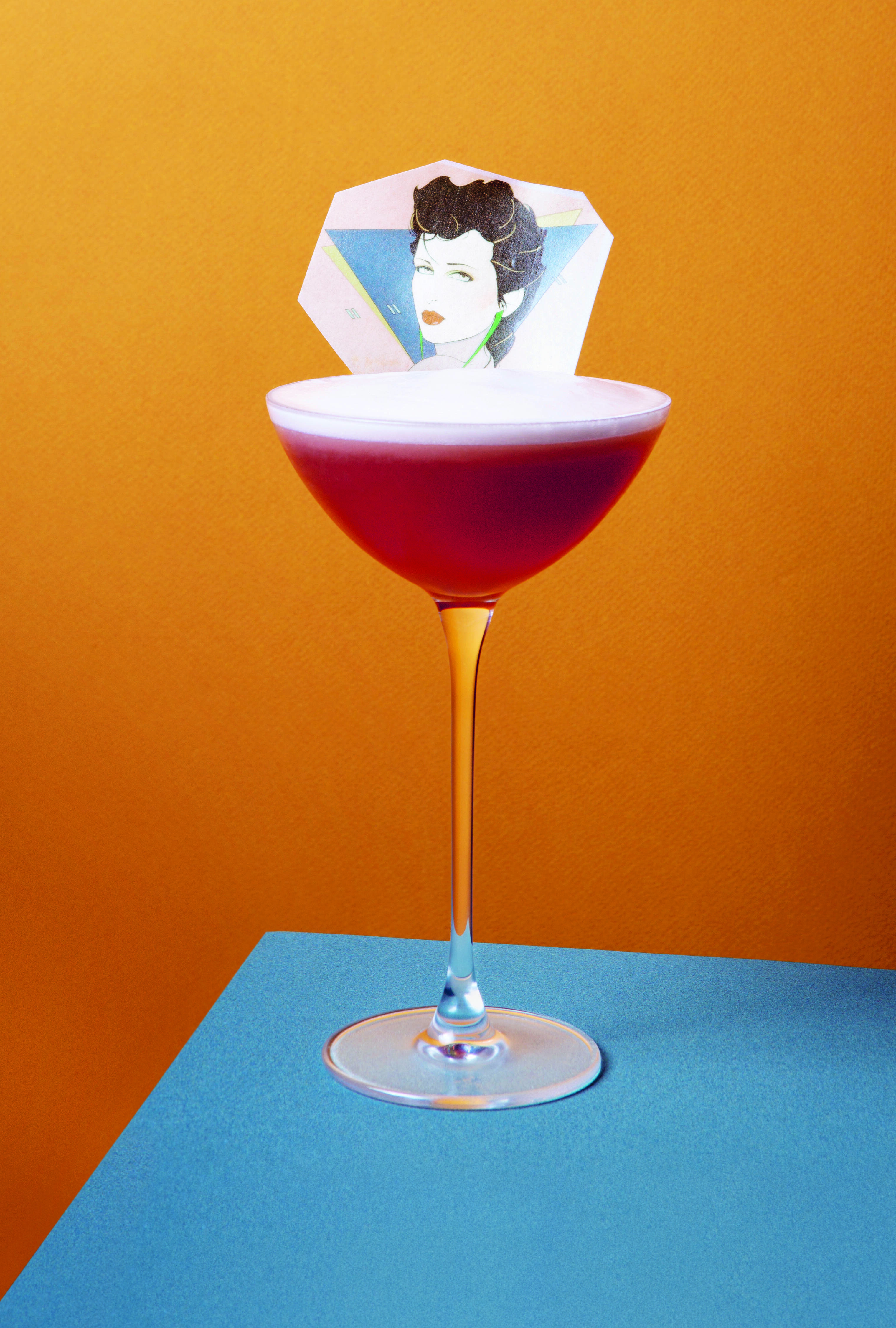 Her Name is Rio (Cherry Ice Cream Smile). Photography: Andy Sewell 2021, New Orleans, USA, Abigail Gullo
Can you tell what kind of cocktail someone will like from the way they're dressed? Ha! That's a good question. Well I mean listen, if they're wearing velvet they're likely gonna go for a Martini. But not always!  
You must have had a few Signature Cocktails of your own at various times in your life, what have they been? It's always been a Manhattan. I'll definitely have one today. That's always been my favourite cocktail that has never really wavered. I like any version of a boozy stirred something. I usually go for that more than I go for something shaken and refreshing. I have a Piña Colada maybe twice a year, it has to be a really good one.  
What is the cocktail that anyone can make? You can mess up anything, but I would say one of the simplest ones is a Negroni because you can build it right in the glass with ice and just stir it right in the glass. It's just equal parts the gin - or any other base spirit - and sweet vermouth and bitters. Done. Very simple.
And the one to avoid that's really hard? Ramos Gin Fizz. I say in the book that bar tenders hate having to make it as it involves a lot of shaking to make it look and taste right. It really is a ton of shaking, because it's got to have a really big head on it.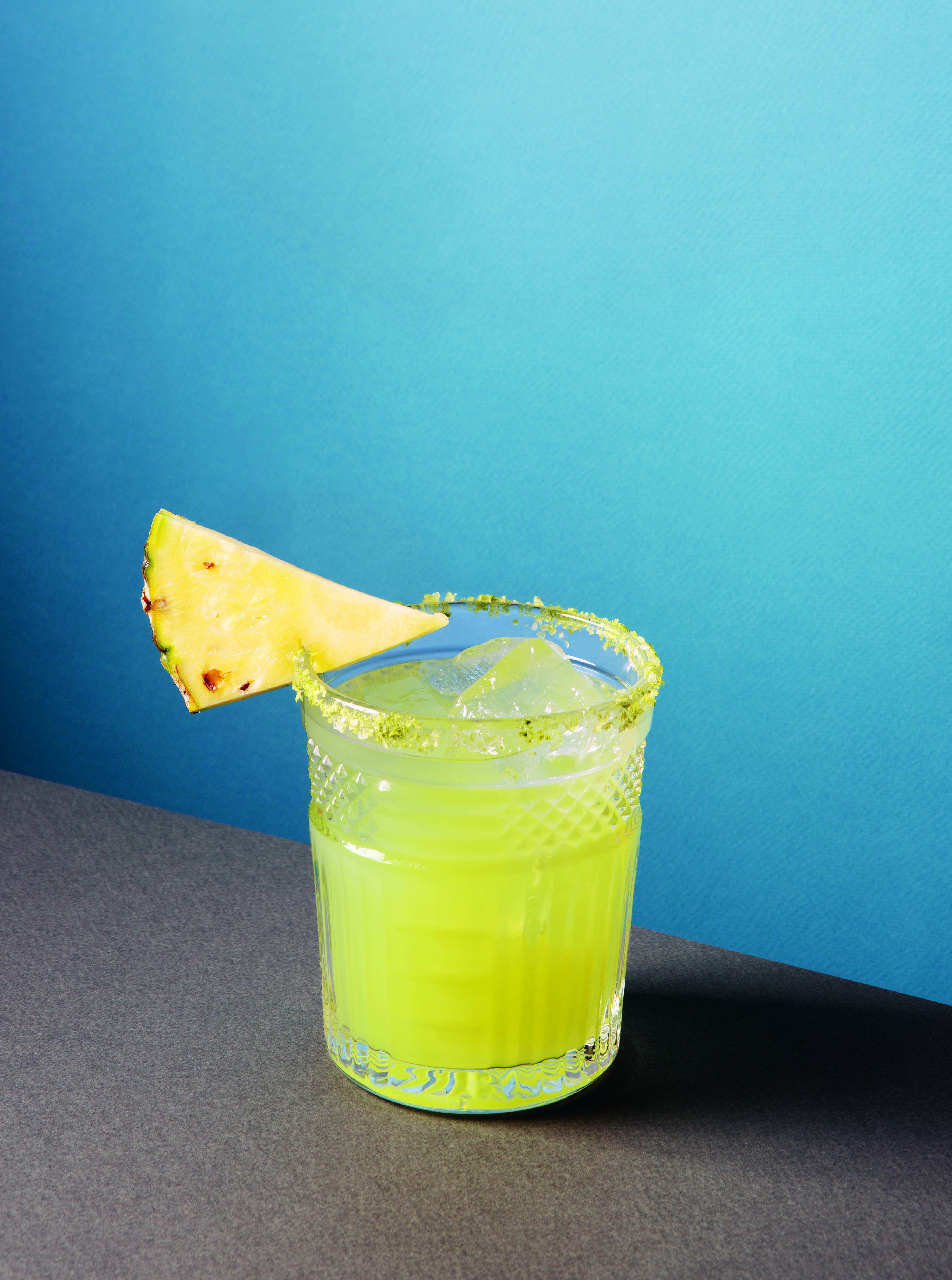 Margarita Al Pastor. Photography: Andy Sewell 2011, Mexico City, Mexico, Benjamin Padrón Novoa
The geographical aspect of the book is interesting, what cities are currently developing an interesting cocktail culture? Mexico City is really hot right now. That's got a massive cocktail culture in very much in the way that New York in the early 2000s was developing. There are a couple of really great ones in the book from contemporary Mexico City bars. Hanky Panky and Licorería Limantour. They're from around the same time. People are really looking at Mexico City as the new great cocktail destination.
What's driving that? It's become a much more illiberal society than it was. It's physically safer, it's more secure, there's such a thriving arts scene there and the culinary world is coming up. They're about to have a woman president. You always have to look at that. If there's a city that's got a rising culinary culture you can almost bet now that there's gonna be a cocktail culture coming up on its heels. I think that has a lot to do with what happened in Mexico.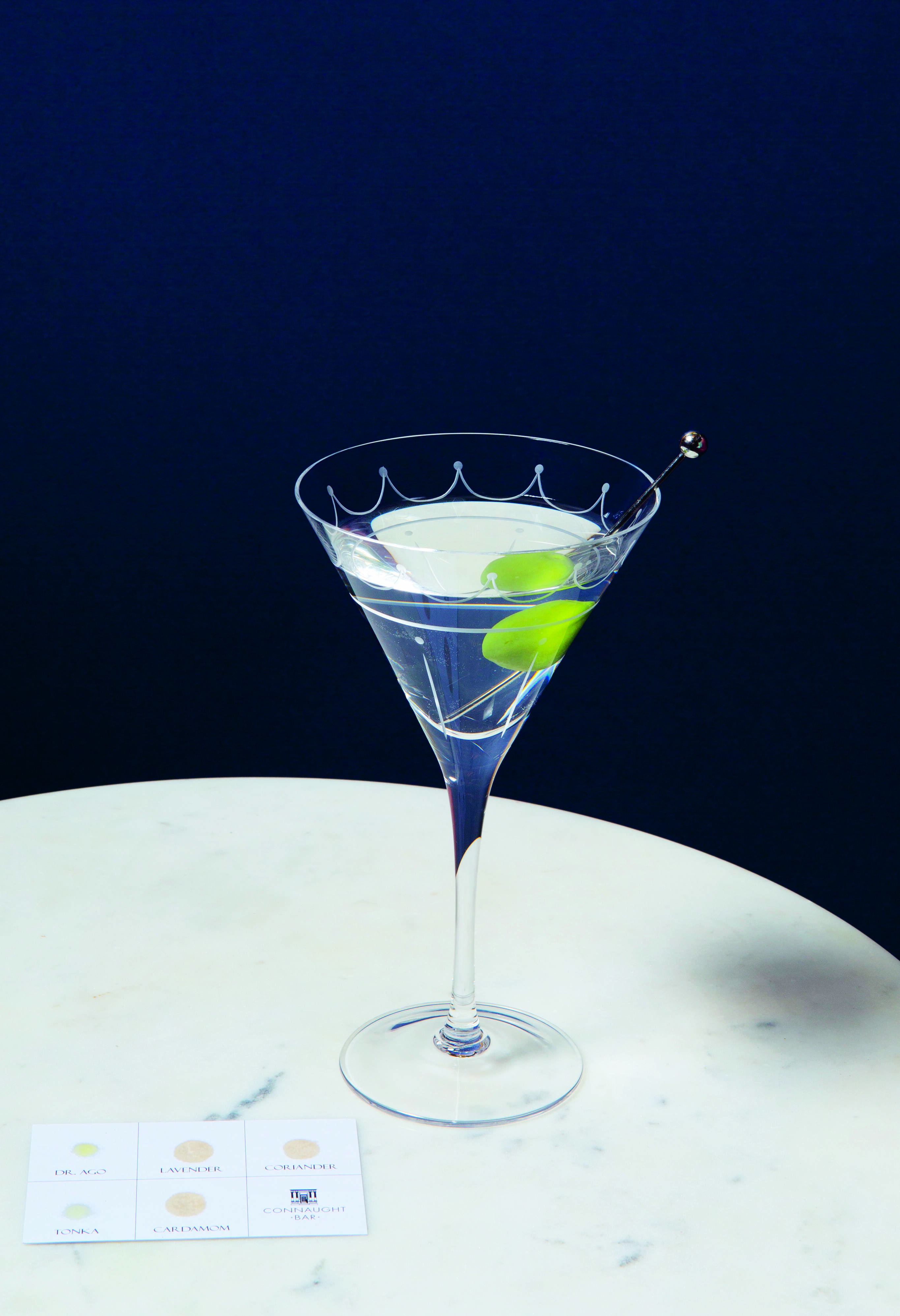 Connaught Martini. Photography: Andy Sewell (page 245) 2008, London, UK, Agostino Perrone
The Phaidon 100 cocktail is in the book, have you tasted it? I had it the other night at the party. It was awesome! I love Ago Perrone (from the Connaught Bar, London) and I had faith that he knew what he is doing, but there are a few cocktails in the canon that sound like the ingredients are going to be fighting each other, it really sounds like it's going to be too weird, but then somehow there's an alchemy and it all works out and this is one of them. You can taste the things that make it unique; the bergamot, and you could taste a little of the balsamic, but it's not too overwhelming. It's a really good drink.
Want one more for the road? Then get a copy of Signature Cocktails in the Phaidon store now. And check back soon for the second part of our interview with Amanda.