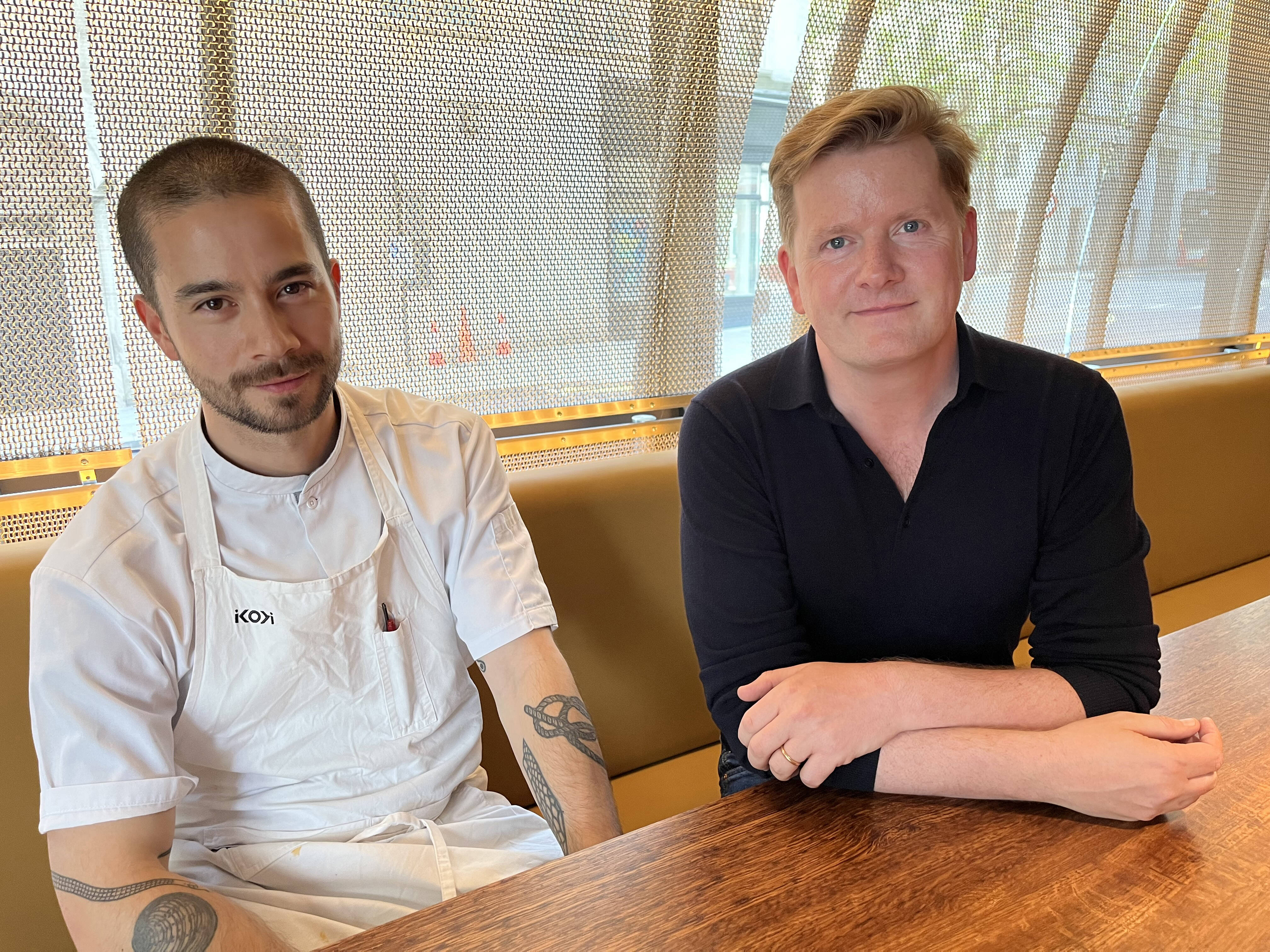 The Reunion: Jeremy Chan and David Thulstrup
Both have Phaidon books right now, and earlier this week they told us the story behind their latest project together - the new Ikoyi restaurant
"In what seems like only a brief moment, Ikoyi has shaken the world of cooking," noma co-owner and chef René Redzepi recently proclaimed.
Named as one of the World's 50 Best Restaurants in 2022, there's no doubt that the restaurant, run by childhood-friends Iré Hassan-Odukale and chef Jeremy Chan, and with a menu enlivened by the spices of Sub-Saharan West Africa and produce from artisan producers, is one of the most original, flavour-driven restaurants of its time.
Late last year it relocated from its St James, London venue to the so hip right now 180 Strand brutalist building.
The man behind the restaurant's meditative, yet awe-inspiring interior transformation was the acclaimed Danish architect David Thulstrup, of Studio David Thulstrup whose work is increasingly attracting design conscious private and corporate clients across the world.  
You can see some of Thulstrup's exquisite, attentive work in the book David Thulstrup A Sense of Place.  
But while some architectural projects can sometimes be intense for both client and creator, there were only smiles and mutual admiration between Jeremy and David when they caught up with each other again at a special event at Ikoyi in London this week to celebrate the launch of Thulstrup's book.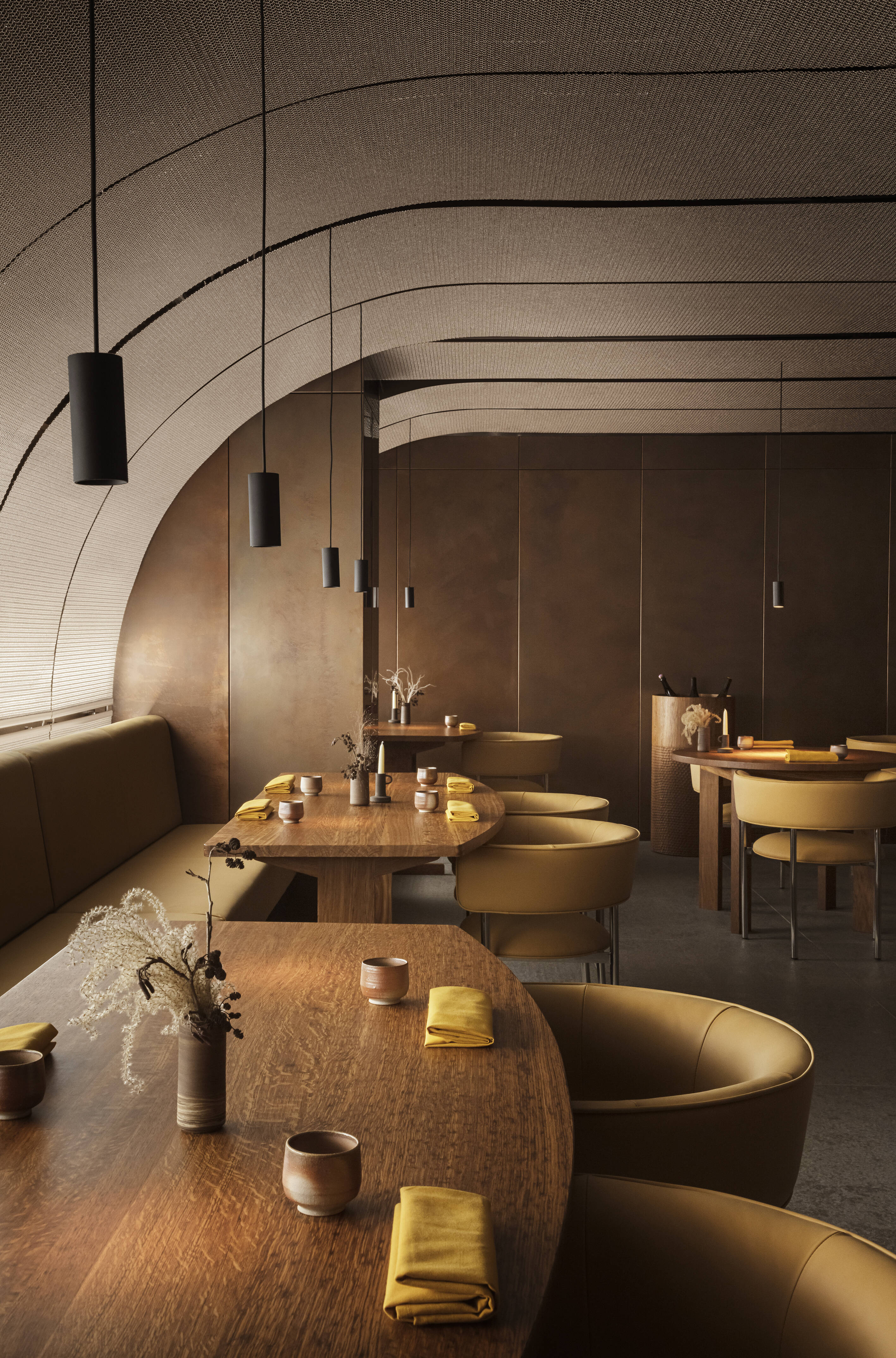 Here's a brief excerpt from their conversation around the creation of the new restaurant, in front of a select audience made up from the television, fashion, finance, travel, design, elite automotive and media industries. All interiors photographs below were taken by Irina Boersma.
What led Jeremy to select David Thulstrup to design Ikoyi. 
It came about through a mutual friend. I'd seen his work at noma but working with him wasn't really something we even considered. I never thought we could work with someone from a different country. I know how challenging it is to do a restaurant, let alone with someone from outside the UK. There is a lot of red tape here so I thought it would be an impossibility.
But we had a really amazing conversation with David. It was all about materials, all about mood, all about intensity, and all about feelings – and there was nothing to do with any specific culture or design style. Everything we talked about was all completely original to the way we feel about space and texture.    We also talked a lot about cinema – there are a lot of cinematic references in the space – a lot of gothic, a lot of metals – so much raw inspiration and then it just worked!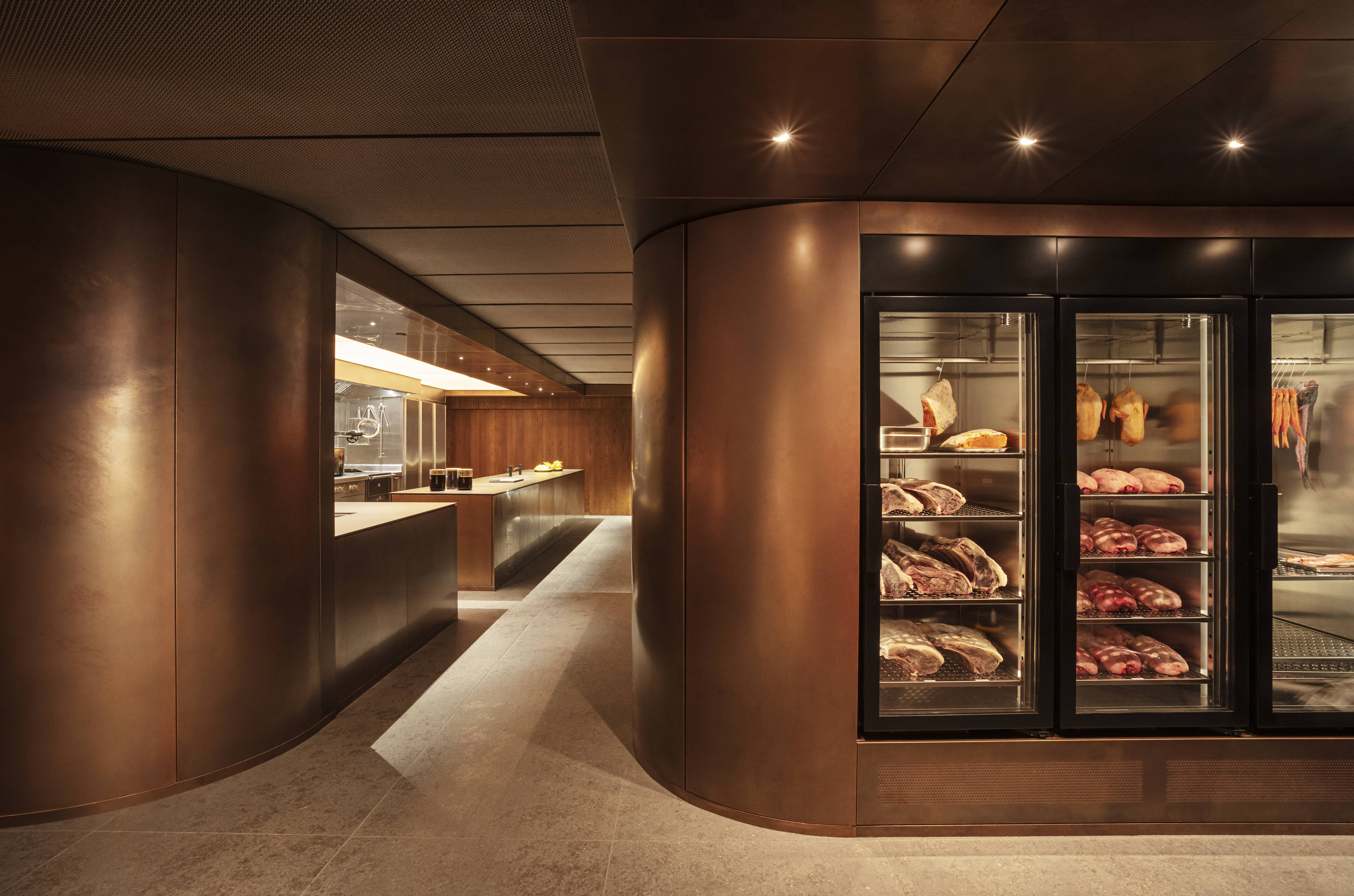 What was it about Jeremy and Iré as clients that gave David confidence this collaboration had the right ingredients to make something special.
I had had dinner at their old restaurant in St. James with a good friend and I was blown away by the quality of the food they were capable of creating in such a small space because the kitchen was tiny – just six square metres.   Then two years later I got a phone call: "David, it's Jeremy we're opening a new place", and I was like YES! And then we started to talk. I was thinking, if they can create such an amazing place and produce incredible food in such limited conditions, what can they do when they can achieve their potential in full? So for me this was the reason for saying yes: the food, the people, Jeremy, Iré, and the hidden potential that could be brought out even more with a new space.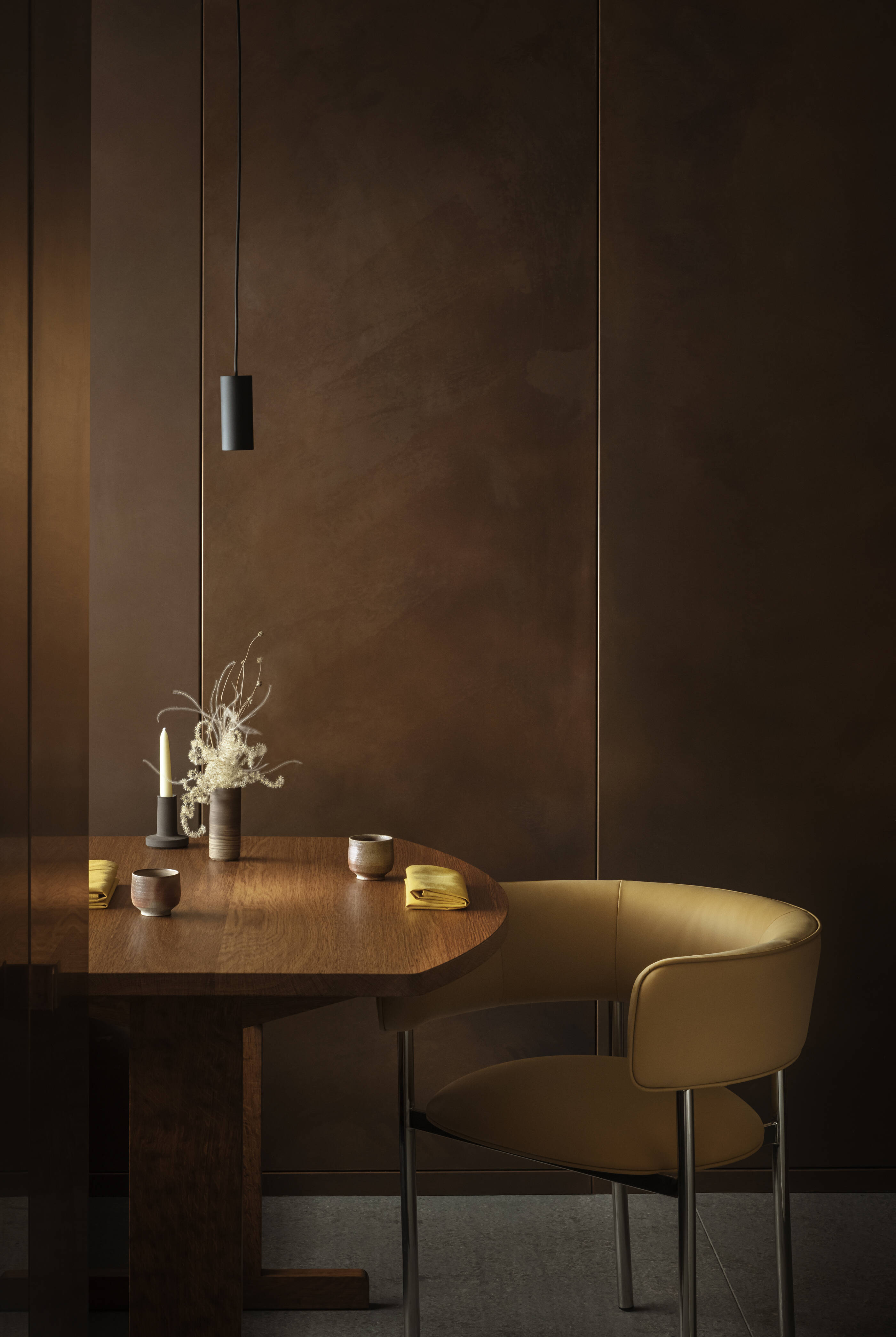 How Jeremy's aspirations and creative goals were met and how he and David collaborated.
When we did the space in St. James, Iré and I had never done a restaurant before. We had ideals but no experience, so our decisions weren't fully formed. We had an idea of a great restaurant, and we made it happen through our intentions and passions, but it wasn't like a fully formed end product. So then, when we got the opportunity to do this, we knew exactly what we wanted it to be. We expressed everything we felt to David, literally an outpouring of very specific aesthetic choices and references and then we said do what you want with that.
We're both control freaks when it comes to running the business but we're not masters of design and material selection so it was kind of easy to let go at that point and see what happens. And we were happy with the result!
It was really just faith in David and the energy of the conversations we'd been having and the passion for our references which aren't traditional restaurant references. In fact we don't think of the space as a restaurant, it's more of a living sculpture, that holds the memories of so many things. The kitchen lighting for example, references a scene in the movie Alien. We wanted to create a mood of both light and darkness.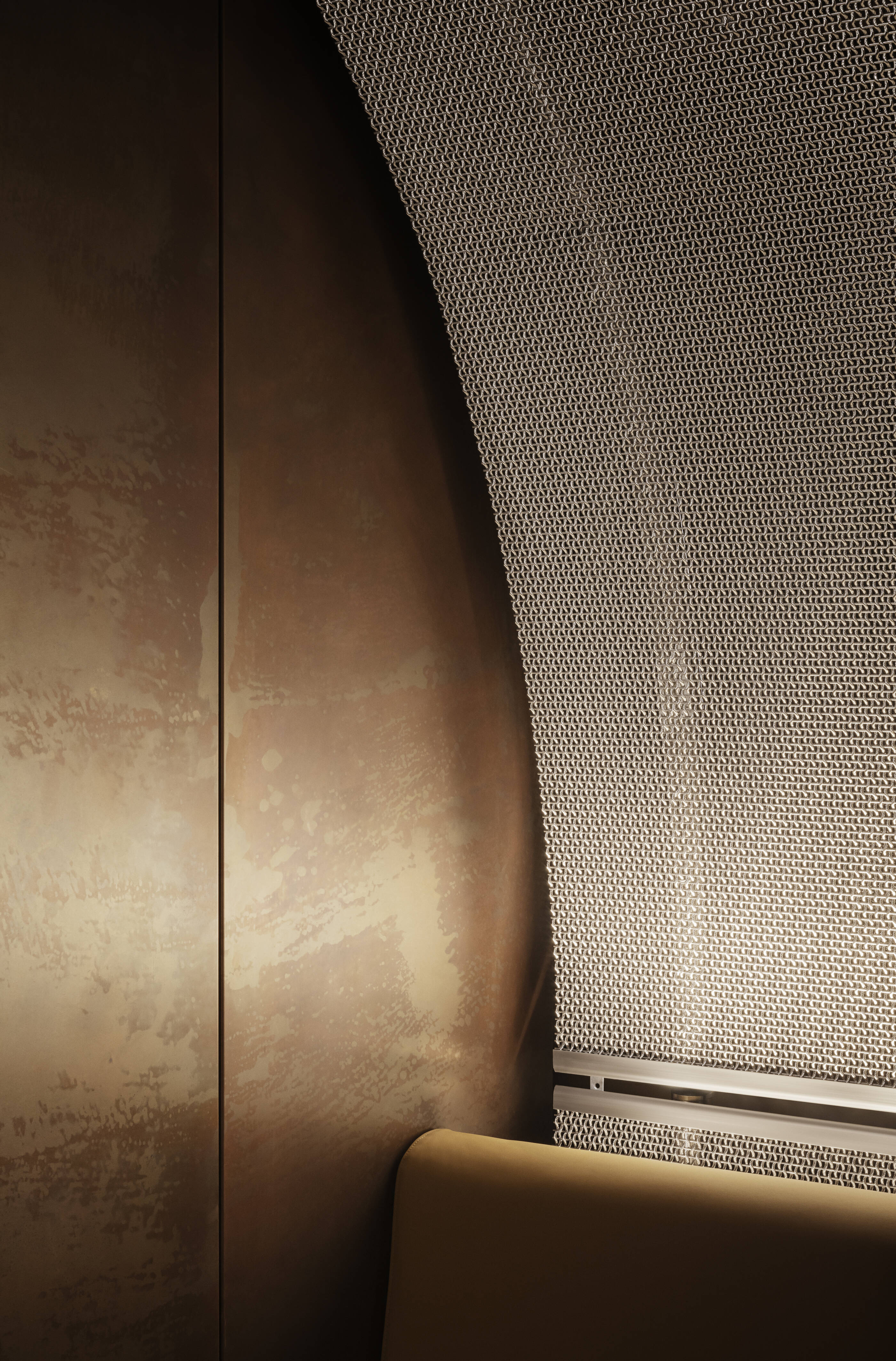 Once David had understood Jeremy and Iré's brief, this was his process for developing a concept for the design.
I always go to two places: One is where am I? This is a Brutalist building, it's a landmark, it has a perfect presence. And so I wanted to express this simplicity that comes from the architectural language in the interior. I got very inspired by that.   
Then there is also the food. The food is all about spices. It was one of the most important things Jeremy said: "We don't do cultural food. We do spicy food. And that means we work with references from all over the world within that gastronomy."  
So for me it was all about finding a way to express this heat and warmth from the spices, both in the strength of architectural expression for the interior, and also through the choice of materiality.   
We have a metal mesh that forms the ceiling and that curves down and becomes a screen to the exterior windows, which is a reference to the process of sifting spices; we have warm ginger-coloured leather on the wall panels and dining chairs; and we have the glow of copper on the walls as well. It's all about bringing the warmth in. We also used British red oak wood, a material that's native to the British Isles which adds additional warmth and texture.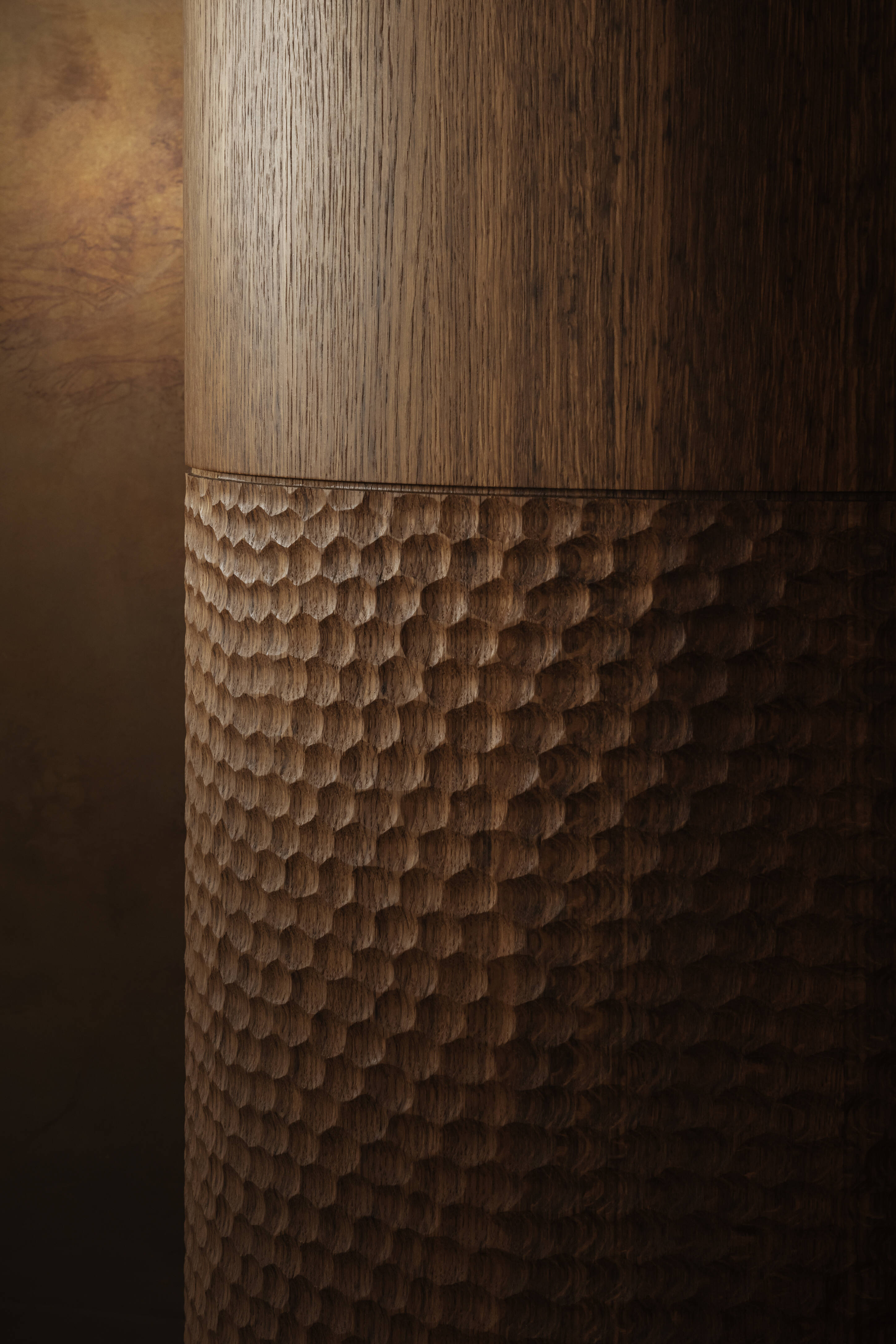 While I was working on the interior architecture and furniture, Jeremy was working on a new menu, so we were looking for a way to tie that in to one expression. For example we found ways to tie in with the results of the research Jeremy was doing for the ceramics, and everything else that would form part of the tablescapes.  
Then there is an element of contrast with the cooler, grey stone floor. But it's not just plain stone, it has texture and life in it. You feel like you're walking on something that has been formed through a process of millions of years, and we've left a rough texture to it to bring that history and sense of slow time into the interior. In essence, the quality of the food is reflected and expressed in the quality of the materials used to present the food.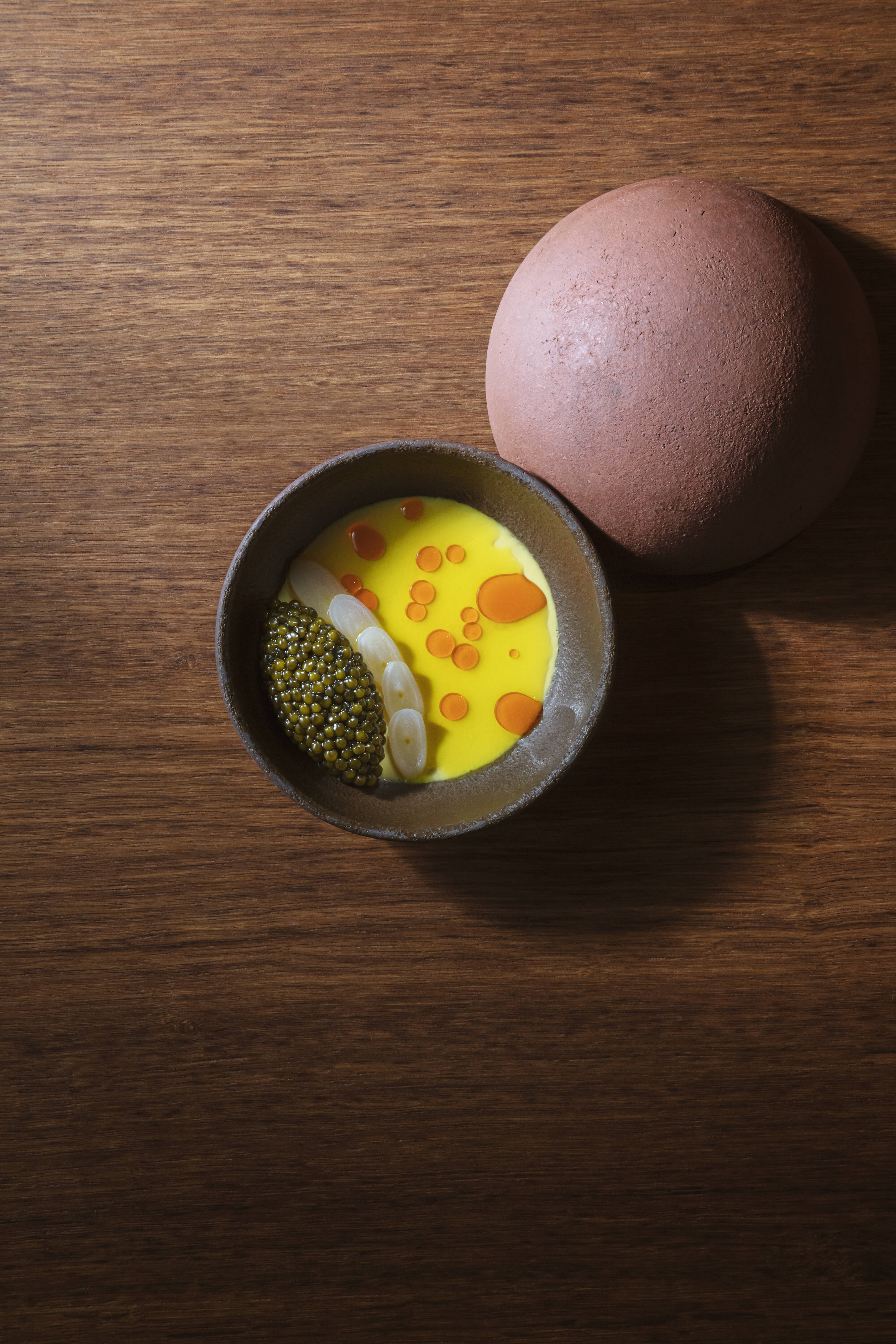 What David showed Jeremy once he had the concept for the design.
It was like a beautiful drawing it was so detailed. It looked like a painting of a night scene. I don't know how they made it. It was abstract but I understood what was being said.  
He showed a very calm warm space. There's a kitchen in there but it's not too theatrical it's low key, going on in the background. We didn't want it to be super 'cheffy' and pretentious. We wanted it to be calm and relaxed.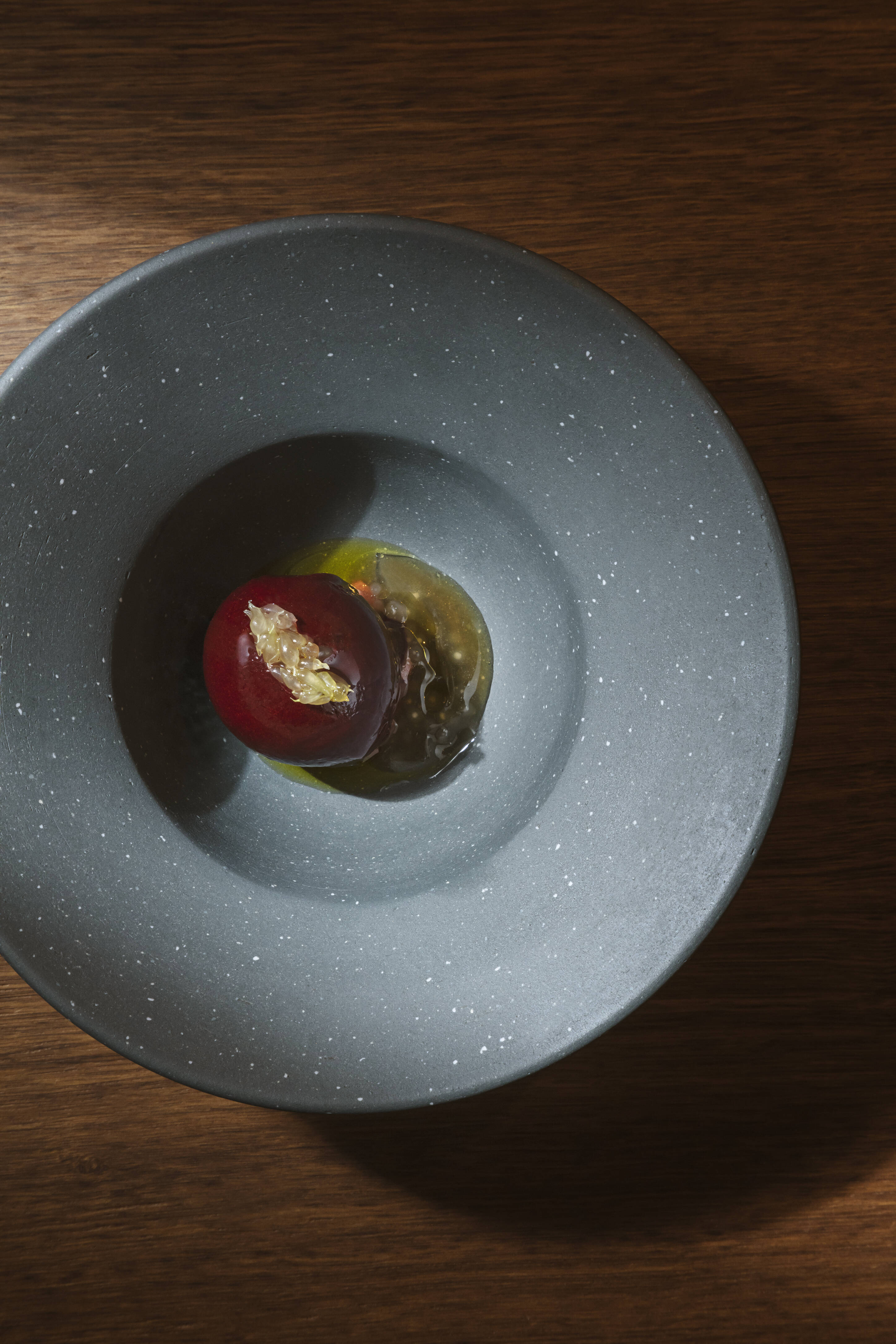 What Ikoyi means to David Thulstrup.
The way I express my work in terms of a sense of place I think is very strong here. The reason why I do any project is very present here. It's all about the people that I work with, the connection to the building, and the materiality that is brought into the design. All these three things – people, architecture, material – have to meld into a perfect thing.  
And this is what my journey, which is covered in the book, is all about. It's a very important project for me to have done Jeremy and Ire's restaurant because, like the book, it really embodies 14 years of practice.  
You can buy David Thulstrup A Sense of Place here.
And Ikoyi A journey through Bold Heat with Recipes here.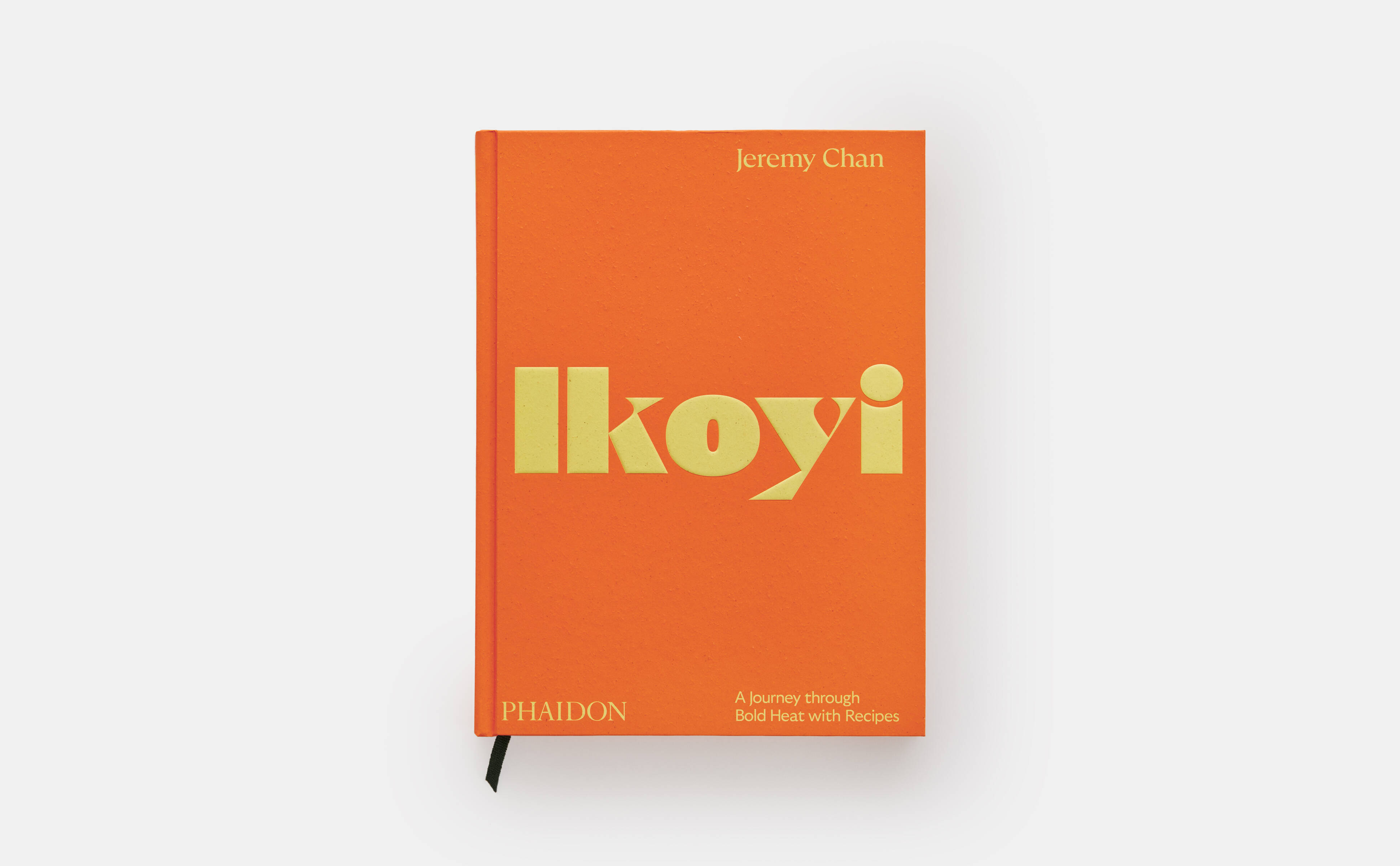 David Thulstrup's award-winning international and multi-disciplinary practice includes everything from residential architecture to interiors for restaurants, stores, and hotels, as well as designs for furniture and lighting.