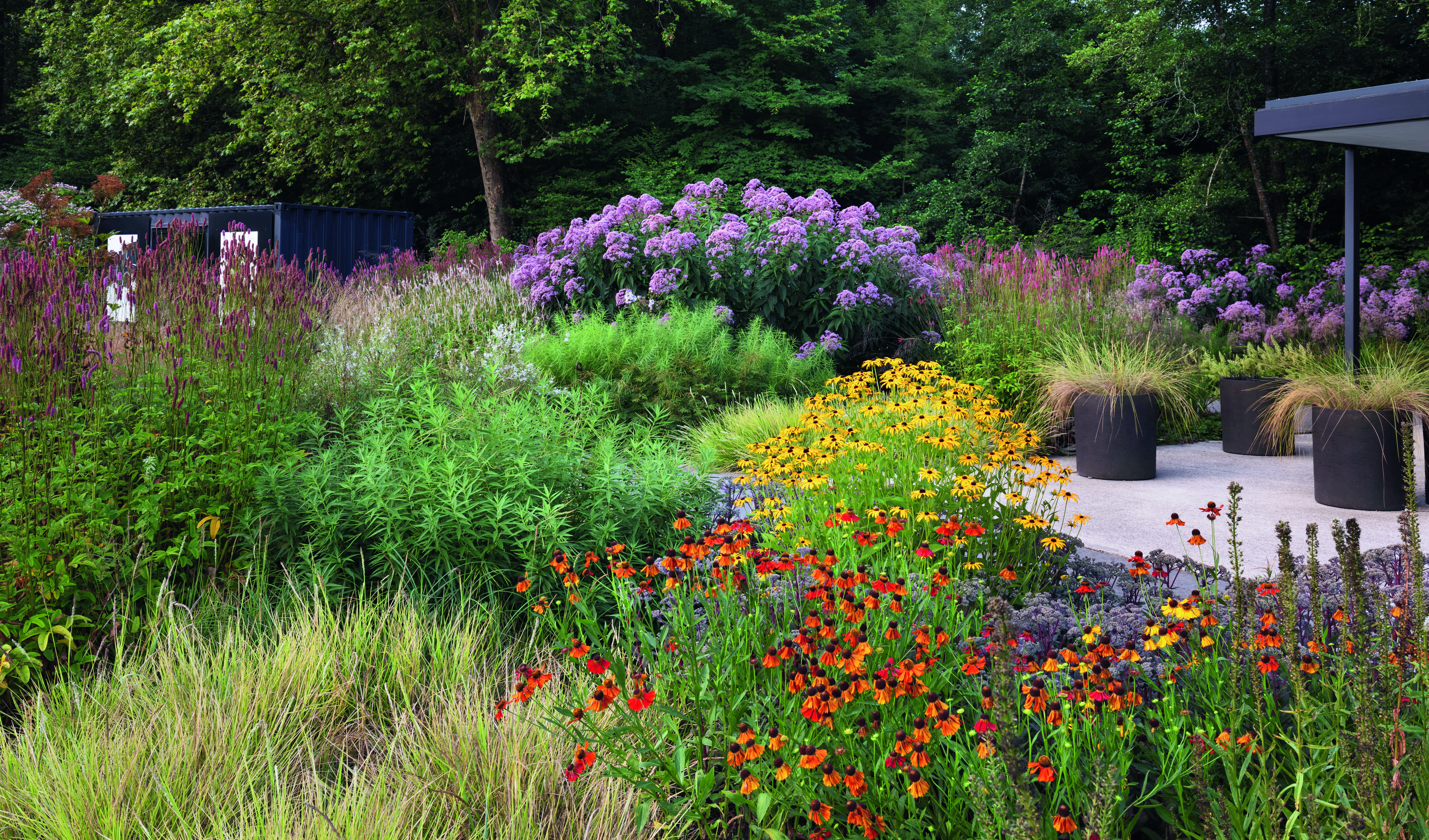 Piet Oudolf on new perennials, tricky commissions, and the gardens that have given him the most pleasure over the years
In the final part of our interview with the Dutch garden designer he talks about his first commission in the UK and the gardens he's planting in Chicago and Philadelphia at this moment
Piet Oudolf's work on the High Line in New York, at Hauser & Wirth's gallery in Somerset, beside the Vitra Design Museum in Germany and at his own garden in Hummelo, in the Netherlands, has demonstrated how this Dutch garden artist has combined the wild, multi seasonal glory of prairies and meadows, with meticulous, grid-led precision planting, to create gardens that are dream-like, detailed, naturalistic and ever-changing.
At the age of 79 he's still working as hard as ever and is currently engaged in three very different projects: one a community garden in a mixed neighbourhood in Chicago, another in Berlin with the artist Katherina Grosse and a third in Philadelphia, which sees him teaming up with the architects Herzog & de Meuron on a project dedicated to the art and ideas of Alexander Calder, one of the most innovative and influential artists of the 20th century.
Oudolf's creative life is still in flower and still growing strong. In his new book, Piet Oudolf at Work, readers can fully appreciate why he ignores a cultivar's brief moment of blooming to see a plant's beauty in a more rounded sense, prizing buds and seed pods as much as petals. The book also describes Oudolf's decades-long career, which began with him selling Christmas trees at a Dutch garden centre and ends with international acclaim.
In the third and final part of our interview with him, Oudolf  explains how he has always applied deep intelligence, great planning, and careful consideration to his projects (even if the client has ideas of their own), the small projects that gave him the most personal pleasure, and how he stays big by keeping it small. Museo Chillida Leku, Hernani, Spain, 2019. Picture credit: Photo © David Jiménez
What is the most challenging thing about beginning a new commission? Working with clients that don't know or half know what to do can be very complex. Once you've started, typically, they may suddenly start coming up with ideas that are not your ideas. I can only do what is possible. I had that a lot at the beginning of my career. We were in a lot of magazines in the 90s and people would see a beautiful garden and they would call me and ask me to do their garden. Some of those people didn't really understand what they were doing.
I would never walk off a project but I would get on with it quickly and exit. Luckily, that mostly stopped happening once people started to understand what we do. Once they had started to see larger pictures of the work, private gardens more focused on combinations, it made people understand better.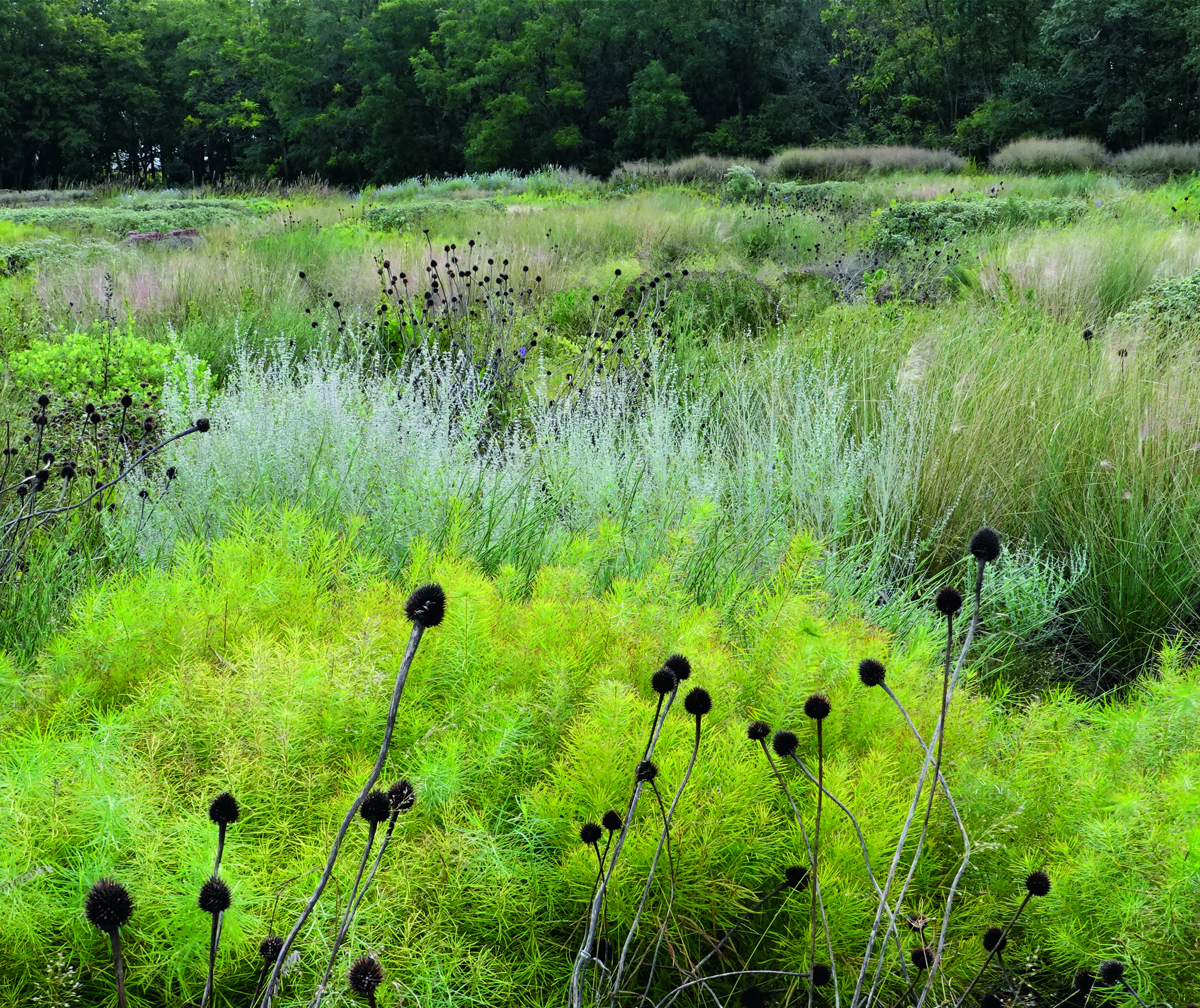 Meadow Garden at Delaware Botanic Garden, Pepper Creek, Dagsboro, Delaware, USA, 2017-19. Picture credit: © Jason Ingram
Horticulturalist and fellow Phaidon author Toby Musgrave has a question: Could the New Perennial approach be successfully applied to planting design using tropical flora? I don't mind tropical plants, but they belong in another kind of garden and another climate as well. Maybe yes you could use them for the summer in pots and containers, but I would ask why would you do that? For me, I think one should try to work with plants that grow well and try to put together plants in a combination that feel happy together.
You work with huge clients, but is there a small project that when you look back gives you as much, if not more, pleasure? The small private courtyard garden that we did  for the plantsman John Coke, in 1996. It was my first garden in England, Bury Court in Surrey where we created a matrix of Deschampsia cespitosa 'Goldtau'; You can see the drawings  for that in the book. The large semi-circular area at the top of the garden became the 'Deschampsia meadow', a prototype for the matrix plantings of later years.
And I worked with private clients in Germany who were very keen to make a garden that closely followed my designs. It's funny now,  but halfway through my career people didn't really want to see the public gardens because they were public. Back then, magazines wanted to show private gardens, things that hadn't been seen so much. Nowadays it's the other way around. Magazines like to show gardeners like Tom Stuart Smith, or Jinny Blom, or Dan Pearson if they do a public garden. Times change, you know.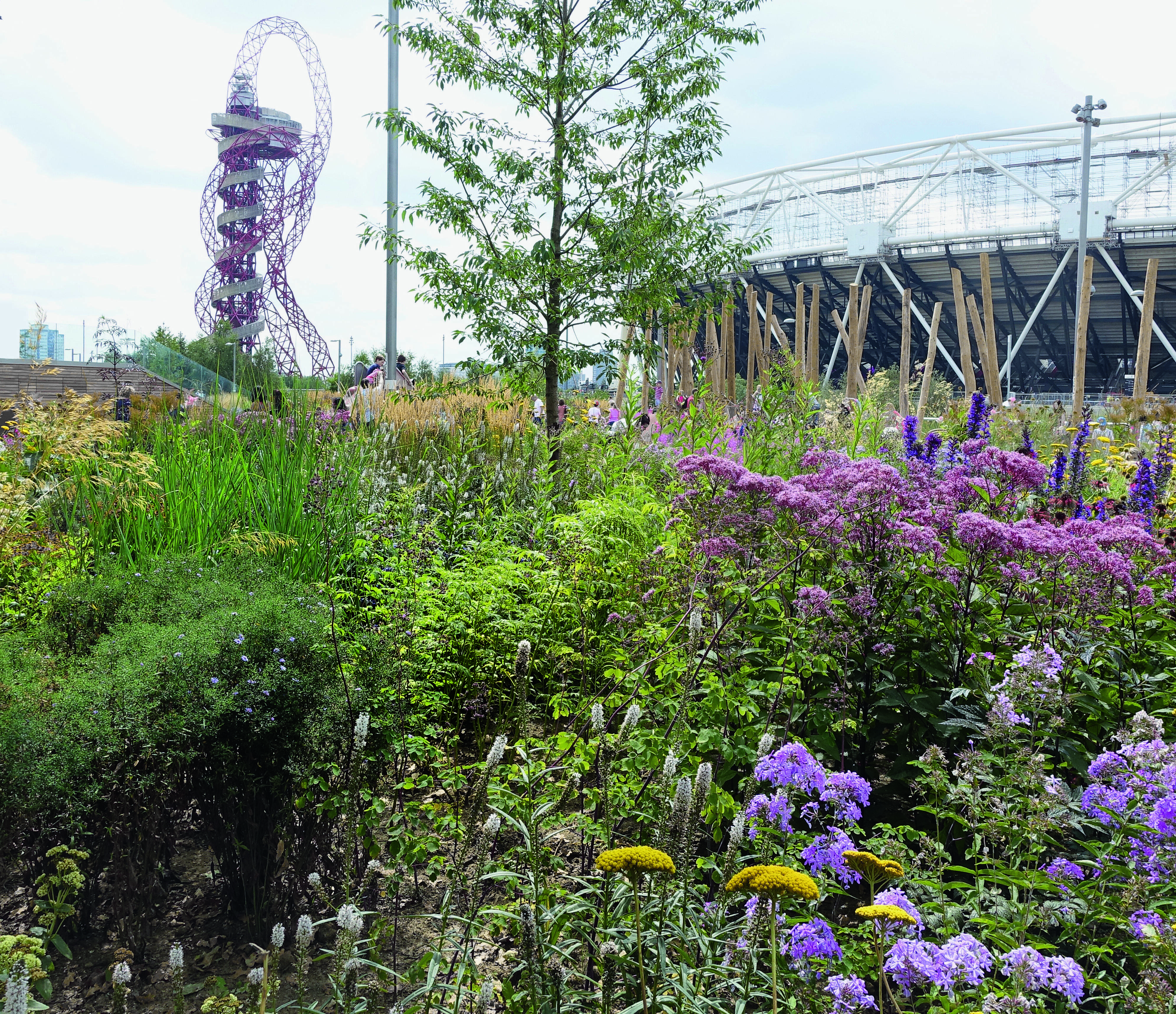 *Queen Elizabeth Olympic Park, London, UK, 2012-14. Picture credit: courtesy and © Piet Oudolf *
You're incredibly busy all over the world but continue to do big work with a tiny team. How does that work? Yes, I'm still busy.  And I still design myself, but I have a good network of people around me who I work with that help me technically with implementing the gardens. There are a lot of good people you meet on the way and who always come when you need them or help you when you need them.
I cannot carry out all the work that I put on paper on my own. You need a network not only in landscape, but you also need gardeners onsite, people around you who can go where you cannot go; people who can visit the site to check whether everything is in order. That's how it works nowadays. It's me and many others.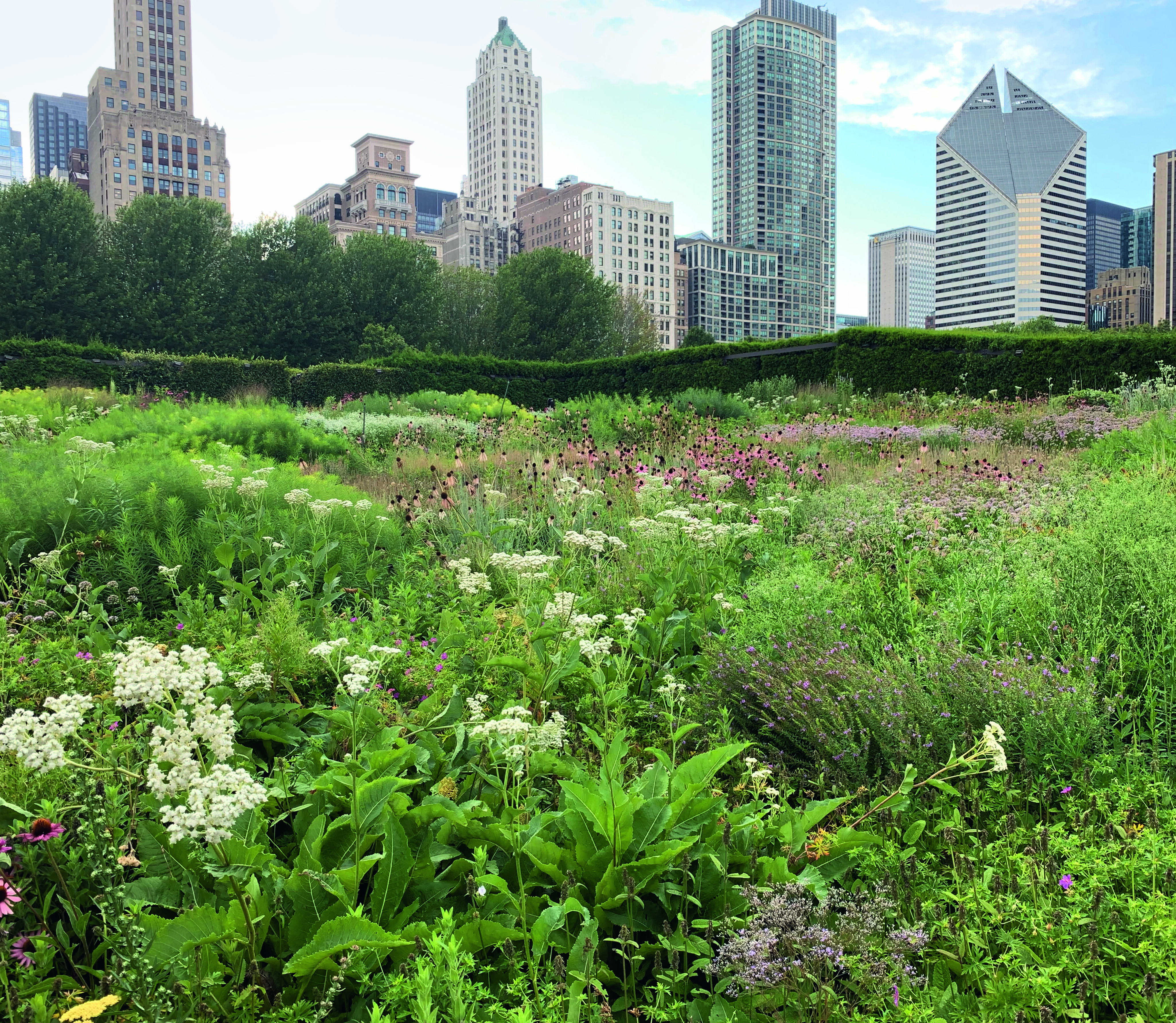 Lurie Garden in Millennium Park, Chicago, Illinois, USA, 2001-04. Picture credit: courtesy and © Piet Oudolf
And what are you working on right now? On the Calder Gardens in Philadelphia. We're in the middle of the process of a planting design with Herzog & de Meuron. We're also working in Berlin with the artist Katherina Grosse. We also have a new project coming in the middle Chicago. It's a multi-racial area, not a rich neighbourhood. It's good to do a garden there instead of the centre of town. It's the complete opposite to something like The High Line or Lurie Gardens.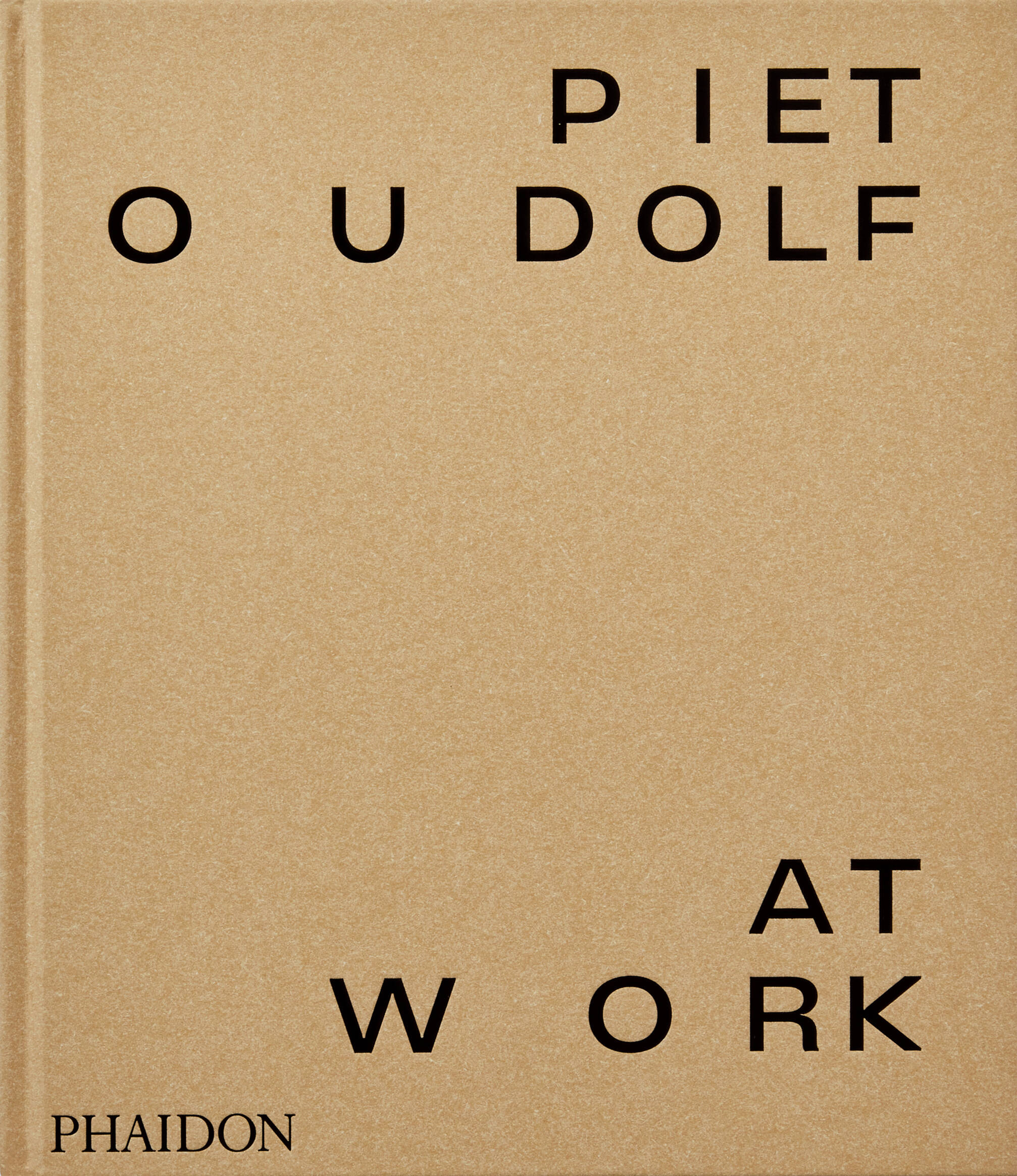 Take a look Piet Oudolf at Work in the store, here.