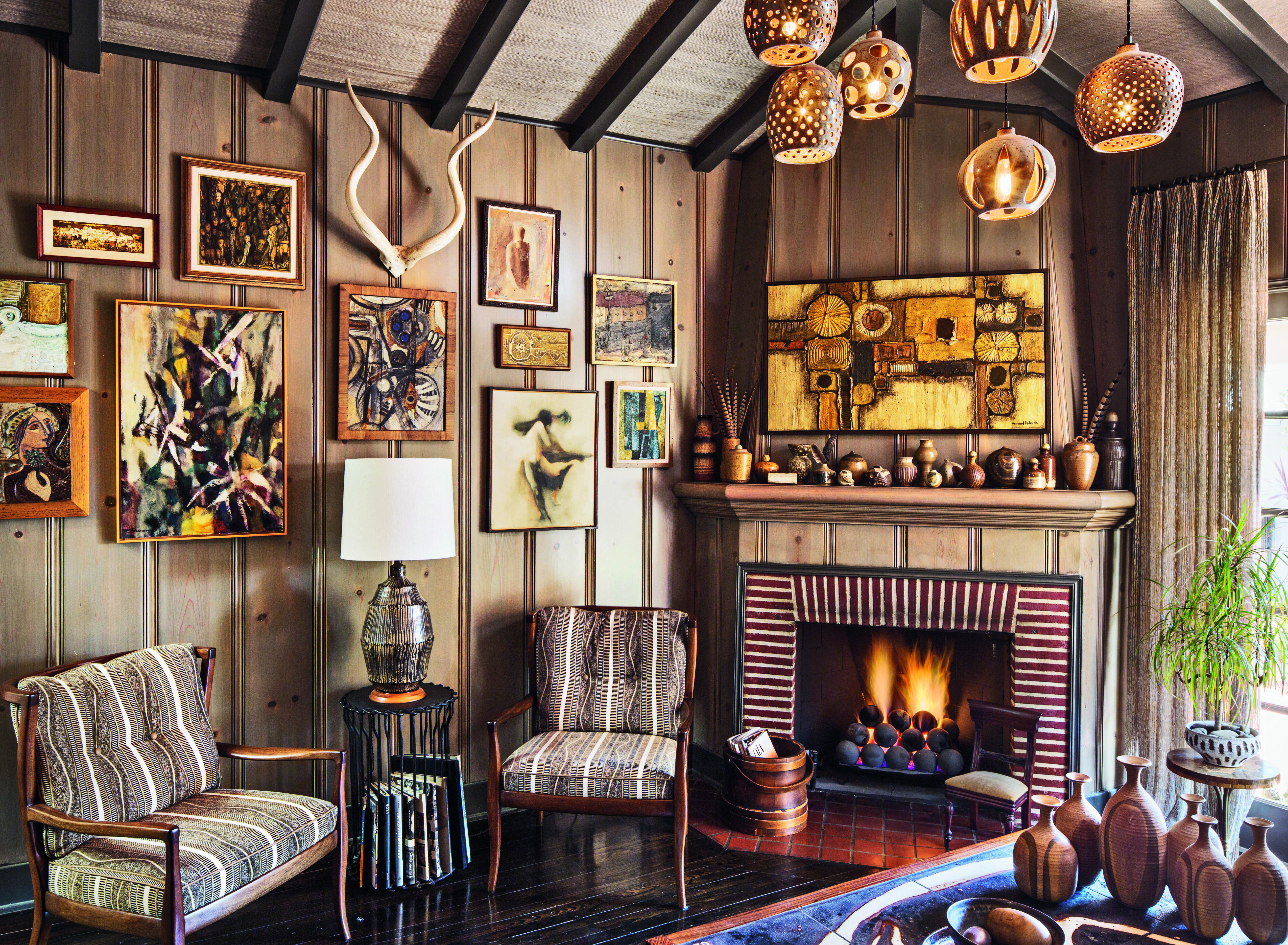 Inside the wood-panelled LA den that reminds its star creator of his grandparents' place
Californian designer Jeff Andrews has worked for Lady Gaga and the Kardashians. Yet, when it came to his own place, he drew on influences closer to home
Open our new new book, Inside, and you'll get personal insight into the makers creating homes for the rich and famous. This new title brings together pictures of the personal dwellings of sixty celebrated contemporary global designers and decorators. There's a wide array here, from perfectly conceived city apartments, to sprawling country pads; simple homes by the sea, to the kind of powerful living rooms and dining rooms in key urban locations that are created to make an impression.
The Los Angeles-based designer Jeff Andrews is perhaps a little more used to working within this final category. Since entering the profession in the '90s, Andrews has attracted an impressive client roster of public figures including Kris Jenner, Kourtney Kardashian, Ryan Seacrest, and Lady Gaga, among others.
His own home, in Los Angeles' historic Miracle Mile North neighbourhood was built in 1934, and features many hallmarks of California's Spanish Colonial Revival architecture, explains our new book, "from its white stucco walls to its red tile roof."
"Andrews fell in love with the bones of the house and generally made modest modifications that both embraced and updated the structure's original elements," the text goes on to say. "The sunken living room, for example, featured a vaulted ceiling — Andrews painted the ceiling's existing beams in a dark paint and added grass cloth between them. 'When renovating clients' homes, many times the first thought is to completely gut things and start over,' says Andrews, whose initial impulse was to enlarge his home's kitchen by eliminating the adjoining breakfast room, a classic 1930s arrangement. 'But especially with older, more historic homes, it's always a good question to ask yourself, 'What can I keep?' instead of 'What can I change?' Often things can be kept and turned into something that makes sense for the owner.'"
Some rooms in this house would suit the starry, public persona. However, the building's den (pictured above), which opens up onto the house's garden, is a much more private affair.
Its wood-panelled, taupe-coloured walls and original fireplace reminds Andrews of his grandparents' home. The designer grew up in and around San Bernardino, in California's Inland Empire, and he furnished this simple, cosy, interior, with a custom chandelier made of ceramic orbs by LA artisan Heather Levine along with richly impastoed abstract paintings from the 1950s and 1960s.
"Even in the darker, cool-toned main bedroom and bath, these textural touches injected the interiors with warmth and depth," explains our book. "It is this private space that Andrews spent the most time renovating.
"As opposed to the sense of urgency felt when designing homes for clients, Andrews enjoys a more leisurely timeline when working on his personal residences. 'They're never completely done,' he says. 'Design and living is a process, and you have to leave room for evolution.'"
To see more pictures of this home, as well as many other equally beautiful ones, order a copy of Inside here.