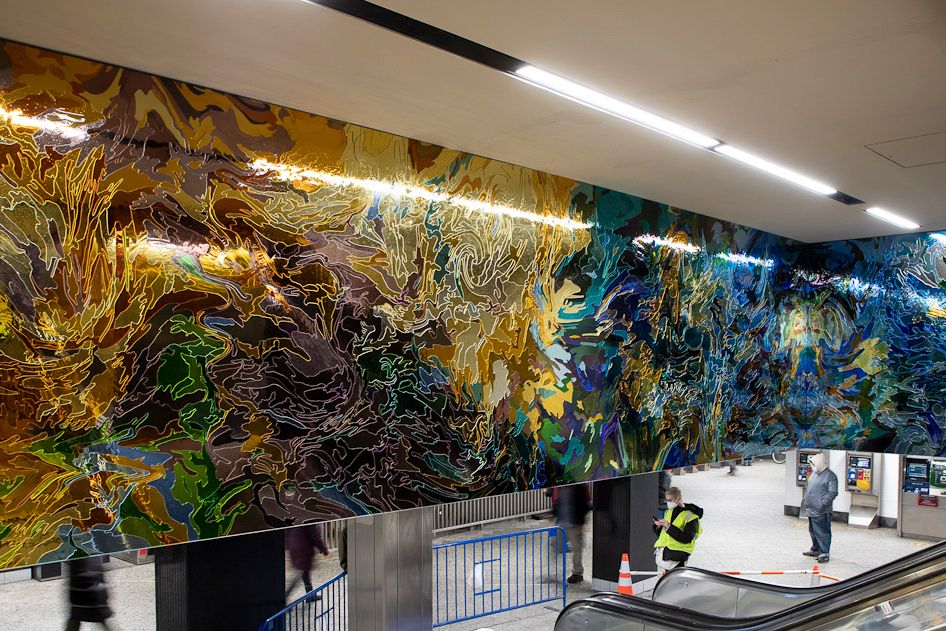 Have you seen Jim Hodges' and Elmgreen & Dragset's new pieces in NYC stations?
The artists have installed two very different works across Manhattan's public transport network
It might look like camouflage, but Jim Hodges' work, I dreamed a world and called it Love, doesn't exactly blend into the background. This newly installed piece is on permanent display at Grand Central-42 St station in Manhattan, near the 42 Street entrance, breaking up the sharp, utilitarian lines of the transit system into a more fantastical, impressionistic space.
As our forthcoming book on the 63-year-old American artist explains, "Hodges has created several works that utilize camouflage as both an overall patterned background and a loaded iconography.
"In 2003, Hodges played on the conceit of two different abstractions of nature when he interspersed a background of urban camouflage fabric with naturalistic embroidered images of branches, pine cones and flowers in the tapestry All in the Field, which joins an acculturated view of nature (camouflage) with a naturalized vision of culture (his embellishing stitched forms).
"Hodges's 2005 sculpture Look and See is also an heir to his chiasmatic undergraduate painting, since its S-shaped stainless-steel foundation, illuminated with an urban camo pattern, includes cut-outs permitting glimmers of the landscape surrounding it," the text goes on.
"His continued fascination with camouflage pattern is also evident in his 2016 I dreamed a world and called it Love. For this installation he created a work that appears to be a camouflage pattern etched on sheets of glass, which were then positioned along the bottom of the walls of Barbara Gladstone's New York gallery on 21st Street. In actuality, the piece was comprised of thousands of individually cut, mirrored, hand-blown-glass pieces to create a 360-degree immersive work of reflected spectromatic colours that range, as one moves around the gallery space, from saturated hues to more monochromatic clear, white and glass mirrors. The overall effect of this work is a rethinking of Monet's water lilies from the perspective of camouflage, so that nature is recontextualized as a series of cultural constructs and the artifice of camouflage patterning is in turn naturalized."
Now, this new version of I dreamed a world and called it Love, Hodges has opened up that contemplative space to the wider city, situating the work in a spot ideally suited to the dazzling work.
"The site, a bustling corridor in the heart of New York City, prompted a gesture that might provide a momentary illumination, a split second of image and color that frames the moment in time between places," said Hodges of the new installation, which was commissioned by MTA Arts & Design. "I dreamed a world and called it Love is intended as an offering to honor all citizens, neighbors and visitors who pass through the space."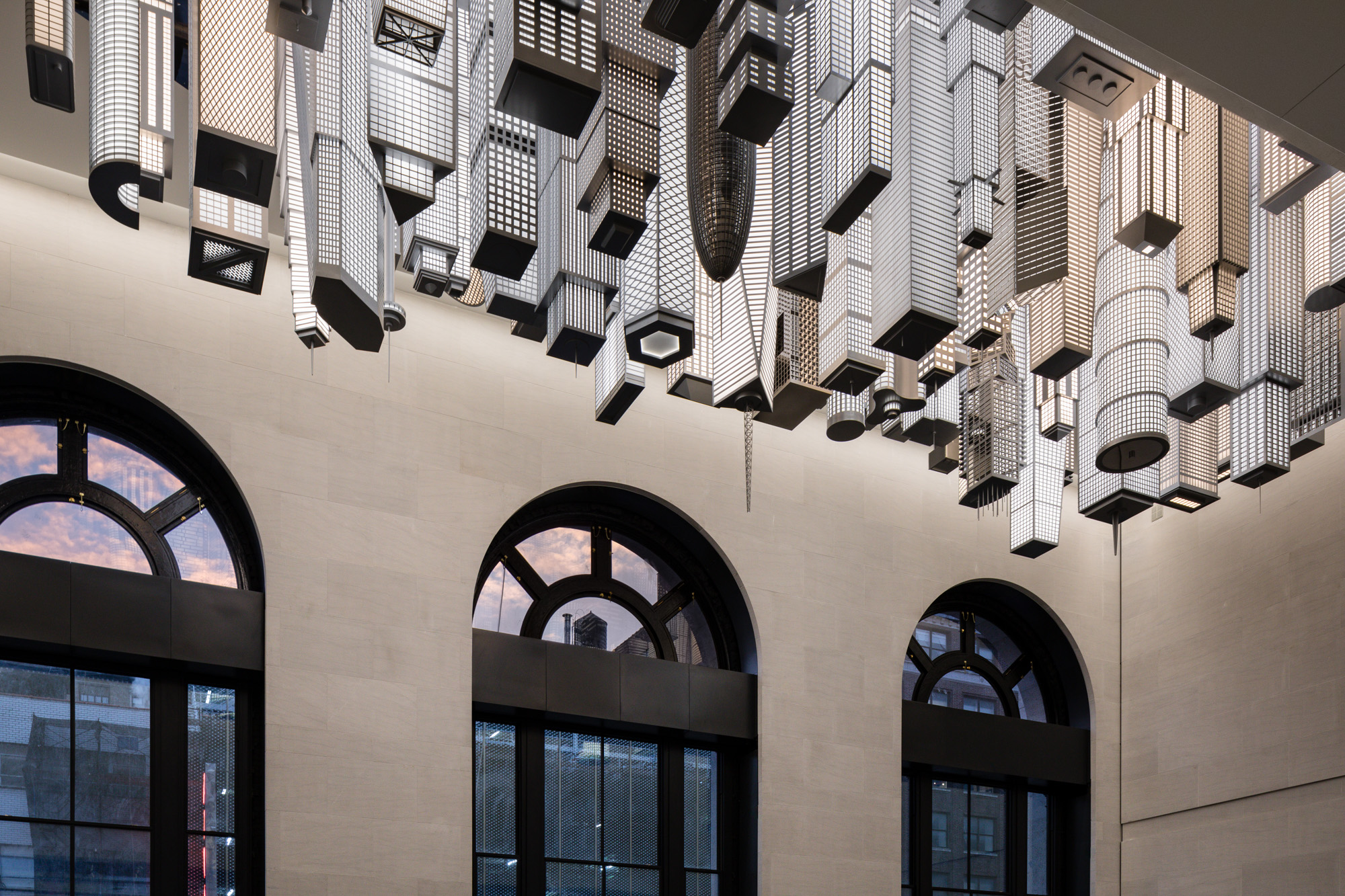 Hodges work isn't the only new piece of contemporary art on display within New York's public transport system. Elmgreen & Dragset have had their work, The Hive, installed in Penn Station's newly opened Moynihan Train Hall.
This 1:100 scale model, set into the hall's ceiling is, the artists say "a town in a town, upside down," which combines landmarks from New York, as well as Chicago, Hong Kong, Kuala Lumpur, London and Paris.
As with many of the artists' works, this new piece is a plea for diversity, multiculturalism and understanding. As Ingar Dragset told the New York Times in a recent article, The Hive is "about a huge collaboration in order to make everyone survive."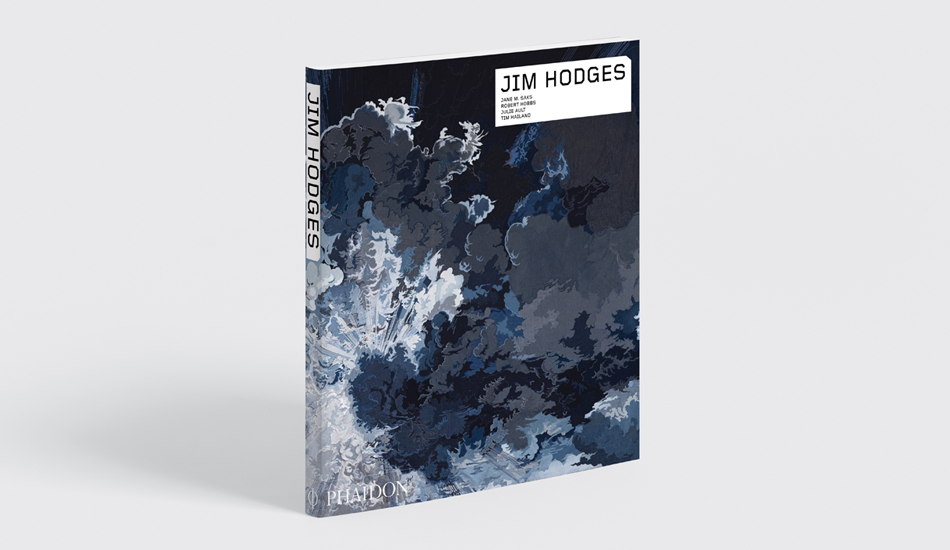 For more on Elmgreen & Dragset's work order this book; for more on Jim Hodges get this one. Both form part of our acclaimed Contemporary Artists Series.