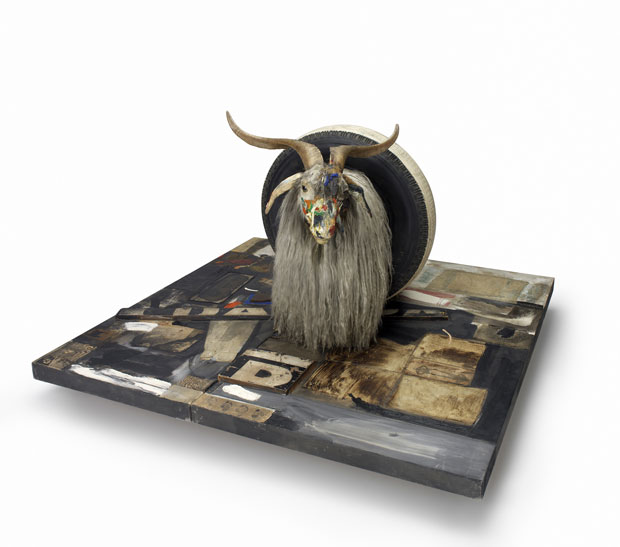 The meanings in Robert Rauschenberg's Monogram
Sexual metaphor or a religious offering? Here's how to examine one of the key pieces in the Tate's new show
Robert Rauschenberg's 1955-9 work Monogram is one of the key works on display at the Tate's new critically acclaimed show (on now until 2 April 2017). The work is one of the hugely innovative 20th century American artist's best known, and one of the finest examples of his 'Combines', Rauschenberg's own hybrid of painting, sculpture and assemblage.
It's a knotty work, which some commentators have interpreted as having sexual, religious and satirical meanings. Why? Perhaps we should allow, Rauschenberg scholar Catherine Craft to explain.
"Although Monogram is perhaps Rauschenberg's best-known Combine, it is also fairly atypical, even alongside works using stuffed birds," writes Craft in our Robert Rauschenberg Phaidon Focus book. "The centrepiece is a large Angora goat found at a local furniture shop. Its unusual qualities were not lost on Rauschenberg, who carefully cleaned its shaggy coat, daubed its damaged face with paint and then uncharacteristically spent four years trying to come up with a satisfactory way of incorporating it into a combine.
"He made sketches of possible solutions and photographed its various states, records that shed valuable light on his conceptual process. At last, inspired by a suggestion from Jasper Johns, he placed the goat on a horizontal platform as if setting it out to pasture. The platform also contains collage elements, several of which, including the heel of a shoe, a series of four footprints and a stencilled notice at the corner reading "extra heavy", allude to the work's unusual orientation.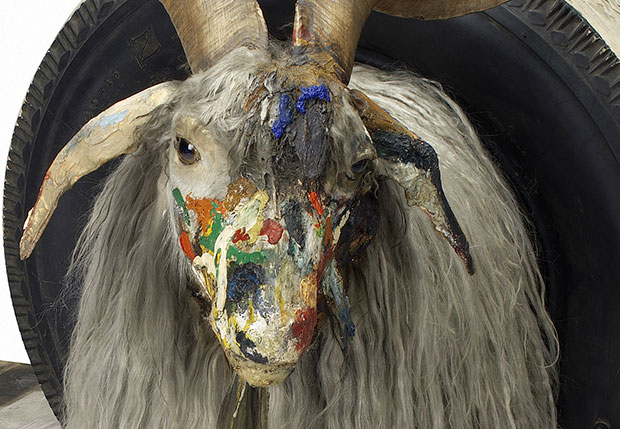 "As with most of Rauschenberg's Combines, Monogram offers a variety of possible interpretations. The title plays on the way the tyre encircles the goat, which reminded Rauschenberg of the interlocking letters of a monogram, and the artist's initials show up as collaged wooden letters elsewhere on the platform. Some observers have proposed that conjoining a goat and a tyre alludes to anal intercourse, making the work a representation of homoerotic themes.
"This sexualised reading becomes more complicated when joined with the scatological associations provided by the tennis ball lying just behind the goat and in turn this ball can be seen as a reference to a work by Johns. In Gray Painting with Ball, Johns wedged a small ball between the stretchers of two adjoining canvases, and the resulting squeeze – similar in the intimate pressure to the tyre's embrace of the goat – acts as a joke on the commonplace understanding of Abstract Expressionism as "ballsy".
"Monogram's tennis ball takes the joke one step further, with its horizontal orientation provoking memories of Pollock's method of painting with the canvas flat on the floor. To the unrestrained outpouring of emotion that Abstract Expressionism identified with the drip and flow of Pollock's paint, Rauschenberg's goat offered a deadpan, excremental response.
"Not surprisingly, Monogram shocked contemporary viewers. Still, there is also a strangely poignant beauty to its acquiescent, eternally patient goat. Some observers have associated it with an animal awaiting sacrifice. Nevertheless, with its horns and long, shimmering coat it also recalls the [ series of hanging "fetish" assemblages of animal fur, rope, wood and various small objects] Feticci Personali Rauschenberg made in Italy.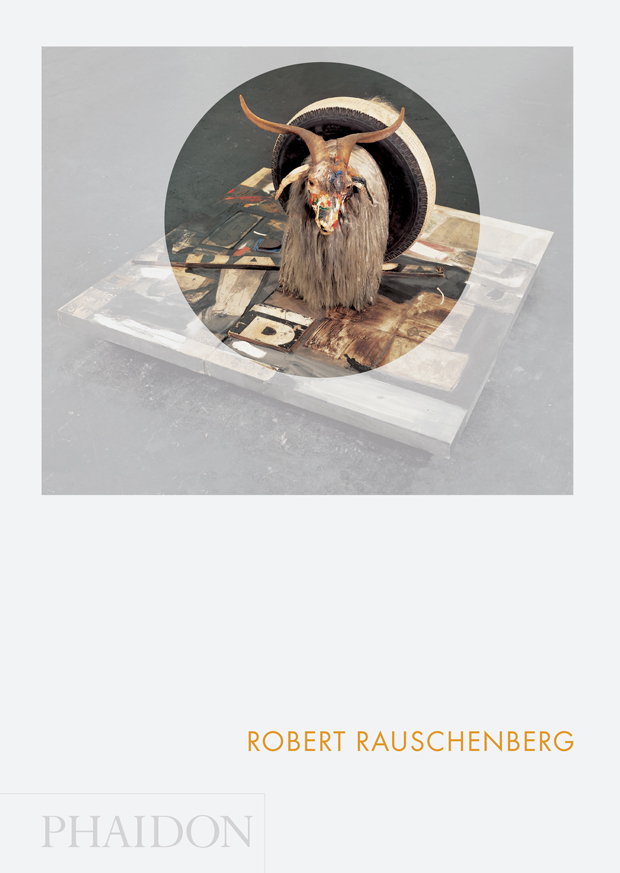 "This quietly fetishistic element underlies many of the Combines, acting as a counterpart to their rowdy urban vigour and providing a mysterious charge beyond the initial moment of shock."
For more on this Rauschenberg work and many others, order a copy of our book here.