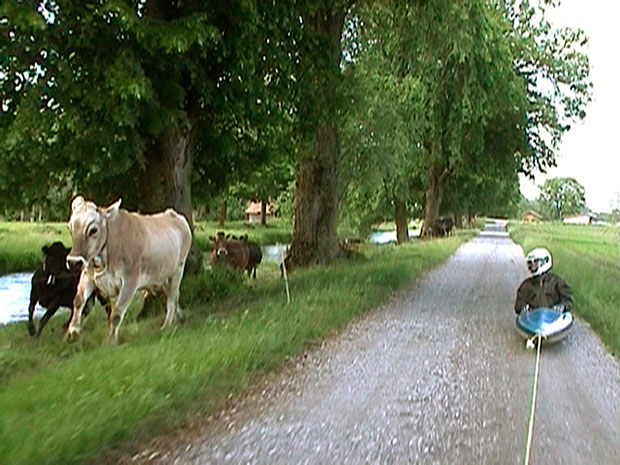 Roman Signer's unconventional approach to art
He's attached rockets to chairs, blown up sacks of paper and lit fuses on railway lines. What's planned for London?
Most artists are pleased if their work appeals to a modest proportion of the human race. However, as Roman Signer proudly notes in our monograph, his has also attracted a notable bovine audience. In the book, the 76-year-old Swiss artist recalled how, in 2000, he sat in a Kayak while it was dragged along a rural German road.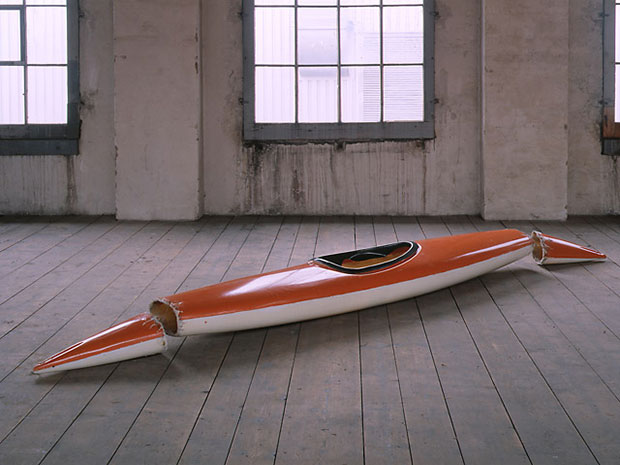 "I got into a kayak, and got a vehicle to pull me along a road in the Rhine valley," said the artist. "Tomek, my nephew, is sitting behind in the car and filming. Suddenly I saw these cows reacting fantastically. They peered at us like mad, then came down to the road and ran alongside us."
Such is the primal appeal of Signer's explosive, kinetic, cartoon-like films, sculptures and 'actions', which occupy an entertaining mid-point between Roadrunner's Wile E. Coyote and Fischli and Weiss.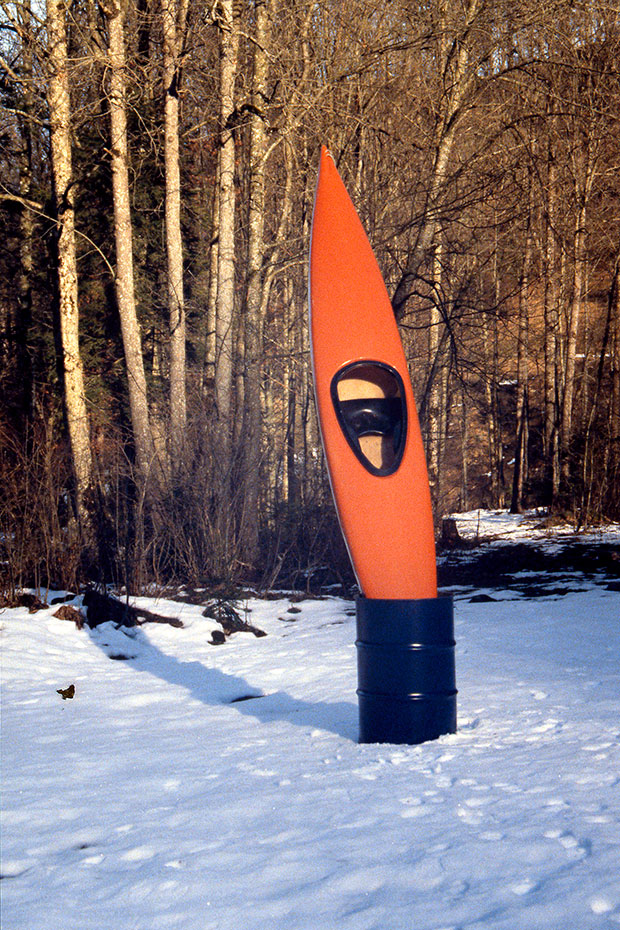 Over the past four decades the artist has attached rockets to bikes and chairs, blown up huge sacks of paper, and laid a fuse along a railway line from the town of his birth to his current residence.
Why do boats, bikes and bangers appeal to Signer? In the Focus section of our book, the artist and writer Jeremy Millar notes how Signer's materials have little or no history of use within fine art, or even conventional craft. Indeed, Millar observes that, "it is precisely these simple, not yet canonized materials and the fuctional way in which he uses them that place Signer in the artistic context of his day," alongside the likes of Bruce Nauman and Hans Haacke.
Signer himself is less forthcoming. "I can't describe it. It's subconscious," the artist said in our book. "You could say [it's] something to do with sports equipment as well, in the broadest sense. I used to play a lot of sport. Not competitive sport. Movement was important to me. I moved all day. I jumped around, rode a bike and so on. I had a lot of stamina, I simply needed to move. I've calmed down a bit now."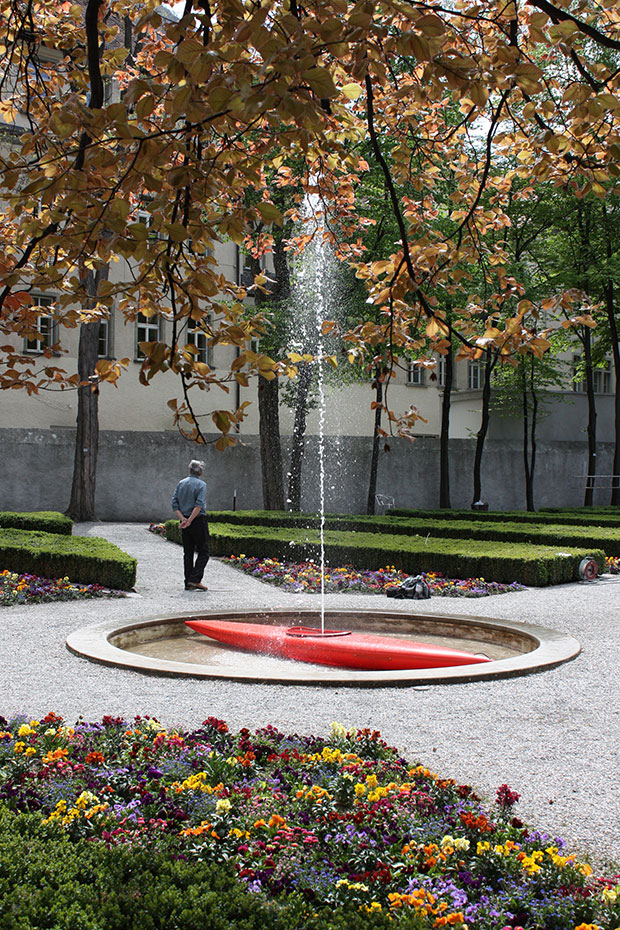 Indeed, Signer's forthcoming London exhibition, opening 3 March and running 31 May at the Baribican's Curve gallery, is entitled Slow Movement, and sees the artist navigate his turbulent practice onto calmer waters.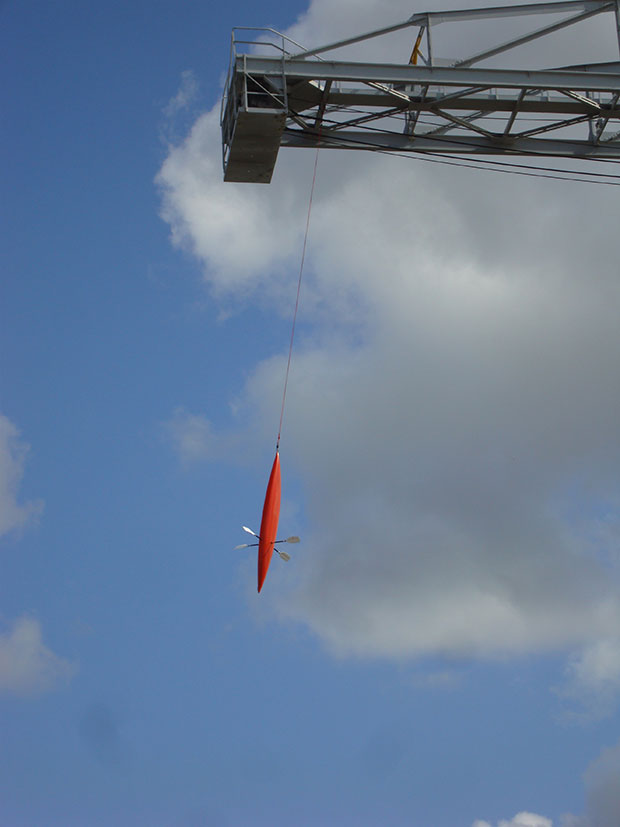 His new work, made especially for the show, consists of a kayak, which moves through the 90-metre long gallery, towed by a rope suspended from the ceiling, navigating the Curve gallery as if moving through a canal. Signer will accompany this moving vessel with other kayaks, installed in the Barbican's foyer and on its artificial lake, along with screenings of the artist's films.
"When I first saw the Curve," said Signer, "I thought it looked like a tunnel, so I had the vision of this kayak that is pulled through this special space, turning on itself at the end and taking the same path back."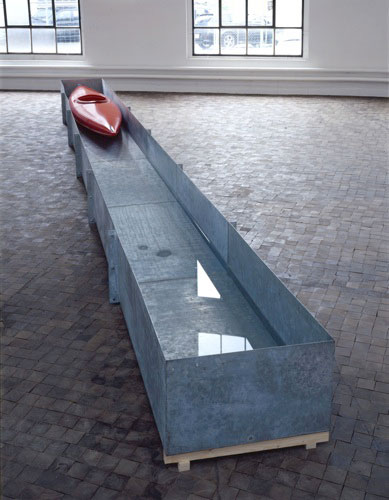 A suitably simplistic statement from an artist who manages to make contemporary art that pairs a minimal aesthetic with an absurdist, Dada-ish thrill. For more on this exciting and innovative artist check out our Contemporary Artists Series book on Roman Signer featuring a survey by art and architecture critic Gerhard Mack, an interview by Paula van den Bosch and a focus chapter by Jeremy Millar in the bookstore.