Roni Horn's rarely seen pigment works go on show
Hauser & Wirth celebrates return to former Zurich site by hosting first ever show dedicated to Horn's drawings
Roni Horn's work is consistent in its physical variety. Hers is an oeuvre encompassing a plethora of unusual and surprising media – sculpture, photography and site-specific installation made in glass, rubber, graphite and countless other materials. The native New Yorker – who since the 1970s has spent much of her time in her adopted country, Iceland – has presented vast photographic series 100 images long (You are the Weather, 1994-5); installations consisting of columns of Icelandic glacier water (Library of Water, 2007); even a rubber-tiled walkway in a Basel train station (Yous in You, 1997). The sum of her efforts is hardly a batch of drawings on paper.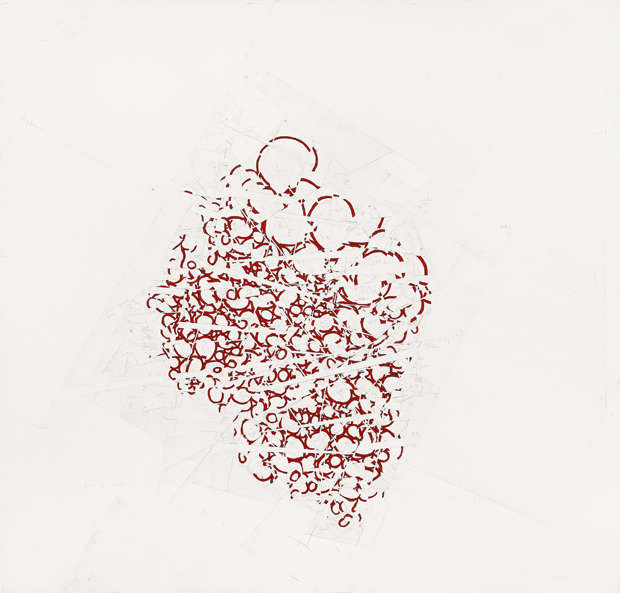 And yet to Horn drawings are an integral part of her process. "If you were to ask me what I do," she wrote in a letter to curator and critic Paulo Herkenhoff in 2003, "I would say I draw. All my work has this in common regardless of idiom or material."
Hauser & Wirth Zurich, in acknowledgement of Horn's commitment to the medium, are now showing a selection of pigment works by the artist – the first exhibition dedicated solely to these specific pieces. Included are early efforts from the late 1980s – "experimentations with pure pigment and varnish," the gallery explains – as well as more recent works – "new and intricate large-scale drawings" which "move beyond the limitations of their medium and instead explore the materiality of colour and the sculptural potential of drawing."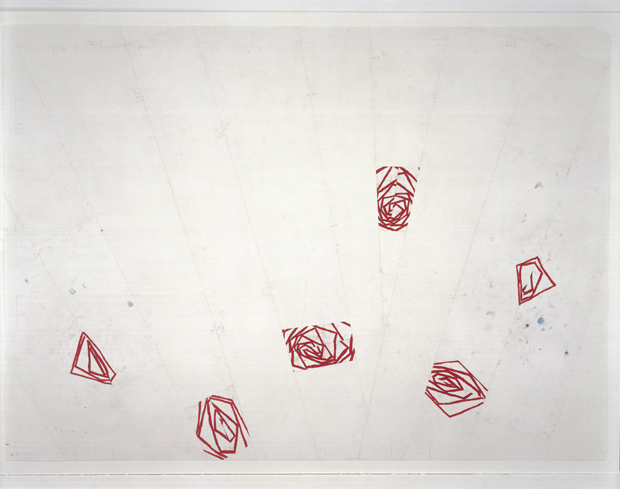 Horn's site-specific works have consistently dealt with themes of replication and doubling, and so it is with her on-paper experiments. In one drawing on show (Untitled, 1989/2011) two red, almost-vertical lines seem to mirror each other, both inches and, if the title's to be trusted, years apart. In another (Hamilton Red, 1987), an organic shape in concentrated red/purple appears next to what seems to be its slightly smaller twin. Rarely are Horn's objects left in the singular.
More recent works display the artist's interest in working at larger scale, and with increasing complexity. Pieces are created using processes littered with cut and paste techniques – individual elements are stitched together to create huge, often intricate compositions. In 1987 Horn worked on drawings 15 inches wide. Such 1, a piece that brings a pair of rotting human lungs to mind, completed this year, is six times as big.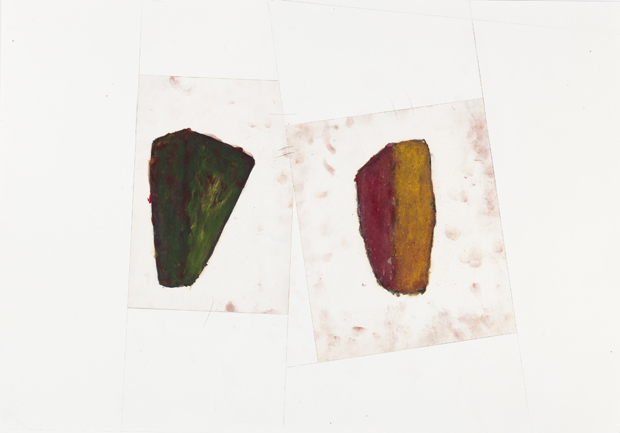 The opening of Horn's show this week (along with an exhibition of works by Dada pioneer Hans Arp) coincides with and acts as a celebration of Hauser & Wirth Zurich's return to its Limmatstrasse gallery space following a two-year absence. The move is news enough in itself – the building's extensive redevelopment includes a bigger ground floor gallery, as well as a new "light-filled" second floor gallery meant to provide an increased capability to show more work by Hauser & Wirth artists Ron Mueck, Pipilotti Rist, Dan Graham and Martin Creed, among others. It'll be Horn who grabs the headlines, though, for a show in contrast to previous outings and yet as equally affecting.
Check out our Roni Horn book in our contemporary artist series which investigates the intricate themes and structures in Horn's work. New York-based curator Lynne Cook discusses with Horn the recurring conceptual concerns across the different media she works in while Belgian art theorist Thierry de Duve focusses on the enigma of identity in her photographic installations. It's currently half price along with other contemporary artist series in our June sale so be quick.