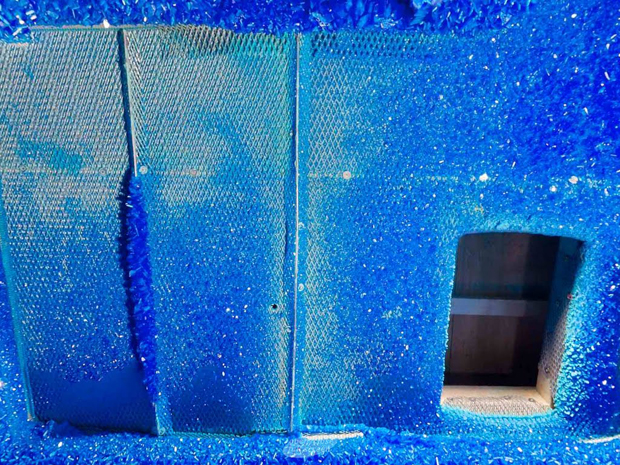 Phaidon Links 9.7.12
Today's news from around the web
Art
Hiorns moves house Roger Hiorns's artwork, Seizure, in which he transformed a derelict south London flat into a cavern coated in copper sulphate crystals is due to be shown at Yorkshire Sculpture Park next spring. Read it here
NoneNew Museum installs Giant Dome New York's New Museum will open its latest show "Ghosts in the Machine," on July 18. It examines "the ways in which humans have projected anthropomorphic behaviors onto machines and how those machines have become progressively more human." Read it here
The return of John the Baptist A Baroque painting of the murdered John the Baptist that belonged to Frederick the Great of Prussia will return to Potsdam almost 70 years after a Red Army officer stole it from storage in a palace near Berlin. Read it here
New Theory on van Gogh's death 60 Minutes investigates yet another new theory about the death of Vincent Van Gogh. Watch it here
NonePatti Smith on William Blake New York Times film critic A.O. Scott speaks to Patti Smith, about her artistic heroes: Read it here
Sotheby's to sell painting by artist who didn't exist? Sotheby's London will sell a drawing by Nat Tate, an artist who previousy only existed in fiction. Read it here
Photography
Rencontres d'Arles needs a curator Sean O Hagan questions the lack of a curator at this year's Rencontres d'Arles photography. "This year there is no unifying vision, and the festival's subtitle, "A French School", might have made more sense had it been a question rather than a statement," he says. Read it here
Stealing beauty? Representatives of the Australian photographer Petrina Hicks accuse Czech artist painter Marek Hospodarsky of plagiarising her images. Read it here.
Don't sideline landscapes. Sony world Photographer of the Year Mitch Dobrowner says landscape photography isn't just for calendars, and deserves much more artistic respect. Read it here.
Beaton's shots of Freud on show this summer. A rare collection of Cecil Beaton's photographs of Lucian Freud are on show at Sotheby's Summer Season. The show displays images taken by two of Freud's most significant interpreters - Beaton, and Freud's assistant, David Dawson. See them here.
Architecture
The view from the Shard Event is working with Shard architect Renzo Piano to develop the three-floor View from the Shard, which will offer 360º views of the capital. The View will be reached by two high-speed 'kaleidoscopic' lifts, which will take just 30 seconds to reach the 68th floor.Read it here
New law building for China Kokaistudios Wins Competition for Tsinghua Law Library Building Kokaistudios has won the competition for the new Tsinghua University Law Library located in Beijing, China. The proposal is a reflection on the role of void in structuring functions and programs. Read it here
Modernism in Burnley Architecture minister John Penrose has handed a Grade II-listing to a 1958 Modernist house in Burnley. Read it here
Design
Bright idea Dutch designer Le Puij picks up Golden A' Design award for his energy-saving lights that are beautiful and ecologically sound. See them here
Three quarters of designers want to code An online survey of graphic designers reveals that 75% believe a working knowledge of website programming is equal to knowing how to use Photoshop and InDesign. Read it here
Contemporary furniture changes nature of house fires The New York Times reports that plastic fillings in sofas and mattresses burn much faster than older fillings like cotton, helping to transform the behaviour of house fires in the last few decades. Read it here
New designer creates folding sewing machine Plymouth University graduate Richard Burrow presents a folding sewing machine at London graduate show New Designers this week. Burrow created the conceptual prototype to remove some of the rigmarole from carrying out simple clothing repairs at home. See it here