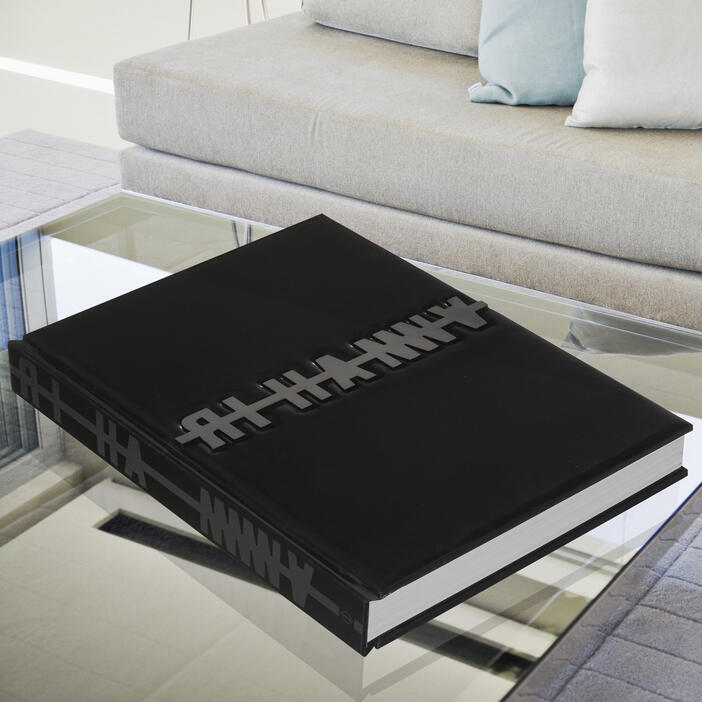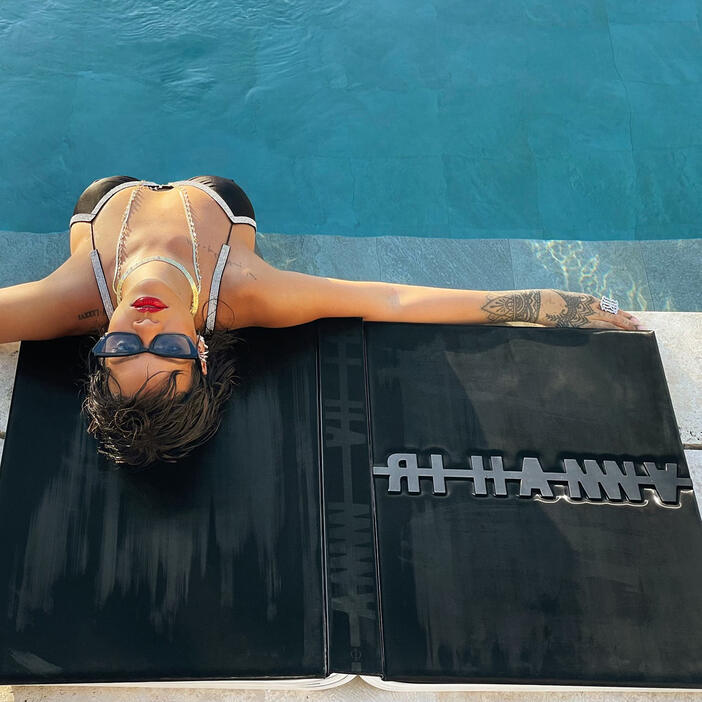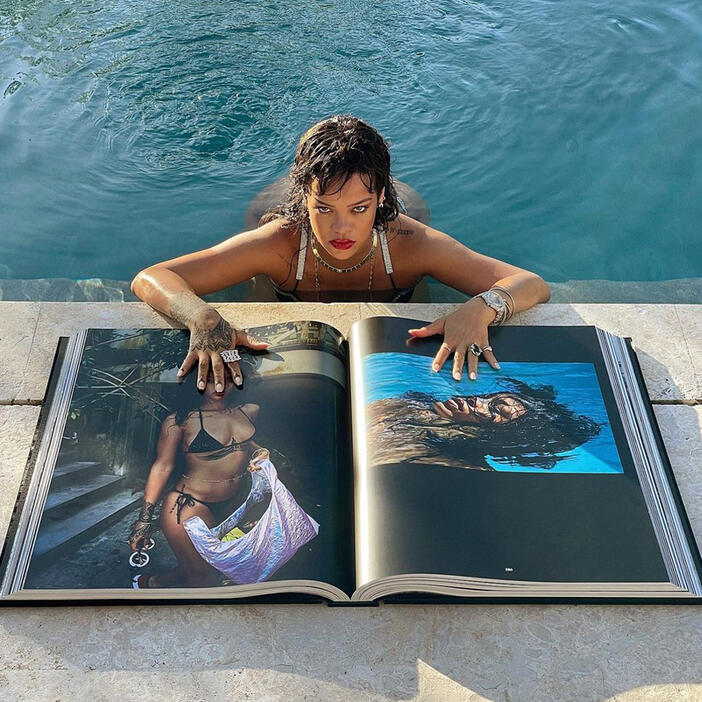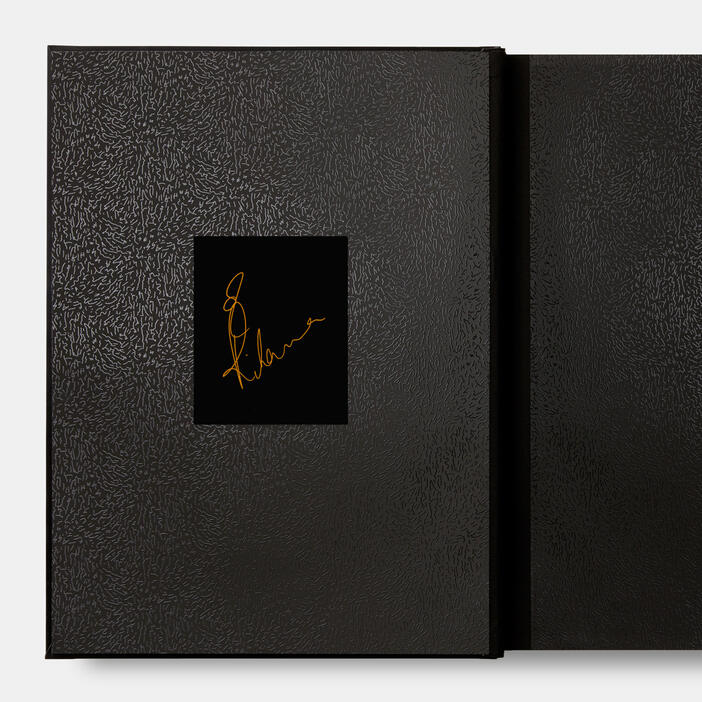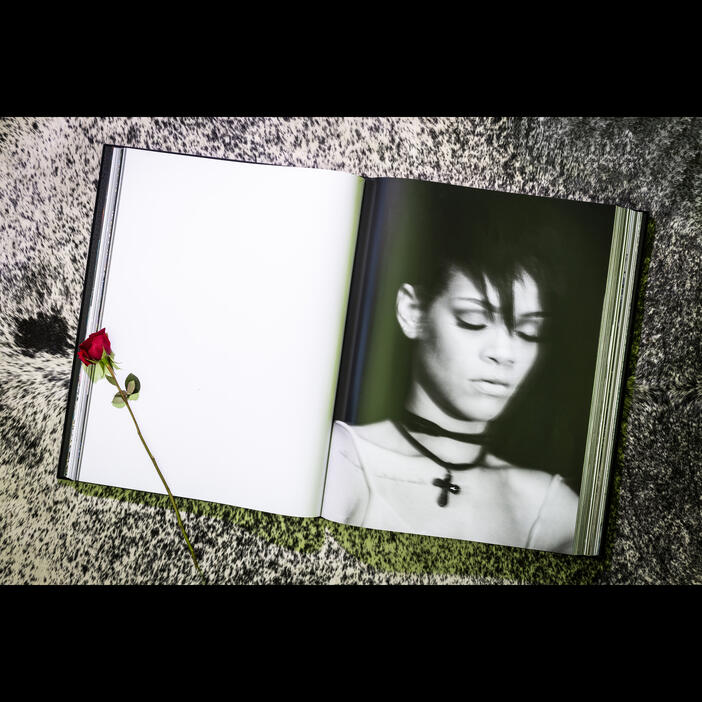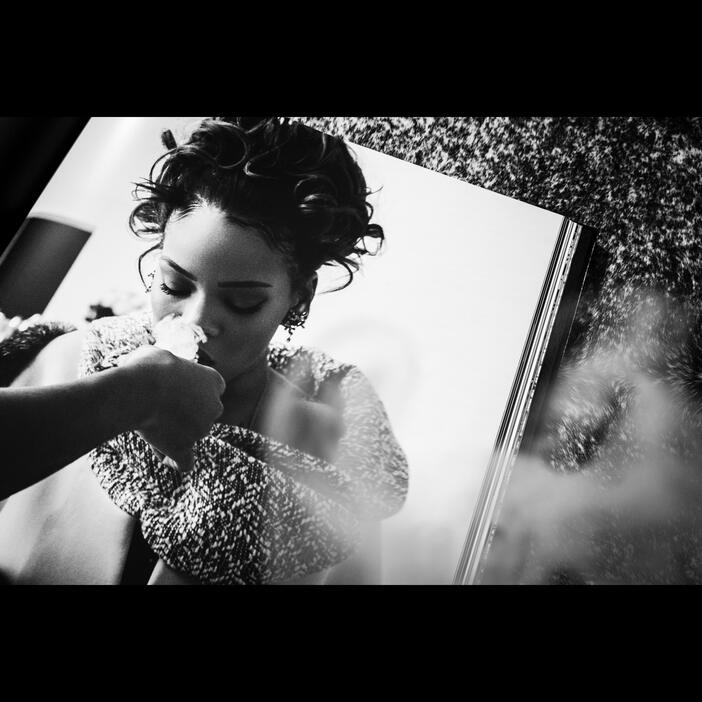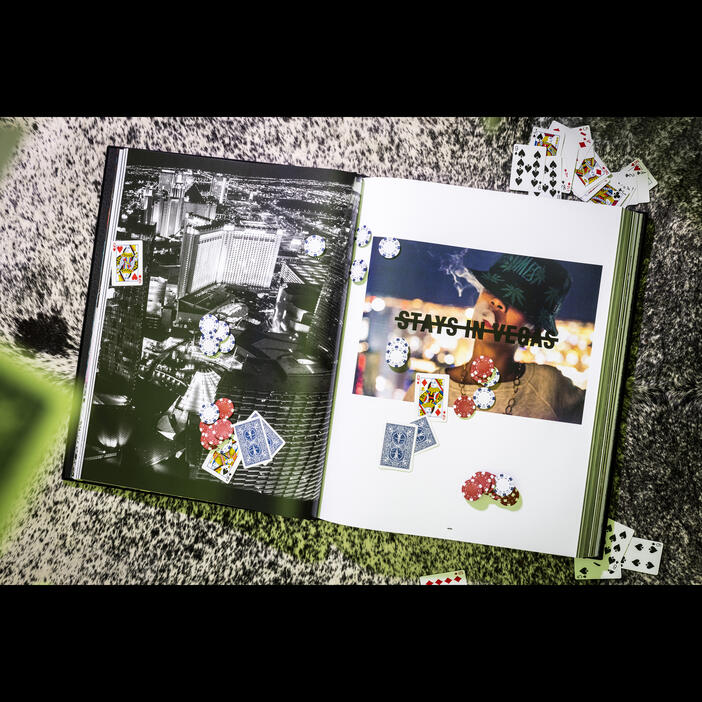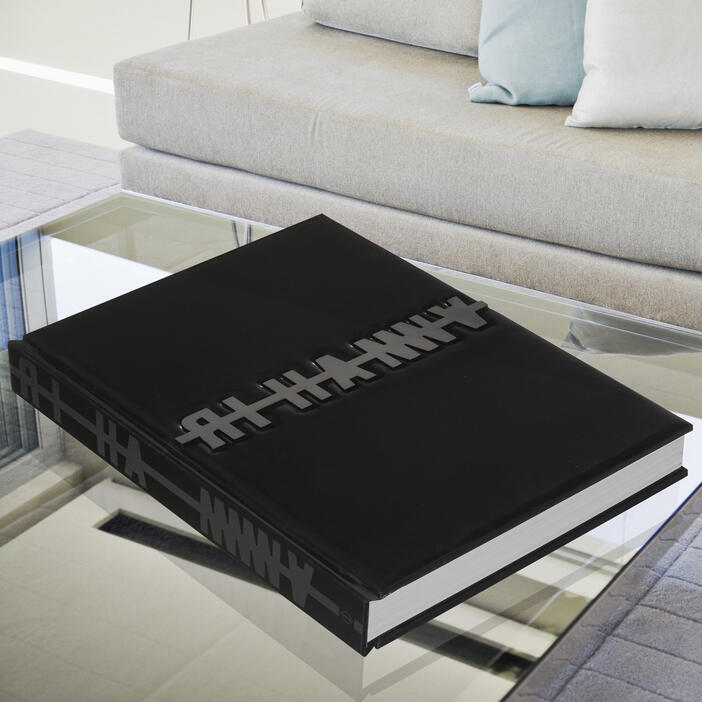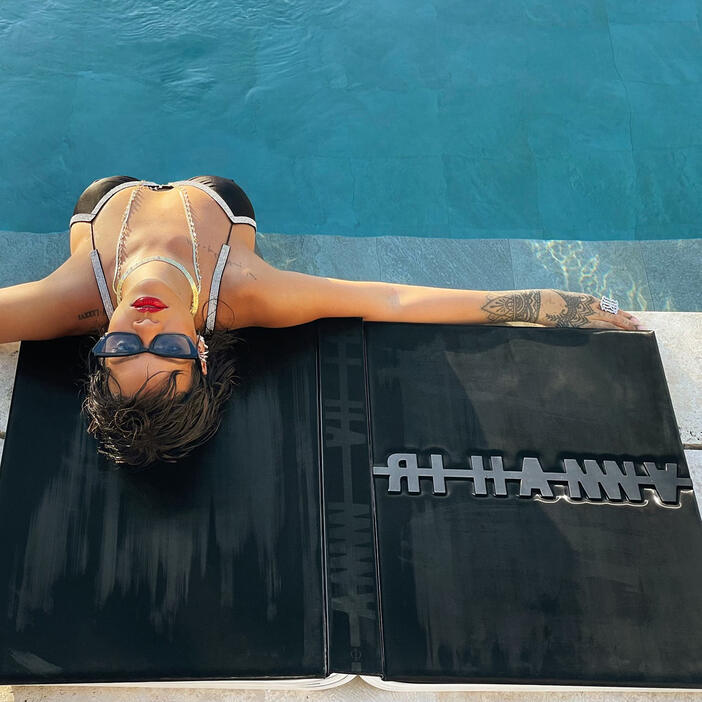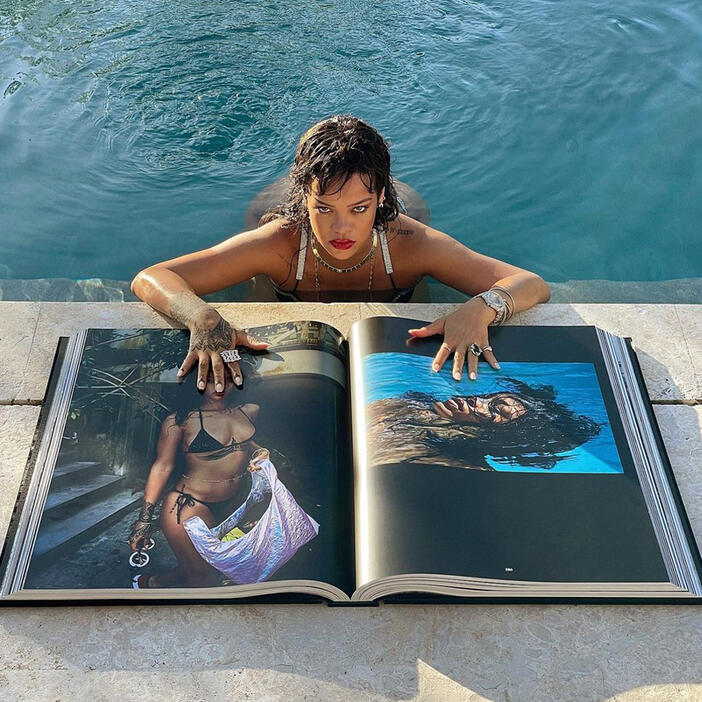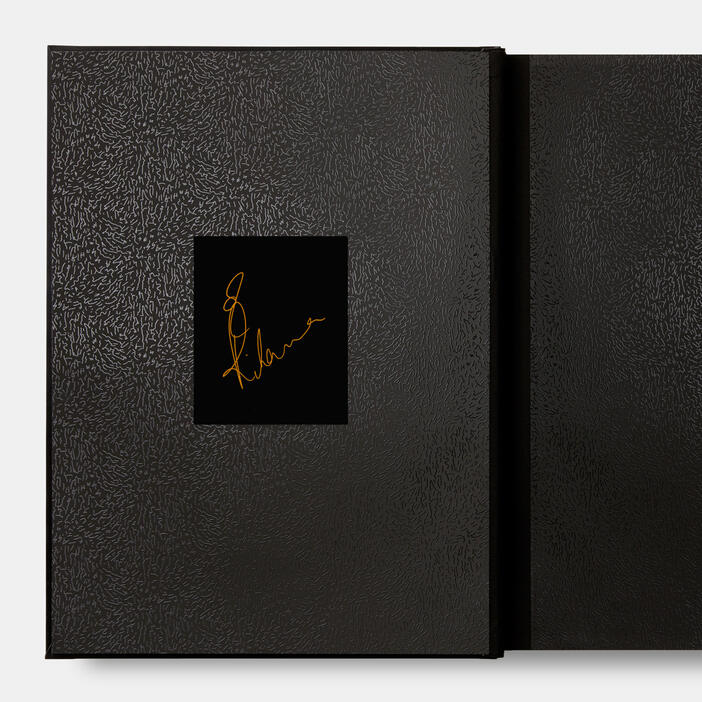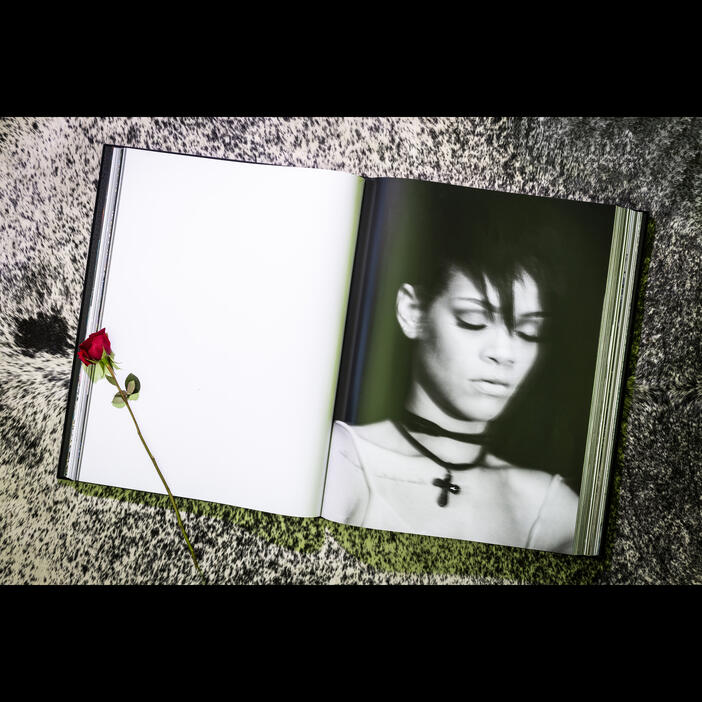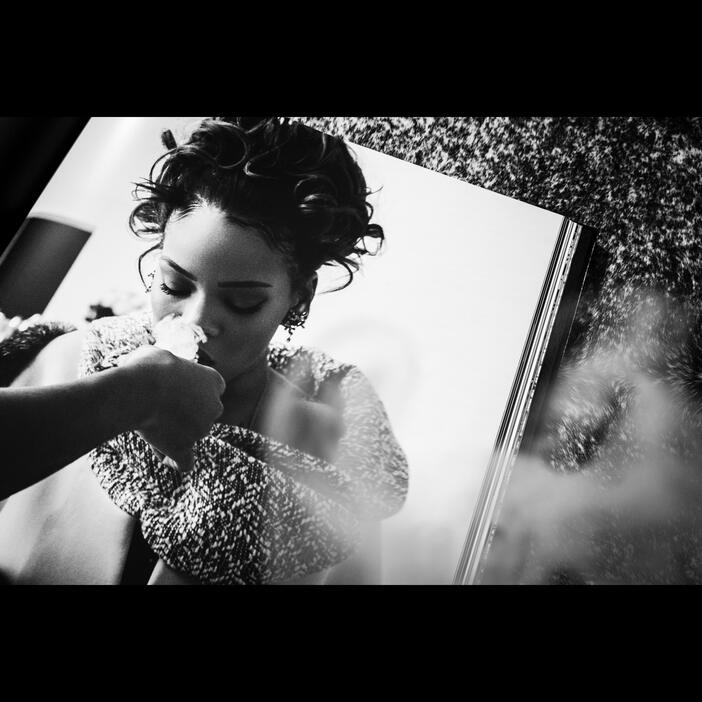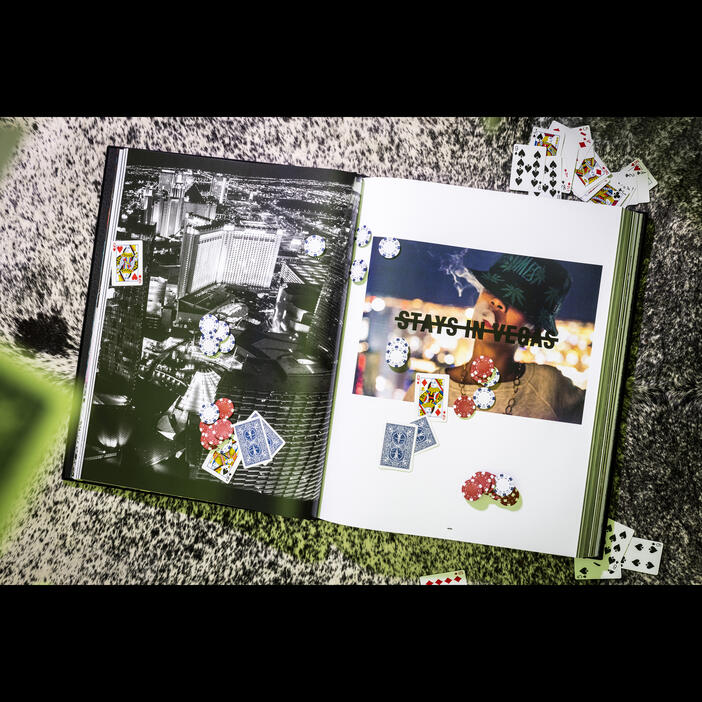 Rihanna: Queen Size
Price AUD$1995.00 | Limited Edition Price CAD$1995.00 | Limited Edition Price £995.00 | Limited Edition Price T1495.00 | Limited Edition Price USD$1495.00 | Limited Edition
"It's a piece of art that I am really proud of" —Rihanna
All hail Rihanna: Queen Size The statement volume for Rihanna fans, this luxury, queen-size edition is limited to 500 copies worldwide.
An homage for fashion, music, and photography lovers and collectors, Rihanna: Queen Size is presented in a format worthy of the global legend herself. From her Barbados beginnings to her worldwide tours, from iconic fashion moments to private time with friends and family, Rihanna: Queen Size showcases intimate photographs of the star's evolution as an artist, performer, designer, and entrepreneur.
Rihanna: Queen Size is hand-sewn and bound in bespoke padded Japanese-designed fabric with a pearlescent finish, and an embedded, matte black, laser-cut steel logo designed by Barnbrook studio. The endpapers feature a custom design by The Haas Brothers printed in spot gloss on a rich black paper stock. Rihanna's remarkable story unfolds in 504 pages and more than 1,000 images along with gatefolds and special inserts including bound-in booklets, a die-cut tip-in sheet, and a double-sided removable poster.
Specifications:
Format: Hardback
Size: 656 × 500 mm (25 7/8 × 19 3/4 in)
Pages: 504 pp
Illustrations: 1050 illustrations
ISBN: 9781838662813
Rihanna (b. 1988, Barbados) is a nine-time Grammy Award-winning recording artist, songwriter, actress, philanthropist, and entrepreneur. She has sold 60 million albums and 215 million digital tracks worldwide, making her the top-selling digital artist of all time. Rihanna launched her beauty line Fenty Beauty in 2017, her lingerie line Savage X Fenty in 2018, and most recently her luxury fashion line FENTY in 2019.
The Haas Brothers was founded by twin brothers, Nikolai and Simon. Their work explores aesthetic themes related to nature, science fiction, sexuality, and psychedelia. Their first solo museum exhibition was held at the Bass Museum of Art in Miami, Florida, and their pieces are held in the collections of the Metropolitan Museum of Art, LACMA, and RISD Museum. They are represented by Marianne Boesky Gallery in New York and live in Los Angeles.
Barnbrook is one of Britain's most well known and highly regarded independent creative studios. The studio has been collaborating with the world's best and most exciting art and cultural clients to produce memorable, beautiful, and thought-provoking design. The studio's contribution to design was recognized with a retrospective at the Design Museum in London in 2007 and a Grammy Award in 2016 for David Bowie's Blackstar record cover.
"This book is incredible." - DJ Khaled
"The book is a rollicking and sumptuous autobiography, told largely with intimate images. Ephemera are woven in throughout, from early passports and a Barbie workout cassette to a handwritten note from the designer Jeremy Scott that says, "Congrats on making Paris your bitch!". The book unfolds in chronological order, but the structure is freewheeling and chapter-less, lending it an impressionistic quality: how a person might recall her own lived memories." - Vogue
"Well, this gives new meaning to 'drop': Rihanna's 500-page tome. If it fell on your foot, it would crush it. She has put her stamp on almost every pop culture form - music, film, fashion - and now, books... Rihanna is in a class of her own." - The New York Times
"It's well worth the money." - US Weekly
"In this beautiful new book...we see her like we have never seen her before." - Good Morning America
"...The book is surely a worthy work of art itself... The book... is more than just a large, incredibly heavy hardcover publication containing stunning professional photographs from her whirlwind life. Rihanna gives readers a rare and intimate look into her journey, chronicled in family pictures, captivating tour shots, and even rare handwritten letters..." - Billboard
"Even for those who aren't obsessed with the pop star's every move, it's a gorgeous collection of photographs." - Rolling Stone
"From the childhood pictures to newspaper clippings of her first media coverage, tour-diary snippets and holiday snapshots, the previously unpublished photographs give a comprehensive look into Rihanna's stratospheric rise from Barbados to megastardom." - Vogue UK
"... Brings viewers closer to the global superstar. That's not hyperbole... It's candid, unapologetic and, most importantly, authentic to her essence... and brand. Best part of it all is her very fans have been part of the ride all along. Just as you'd imagine, the book also served as a bit of a "Who's who?" when it comes to the people in her inner circle, with special appearances from friendly faces like Jay-Z and Beyoncé." - iHeartRadio
"Another big first - Lavish!" - Essence
"Seriously, is there anything this woman can't do?" - Metro
"Set forth in this literature, Rihanna is arguably the most visually groundbreaking artist and celebrity of her generation - the ultimate blueprint of coolness and relatability. ...In all its 504-page glory - spanning her childhood in the Barbados, four distinctive album eras since 2010's Loud, her rise as a fashion mogul, and vacation candids - this piece elevates that conversation, reminding readers that Rihanna is the de facto queen of Instagram, 2010's fashion blogs, and celebrity media, as well as Tumblr favorites." - MTV
"...With over 1,000 behind-the-scenes photos of the artist and her entourage... as the photos revealed themselves, each new image eliciting hushed coos and nods of understanding." - Time
"1,050 color photos spanning the length of Rih's career and capturing her transition from pop star to businesswoman." - Paper
"Luxurious." - Bustle
"...A visual masterpiece. If you've been wondering how to level up your coffee table, this is it, people." - Elite Daily
"Stunning." - ET Online
"Rihanna's new coffee-table book will have more intimate moments than a Savage x Fenty show." - HelloGiggles
"The mogul's life story in over a thousand rare photos demands prime coffee-table space..." - InStyle